Defector Home
Featured Stories
David Shaw Leaves Stanford In The Dark
Having somehow won games early in his career and the sweet release of anonymity when that stopped, Shaw was given the perfect way out—an 8 p.m. game local time that lasted like most college football games do, interminably. He then strung out the waiting time for his (presumably) poorly attended postgame presser to announce that he was done doing this particular do, which meant he left the job in the last available part of the week where news isn't made—after closing time and before sunrise services, if those are still a thing.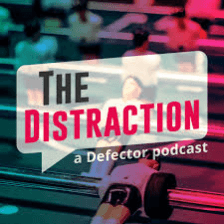 The Distraction
New episodes on Thursdays
Drew Magary and David Roth should really stick to sports. Sure, their new indie sports podcast will break down the week in sports: the Mets grounding into quadruple plays, NBA players getting testy on the court and horny on Instagram, or Bill Belichick cutting 80% of his roster just to keep himself interested. But these two men and their guests will have their fair share of off-the-field issues they'll also have to address: stupid Funbag questions, bad tweets from bad people, pointless food arguments, and even less. Every week is a VERY long week these days. We could all use a little Distraction.