Why Your Team Sucks
Why Your Team Sucks 2023: Philadelphia Eagles
1:19 PM EDT on September 6, 2023
Some people are fans of the Philadelphia Eagles. But many, many more people are NOT fans of the Philadelphia Eagles. This 2023 Defector NFL team preview is for those in the latter group. Read all the previews so far here.
Your team: Philadelphia Eagles.
I would've led this post off with a simple "24-14," but it doesn't quite have the snap to it that "28-3" does. A pity.
However, for the record: You. Fucking. Choked.
Your 2022 record: 14-3. Best record in the NFC. Conference champs. 8-0 start. Second-most big plays in the league for the season. Third-most team sacks of any team in league history. The Eagles were so good all season long that I, a late-blooming enemy of all things Philly, came not only to admire this team, but LIKE them (I put money on them). The 2022 Eagles were undeniably cool as shit, with a ravenous defense and a lethal rushing attack that included the advent of a butt push QB sneak that was so effective as to be deemed unfair by all the haters and tightasses. I thought so much of the Eagles that, at one point, I wrote here that they were one of the best teams that I had ever seen.
You, dear reader, knew better. You read the fine print. I, clearly, did not.
I should've known. I should've known the Eagles played the analytically easiest schedule in the NFL. I should've known they were frauds when they earned their first loss in an encounter with the unstoppable force that was Taylor Heinicke. The Eagles committed four turnovers that night, including this one that ended it.
But I still bought into their bullshit. The Eagles would go on to blow a 27-17 lead to Mike McCarthy, committing four more turnovers. But I thought to myself, "OK, but they had to start Gardner Minshew at QB for that one." Same deal when they got shut down by a thoroughly mediocre New Orleans team. I remained in the Eagles' thrall, especially when they breezed through their first two playoff games by an aggregate score of NICE-14, even though those wins came against private-label Eli Manning and then a San Francisco team that ran out of quarterbacks once the second half had barely gotten underway. No matter. The Eagles took a 24-14 lead in the Super Bowl against Kansas City, and I felt validated in believing in them. I sound like an actual Eagles fan right now, and that frankly makes me want to hurt myself.
Fortunately, my affection for them died the second they started choking that Super Bowl away. Like here.
And here.
And, of course, here:
James Bradberry, you idiot. You chump. You fucking loser. This could've been the coolest Super Bowl since 2017 and your sorry ass rendered it more predictable than an episode of Mike & Molly. This was the nadir on a night when the Eagles defense made so few adjustments that the Chiefs expressed genuine surprise (and delight!) about it after the fact.
They said after the game that they really didn't do anything different following the break, because the Eagles were showing them more or less what they'd prepared for. "They played the same type of coverages. We just weren't executing like we needed to," said [Eric] Bieniemy, the offensive coordinator.
Kansas City scored on every possession of the second half. Patrick Mahomes completed every pass he threw in that half, save for one play where he threw the ball away. He was sacked zero times. And you guys weren't even playing a fully armed and operational Mahomes. That dude was playing with one wheel and 58 shots of Toradol in him at the start of that game, and then hurt his ankle AGAIN during it. You still let him destroy you. And when I say "let," I'm not dealing in hyperbole. The big, tough, shit-talking Eagles laid right the fuck down.
Guess which team returned that punt 65 yards and then scored a vital insurance touchdown? Guess which punter the Eagles just cut a week ago? You guys may as well have lined the way to the end zone with votive candles for Mahomes and his gang of corndogs. How the fuck did this happen? Who was the brainiac in charge of this white flag refinery?
Your coach: This crybaby.
That's Nick Sirianni, the bro-iest coach who ever bro-ed. Hey coach, why'd you punt there? Doesn't that strike you as the most un-American shit in history?
"I think fourth-and-3, on your own 30, what was it, 33? Yeah, I think you would get 32 out of 32 NFL coaches saying they punt that ball every time, 32 out of 32."
Check and mate. But what about the ensuing return?
"Hey, if I had known they were going to return it to the 4, in hindsight, I think obviously I would have gone for it there… But no regrets there. That is not in my thought process right there."
Not in your thought process? Are you shitting me? YOU'RE THE COACH. ACCOUNTING FOR THE POSSIBLITY OF A LONG RETURN IS YOUR FUCKING JOB. What WAS in your thought process in that moment, asshole? America's win at Valley Forge? This man not only lost to Andy Reid, but got extremely outcoached by him. Reid even managed the clock flawlessly. And you Philly fans wanted Reid fired. You happy now, Chad? I hope not. I hope you hate yourself. Dickhead.
Both coordinators left for head coaching job this offseason, so your new offensive coordinator is Brian Johnson (not the AC/DC guy), and your new defensive coordinator is Sean Desai, whose name makes me crave some bottled water.
But those aren't the eventful hires. Know who is, though?
FUCKING AY, BABY. Sit up straight at the postgame, Angelo Cataldi! Otherwise Matt Patricia won't give you any Philadelphia Eagles information of any kind! Every fan in Philly will despise Matt Patricia while simultaneously embodying all of his sexually belligerent attributes.
Your quarterback: Jalen Hurts, who turned into an MVP candidate last season but will still be decried as a bum the second he makes an errant throw against Dallas. And who will Eagles fans demand take over for him? No, it won't be sad sack backup Marcus Mariota, because Mariota just had the ugliest preseason a veteran QB has ever had. What about the new guy, rookie Tanner McKee?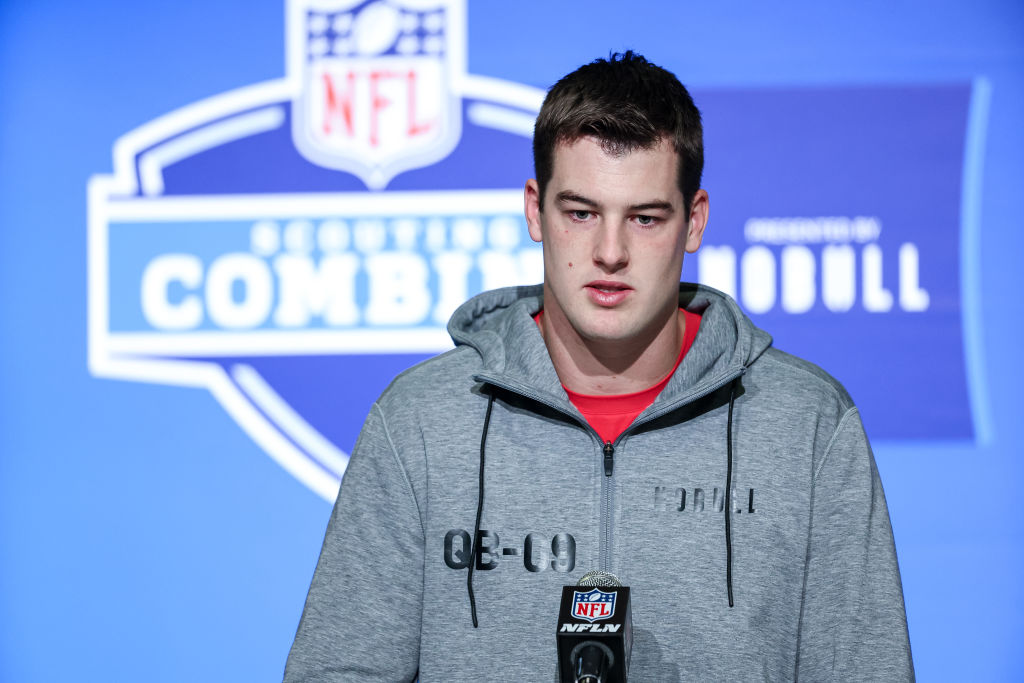 Oh yeah. That guy has "WIP caller favorite" written all over him.
What's new that sucks: The defense. Five starters on D left the Eagles this offseason, with both safeties and stud DT Javon Hargrave chief among them. Hargrave will be a wrecking ball for San Francisco all year long while you guys try to rebuild your defense with a couple of mid-tier free agent replacements (S Terrell Edmunds, LB Zach Cunningham) and another trove of high draft picks, all of whom come from Georgia. Here's DT and reckless driving enthusiast Jalen Carter, alongside DE Nolan Smith and CB Kelee Ringo. There's nothing that Eagles fans love more than bragging about how many draft picks they have, and then fellating GM Howie Roseman for acquiring those draft picks. Makes them feel like the smartest people in the room. Meanwhile, I wouldn't trust anyone involved here to pour me a bowl of cereal.
CB Darius Slay demanded a trade this offseason (he since changed his mind and is now pretending to tolerate Patricia being here). DE Derek Barnett, fresh off an ACL tear, is now demanding one for himself. This kind of disarray might not have proved fatal a year ago, when the Eagles defense got to face a McCown week after week. But this season you guys have to play ACTUAL quarterbacks, including Josh Allen, a re-energized Aaron Rodgers, and Mahomes. Again. Maybe Mahomes will play that game blindfolded just for kicks.
Over on offense, free agent RBs D'Andre Swift and Rashaad Penny are here to help replace departed RB Miles Sanders. Both men will take turns getting hurt. The line lost G Isaac Seumalo and nearly lost C Jason Kelce to retirement. But Kelce changed his mind, almost certainly so that he could promote this "documentary:"
Counterpoint: no it's not, and no it doesn't. I'd rather watch Ron DeSantis win the presidency. Get the Kelce brothers out of my life forever, please. They both stopped being cute six years ago.
Why the players think you suck: Jeffrey Lurie relishes his status as the league's Token Liberal Owner, a title he earned mainly from planting some ferns atop of his stadium. But—GASP!—turns out Lurie doesn't mind occasionally flirting with inequality.
The major concerns expressed by player respondents relate to the team's treatment of the players and their families. They do not provide a family room for players' families at the stadium, unlike most of the other clubs. Despite not offering this to players, they do have a family room for the family members of coaches and football operations staff. 
Oh I see how it is. Sirianni and his wife can put their sons, Rampart and Redglare Sirianni, in free daycare all workday long, but the players can't. Some good guy you are, JEFFREY. I bet you gave money to Mayor Pete in the primary.
What has always sucked: I have reached a state of Philly fatigue in which I am no longer excited to hate the Eagles or Philly fans, but instead am simply content to ignore all of their DIY carny bullshit.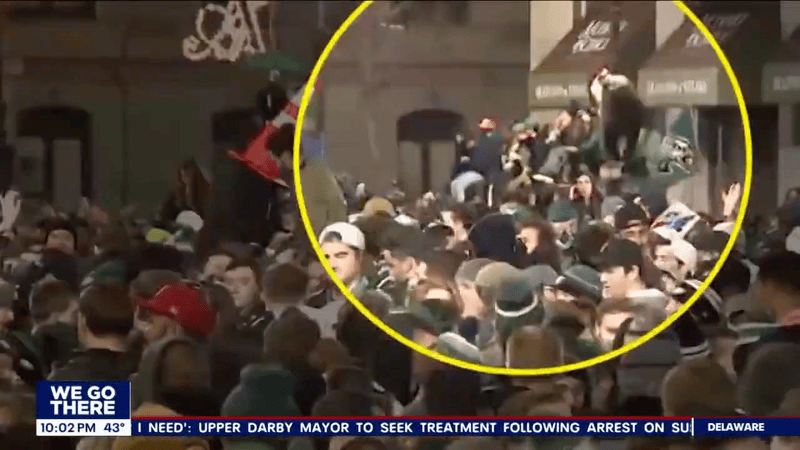 It's like watching a child entertain himself by eating a box of crayons. All of this pole-greasing and shelter-jumping is a cheap façade to hide the fact that Philly fans are the dullest, most basic, Buffalo Wild Wings-ass fans on the planet. All of them are 35-year-olds pretending to be 25. They like to sing, "no one likes us we don't care" when that's ALL they care about. They turn their attention to whichever Philly team is doing the worst at any given moment, so that they always have something to piss and moan about, because they think being angry makes you interesting. They're soft, they're human noise pollution, and nothing they did last year prevented their team from gagging when it mattered.
I remember when this roster got talked up as an evergreen juggernaut after the Nick Foles Super Bowl. How many titles have the Eagles won since then? Zero. How many will they win in the coming years? Zero. How many Americans will care about all of you Philly slobs when you die? Zero. Philadelphia is played out as fuck, so keep on burning cars and punching dogs and all that other PLEASE LOOK AT ME! nonsense. The rest of us stopped paying attention when your defense did.
Ratto says: Just some names of current Eagles depth chart to remind you that even the best teams are only an ACL away from disaster.
Olamide Zacchaeus
Charleston Rambo
Julian Good-Jones
Kelee Ringo
Greedy Williams
And of course, reality show star Marcus Mariota.
What might not suck: The Kelly green unis are back this season … but only for two games! BOOOOOOO. When you un-mess with success, do it all the way.
HEAR IT FROM EAGLES FANS!
Ryan:
These people are the gaping assholes of the USA. 
Evan:
I knew we were losing the Super Bowl as soon as I saw Nick Sirianni crying at a Chris Stapleton performance. 
Jack:
We lost a Super Bowl to fucking grass. That will live in this fanbase's head rent-free for eternity.
Nacho:
Because of a slippery field and a PI call that wouldn't have been made in the first quarter of a Pop Warner game, all anyone will remember is that they were losers.

Bryce Paup can die in a fire. 
Dan:
The defense that had the third most sacks all-time needed to make just one play in the Super Bowl for the Eagles to win, and they made zero. Fuck John Gannon. Arizona deserves him. 
Gregory:
There is no situation which Eagles fans cannot and will not make about ourselves.

Fuck you and your soap bubble soft defense, Gannon. You and Arizona deserve each other. I should not be this terrified on 3rd and 30.
Brian:
Going into to Super Bowl, I tried my hand at being the cocky, overconfident fan. I thought, "Oh we're totally going to destroy the Chiefs." It honestly felt good to smugly strut around for a week.

That confidence took a hit when the Chiefs easily marched down the field to tie the game, and then it was sucked out of me completely after Hurts' fumble. Our defense made me feel like I had brought this on myself. Thanks, Jonathan Gannon.

Fuck Pat Mahomes with a foam tomahawk.
Bill:
Yes, by the letter of the law, James Bradberry committed a defensive hold. No one says he didn't. However, the ball was uncatchable, there had not been a single holding call the entire game on either side of the ball, and this one came at the end of a relatively flag-free game (only nine penalties called, three in the second half, and two in the final quarter, the other being an offsides call with 14 minutes to go).

For the second straight year, the officials inserted themselves into the pivotal moment to determine the outcome of the game. Jenkins, and Carl Cheffers by extension, knew that calling the foul effectively ended the game, and they were not only fine with it, they were downright happy about it. They seemed overjoyed to make the game about them rather than the play on the field.

That moment turned me into someone I hoped I'd never become: a conspiracy theorist. I started questioning everything to a crazy degree. Why was Bradberry rushed to the microphones to proclaim his guilt? Why was Goodell so quick to praise the officiating staff? How was, Mahomes, despite a bum ankle (re-aggravated during the game), somehow the only person NOT to slip on that turf? Why was there talk at the league meetings about changing quarterback sneak rules to make sure that the Eagles could never convert a fourth down again, rather than, say, GETTING RID OF THE AUTOMATIC FIRST DOWNS ON MINOR DEFENSIVE PENALTIES?!

I've been in a spiral of self-loathing for six months over something that is inherently trivial, because despite a lifetime of watching my teams lose, for the first time ever, I felt cheated. I felt like victory was stolen from us. The Eagles didn't lose the game, the officials declared the loss by fiat. This should have been an epic Super Bowl, one that ushered in a new era of sustained credibility and legitimate success for Philly rather than a series of flukes. Even if we ultimately lost, it should have been a moment where we left with our heads held high, knowing we'd be back. Instead, the refs intentionally ended the game, and then the league rushed to whitewash the whole thing, and some even tried to kibosh the one tactical advantage the team had been able to generate for themselves.

That's where my mind went, and still goes. I find myself sharing common ground with the same types of monsters that stormed the Capitol or willingly gave COVID to other people because they thought a mask or a vaccine infringed upon their "freedom." And it sickens me.

Why do the Eagles suck? Because after 40 years, they made me into this. Fuck James Bradberry. Fuck Roger Goodell. Fuck this team for making me believe. Fuck me for letting myself feel this way about a goddamn football game. Fuck me again for the fact that I'm going to blindly follow them for the rest of my days despite all this. And most of all, fuck John Jenkins and Carl Cheffers with a chainsaw.
Michael:
I'm actually the best Eagles fan. I'm progressive. I don't boo our own players. I don't yell gay slurs to fans in Niners jerseys. I don't wish for injuries to the opponents. And I'm still a total fucking asshole.
Kyle:
I don't care if Bradberry, the Pope, and the ghost of Buddy Ryan say different, that wasn't a fucking penalty.
Mike:
During last year's playoff run, the city was overrun with shirts, banners, and really any noun you want emblazoned with the words IT'S A PHILLY THING. As if it's some wild. Exotic. Philadelphia-specific thing for people to be excited when their local NFL team is winning playoff games. Move over water ice and dumpster pools, the newest incomprehensible Philly behavioral tic is rooting for our local football team. Got it.

It's not a "Philly thing" until Michael Irvin's career is getting ruined, someone is whipping a D-cell at an outfielder, or someone's eating actual shit.
Alex:
There's plenty of reasons why the Eagles and Philly suck, and they will be listed at length by others. I'm not here for them today, however. I'm here for the mutants in South Jersey.

South Jersey usually just gets a few drive-by potshots, but they deserve so much worse than that, as they are the worst fucking people on earth. It is the pinnacle of suburban hell. All of their culturally interests are highways and shitty beaches.

And they're all Eagles fans.
Ben:
I am a lifelong Eagles fan and have muted 71 Twitter accounts, over half of which are Eagles fans.
Sean:
Eagles fans are toddlers. They know how to spell only one word, get upset over everything, and oh is that diaper full?

They're the reason warnings exist on hemorrhoid cream tubes.
Drew (not me):
This team will go 9-8 for the next three years before Sirianni gets unceremoniously canned. Doug Pederson and Trevor Lawrence's hair will win the Super Bowl this year to remind us of what we are: losers more often than not, the little-kid brother to New York, and the burnout cousin to D.C.'s polished success, squabbling in piles of fast-food trash with Baltimore over who gets to be the third-best city in the mid-Atlantic. 
Jeff:
In the 2004 season, I went to three Eagles road games and two home games. The only game I got in a physical fight at? You guessed it, a home game.
Dylan:
Hurts is unable to do anything but lose championship games.
Michael:
Nick Sirianni looks like a waiter for that one super-racist cheesesteak place. The second-best pass rush of all time did fuck-all in the Super Bowl because they couldn't figure out what kind of cleats to wear. We still had a chance to win, but our highly paid veteran cornerbacks couldn't handle a wide receiver running one way and then the other way.
Todd:
The kelly green jerseys were the best uniforms in sports, and they got rid of them because the owner's ex-wife didn't like the color. Eagles fans love them because they remind them of their hero Buddy Ryan, who had fewer playoff wins than Rich Kotite.
Matt:
I keep hearing about how Eagles fans are the most knowledgeable in the NFL. But if that's the case, where did all those mouthbreathing crypto-racist dipshits on WIP come from? And that's just the hosts.

Philadelphia sports fandom has a shoe-size IQ and a tiresome inferiority complex, but Eagles fans are the fucking worst. They're like Jets fans without the institutionalized sexual harrassment, and even that's just a matter of time. They fucking deserve another 52-year championship drought.
Stephane:
We've got 40985094358039 defensive ends and 0 safeties. 
Junior:
Nnamdi Asomugha. 
Bob:
Being an Eagles fan made me switch to soccer.
Bryan:
"Fly Eagles Fly, on the road to victory." How the fuck do you fly on a road, shitheads?
Mel:
In my early 20s, I dated an Eagles fan. This guy looked at me sideways when I asked him to be my date for a college friends' wedding. Apparently, it competed with a ceremony the Eagles were having for Reggie White that same day. 

Years later, this man tells me he popped the question to his now wife at the Philly Zoo, taking a page from a scene one of the Rocky movies, because, "retards like the zoo." Who says chivalry is dead? 
Michael:
The fans are worse than you can imagine. Things I have personally witnessed:

-Pissing on a man who was knocked unconscious by another

-Threatening to rape two teenage (maybe 12-13) year old girls if they went to the bathroom because they had Giants jerseys on (their father summoned security).

-Starting huge melee over a mustard packet accidentally being stepped on

-Hitting my good friend in the face with a smuggled-in beer bottle. He was wearing a pre-cut Cowboys jersey that he planned to tear off to reveal his Eagles gear. Never had the chance. Scar on his face for life.

Fuck them forever. I have to live here.
Rob:
Most fans wish they could go back to the days of the Vet, where Buddy Ryan could punch people freely, players would routinely have horrific knee injuries, and fans black out and spend the day in the stadium jail. The only good thing that ever happened at the Vet was Michael Irvin's spine injury.
Chris:
Eagles fans are exhausting. 16 callers a day to WIP will talk about how Philadelphia is a "blue collar town" and how we like "blue collar players" without ever stopping to explain what that means. Their fantasy team would consist of a Buddy Ryan-led squad of Vince Papale, Rocky Balboa, Larry the Cable Guy, and the least fundamentally-sound member of the 1973 Philadelphia Flyers.
Brendan:
You absolute Goddamn son of a bitch, Magery (you don't deserve proper spelling). I knew it was your fault. I knew that you were the one to do this to us. Ever since 2018, when the Eagles curbstomped your precious Vikings, you've been extra vitriolic against the Eagles. No shade about it, I would be as well. But then you wrote this, and you GUSHED about the Eagles. How much you respected them, as well as tolerated us as fans. "One of the best teams I've ever seen," you said! And I knew in that moment, in my heart of absolute hearts, that they were going to lose the Super Bowl. I lied to myself and tried to write it off as superstition, but I knew. It was a total lock that they were going to lose it in a way that didn't show incompetence, but rather a cruelness of fate.

Want to know why? Because you are an awful, ungodly jinx: a blight onto the world of football journalism who seeks only to transfer your pain onto others. You absolute monster. That's the whole point of this entire Why Your Team Sucks series. You are a dark entity of evil who begins every season attempting to bring others down to your level of awful through incantations in the form of blog posts. My hatred of you spans eons.

Put that hearing aid in that unused ashtray you now call an ear and set it to high: stay the fuck away from the Eagles. Fuck right back off to the hell you came out of and bring your precious Vikings pendant along with you.

Go Birds.
Brian:
I hope Jonathan Gannon becomes septic after a boil on his anus becomes horribly infected. You just had to stop the Chiefs once, you walking jizzstain.

As always, fuck Carson Wentz with a camouflage crossbow.
Paul:
This team blew its only chance and everyone knows it. The Eagles have the most starters over 32 years old and will be counting on all of them to over-produce again. Our top two running backs have one healthy leg between them. The defensive play-caller is last year's third-round pick who has played 34 snaps total. Our first-round draft pick killed someone in a drag race and is now being sued by a survivor. We have not beaten a good quarterback in three years (seriously, go look). Our head coach looks like an impossibly punchable asshole.

We hired Matt Patricia.
Lee:
Fuck Andy Reid. Fuck that turf in Arizona. And double-fuck Jonathon Gannon into the sun.
Drew (again, not me):
Every Philadelphia fan I know will happily embrace the fiction that our fanbase is the worst because it comes with the implication that we're the toughest. Got that hard-assed Philly edge. We lean into it, because it allows me—a middle-aged dad who hasn't been in a fight since middle school—to know that in the right circumstances, I too could invent electricity, go 15 rounds with Apollo Creed, and get eye-fucked by Jennifer Lawrence. You just wouldn't get it, Other Drew… you're not from Philly. (I also am not from Philly.)

THAT'S why we suck. Deep down, a tiny part of me truly believes I'm the baddest MFer on the planet, despite knowing I'll inevitably read this column on my iPhone, wearing a polo shirt and slacks, in my climate-controlled office in the heart of the business district. I suck.

Doug Mastriano and Doctor Oz can lick my taint. So can that fucking holding call.
Submissions for the NFL previews are now closed. Next up: Kansas City Chiefs.
Stay in touch
Sign up for our free newsletter