Jamboroo
If You Don't Have Multiple Real Dudes You Don't Have Shit!
2:56 PM EST on January 26, 2023
Drew Magary's Thursday Afternoon NFL Dick Joke Jamboroo runs every Thursday at Defector during the NFL season. Got something you wanna contribute? Email the Roo. And buy Drew's book, The Night The Lights Went Out, through here.
I promise not to make a habit of this, but let's lead off this conference championship preview with an observation from one Robert Griffin III:
RG3 is a demonstrably weird person, but weird people are not always wrong. Plus, they occasionally gift us phrases like MULTIPLE REAL DUDES to help freshen up an increasingly stale online lexicon. There really are multiple real dudes playing this weekend, perhaps more real dudes than we've had for any conference championship weekend in history.
But what RG3 failed to note in the above tweet, or in its GIFed-up addendum, is how the quarterbacks themselves are among those real dudes. Of the four starting quarterbacks left, only Niners quarterback Brock Purdy could be considered immobile, and even then he's liable to surprise you. Jalen Hurts can run. Joe Burrow can run. Patrick Mahomes can usually run, but is currently hobbled by a high ankle sprain that almost assuredly would have put him out for a number of games had it occurred during the regular season. Mahomes's injury is the reason why the Bengals were briefly favored to win the AFC title game despite the fact that they won't be the home team for it (the line is now even). Go back to last weekend and all four losing teams ALSO had quarterbacks who can scoot. So if you don't have a QB who can, you're fucked.
That definition of "a QB who can run" has become far more elastic than it once was. I used to mentally define mobile QBs as QBs who could run for 1,000 yards a season: Michael Vick, Lamar Jackson, etc. The pool of mobile QBs is hardly limited to those illustrious gentlemen anymore. Burrow doesn't run often, but when he does it's usually for a first down. Ditto Mahomes when he's healthy, deftly reaching the ball out anytime he closes in on the sticks. Hurts leads a rushing attack so deep and versatile that its menu of QB sneaks alone fills up an entire Madden screen. If you have a QB who can run for just, let's say 40 yards a game, that's enough tactically to "keep defenses honest," in color-guy parlance. That's enough of a running threat to open up the spacing around the field by critical fractions of inches, and you don't have to pay Derrick Henry or another franchise back $25 million for it.
That's why no Super Bowl champion has had a 1,000-yard rusher since 2015, and why none of those teams had an offense built around a bell-cow back since 2013. You know how fungible running backs are, and you know what a tragic mistake it is to build your team around one, even if that back is as good as Henry. So savvy GMs are now instead paying their QBs to handle a significant load of rushing duties, often pairing him with some pud that the GM took in the sixth round to get 75-80 percent of Derrick Henry's production. By offloading running back duties to other positions—particularly QB—you get leeway to leave the official running back position barren. Going by the rings, this is a wise way to construct a roster, perhaps the only way.
So consider this championship round a stress test for that approach. The Chiefs may have to beat the Bengals by relying on Mahomes to gin up a sequel to his Willis Reed act a week ago while entrusting the bulk of running duties to actual running backs. Ditto the Niners, whose midseason trade for queen of the chessboard Christian McCaffrey gave them the luxury of making it this far with the third QB on their depth chart. Both of those teams are coached by men who have no problem using their backs as real dudes. Andy Reid hates normal running plays, opting instead to distract defenses with a pre-snap conga line before sending Jerick McKinnon out on a subtly deadly flare route. And Niners coach Kyle Shanahan has never been a timid Run Establisher, hammering Elijah Mitchell up the gut while getting McCaffrey out in space—on the ground or through the air, it doesn't matter which—so that he can use that space to smoke oncoming defenders. Not only does this strategy work, but it allows lil' Brock Purdy get rid of the ball a split second faster than he might be able to otherwise. In that sense, these Niners are a throwback team, borrowing liberally from the very man who made them the Niners to begin with.
If San Francisco manages to win a Super Bowl this way, it'll tell other teams that they really CAN win a title with A Dilfer To Be Named Later. They don't have to sit around for years, decades even, hoping that their own Burrow walks through the door. They can instead assemble a scrimmage-dominant team and then fit in multiple real dudes everywhere around it, wherever they can. I keep thinking that Purdy and the Niners can't possibly continue to live this way, but a dozen straight wins makes that train of thought look more and more naïve as we go along. Perhaps if your back is a real dude, your QB doesn't have to be one. Maybe Kyle Shanahan, like Bill Belichick and others, is reaching into the past to fight back against the strategies of the present. If he can do it, he might be establishing an alternative—and frankly easier—Super Bowl blueprint for every other team out there in the wilderness. I'm still not convinced it's possible, but this is sports. And when you stop believing that anything is possible in sports, you stop believing in sports entirely. This is your Championship Jamboroo, so let's get ready for some goddamn football.
I'm genuinely excited for these two games, so let's get into it.
The Games
All games in the Jamboroo are evaluated for sheer watchability on a scale of 1 to 5 Throwgasms. And for the playoffs, I pick the games, because then you can hold them against me after the fact and I absolutely won't take the derision personally no way.

Five Throwgasms
Eagles (-2.5) 34, Niners 20. Right now, the Eagles are one of the best teams I've ever seen. I have, in my head, a small number of such teams. I don't deliberately keep track of them. I just know them when I see them, and then they stay indelible after that: the '85 Bears, the '89 Niners, the '91 Commanders, the Aikman/Irvin/Smith Cowboys, The Greatest Show On Turf, the '07 Patriots, etc. Those are the teams that make football look easy. Those are teams that were all but invincible. So are the Eagles right now.
I'm not guaranteeing that Philadelphia will win the Super Bowl. After all, those 16-0 Patriots didn't. You never know when injuries, or when Taylor Heinicke, might strike. But it's gonna take a lot to derail this train. Multiple, multiple real dudes. The Eagles have the best rushing attack in the NFL, along with the best deep passing attack, the best pass rush, the best O-line, the best short-yardage game, and probably the best coaching staff. Hell, they might even have the best home crowd in the game. I complain about Eagles fans, but really I'm just complaining about, like, three people I have muted on Twitter. Philadelphia is a town that is only curious about itself, but these fans show up and hit their marks better than a lot of other fans do. I have to give them credit for that.
This isn't a work. Fire off takes as long as I have and every earnest sports observation that you make comes off as the setup for a punchline, or a jinx, or a reverse jinx, or whatever the fuck. But not this take. This one's all me, stripped naked of my empty bravado. The '22 Eagles have been a joy to watch, and they'll have earned their place in history if they win the Super Bowl, and perhaps even if they don't. Individual dominance is easy to encounter in this sport. I know because I've watched Tom Brady doing what he does for 20-plus years now. But dominant teams—and I don't mean that in the usual rah-rah bullshit way—are much rarer. I've already forgotten last year's Rams. These Eagles? Unlikely. They're gonna stay in my memory for a very, very long time.
Bengals (Even) 17, Chiefs 13. I'm pro-legalized gambling on the whole. But if you dabble in that particular racket, you have to make sure that you don't become a Gambling Guy. I like talking with my friends about point spreads and bad beats and all that shit, but if you ever see me on Twitter being like SNEAKY GOOD DAY FOR THOSE OF US WHO BET ON THE JAGS TO GET THE BACKDOOR COVER, you have my permission to shoot me in the face. Sports gambling is best when you're merely a tourist. Make it your entire identity and suddenly you're the world's most repellent person. Even Howard Ratner was kind of annoying about it.

Four Throwgasms
None. Here's some random crap:
-One more thing about the Eagles while I'm grudgingly fawning over them: this is a good time to remember that GM Howie Roseman drafted Jalen Hurts when Carson Wentz was still, in theory, that team's franchise quarterback. You probably remember Roseman's infamous "We want to be a quarterback factory" quote right after taking Hurts in the second round, but let's look at another thing he said that same day:
"We were very fortunate to get a young Pro Bowl quarterback in Carson Wentz, and our goal is to surround him with as many good people as we possibly can, as many good players as we possibly can… the kind of people we believed in the most. Jalen stood out in all those regards."
You'll notice that Roseman hasn't drafted a QB since taking Hurts, which makes every answer from that 2020 presser both telling and rather amusing in retrospect. This team doesn't wanna be a quarterback factory. They simply realized, barely in time, that Wentz is a dipshit and that everyone on the team and on the coaching staff hated his guts. I bet even Dallas Goedert went to Roseman and was like, Please, man. Please get that fucker away from us. Carson Wentz is the herpes of quarterbacks: painful and quite easy to diagnose.
-Dak Prescott really is going to have the exact same career arc as the guy he replaced, which means that a repeat of this play is coming somewhere down the line:
It's been years and years since any starting quarterback has served as a holder, but if any starting QB volunteers for holding duties now, they'll get talked up to the fucking moon. Greg Olsen will call the game and be like, Mike McCarthy was really taken aback by Dak's passion for special teams, but that just showed the Dallas head coach how badly Dak wants to win a Super Bowl! And then Dak will botch the snap on a PAT and Brett Maher will accidentally kick his face off. We could make that happen if we simply manifest it.
-While everyone is busy arguing about rugby-ized QB sneaks, I'd like to have an even pettier complaint to the rules committee for the offseason, and it's about late quarterback slides. You've seen it happen: a QB takes off running, a linebacker peels off his coverage to get his ass, and then—OOP SURPRISE!—the QB slides jusssst before contact to draw a bullshit flag.
I respect the fake slide, which Steelers QB Kenny Pickett pioneered in college. That's a fun little bit of gamesmanship that college football immediately outlawed because the people running that sport no longer have the power to outlaw anything else. But late slides remain legal, and both players and coaches are getting increasingly better at timing them just so. So here's what I propose as a remedy: if you're a QB and you start sliding when no one is within a yard of you, that's legal. You slid in good faith. Anyone who hits you after that gets a flag. But if it's any closer than that, it should be legal to take your fucking head off. That's the price you pay for getting too cute. AND YOUR QB GETS EJECTED FOR DIVING, TOO! SUCK ON THAT!
-I'm still not used to Tom Rinaldi being just another sideline reporter for FOX. I'm way too used to him being the guy that College GameDay would send out to profile an SEC punter who's playing with only one kidney. But now Rinaldi is on the field issuing basic-ass dispatches like, "I talked to Brian Daboll at the half and he told me, Our guys HAVE to stop making dumb mistakes." Sure Tom, but what about Brian's family? Did any of them die in a plane crash recently?
-Ever have your hands full and wave to someone passing by with just one finger? I do this. I have to say hi to a neighbor, but I got the dog's leash in one hand and his filled doodie bag in the other, so all I can do is hoist my index finger and be like, I SEE YOU AND YOU'RE NUMBER ONE IN MY BOOK! It's almost as lazy as the pantomimed tip of the cap, but far less grandiose. I need a third hand. Graft it right to my throat. It'll look normal.
Last week: 4-0
Overall: 7-3
Pregame Song That Makes Me Wanna Run Through A Goddamn Brick Wall
"Awe At All Angles," by Long Island's own Moon Tooth. Here's Tyler with a quick rundown:
With a riff that immediately sticks in your brain like duct tape, and a hectic but rhythmic backing track, "Awe At All Angles" delivers everything you could ever want. I saw these guys live in The Before Times and their massive lead singer danced for an hour straight while belting out tunes. 
I remain in awe of anyone who can sing and dance capably for longer than two minutes. Also, this video has a dude force-feeding another dude pennies! Solid entertainment all around.
Great Moments In Poop History
PROGRAMMING NOTE: Next week is the dreaded bye week between the title games and the Super Bowl, which means I'm once again compiling our annual POOPOROO anthology. If you've got a fun poop story, send it in here. It doesn't even have to be about you shitting yourself! Poop stories can go any number of ways, like this next one from reader Jon, who sends in this tale I call ALL QUIET ON THE WESTERN BUTT:
I thought a change in energy might be interesting here. I've been reading horrifying poop stories in this column for, I dunno, a decade? So I'm at brunch with my wife and kids after a workout and a glass of Metamucil. I've just finished two beers and a breakfast burrito smothered in green chile. All delicious! We're awaiting the check and I feel like I can sneak out a fart, but it's being coy. I test a little more and - uh oh! - better not test that any further. I excuse myself, head to the bathroom, take a very satisfying Muce-fueled shit with no damage, consternation or other horrifying side effects. I return to the table, pay the bill, go home and have a nice afternoon.

I tell this story because as I was testing that fart, I LITERALLY thought about this column and did not want to have my own horrifying poop story. So thank you! And thank you to all the poor bastards who have come before me that I have (apparently) learned from.
Let this be a lesson to all of you prudes who skip the poop story every week. You could've learned how NOT to shit your pants with used burrito innards had you read this part of the column. Instead, you've chosen to live in dangerous ignorance. I HOPE YOU'RE HAPPY WITH YOURSELVES, DIPSHITS. Now send in those stories for next week or go to hell!
Which Idiot GM Is This?
You know your team is in good hands when the man in charge of the roster is a professionally sweaty guy who MEANS BUSINESS. Which team does the man below hold in his meaty paws?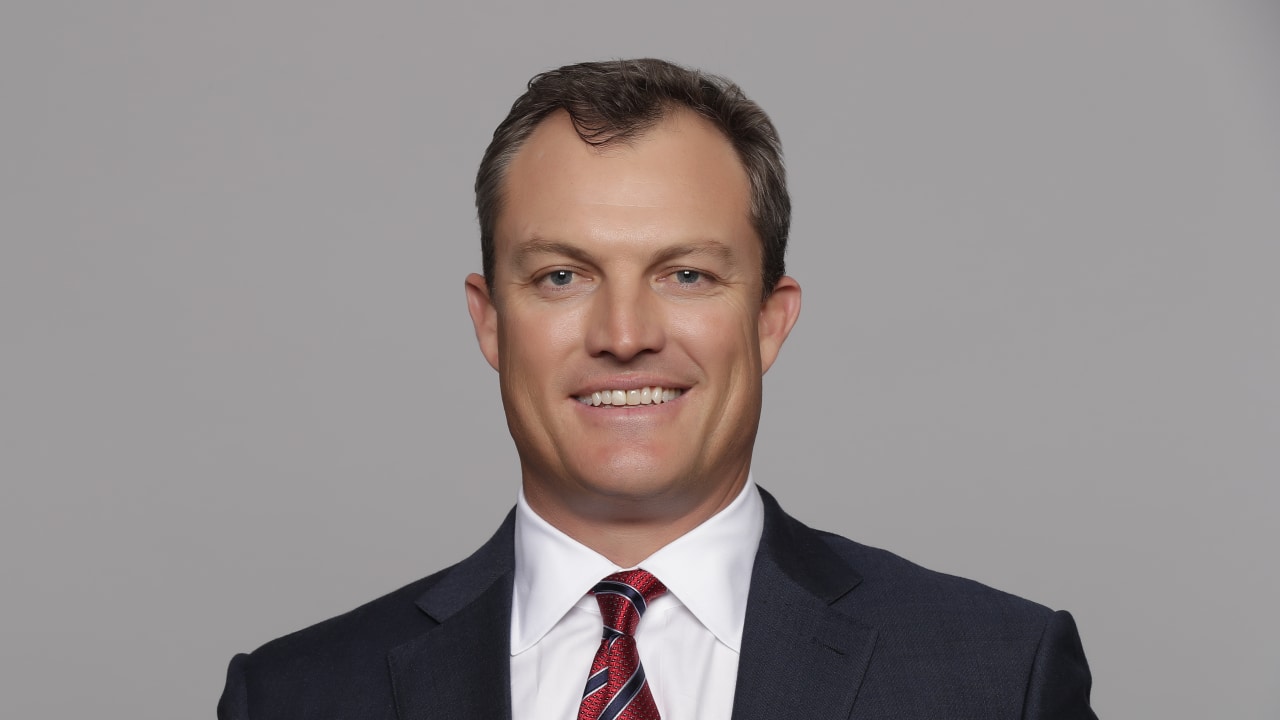 OK, this one's pretty easy. That's Niners puppet dictator John Lynch, who's here to put a face on all of Kyle Shanahan's personnel moves. And what a face! John Lynch currently suffers from Chipper Jones Syndrome, in which he's significantly uglier every time you see him. This was once a handsome man, I swear. Now his teeth are more crooked than the federal judiciary and his hairline looks like the Bat Signal. Turns out that playing professional football ages you more rapidly than if you've never played it at all. A stunning revelation.
Gametime Cheap Beer Of The Week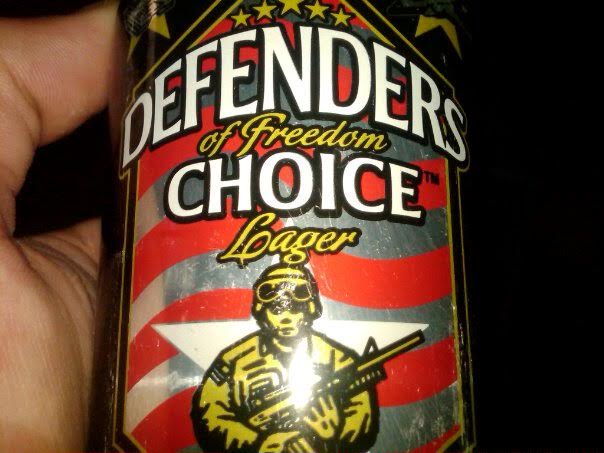 Defenders of Freedom Choice Lager! I'm already laughing. From reader and true patriot Clinton:
What's more American than defending freedom? This is Defenders of Freedom Choice Lager. I discovered this patriotic gem at a beer distributor outside Erie, PA, on the 4th of July two years ago. The lone 30-pack was being used as a doorstop. I asked the cashier how much it was. He said he had no clue. It had been the doorstop for at least six months and he didn't know how long it had been in the store before that. The cardboard was completely faded by the sun and it was covered by a layer of dirt from the gravel parking lot. But because it was the 4th of July, I had to have it. The cashier rang it up. It was $17. He said no way could he charge me that much and asked if I'd be willing to pay $13 for the entire 30-pack. I didn't think twice. I bought it. It is not an exaggeration when I say it is the worst beer I have ever had. I still have one can left. Yes, I did drink the other 29, because freedom.
Clinton, thank you for your sacrifice. Meanwhile, this is the Kid Rock of beers. It has only one ingredient: PANDERING. Clinton sent in two other photos of this can because it's adorned with miniature illustrations of both a take and a fighter jet. Shoot this can in your backyard and it'll shoot back!
Gameday Movie Of The Week For Colts Fans
The Banshees of Inisherin, the name of which sounds like the name of a fake movie in a real Ben Stiller movie. I liked Banshees while also knowing that it could easily have been 30 minutes long if Colin Farrell's character had simply said to his sister, I don't think I wanna hang out with this old fucking psychopath anymore. But he doesn't, because writer/director Martin McDonagh decided he'd be Chekov for this one.
I watched this movie with my best friend Howard and his wife, and when I paused it to take a piss break Howard was like, "I don't know if I wanna keep watching; this movie's bumming me out." I was like, "No no no, let's see it through." And then four more fingers got chopped off. Worst episode of Father Ted ever.
Gratuitous Simpsons Quote
"Dozens of people are gunned down each day in Springfield, but until now none of them was important. I'm Kent Brockman."
Enjoy the games, everyone.
Stay in touch
Sign up for our free newsletter