Why Your Team Sucks
Why Your Team Sucks 2023: San Francisco 49ers
11:47 AM EDT on September 5, 2023
Some people are fans of the San Francisco 49ers. But many, many more people are NOT fans of the San Francisco 49ers. This 2023 Defector NFL team preview is for those in the latter group. Read all the previews so far here.
Your team: San Francisco 49ers.
Your 2022 record: 13-4. This was the best team in the league by the end of the regular season. But since these are the Niners, they took the most circuitous route possible to get there. They lost their opener to Chicago, letting Justin Fields throw for two TDs. Who the fuck lets Justin Fields complete two passes, let alone for touchdowns? Even the BEARS don't want Fields to do that. The Niners even blew a 10-0 second half lead in that game to punctuate the disgrace.
They also somehow lost 11-10 to Denver, in a contest where the Broncos went three-and-out nine times and neither team topped 261 total yards on offense. A war crime of a football game, and yet still more entertaining than the NFC Championship turned out to be. Three weeks after that Denver catastrophe, the Niners out-passed Atlanta 291 yards to 121 and still lost by two touchdowns anyway. The week after that, they went up 10-0 on Kansas City, but Patrick Mahomes always needs to fall behind by double digits just to get his arm warmed up. He'd end up beating them by three touchdowns.
And that's how these Niners ended up 3-4 at the beginning of the season. This team always starts off slower than a Somali track star.
I haven't even gotten to the QB issues yet. San Francisco's would-be franchise QB busted his ankle in just the second week of the season, forcing them to start on-again off-again boyfriend Jimmy Garoppolo at quarterback for the next three months. And then Jimmy G got hurt, busting his foot and forcing the Niners to start the very last pick of the 2022 Draft the rest of the way. And somehow, this was only the beginning of their woes at that position.
But I'm getting ahead of myself. Right before that Chiefs loss, San Francisco poached RB Christian McCaffrey from Carolina in a deal that turned out to be a steal, even accounting for positional values. After the Niners plugged CMC into the starting lineup, they ran the table. By the time the playoffs arrived, they were outright terrifying. They had the best defense in the league, the most dangerous assortment of skill position players known to man, and the best coaching staff in the NFC. They killed Seattle in the Wild Card round. They embarrassed Dallas in the Divisional Round without trying all that hard.
This team was so hot that, for the NFC title game, Philadelphia was favored by a scant 2.5 points, despite the Eagles playing at home. Vegas considered these Niners the better all-around team, although only by a hair. So this was going to be an absolute war, maybe the best NFC title game in ages. Instead ...
That's rookie QB and Make-A-Wish kid Brock Purdy, who got to throw all of two passes before Eagles OLB Haason Reddick came off the edge and turned his elbow into pulled pork. Purdy's replacement, Josh Johnson, would suffer a concussion right after the half, forcing the Niners to put Purdy back in the game, despite Purdy openly telling his head coach, "I can't throw."
Once that happened, it was all over. This titanic matchup ended up having all the suspense of a fucking preseason game. The Niners had 164 total yards the entire day. They held the Eagles to 269 yards on offense, but still lost by 24 points. CMC was the emergency QB for the Niners, and I wish they'd put him under center instead of an injured Purdy, if only for the novelty of it. This game was so terrible that the NFL had to change its QB eligibility rules this offseason to ensure that it never happened again. Given the Niners' current QB stable, I'm still not confident this new rule will prevent a recurrence.
Your coach: Kyle Shanahan, who deserves to get roasted on a spit for how he's managed his quarterbacks over the length of his tenure. He always picks them wrong, and he always gets them hurt. But since Shanahan lives rent-free in the collective mouth of the Bay Area sports media, and since the national football press treats him like an infallible child prodigy who plays 12-D chess while every other coach is playing Candy Land, this man can do no wrong even when he's gotten the most important position in football wrong every single fucking year.
Steve Wilks is your new defensive coordinator, by the way. He's cool. Shanahan will treat him like shit.
Your quarterback: Everything about this team's fortunes this season, and in seasons to come, resides with a position that Shanahan has yet to make whole. There's a reason that he traded up in the draft to get QB Trey Lance two years ago. He knew that a head coach can only system-quarterback a team so far, so he sold the farm to draft a guy who took a grand total of five snaps before turning pro, and only needed two seasons to show the world he can't play for shit. I can give credit to Shanahan for admitting his mistake and trading Lance to the first sucker on the block (Dallas, naturally) as quickly as he could, but that doesn't absolve him of drafting Lance to begin with. It's like if I stole your life savings and then you sent me a thank you note because I donated 10 percent of it to UNICEF. You fucking chump. Get the fuck out of here.
As far as I'm concerned, Trey Lance is the worst draft pick of this century. An unmitigated disaster. Worthy of mention alongside the likes of Ryan Leaf and JaMarcus Russell. It's a pick that should be hung around Shanahan's neck for the rest of his loathsome career. I know that sounds like cut-and-paste sportswriter hyperbole, but I mean it: this trade cost you Super Bowls. You know how the Packers got dinged for wasting all of Aaron Rodgers's prime? This is the inverse of that. The Niners have had the best roster in football for years now, and are pissing it away all because they drafted Lance. That's a fact. If you think otherwise, you better be Shanahan's dad.
The only way Shanahan gets out from under this decision is if Purdy stays healthy and proves to be a legit MVP-caliber QB, and what are the odds of those two things happening? Brock Purdy excelled because he played behind a killer O-line, and because Shanahan schemed a coterie of obscenely talented pass-catchers wide open for him. What happens when this little fucker has to go off schedule? What happens now that he has massive expectations to live up to, and isn't just the new kid anymore? What happens when he has to make his teammates better, and not the other way around? This man is a system QB, and so are his two current backups (Sam Darnold and Brandon Allen). All of that will prove fatal when it matters. Don't try to sell me any line of bullshit that says otherwise.
What's new that sucks: Even when you factor in Aaron Rodgers going to New York, the biggest move of the offseason was the Niners signing DT Javon Hargrave away from Philadelphia in free agency. This is now an even better front seven than it was a year ago … if Nick Bosa ends his holdout. No one will be able to run on them … if Nick Bosa ends his holdout. And opposing quarterbacks will barely have any time to throw … if Nick Bosa ends his holdout.
And even if Bosa does end his holdout, this defense still has to account for the losses of S Jimmie Ward, CB Emmanuel Moseley, LB Azeez Al-Shaair, DTs Hassan Ridgeway and Maurice Hurst, and others. Lemme hump the FTN almanac again by quoting them here about this defense: "San Francisco was 24th against deep passes last season and 31st the year before." So when these guys have to go to Philly in early December to face the Eagles' passing attack, it won't matter if Brock Purdy turns out to be dwarf Kurt Warner. You fuckers aren't getting out of there alive.
Maybe the Niners could have patched these holes in the draft, but thanks to the Lance and CMC trades, they didn't have any picks in the first two rounds this past spring. And with one of their three third-round picks, they took a goddamn kicker. They then traded for kicker, and yet somehow still need a kicker.
I haven't even gotten to the offense yet, where RT Mike McGlinchey, with a glinchey grin, walked to Denver for a bag and a half. RG Daniel Brunskill also left town, leaving the right side of this O-line as unstable as Aldon Smith. Trent Williams remains the anchor of this line and the best tackle in the entire sport, but how long can he last now that he's 35 and has a documented history of mutated cordyceps growing out of his head? Shanahan and puppet GM John Lynch are acting like this roster will be loaded forever when that's already proving untrue. When it all goes to shit, they'll be last ones to realize it.
Why the players think you suck: The training room.
A significant number of players feel that it is small and needs more tables.
Do you really think Kyle Shanahan wants his training room to be MORE accommodating to players? They might actually end up visiting it if he does that!
What has always sucked: Can't believe I made this far without bagging on the owner.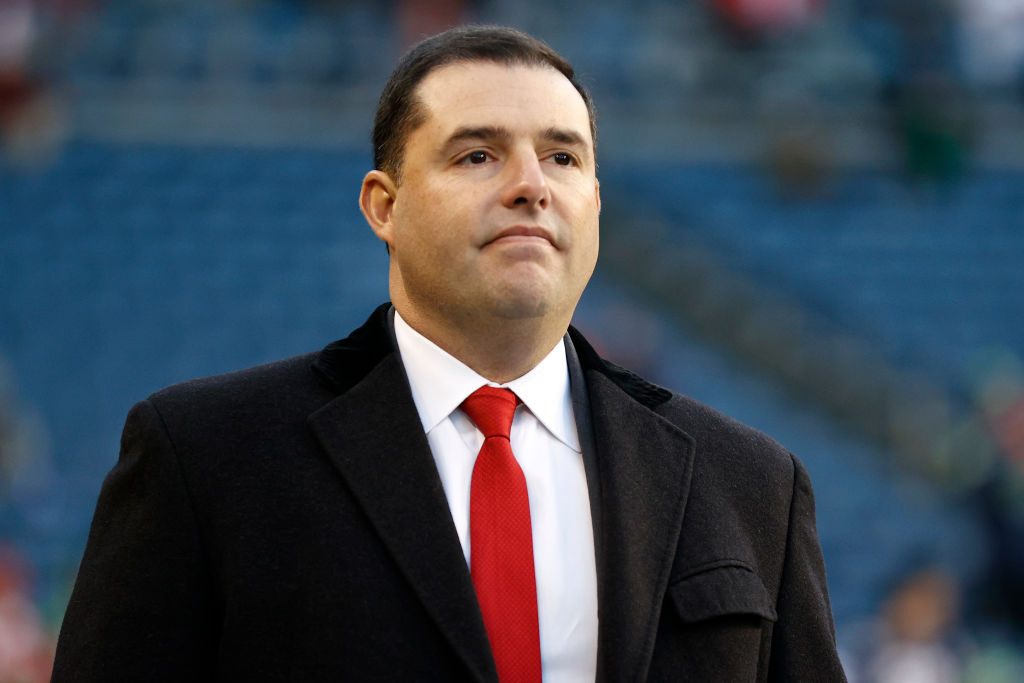 That's Jed York, who just got sued for doing some boilerplate white-guy shit. Oh, and he's engineered a shadow takeover of the town of Santa Clara, so that he can bend it to his every whim. This team was previously owned by a straight-up mobster and somehow the new guy is sketchier. No wonder Jed is so invested in Kyle Shanahan's attempts to make this team the autonomous vehicle of football.
Everything about these Niners is made of 21st century grift, and that grift filters right down to the fanbase, which is comprised of working class people who got priced out of San Francisco, bros who keep getting into fights at In-N-Out, and rich yuppies who left San Francisco years ago and now tell anyone within earshot that the city itself is Hanoi circa 1962. It's just a bunch of clueless assholes all bullshitting one another, and it's gonna result in a premature exit from the postseason every year until the end of time.
Deebo sucked last year. The fullback is still the most popular player on the roster with all the white fans. The Warriors dynasty is deader than Bill Russell.
Ratto says: Team president Jed York is being sued for insider trading and securities fraud in his role as a board member of an educational company based in the 49ers' home colony of Santa Clara. The suits claim that York and other board members concealed the company's role in helping college students cheat on online tests, and then dumped their company stock at the top of the market. In other words, in the context of the NFL's other owners and how they made their money, Jed is now a real boy.
What might not suck: Well shit I don't want MY team to face them in the playoffs. Are you fucking crazy?
HEAR IT FROM NINERS FANS!
Peter:
COVID is a hoax. The 1.2 million Americans who have died since 2020 were merely playing quarterback for Kyle Shanahan.
Katie:
TUNE IN NEXT YEAR WHEN THE 49ERS RIP THE HEARTS OUT FROM THE CHESTS OF THEIR FANS WHILE FINDING OUT IF QUARTERBACK IS, IN FACT, A CRITICAL ON-FIELD POSITION!

Ahahahah I'm still crying.
Clay:
I keep hearing how we have a great roster. Having a great roster and no QB is like having an incredible body and no fucking head.
Rob:
Fuck this team for making me believe it's possible to win a Super Bowl without a quarterback, and doublefuck them for coming close enough to pulling it off that no meaningful change will occur.
Colin:
One-third of our fanbase would call the cops on the other two-thirds if they ran into them anywhere other than Levi Stadium.
Sterling:
The only consolation prize for watching every QB go down as quickly as $15 Walgreens earbuds in the most meaningful conference game of the season is knowing that they would've lost to Patrick Mahomes again.

There is no 49ers fan I want to high-five less during a game at the bar than a white man in a Nick Bosa jersey. Except another Black man wearing a Nick Bosa jersey.
Sam:
We signed Sam Darnold, who suffers from Mr. Burns's Every Disease Syndrome.
Victor:
Kyle Shanahan is like a chef who cooks killer appetizers but sucks at entrees. 
Nick:
Will this finally be the season the 49ers disrupt the traditional ways of winning a Super Bowl by having Air Bud play QB?
Andrew:
After nine years, I've run out of different ways to say the stadium is too hot and too far away. It sucks and it's going to keep sucking for the rest of my life.

I've given up on ever again seeing a quarterback who can actually play for an entire season.
Shaughn:
"What if Nathan Peterman was functional?" 

Also, Kyle is definitely signing Kirk Cousins next offseason (kill me).
Dylan:
Do we even have a quarterback?
Josh:
They have whiffed on almost all their first rounders. No wonder they just trade them away now. 
John:
Kyle Shanahan strongly prefers quarterbacks who are undersized but also do not have very strong arms (lifelong habit too: Matt Schaub, Kirk Cousins etc). If they have the ability to get injured, all the better. He also loves not giving a shit about protecting them. I am seriously beginning to think that his goal is to set the NFL record for most QBs to play in a single year.

And if you think he recognizes that this is an issue, think again. He offers no apologies and sees nothing wrong with allowing his TE3 to block the other team's best pass rusher one-on-one.
Patrick:
I am convinced that Leeds United (now owned by the 49ers) will make it into Champions League play before the 49ers win another Super Bowl.
Nicholas:
Levi's Stadium is still a glorified convention center that doubles as a George Foreman grill. Sam Darnold will probably start half the season. Fuck Trent Baalke.
Jeremy:
We wasted a generationally-great defense because they couldn't figure out how to keep any QB from getting murdered. Chase Daniel would never sign on to be the backup here; the risk of having to take off the ballcap is too great.

All the red flags flew last January when conservative family members in my social networks started passing around the coverage that Purdy got in Focus On The Fucking Family. He's a couple of months from going on an Instagram bender about the LGBTQ community and "parental rights."

And when Purdy does finally out himself as problematic on social media, it mostly won't play in the Bay Area. Because let me introduce you to the East Bay, particularly that section between San Jose and Oakland that is Northern California's version of Orange County. A land abundant with strip malls and Cheesecake Factory franchises, bursting with upper-middle-class people who believe they Ayn Randed themselves to success despite all evidence. For the folks in the Fremont area, Purdy will become their cause. He just wins, and he's a free thinker. Silicon Valley is going to love him. At least the Giants disinvited Aubrey Huff from their World Series celebration after he went mental from Twitter Brain.

Fuck Jim Druckenmiller.
David:
Figure the QB position out you fucking assholes. I have to get shit from my asshole friends because we get curb-stomped in the conference title game after trotting out a bowl of pudding under center since we had no one else. 

Also, Kyle Shanahan is loved by his father but he's not a serious fucking person. 
Jeff:
I have a friend who is a rabid Packers fan. Every time we talks sports he calls us the Santa Clara Niners. It stings every time. Fuck you John York.
Charlie:
George Kittle is a Stoolie.
Gordon:
Around mid-June I miss football. By mid-February I never want to watch another game.

We are the doormats of the NFC championship game. If you want to get to the Super Bowl, you've got to go through us. "Go through" typically means waiting about one quarter until half the team is on injured reserve. If Tony Romo's anatomical integrity was an entire team, it would be us. I will be this team's starting quarterback by Week 6.

Our fanbase is insufferable. Most of them will vanish the next time we miss the playoffs. Deebo Samuel will be popping up easily catchable lobs into defenders' hands, only to be instantly forgiven when he takes an end around eight yards and gets tackled by all eleven defenders.

Our best player definitely keeps a room empty for Donald Trump at all times should he ever need a safehouse. Fuck Jim Harbaugh.
Burt:
Yo fuck you drew. Why you going to go and talk shit about some team that you ain't got shit to say about? Next time say that shit with a dick in your mouth.

I'm just kidding. It's a completely fair review.
Submissions for the NFL previews are now closed. Next up: Philadelphia Eagles.
Stay in touch
Sign up for our free newsletter