Why Your Team Sucks
Why Your Team Sucks 2023: Cincinnati Bengals
2:01 PM EDT on September 1, 2023
Some people are fans of the Cincinnati Bengals. But many, many more people are NOT fans of the Cincinnati Bengals. This 2023 Defector NFL team preview is for those in the latter group. Read all the previews so far here.
Your team: Cincinnati Bengals.
Your 2022 record: 12-4, featuring a 4-4 start followed by eight straight wins. Which half of the Bengals' season was the anomaly? Well my simple Ohio friends, I'll let their playoff performance answer that question for you.
But before I get started on today's sermon—entitled What Joseph Ossai Did—let's go over the basics. Prior to last season, the Bengals were determined to shore up an offensive line that Aaron Donald used as a Wet-Nap in their Super Bowl loss to the Rams. So they fattened up on free agents and went into 2022 with three-fifths of that line reworked. The initial results of that effort were desultory. Triggering, even. The Bengals opened with two straight losses. They took out T.J. Watt in a game against Pittsburgh, clawed their way back from 17-6 down, but still lost at the end of overtime anyway, with QB Joe Burrow throwing four picks along the way. Then they lost to a Dallas team that was starting Cooper Rush, with PAT-averse slob Brett Maher nailing a 50-yard field goal to beat them at the gun.
Two more losses would follow in October, with Baltimore legend Justin Tucker also beating the Bengals at the gun. And then Nick Chubb and the Browns ran roughshod over them. But eventually the offense got its shit together, the defense stiffened up, and Cincinnati went unbeaten in the back half. In fact, they would've won nine straight had WR Tee Higgins not accidentally given Bills S Damar Hamlin the Five Finger Death Punch in a nascent rout of Buffalo that ended up being cancelled. Unlike the Bengals of old, these Bengals preferred to do all of their attempted murders ON the field rather than off of it. I admire them for their willingness to grow in this regard.
Once in the playoffs, the Bengals' fortified O-line got severely hamstrung by injuries, and they were thoroughly outplayed in the Wild Card round by a Baltimore team that was missing Lamar Jackson. Cincinnati only escaped with their lives that night because Tyler Huntley was a dumbass on the goal line. After that, they made up for lost time by whupping Buffalo in Buffalo. Now, the Bengals only won that game because the Bills are the Bills, but they still found themselves in an AFC title game rematch with Chiefs in Kansas City as a result. Not bad when you remember what kind of franchise we're talking about.
These Bengals were an undaunted bunch. They'd already won this exact AFC title game, and after being down 21-3, no less. They weren't even going against a healthy Patrick Mahomes or a healthy Chiefs WR corps for the rematch. This game was a layup. Cigars dipped in chili were on the menu this evening, my compatriots. Until ...
Lemme tell you: this team LOVES to blow big games with needless penalties. It's like they wait until the very last second to remember they're the Bengals, and then commit 56 personal fouls to reclaim their heritage before it's too late. The Chiefs' only functional wideout that night was Marquez Valdes-Scantling. They ran for just 42 total yards. No matter. Burrow threw two picks, a ravaged O-line gave up five sacks, and the Bengals lost, giving Chiefs TE Travis Kelce the chance to talk the corniest-ass shit to Cincinnati's mayor:
"I've got some wise words for that Cincinnati mayor," Kelce said. "Know your role and shut your mouth, you jabroni!"
I look forward to the day when our heartland discovers jokes that were coined in the 21st century. Gonna be a special moment. Anyway, the Bills are currently hogging the spotlight as former also-rans returning to choke-ionship form, but these Bengals aren't far behind them. In fact, I predict that they'll surpass Buffalo's this season as America's Premier Disappointment. They're only a flag away. The soul of Vontaze Burfict remains deep within them.
Your coach: Zac Taylor, who remains popular with fans because he lucked into Joe Burrow and because he looks like every groomsman at every Indian Hills wedding ceremony. Defensive coordinator Lou Anarumo is the real brains of this outfit, and he won't be here for much longer. So savor all of Anarumo's ingenious midgame adjustments while you can, Bengals fans. Because no gifted person sticks around Ohio for more than a handful of years. Eventually, they go someplace important.
Your quarterback: Joe Burrow, who hurt his calf in practice during training camp and has been sealed inside a vault ever since then. Eventually, poor Burrow will have to get back out onto the field, where Kimo Von Oelhoffen II will surely be awaiting him. Burrow's backup will either be undrafted nobody Jake Browning or waiver wire pickup Will Grier. This is dangerous business when you're the Bengals and God has you in His holy crosshairs 24 hours a day.
What's new that sucks: The secondary! Apparently the Bengals' front office—i.e. owner Mike Brown sitting in a local Starbucks working on a 2005 Dell laptop—wasn't content to let a crippled Mahomes throw for only 300-plus yards on this defense in vital moments, so say goodbye to safeties Vonn Bell, Jessie Bates, and Brandon Wilson, and bid CB Eli Apple adieu while you've got the time. And who knows if CB Chidobe Awuzie will return to form after undergoing knee surgery earlier this offseason. Sounds like you guys are really fucked! I bet Mahomes could throw for 1,000 yards on you now! From a wheelchair!
Nevertheless, the Bengals will try to rework this pass defense on the fly with draftees DE Myles Murphy, CB D.J. Turner, and S Jordan Battle. Whether or not they succeed is entirely beside the point, because Brown's only goal is to save every last goddamn penny he can. Both Burrow and Higgins are due for contract extensions after this season is over, and Burrow will want, and deserve, more money than God. The center cannot hold, and therefore neither can this defense.
On offense, Cincinnati made moves to shore up their front. Again. So here's new LT Orlando Brown from the hated Chiefs, and here's new TE Irv Smith from Minnesota. Irv Smith is where potential goes to die. By October, you guys will be begging for Hayden Hurst, who is not Hunter Henry, to walk back through that door. He won't accommodate you. RT La'el Collins is on the PUP list for at least the first four games of the season, and is possibly on his way out of town. So Burrow's health, and the fortunes of this team, will again depend on a mid-tier line staying healthy from wire to wire. I'd have better luck keeping down a plate of Skyline without my rectum bleeding.
Meanwhile, established woman-puncher RB Joe Mixon was charged with aggravated menacing (is there any other kind?) during the offseason after he reportedly aimed a gun at a woman and threatened to shoot her. That Mixon didn't shoot this woman demonstrates a real leap in maturity on his part. Just don't ask him about this incident if you write for ESPN, or for the three other outlets that Mixon has decided are The Enemy:
After Sunday's practice, Mixon declined to speak to reporters. He then announced he would be boycotting questions from specific reporters who represent the following outlets: Sports Illustrated, The Cincinnati Enquirer, Pro Football Network and ESPN.

"It's not happening," Mixon said, citing behavior he deemed disrespectful.
I'm sure he's innocent. Totally.
Meanwhile, WR Ja'Marr Chase's ex-girlfriend went on Instagram to accuse him of being a deadbeat, and threatened to publish videos of him that she promised him would, "end your career."
Why the players think you suck: The F stands for FANCY!
The Bengals are one of three teams that do not provide dinner to their players; they are also one of two teams that do not provide vitamins, and they are the only team that doesn't provide supplements… They have issues with the showers and toilets not consistently working, and they are the only team that does not have outlets in their lockers to charge devices.

Players reported that wives have sat on the public restroom floor to nurse their babies.

Players report that they are encouraged to come in on their off days to work out and prepare for the game; however, the cafeteria is not open on those days, so players can't even grab a banana before working out.
Not even a fucking BANANA. And you think Mike Brown is gonna pony up for Joe Burrow? Joe Burrow is the Rainier cherries of quarterbacks. He's at least $9.99 a pound. It's not happening. You poor bastards are gonna bring Boomer Esiason out of retirement for minimum wage a year from now. Boomer and his new teammates will be forced to share one apple as their full meal every training camp. It won't even be a good apple. We're talking red delicious here. A hotel lobby apple.
What has always sucked: In this century, the Cincinnati Bengals have had more seasons at .500 or above than below. They've been the playoffs eight of the last 14 years. They've won more than they've lost, and have done so for a long time now. Thanks to Burrow and Chase, they're better equipped to win a Super Bowl now than they've ever been. And not just one Super Bowl, but perhaps many. This is a winning franchise. But do you REALLY believe that? Of course you don't, because you know this man still breathes: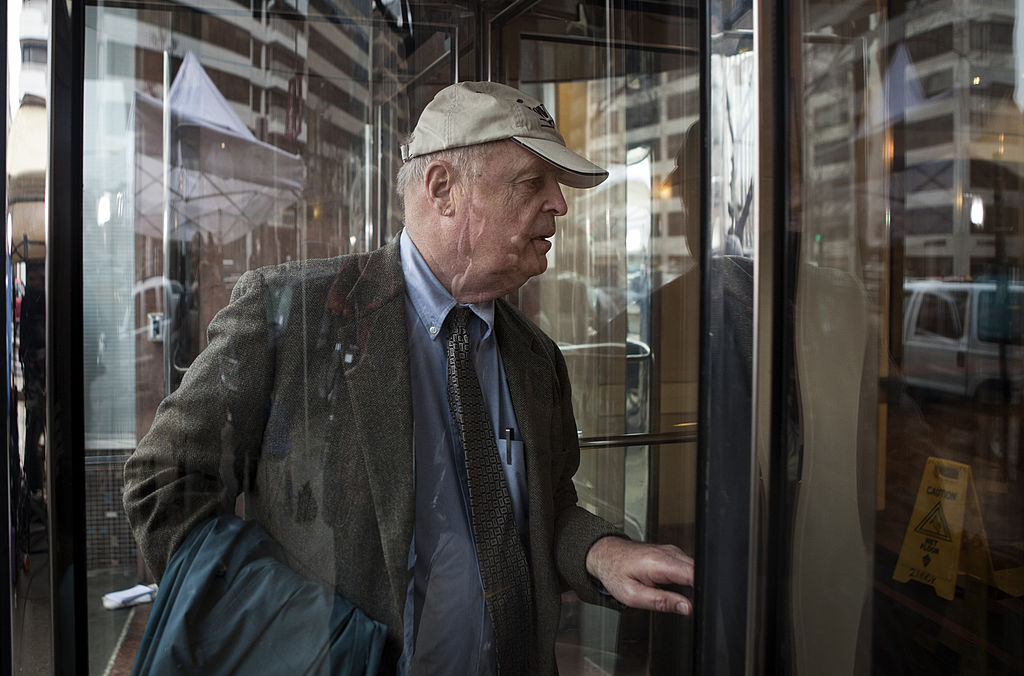 This is why that Super Bowl loss to the Rams was a window closing and not opening. This is why the most recent Cincinnati sports title is still child actor Shane McDermott winning a big rollerblade race at the end of the 1993 classic Airborne. This is why Bengals fans go to games and cheer and say WHO DEY and do all that other good fan shit, but never quite have their hearts in it. They know that these are still the Bengals, and that the Bengals can have all the talent in the world and still never do anything right. The Bengals are fuckups, and always will be so long as they remain in the Brown family's grasp.
And that grasp isn't loosening anytime soon. Once Mike Brown dies, daughter Katie Blackburn will take over the joint and be just as skimpy with the produce offerings, if not more so. This isn't like the Commanders, where Dan Snyder offered America a sumptuous buffet of crime-doing every year to invite his eventual downfall. The Browns keep their radius as tight as their wallet. They are a black sun rising and setting every day on this miserable franchise. Also, they have no fucking idea how to do a Ring of Honor. Ask Corey Dillon (emphasis in quotes mine):
He's been an afterthought in votes cast by season ticket holders…

"I'm pretty sure they will put fucking Jon Kitna in there before they put me. Matter of fact, Scott Mitchell will end up in that motherfucker before I do."
Literally picking their ring of honor by Remembering Some Guys. The next player inducted will probably be fucking Pete Rose. This organization is diseased, and everyone knows it. WKRP was never funny.
Ratto says: Zac Taylor was asked for a Burrow update a couple of weeks ago and said, "The timeline is several weeks from when I said several weeks." Zac's career record without Burrow as his starter is 4-19, so being a smartass to the notoriously vicious Cincinnati media hardly becomes him. A CBS data scientist said 17 games of Burrow gets the Bengals 10.1 wins, and zero gets them 7.8. Surely the difference between Burrow and not Burrow (or as his parents named him, Trevor Siemian) is way more than 2.3 wins. Be funny with that, Zac.
What might not suck: They're legit. They're gonna win at least 10 games, if not more. If you're a Bengals fan, you literally can't ask for more than that. Brown will have you arrested if you do.
HEAR IT FROM BENGALS FANS!
Alex:
I wish Joseph Ossai shoved Jackson Mahomes instead.
Ryan:
When the Mayor of Cincinnati decrees other stadiums as "Burrowhead," nothing good happens.
Andy:
When the mayor decided to talk shit about Burrow being Mahomes's father, I knew we were toast in the AFC title game.
Brian:
Aftab Pureval could improve livability in Cincinnati, cure cancer, and fix the Brent Spence Bridge and he will still always be "Mayor Jabroni" the rest of his life.
Michael:
I'd make a joke about mayor Pureval sticking to politics, but I don't think this is the site for it.
Sean:
At least when they sucked, I didn't care. Now I have hope. And it's the hope that kills. Fuck Joey Porter.
Cody:
I've recently moved back to Cincinnati after over a decade away and I can already feel my fan self-hatred growing. Can't wait to see what this team can do after finally building an indoor practice facility. 
Jon:
Burrow, Chase, Higgins and Lou Anarumo have given me the two best seasons in decades. Sure, the endings have been heartbreaking, but it's much better to feel pain and excitement than the numbing indifference of the last 30 years. 

I should be grateful. But I'm not. Now I expect things. And I know that if they don't win a Super Bowl this year, I will become a resentful little penis that doesn't deserve the team at all. 

The Bengals suck because they've made me suck. 
Austin:
The Bengals will draft the spiritual sons of David Klingler and Ki-Jana Carter and I'll be here explaining to my kid that The Rock and his weird Super Bowl intro is the reason the Bengals still don't have a ring while he's looking into care homes for me.
Mike:
Everyone complains about venture capitalists, but just remember that the Brown family exists as a monument to shit always being fucked. 
Chris:
I live way out of market. Last year I got to see them concuss Tua into the mirror dimension. The next time I saw them on national TV, Damar Hamlin nearly died. The AFC title game was refreshing in that it featured no near death incidents AND a familiar Bengals implosion. Can't wait for this season where Bane mistakes Cincy for Gotham and half of Paul Brown Stadium is dropped into the river. 
Kevin:
Deep down, within the heart of even the most bombastic, irrational Bengals fan, we know. 

When Joe Burrow comes to this city and singlehandedly transforms this Dollar General-ass franchise into an envy of the league, we know. 

When they overcome the longest playoff win drought in the league, pants Ryan Tannehill, stun the Chiefs, and make it to the Super Bowl, we know. 

And now going into a season with a top-three QB, the best WR corps in the league, a rebuilt o-line, and a stingy defense, we still know. 

We know that the closest we will ever as a franchise get to a Lombardi was the second before Aaron Donald eviscerated the poor bastards attempting to play interior offensive line and ended our season. 

Because God is real, and he hates us, and he's discovered the most delightful torture for him and his angels to observe is to allow this city to have one glimmer of joy and then snatch it away whenever the moment is deemed cruel enough. 
Isaac:
I seriously question whether or not the entire region sits on the leaky fault line of a giant subterranean radon deposit.
Chris:
Not even Joe Burrow can overcome ending the career of Bo Mother Fucking Jackson.
Andy:
When the fuck is Mike Brown going to croak already? His kid has taken over, he's got nothing left to do on this planet except to swindle the county out of more money. Just go off to the big Denny's in the sky, Mikey.
Will:
In 2022, I traveled from Cincinnati to Los Angeles to attend the Super Bowl. When I departed Friday afternoon, the atmosphere at CVG was so giddy and spirited, you might've forgotten you were in an airport. Every terminal bar was packed with fans pregaming their flights because everyone was headed to LA.

I could only find a seat at Vino Volo, where I made small talk with one of the bartenders. I told her I was attending the big game, and how thrilled I was to be splurging on this trip to witness my wildest sports dreams come true. She replied that she wasn't a sports fan but loved seeing everyone so excited. She said it reminded her of the time she and her boyfriend splurged on the captain's suite of a New Kids on the Block-themed cruise a few years prior.

At first, I didn't think the comparison held up: a seat at the biggest game in American sports versus a maritime vacation to the tune of "Step by Step." After a 5-minute, 75-yard, game-winning drive by the Rams, I was humbled to learn that actually I was the rube.
Alex:
Rooting for the Bengals feels like an inescapable midlife crisis where I'm dead inside for three hours every Sunday, as opposed to the rest of the week when I'm only slightly less dead inside.

They can't even get the good Cincinnati chili company to be their official sponsor. They're stuck with Gold Star Chili: the official chili restaurant of the Cincinnati Bengals and GED class reunions. Their coney buns look like they were punched by Joe Mixon. The fanciest drink you can get there is pink lemonade.

Our stadium nearly killed two opposing players in one season, and our indoor practice facility looks like someone painted a Bengals logo on the Chinese spy balloon.

Our mayor is a genuinely good dude, but if I could pay him to never trash talk again, I would empty my bank account.

The city of Cincinnati blows so much ass that before Joe Burrow, the "Top Cincinnatian" five years running was a prematurely born hippo (which, just to clarify, is not Ickey Woods). 
Byron:
I wouldn't blame Joey B one bit if he pulls an Andrew Luck.
Alex:
I can't wait for Joe Burrow to be mentioned alongside Dan Marino as the greatest quarterbacks to never win a Super Bowl.
Ben:
History doesn't allow Bengals fans to enjoy the present.  Every victory is just another step higher up the mountain, which always ends with a fall from the cliff. It just hurts more when it ends.
Sam:
I drove through downtown Cincinnati for the first time in a while a few weeks back and went past the new indoor practice facility that Mikey built when the Bengals made the Super Bowl and humiliated themselves by having to practice at the UC Bearcats facility in the lead-up to it. Well, "built" is a strong word. "Inflated" might be a better one.
Patrick:
Their window is on to two more years before they have to actually pay their good players, and the guy who writes the checks is a notorious cheapskate.
John:
Fuck me with a cassette tape that contains Nick Lachey's one good song.
Benjamin:
Both the Cincinnati Bengals and Reds are legitimately good and exciting for the first time since I was a literal baby in diapers. And yet, I can hear the wind disturbance from the other shoe dropping like it's an atomic bomb falling to earth.
Chris:
It took one good year for Bengals fans to have all the entitlement of Patriots fans without any of the success.

Also, most Bengals fans are just hungover Buckeye fans.
John:
After the 2018 season, upon the hiring of Zac Taylor, I quit the team outright. Fuck the Bengals, I said to anyone who would listen, they were never going to be good, they were never going to matter, and the best thing I could do for my mental health was leave them on the curb like a dirty old couch and move on with my life, which is exactly what I did.

Since doing so, they drafted the best quarterback in the league not named Mahomes, they've been to two consecutive AFC championship games, and they even made it to the goddamn Super Bowl.

Did this make me change my mind at all? Do I feel like I've missed out on anything? Have I ever even once regretted my decision?

Fuck and no. Fuck this franchise and the family that runs it. I'm happy for the players and for the fans who stuck it out, but after that it's fuck you forever, Mike Brown. I hope he burns in Hell for all eternity and his descendants end up paupers due the instant he dies.
Submissions for the NFL previews are now closed. Next up: San Francisco 49ers.
Stay in touch
Sign up for our free newsletter