Some people are fans of the Buffalo Bills. But many, many more people are NOT fans of the Buffalo Bills. This 2023 Defector NFL team preview is for those in the latter group. Read all the previews so far here.
Your team: Buffalo Bills.
Your 2022 record: 13-3. Last year's Bills were the regular season juggernaut that we've all come to know, admire, and still largely distrust. They won their third straight AFC East title. They won 13 games for the second time in three seasons. Aaron Schatz and his gang of ex-Football Outsiders had them ranked as the top DVOA team in the league: Super Bowl contender, MVP-level quarterback, depth at nearly every position, yada yada yada.
But these are the Bills, which means what should happen never does. Buffalo still lost three games during the regular season, and each one was appalling. You remember the Miami Dolphins' butt punt from last year. We were all there. We all saw that punt go right into that guy's butt and then had a hearty chuckle over it. But what you may not remember that is that the Dolphins WON that game, and that the Bills did not. Down 21-17 in the fourth, Buffalo went 17 plays and 73 yards, only to get stoned four straight times at the two-yard line. But they got a safety three plays later to cut the lead and get the ball back, so there was still time for the Bills work a little bit of their signature magic. Observe that magic right now:
Buffalo's offense ran almost three times as many plays as Miami's that day, and outgained the Dolphins by nearly 300 yards. None of it mattered because, in the end, excellence never matters with this team. Isn't that right, Ken Dorsey?
Who's chuckling now, sir? Not you.
More ominous portents would follow. The Bills lost at home to Minnesota thanks to their QB committing two of the most glaring brainfarts you'll ever see: fumbling the ball at the goal line while trying to run out the clock (the Vikings would recover for a miracle touchdown to tie the game), and then ending the game in overtime with a red-zone pick.
And I haven't even gotten to the part where this team blew a 14-3 lead to Zach Wilson, which I swear happened.
But this team was still the class of the AFC, and they had all of America on their side after S Damar Hamlin suffered cardiac arrest in the middle of a Monday night game against Cincinnati that ended up being voided from the schedule, hence a 13-3 record that satisfies my cheapest nostalgia cravings. Buffalo gutted out the 2022 season despite having Hamlin nearly die on national television, their QB tearing his UCL, a temporary relocation to Detroit after a blizzardcane, their star free agent acquisition tearing his ACL, and their entire secondary getting hurt as well. No matter. These guys entered the playoffs enervated but with hundreds of millions of everyday Americans wishing them success.
And the NFL itself couldn't have been happier about this payload of narrative catnip failing into its lap. The second Hamlin's pulse was restored, the league instantly sold the TV rights for his medical records to the Hallmark Channel. Roger Goodell was like, Hey everyone, someone played our sport and still lived! Isn't that amazing?!
Compared to what happened next, it sure was.
In the playoffs, the Bills barely beat a QB-less Miami team in the Wild Card round, and then got obliterated by Cincinnati the week after in the Damar Hamlin Revenge Game Brought To You By Carefirst Blue Cross. The Bills lost this game at home. In the snow. And it was barely a football game, really. The Bengals scored touchdowns on their first two possessions and cruised from there. They could have lit up their victory stogies at halftime, and perhaps did. QB Josh Allen was the Bills' leading rusher that day, with a meager 26 yards on the ground.
And somehow, even after that game was over, MORE ominous portents followed:
Bills receiver Stefon Diggs was so upset, he was spotted leaving the locker room with much of his gear on shortly after the game ended before being coaxed by a teammate to return.

"He's a competitive guy. What makes him good is what you saw," coach Sean McDermott said of Diggs.
All of this team's bullshit is now more familiar to me than a sink full of dirty dishes. The Bills are a feel-good story that you forgot to check the expiration date on.
Your coach: Sean McDermott, who stinks.
Your quarterback: Josh Allen, who adores throwing picks in the red zone. No quarterback threw more red-zone picks than this man did a season ago. In fact, no QB turned the ball over more, period. Not Matt Ryan. Not Kirk Cousins. Not Taylor Heinicke. This asshole. Every year Josh Allen starts off as the MVP favorite, and every year his pisses that trophy away by cosplaying as Brett Favre whenever he gets within spitting distance of the end zone.
Oh, and he won't stop getting hurt. Here's McDermott before the 2022 season:
"With Josh's running or the amount of times that we run him, we have to continue to evolve that way and making sure we're doing right by him by doing right by our team. So, we are going to keep a close eye on that. But the one thing we will never take from Josh is his competitive nature and spirit. So, he's gonna do it when he's gonna do it."
And he did. Allen carried the ball 122 times in 2021. He carried the ball 124 times in 2022, despite playing in one less game and having a shredded UCL. He's never changing, he isn't getting better at protecting the ball, and McDermott is too much of a jackass to do anything about any of it.
Behind Josh Allen is Kyle Allen. You'll never know the difference!
What's new that sucks: You won't believe this, but Stefon Diggs is unhappy and sending out weird tweets about it.
I love Stefon Diggs and always will, but I'm not a child. I've seen this movie already, and with him starring in it. If someone gives you the whole tired spiel of GOLLY GEE STEFON IS JUST MAD BECAUSE HE'S SO COMPETITIVE, go ahead and kick that person directly in the larynx. Stefon Diggs is never happy. Ever. The Bills traded for him, and he was still unhappy. They gave him a stud QB, and he was still unhappy. They made the playoffs every year, and he was still unhappy. They paid him—a lot—and he was still unhappy. The Bills could win a Super Bowl and give Diggs full ownership of the team, and he'd still storm out of minicamp and tweet out shit like, They know my name, but that's all they wanna know [bullseye emoji] and then demand a trade to Kansas City. He's never changing, and everything between him and the Bills organization will finally blow up at the exact wrong time.
This isn't good, because the Bills did precious little in the offseason to take the receiving load off of Diggs. Gabe Davis is around to catch the occasional 90-yard pass, but otherwise we're talking about a WR room that includes slobs like Deonte Harty, Trent Sherfield, Khalil Shakir, and Justin Shorter. I swear all of these names started at QB for Buffalo in early 2000s, and yet the Bills are gonna need them because, A) they hate running the ball, and B) they have no backs to give the ball to anyway. Allen remains this team's best ground weapon. RB Devin Singletary is gone and will be replaced by RBs James Cook and Damien Harris. Even if one of these men turns out to be capable, Dorsey won't bother using him anyway. Why would he when he can just ask Allen to plow straight ahead into a mob of angry defenders for a seven-yard gain that tears his lung?
Over on defense, the Bills lost LB Tremaine Edmunds, and won't get OLB Von Miller off the PUP list for at least a month. They took cursory steps to patch these holes in free agency with DT Poona Ford and OLB Leonard Floyd, but saved the top of their draft in April for grabbing a spare tight end in Dalton Kincaid and a depth guard in O'Cyrus Torrence. So what you'll see from Buffalo this season is the same shit you've seen from them for the past three years. It never ends well.
Also, "Buffalo Bills" is one of the most nonsense team names in sports. It's like if the Titans were named the Tennessee Williamses.
Why the players think you suck: The Pegula family owns both the Bills and the Buffalo Sabres, which gives them ample opportunity to consolidate administrative duties for both franchises, which players love!
The team nutritionist/dietician works for both the Sabres and the Bills, which players believe limits the amount of time she can be focused on the players in the Bills locker room.
How much does a team nutritionist make? $100,000 if we're being generous? Oh, but the Pegulas will be able to afford all of the dieticians they please in the coming years, because…
What has always sucked: Your stadium! Ralph Wilson Stadium is currently located on the worst land in all of Buffalo: a lake-effect bullseye that routinely sees two more feet of snow during every blizzard than the rest of Buffalo does. The good news is that New York governor Kathy Hochul is gifting the franchise a brand new stadium for no other reason than that the state has a big budget surplus and Hochul couldn't think of anything else to spend the money on. It's like getting a fat inheritance and then spending all of it on adding 14 bathrooms to your two-bedroom house. But what a house!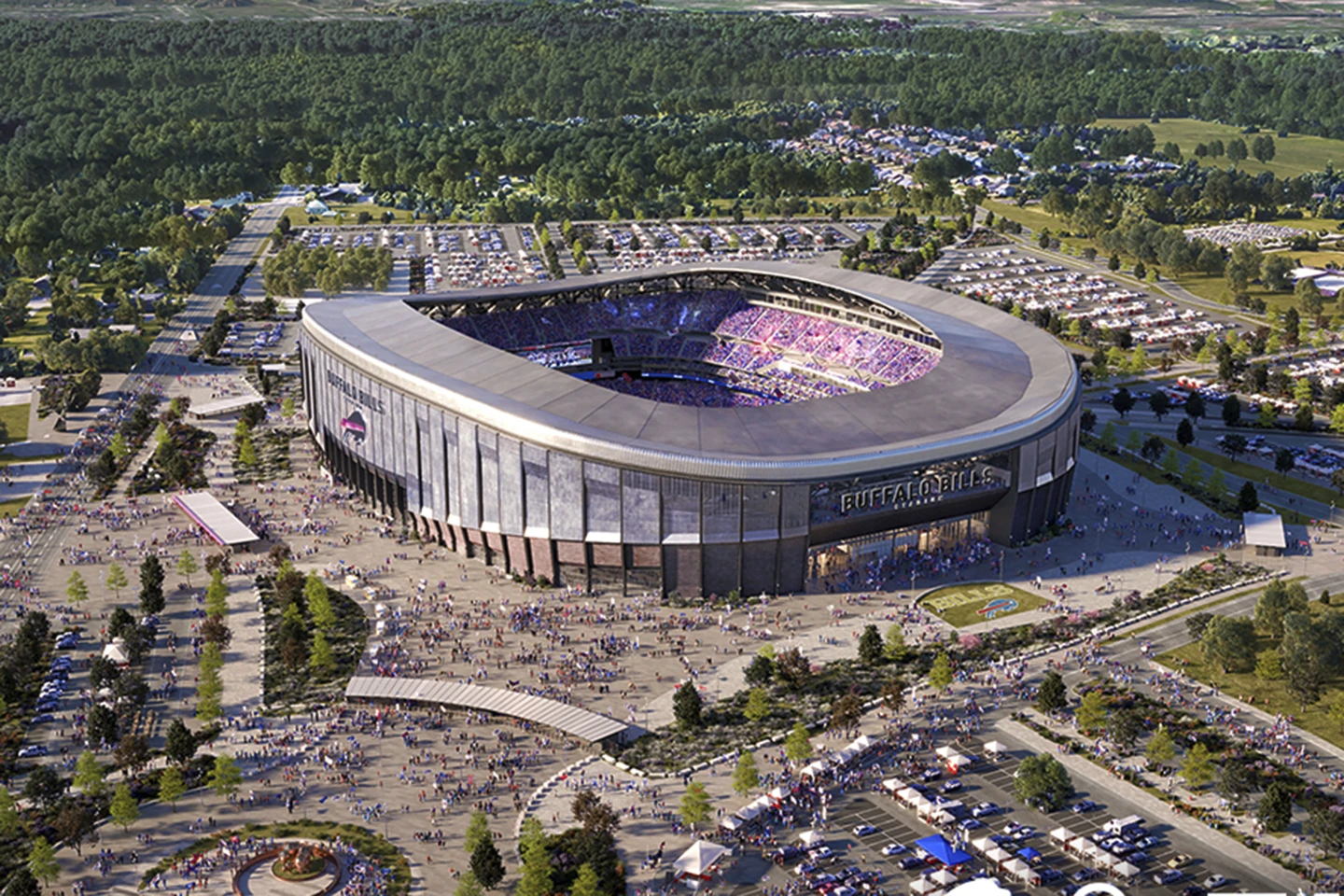 Makes the new Giants stadium looks like the Bilbao. And this new joint is right next door to the Ralph! These guys found an even more miserable spot outside of Buffalo and were like, This is the place. Perfect. Awesome. Shangri-fucking-La right here. The House That Josh Allen Built And Then Accidentally Burned Down A Week Before Grand Opening. This stadium is already $300 million over budget, but it WILL allow the Pegula family to kick back and manage the Bills the same way they mange the Sabres: horribly.
So savor this iteration of the Bills before their championship window closes for good in early January. After that, they'll fade back into decades of miserable obscurity while playing in a city that's surprisingly fun to visit but would make you want to jump off a bridge if you had to live there. And that's the Bills fan experience in general, really. This team has its moments. It will never have anything more than that.
Ratto says: They're already $300 million over budget for their new stadium THREE MONTHS INTO CONSTRUCTION. Given how long it takes for most stadium projects to be completed, this means that the cost overruns would be the equivalent of 60 percent of the franchise's value ($4.12B according to Sportico), but would rank the project 13,037th on the list of building boondoggles in New York State history.
Maitreyi says: When the Bills played a home game in Detroit, I was walking back to my seat after buying some popcorn. A teenage Bills fan yelled, "Hey gimme a piece!" and just took some of my popcorn. And yet I wasn't the most turnover-prone person in the stadium that day.
What might not suck: Hamlin just made the final roster, which is nice. I fully expect his season to be the subject of a six-part "documentary" underwritten by both the NFL and fucking Under Armour or something.
HEAR IT FROM BILLS FANS!
Dano:
The Bills are going to blow it in the playoffs. You know it and I know it. Will I be surprised? No. Will I be filled with dread? Yes.
Evan:
The coach is a moron who everyone on the team hates. He's driven away every assistant worth a shit, and Stefon Diggs left the first day of minicamp rather than deal with his Bible-thumping, corny ass.
Louis:
The highlight of my adult sports fandom is a game where the Bills almost went to an AFC championship game, but lost in spectacular fashion. This team is fucked. 
Zack:
Leslie Frazier sabotaged this team's only chance at a Super Bowl in 13 seconds, and now he'd rather shadow-retire than oversee another defense that falls apart in the playoffs.
Matt:
I was so much happier being a Bills fan when they were terrible. Say what you will about the JP Losman/Trent Edwards/EJ Manuel years, at least I didn't have to deal with every six-fingered Southern Tier chud and oxy-addled Lockport dingus with a chinstrap beard acting like putting #BillsMafia in their Twitter bio and adding a Zubaz spare tire cover on their soon-to-be-repossessed Jeep was an adequate substitute for a personality.
Tony:
I was at a Bills home game against the Cleveland in 2009 on a day that Browns legend Derek Anderson was 2-of-17 for 23 yards and 1 INT, and we still fucking lost 6-3. This could not possibly happen to another franchise in the NFL.
Paul:
The only way to get an above average player to come to Buffalo is to give him $100 million. Luke Russert is as charismatic as driftwood.
Nathan:
Never have so many fans been so satisfied by so little.
Kyle:
I often wonder how many times tailgating videos come up in court during child custody battles to prove that one parent shouldn't get visitation rights.
Tyler:
It's kind of like watching a car wreck, but spread out over five-month increments. 
Jason:
Think about the most famous event of each recent NFL season…

2020: Hail Murray
2021: 13 seconds
2022: Justin Jefferson's catch

Now think about which team was at the other end of each of those.
Ben:
Josh Allen is fast Philip Rivers at best
Anthony:
We keep on thinking every year is a Super Bowl year, because you know what we have to do in January when there's no football? Nothing.
Steve:
The last the playoff losses, the Bills' top-five scoring defense allowed 1403 yards and 13 TDS. Diggs is mad at the team, McDermott ousted Leslie Frazier, I wish Brian Daboll was coach, and the taxpayer funded stadium doesn't have a dome because why use it for anything else but football?
Matt:
Bills Mafia sucks because they're a pack of replacement-level Trumpkin jagoffs who spend their time getting alcohol poisoning in parking lots and complaining endlessly about how New York City should be its own state, as if their shantytown would even have paved roads without the tax revenue collected downstate.
Joe:
The Buffalo sports media are enablers of the Bills mafia. They blast out stories of fans dressing like Elvis on the front page or in the first block of a newscast. These guys would rather brag about golfing together on Twitter than finding out why Diggs and Josh Allen hate each other now.
Chris:
To this day, Sean McDermott has not said who was at fault for kicking deep against the Chiefs during the 13 second debacle. His coaches are quitting instead of being fired publicly. He lied about Diggs not being at minicamp when Diggs was there THAT MORNING and was sent home for mouthing off. And Josh's house was absolutely trashed by his (now ex-) girlfriend, with the cops there until 4am the night before the Bengals playoff game. But ask McDermott what happened after any of those situations and you get not only obfuscation, but outright lies.
Chuck:
It was really weird the way every woman in Buffalo hated Josh Allen's ex. Hailee Steinfeld should probably hire additional security.
Evan:
Our greatest player is a double murderer whose name remains on the Wall of Fame because we all know removing it would put him right back in the news and give him an opportunity to play the victim on Twitter.
Richard:
My Dad, God rest his soul, believed OJ didn't do it. Until the day he died. He even said it out loud to people.
Rob:
Our receiving corps was so horrible last season, we sent out an AARP flyer to bring back Cole Beasley and John fucking Brown. 
Alex:
This team has so much generational talent, and finds so many ways to blow it, that they're the second coming of the 2000s Chargers. 

Every game this season will be absolutely infuriating, and this organization will grind Josh Allen into dust. Nobody on the team can catch outside of Stefon Diggs and he led the team in drops last year. 
Claire:
The defensive coordinator is taking a sabbatical and is not being replaced. And no one finds this remarkable.
Andy:
Did you notice how quickly Jack Eichel won a championship once he got the hell outta Buffalo? Do you think Josh noticed?
Jonathan:
Ken Dorsey is no Brian Daboll, Sean McDermott has all the imagination of a dead goat, and Stefon Diggs is a powder keg and the only decent receiver on the team. 
Brad:
Tailgates continue to be Sodom and Gomorrah for second-shifters.
Eric:
This team made Kirk Cousins look clutch.
Nick:
Hi Drew, 

I really enjoyed meeting you at Politics & Prose for The Hike signing. You said to me that having the Ryan brothers in Buffalo for the then-coming season would, at least, be fun. I can safely report it was not.
Brian:
Rational conversations about the Bills do not exist in WNY. 
James:
There is a healthy contingent of fans that believe that all of Josh Allen's problems in the playoff game against Cincinnati was because of a strained relationship with his ex-girlfriend and not because the coach is repeatedly out-coached in big games and the offensive coordinator calls plays the way when I called plays when in Madden when I was 13. 
Kevin:
Jordan Poyer, who refused to get the vaccine and whose knockoff Kim Kardashian of a wife who thinks the same, appears in local commercials for a HOSPITAL.
Adrian:
A few years ago I decided I was done with the NFL. I couldn't, in good conscience, support this cynical organization run by evil fuckwads. Then the Bills got good and I thought, "I supported this team through all the blown Super Bowls and soul-sucking haplessness, I'm not gonna deny myself this." I've been pulled back in and I feel like shit about myself.
Phillip:
This team won't win the Super Bowl. They will make the playoffs and probably make it to the AFC title game again and then lose to the Chiefs or Bengals. Either that they will make it to the Super Bowl and lose 41-6 to the Commanders or some shit. 
EJ:
This team peaked two years ago. The downhill slide is happening, and it's happening fast. Not looking forward to the next few months of listening to the racist braintrust that is the Bills Mafia incorrectly and unjustly laying the blame at the feet of the receiving corps when the fault lies with their pedestrian coaching.

I'm a Bills fan trapped in the bowels of Giants country. It's a Sartrean hell in which Brian Daboll, the one guy who was able to use the Bills' talents to make them unpredictable, exciting contenders… is instead now transforming the chum of the NFC East into overachievers who'll thrill their fans by crashing out during Wild Card Weekend.

This is the high water mark after 30 years of generic badness, not even worth remembering. My fandom is summed up by my first in-person game at Orchard Park thirty years ago. Brutally cold, hard-fought game. Late third quarter, the back of my leg suddenly feels wet. I look over my shoulder. The drunk bigot who's spent the past two hours calling Thurman Thomas every epithet you can think of is swaying in the stiff Canadian gale, trying to empty his bladder into an empty beer cup and haphazardly spraying everyone in front of him. But it's not enough I was pissed on. The three-hour drive back to my university was spent with that piss-cicle melting onto my friend's car seats, which fueled a semester's worth of resentment from him. 
Brian:
This is absolutely the last hurrah for this team in Buffalo. By the time that new building becomes obsolete, Buffalo will have continued the steady slide down the list of profitable metro areas and will land somewhere between Winston-Salem and Chattanooga.  Buckle up San Antonio, this team's all yours in 2049.
Submissions for the NFL previews are now closed. Next up: Cincinnati Bengals.
Stay in touch
Sign up for our free newsletter