Interviews
A Fan At The Bills-Bengals Game Describes The Scene When Damar Hamlin's Heart Stopped
9:35 AM EST on January 3, 2023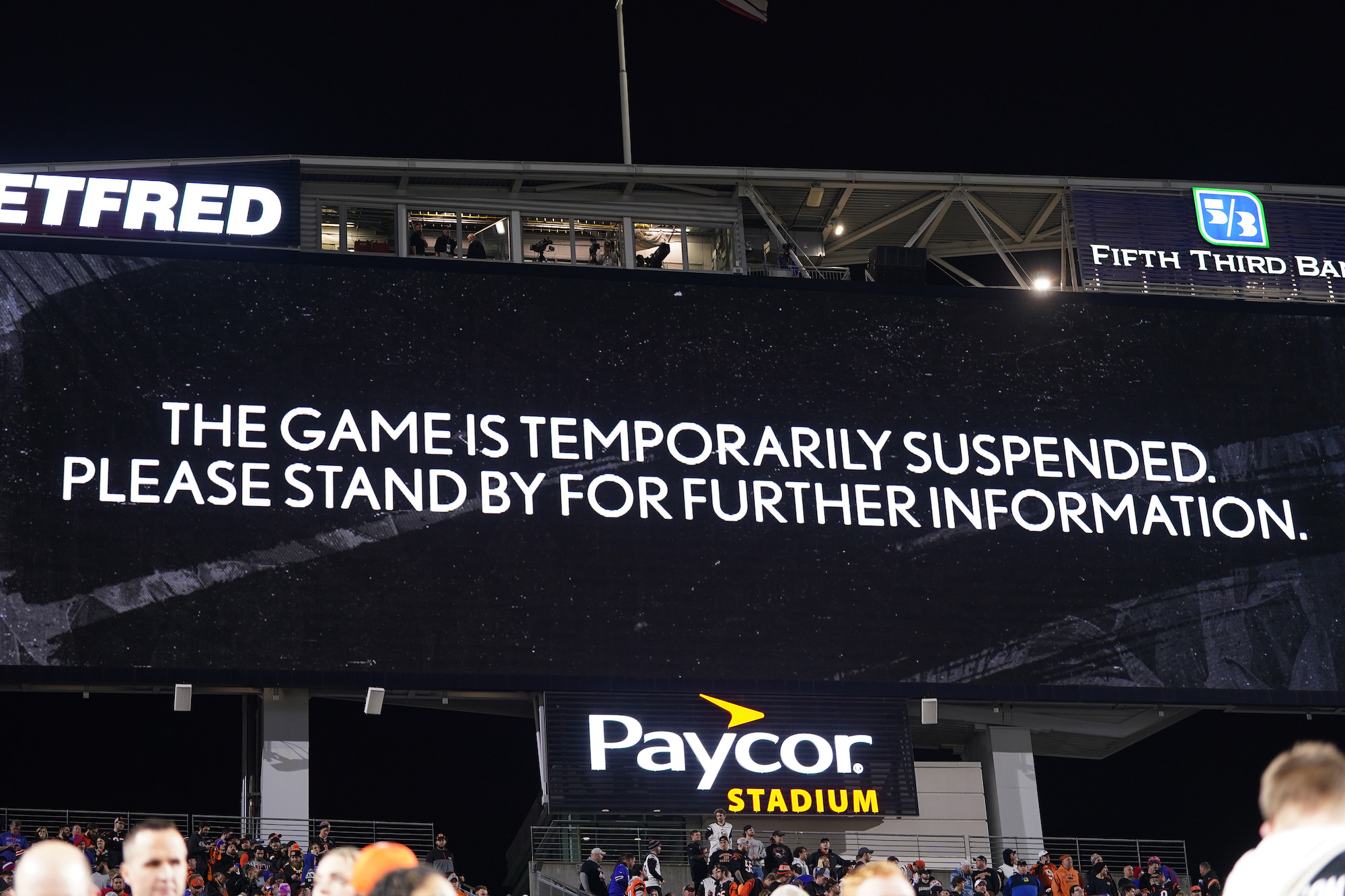 Last night, Bills safety Damar Hamlin suffered cardiac arrest on the field after colliding with Bengals wideout Tee Higgins. As of this writing, Hamlin is still listed in critical condition at the University of Cincinnati Medical Center. Defector reader Alex Schubert was at that game, sitting behind the end zone that the Bengals were defending. Because of his vantage point, Schubert didn't see Hamlin's collapse in real time. But he could bear witness to the reaction of all of the fans at the stadium—fans of both the Bengals and the Bills—to the incident as they collectively tried to understand what had happened. He messaged me the following at 10:04 p.m. ET, minutes after the game had been officially scrapped:
"I'm at the game right now, and this is a horrifying scene. Fans are shaken up, and I saw multiple players in shambles. I've never seen anything like this. We're all in disbelief. Bengals and Bills fans have basically been supporting each other throughout this."
After getting home and decompressing, Schubert called to give further details. Here is our conversation, which I have condensed for length and clarity:
Where were you sitting?
Section 156, in the south side end zone.
Did you get a clear view of the hit when it happened?
I did not. I saw it on replays.
Did they show those replays on the stadium Jumbotron?
No. I just saw it on my phone. Everyone was talking about it. We all knew he was given CPR and he had an AED [a heart defibrillator] used on him. Then we were all speculating and wondering what happened. There was a lot of confusion at first, because people on TV know what's happening more than people in the stands. So we were all just like, What's going on? We saw players kneel, but I've seen players kneel before. I've seen players gravely injured. But something beyond that was happening.
There was a moment when I saw a couple of Bills players run down the field and start crying. Breaking down. I didn't know the gravity of what had happened until I saw those players crying. I've never been like, Oh man, that guy's actually dead.
How did you feel when you saw the replay the first time on your phone?
I saw the tweets and I kind of got a background on what happened, and then once I saw the actual replay, I had a much greater idea of what happened, and I knew the gravity of the situation.
What information, if any, was the stadium providing to you at the time? Did you have to rely entirely on information from your phone and from other people's phones?
Pretty much all the stadium told us was that play was suspended. And then the game was postponed.
Were you giving people around you information? Were other fans giving you information? What was the dynamic going on in the stands as all this was unfolding?
It was a little bit of both. We were looking on the internet, trying to find any update we possibly could. We're all looking for it in real time. Because like in the moment we're like, Is the game going to continue? But it became very apparent very quickly, as Bills and Bengals players were both off the field, that it would not.
You wrote to me that fans were consoling one another in the stands as this was going on. Could you be more specific about that?
Near my section, there was a Bills fan leading a moment of prayer. Multiple fans were raising their hands. Does that make sense?
Like a prayer circle?
Essentially, but we were all doing it from our seats. We were raising our hands and, in a sense, none of us were fans anymore. We were all just people. Once the game was postponed, we were all just leaving a game and saying, "Hey man, we hope the best for you guys."
Was there any misinformation that was spreading through the stands at the time?
One fan that had said that he died, and I was just like, [skeptically] I'm gonna check on that. Then someone tweeted that he had his vitals back.
This is Cincinnati sports-related, but I remember back in 1996: It was the Reds' opening day, when an umpire collapsed and died on the field. John McSherry was his name. I remembered that while I was walking out of the Bengals stadium. That guy died right across the city.
How are you feeling right now?
Walking out of the stadium to being in my bed right now felt like a blur.
Were you glad the game was canceled?
Yes. There's no way you can play three-and-a-half quarters of football after a player could very possibly have died. We were all wondering, Is the game gonna be played tomorrow? Is it gonna be played Wednesday? But I'm just like, It doesn't even matter at this point. No matter what day they pick, it's just gonna feel really soon.
Stay in touch
Sign up for our free newsletter