Why Your Team Sucks
Why Your Team Sucks 2023: Kansas City Chiefs
10:55 AM EDT on September 7, 2023
Some people are fans of the Kansas City Chiefs. But many, many more people are NOT fans of the Kansas City Chiefs. This 2023 Defector NFL team preview is for those in the latter group. Read all the previews so far here.
Your team: Kansas City Chiefs.
Your 2022 record: 14-3. Super Bowl champions. And who can forget all of the indelible moments that made it possible? ["One Shining Moment" begins playing] Like this one:
And this one:
And this one:
This has been the most exciting team in football for years now, and yet their title run a year ago felt like homework. I can praise the Chiefs for winning it all without Tyreek Hill (or any wideouts, really) and with Patrick Mahomes bravely dragging himself around the field. But I'd be lying if I said watching this team flag its way to glory made for exciting television. Lord knows every broadcast team in the world tried to convince me otherwise. Whenever Mahomes limped his way to a first down, it was Willis Reed/Flu Game/Barbaro times a million. Just chill the fuck out, Tony Romo. I came here to watch some long bombs, not a fucking grit-off.
Also, that wasn't holding. Gimme a break. The refs may as well have handed you that ring in a takeout box.
This is where I recap all of the Chiefs' losses during the season to make them look bad. But they won the Super Bowl, so that's a bit of a hollow exercise, isn't it? Shit, ALL of these previews are hollow exercises. The season begins tonight, and everything I've written for the past month and change will be proven wrong over the course of a single weekend. All I'm doing here is wasting time, pulling takes out of my ass until the games make everything definitive. Fucking Mahomes could break his leg tonight and the complexion of this whole season would change instantly. I know dick. Same goes for you.
But I DO know that these guys laid an egg in Indy last season! They even let ancient-ass Matt Ryan beat them in the final minute that day! Ha!
They also gave up the game-winning touchdown pass to Josh Allen with just over a minute left in a loss to Buffalo! And they blew a 24-17 fourth-quarter lead to Cincinnati! So I'll take my derision where I can get it. HEY EVERYONE, LOOK AT THE CHUMPS WHO COULDN'T GO UNDEFEATED ALL SEASON LONG! What a fucking embarrassment! Bet you feel owned now, don't you!
Your coach: Andy Reid, who mailed it in for the head coaches photo this offseason: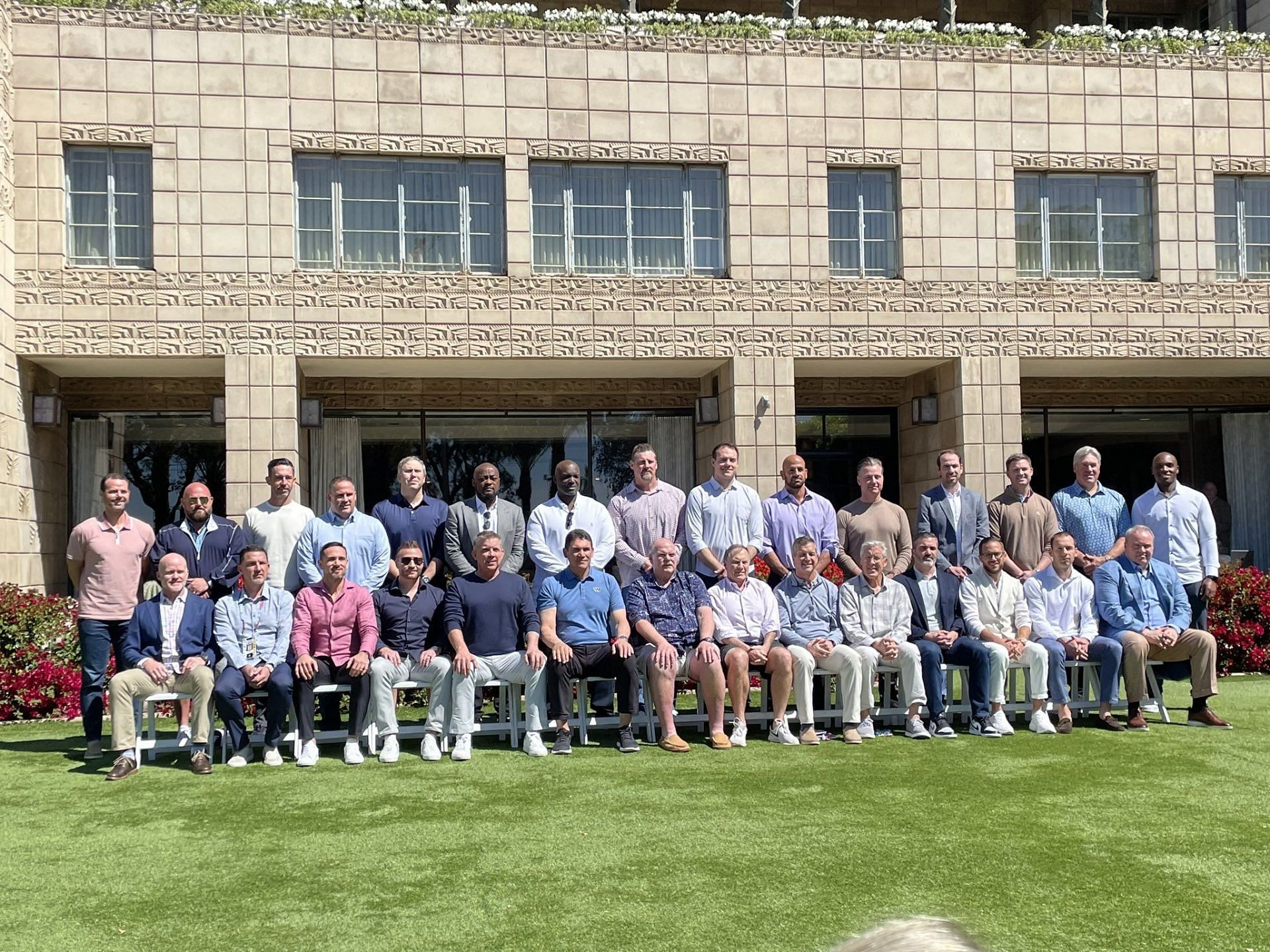 You call that a Hawaiian shirt, asshole? You're not even trying anymore.
Andy Reid is as quietly hardassed as his age would imply, but his gaudy Hawaiian shirt thing at least took the edge off for one day a year. I could picture Andy as Tropical Football Santa Claus—doling out shitty Fanatics merch and buttslaps in equal measure—instead of as a hermetic weirdo with a deadbeat son and zero personality outside of his playsheet. At least the moccasins here are a touch playful.
Your defensive coordinator remains Steve Spagnuolo, a first-ballot Hall of Famer for Brilliant Defensive Coordinators Who Were Terrible Head Coaches. But the big news is on the offensive branch of the org chart, where longtime OC Eric Bieniemy left town to become head coach-elect of the Commanders while Reid promoted this man to replace him: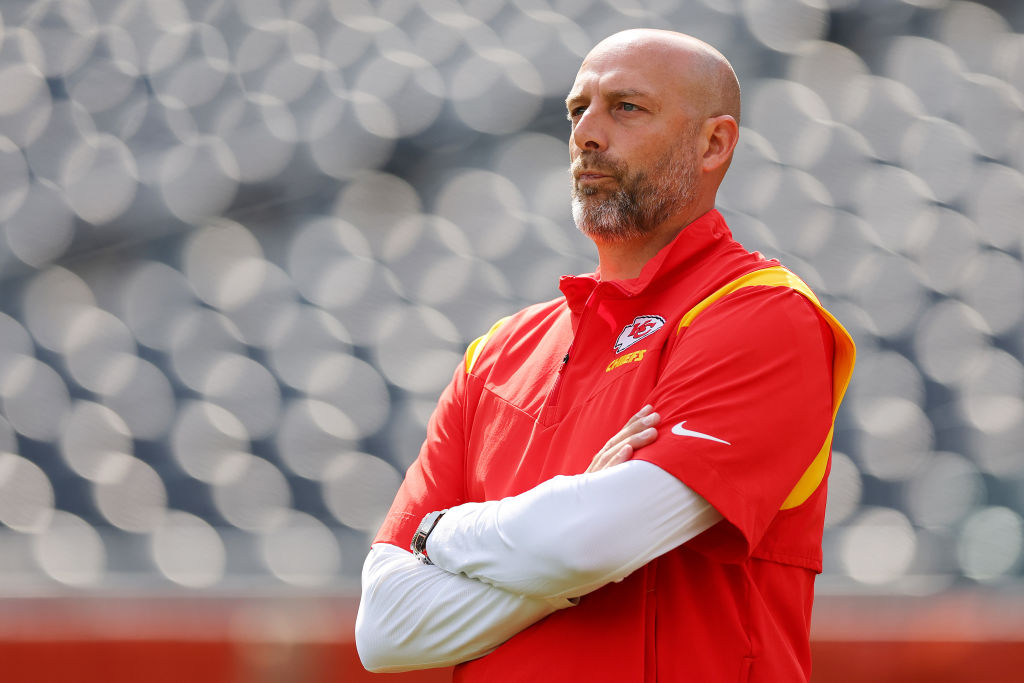 Is that former Bears maniac Matt Nagy? Sure is. Will his promotion make any noticeable difference whatsoever? Nope. Andy Reid is the offensive coordinator of any Andy Reid team. That's why Bieniemy left, and that's why Nagy will remain safely ensconced in this gig until his boss chokes on a baby back rib. This is the Chase Daniel of assistant jobs. All you gotta do is show up and wear a hat.
Your quarterback: Patrick Mahomes, who's the best QB of his generation and just lost a nationally televised personality contest to Marcus Mariota and Kirk Cousins. It used to be that "never meet your heroes" served as a warning that your hero would turn out to be a rude, violent prick. In this century, it's more a warning that your hero will turn out to be the kind of guy you'd go out of your way to avoid being stuck talking to at a party. Just the boringest asshole who ever lived. That's Patrick Mahomes: dazzling on the field and a charisma vacuum off of it. Even Mahomes's HOUSE is boring, and he just spent $677 million building it. His taste is architecture is nearly as bad as his taste in family members.
But that hasn't stopped Mahomes from enjoying The Favre Treatment, in which color guys gush about him nonstop, all game long, all season long. Any football fan is more than able to appreciate Mahomes on their own. But try explaining that to the Cris Collinsworths of this world. They're still gonna beat you to death with repeated, breathless paeans to this man anyway. [laughing] I just don't know how he's doing this, Mike! This is why I mute the games and play Slayer albums over them instead.
Longtime backup Chad Henne retired this offseason. Your new backup is Blaine Gabbert. Henne capably led the Chiefs offense not once but twice in critical playoff games over the past few years. Yo Gabba Gabbert will … not be able to do that. Keep that in mind, because who says limping through the playoffs all last year won't affect Mahomes permanently? And who says I won't kneecap him myself just to get Collinsworth to shut the fuck up for a second?
What's new that sucks: The biggest obstacle to a Chiefs repeat is the ongoing holdout of monster DT Chris Jones, plus the free agent departures of DE Frank Clark and both starting OTs in Orlando Brown and Andrew Wylie. Jones has already threatened to hold out until midseason, and new LT Donovan Smith missed the end of last season with an elbow injury. Also, minus departed free agent WR Juju Smith-Schuster, the receiving corps is somehow worse than it was a year ago.
But these are the Chiefs. They still have the best QB in the league, the best tight end, the best head coach, and the best front office. They're the favorites. No one with a brain would argue otherwise. So let me turn my attention now to the curious saga of superfan ChiefsAHolic, pictured here: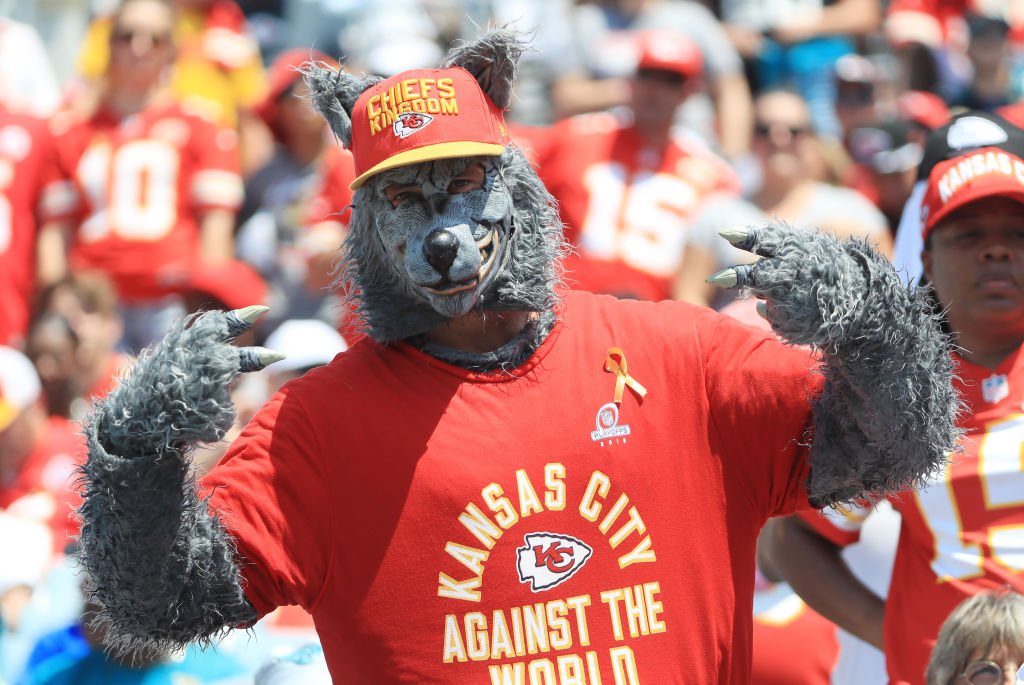 ChiefsAHolic is currently charged with 19 counts of bank robbery and money laundering after going on an extended fraud spree, making him the coolest person to have ever lived in Kansas City. Certainly cooler than every other Chiefs fan.
I am now sick of the Chiefs, and even more so of the wastoids who cheer them on. I spent most of my life assuming that Chiefs fans were normal. They liked burnt ends, yelling really loud, and being sad that they had no QB. I was wrong. These people are shit. The worst of us. I have to SEE these fans now that the Chiefs are relevant, and what I see is all bad: the idiocy, the racism, the stench, etc. As with the presidency, a Super Bowl victory doesn't change who you are, it reveals it. Every title Mahomes wins these fans get closer to Philadelphia levels of insufferability. I liked all of you better when Matt Blundin was your QB and I never had to worry about you being happy. Now you're, like, around. I hate it.
Why the players think you suck: I told you up top that Reid was an old-time hardass. The rest of the Chiefs organization is no different, which is why the union gave them one of the worst overall grades in the league. Why? Well because their trust-fund kid of an owner—SURPRISE!—doesn't feel the need to lavish his employees with, like, stuff.
Only 56% of respondents believe that club owner Clark Hunt is willing to invest the money to upgrade the facility, ranking him 27th in this category.
And because the head trainer was called out by name for being the scum of the fucking Earth.
Several players had negative opinions about head trainer Rick Burkholder, feeling that he does not treat players fairly and consistently, or with personal care.
Guess why they feel that way!
They feel discouraged from reporting their injuries ...
And if they do?
They fear retribution for speaking up for better care ...
Trust me, the Chiefs are not ashamed one bit of this report card. If anything, they believe that treating their players like crap and endangering their livelihoods is specifically what makes them perennial contenders. I bet Clark Hunt passed these findings around at a board meeting to pat himself on the back for ignoring the Woke Police and running this team like Fort Bragg after a budget cut. And you better believe that every sunburn in Missouri and Kansas reveres him for it.
What has always sucked: I've had enough of Travis Kelce's bullshit:
"Let me take you back to 2022 and the month of maybe April," Kelce said. "Guys were getting signed left and right. The haters were saying that the Chiefs would never make the playoffs. The haters were saying that the Chiefs were done."
Excuse me while I go vomit out of every orifice. There is a strain of NFL tight end that must always be A Personality, and these tight ends always end up being annoying. Gronk's shit got old. Mike Ditka's shit got old. With apologies to Skilp, Shannon Sharpe's shit got old. And Jeremy Shockey's shit got old the second he was drafted. Travis Kelce is the best tight end in football by a mile. He's a joy to watch, and if his moody knee keeps him out of any game, then this offense is well and truly fucked. But I cannot take one more second of him and his asshole brother being the self-appointed grand marshals of the dipshit parade. He's also fucking with Jones's money.
Fucking bootlicker. And the worst part is that I already know that I am far closer to the beginning of prolonged Kelce overexposure than I am the end of it. Both Kelces will get hired by FOX to serve as in-studio "comic relief" the second they fuck off to retire. So I am BEGGING America, right now: please bring me something that cancels both of these men. I can't deal with their Let's Fucking Go-ism one more second. Find me a video of them beating up a homeless person or something. Anything to get them off my TV screen.
The team name is still racist. The AFC is actually hard now. Kansas City is known as the City of Fountains and exactly no one gives a shit about any of those fountains. It's a fountain. Go smoke me some brisket, Carl.
Ratto says: Andy Reid has never had a team featured on Hard Knocks, which is the highest form of power a coach can attain. Bill Belichick, John Harbaugh, Kyle Shanahan, Sean Payton, Mike Tomlin, and Pete Carroll have also avoided it, suggesting that the fast track to the Hall of Fame includes not taking meetings with anyone from HBO. There's a lesson in that for us all.
What might not suck: Well they're gonna win the Super Bowl this year, if not many more Super Bowls. But again, I find them irritating, so I'm not gonna count any of it.
HEAR IT FROM CHIEFS FANS!
Jean:
Why does everything about this team have to have a bad aftertaste?
Earl:
At least I know what being a Yankees fan must feel like now. 
Jordan:
I am becoming a spiritual Patriots fan. Please help me, Drew. PLEASE HELP ME BEFORE I TURN INTO FOOTBALL FAN BRUNDLEFLY.
Kevin:
Half these people are spending 70% of their disposable income on season tickets and outfits that walk right up to the line of being too racist to be allowed in the stadium. 
Erica:
I donate to NARAL every time Butker misses a kick. Like immediately. I'm filling in the payment form while he's lining up. I'm READY. 
Todd:
The fucking chop. I don't want to hear another word about how, "we work with the local tribes." It's fucking racist, fascist, and any other kind of "ist" I can think of. I refuse to do it at my local Chiefs bar. You all look like fucking idiots.
Sarah:
I bet you didn't think any fanbase could possibly be as annoying as 2000s Patriots fans. Buddy, have I got a city for you. Five great years of football have put Kansas City sports fans on a speedrun to achieve Boston levels of insufferability. I'm old enough to remember when not finishing dead last in the division was considered a good season. Now the "Kingdom" is barely satisfied with the current Lombardi trophy because we're already salivating over the next one. There are generations who live and die without ever seeing their team win a Super Bowl (sorry Drew), yet here we are smugly declaring we, "could be happy with five" rings in Patrick Mahomes' career. FIVE. Thank god we have the Royals keeping these fans tethered to earth all summer.
Patrick:
The thing that sucks most about KC football now is how fast the fanbase went from, "Hey, we're no longer choking in the playoffs every year!" to, "If we don't win the Super Bowl this season is a failure!"
Andy:
When you watch any Chiefs telecast, every announcer from Collinsworth to Romo will immediately mention that special teams coach Dave Toub is, "one of the best." EVERY time. Sometimes I think his birth name is, "Oneofthebest David Toub" and he just goes by his middle name.

Dave Toub is actually a hack. His teams routinely take the ball out of the endzone and won't get it to the 25. His unit gave up five turnovers last year. They commit terrible penalties. They were 19th in STDVOA in spite of having a good kicker and the league's best statistical punter. Also, someone who looks deeper into special teams, Rick Gosselin, ranked them DEAD LAST.

Mahomes is the reason Toub hasn't been stoned to death by a Rayton lawn service team in the parking lot. He will cost the team a playoff game at some point. He sucks.
Caleb:
Vacationing in Phoenix to see some old college friends, we found ourselves at a bar before a Dbacks/Royals game. Scanning all the craft taps, I see the most familiar handle: Boulevard Brewing. Instead of just telling the bartender what pint I wanted, I said, "Oh cool, you have Boulevard down here. They're so good. We love them up in KC!" and then I paused without ordering, leaving an awkward space where I thought he should've at least commended either me or the beer for coming down from Kingdom City to entertain these sunburnt nomads.

Mercifully clipping my wings, my friend chimed in another half-second later with, "He doesn't care. Nobody cares. Now order."

That's us. As KC homers, we're in the prime years of humblebragging and you should call us out every time we try to say we're just being Midwest-nice about it. God, I hate us.
Nick:
Nine years ago, I complained because we hadn't won a playoff game in approximately 95 years. Our fans were the lovable losers. Fast forward, and we now have two Super Bowl rings and three conference titles. Am I humble about this, remembering my roots? HAHAHA not even a little. I bought replica rings and now tell each of my non-Chiefs-fan friends to bow down and literally kiss the ring. My team sucks because of me...and of course, our bank-robbing superfans.
Tim:
Our fans literally believe that trotting out a 34-year-old Travis Kelce and a stable of undrafted FA wide receivers is the secret sauce to making Mahomes successful. They do not want to have good WRs on the team, because they think it makes the team worse. Look no further than the past decade of Green Bay football to see what investing nothing into offensive weapons does to the psyche of your extremely gifted quarterback. This is what they want!
Gavinesq:
The fans are so deeply shitty. I will devote entire days to getting ready for a game and then watching it, but I will never go to a game at Camarohead again. The fans are a bunch of raging, racist, drunken, feculent dickholes. Never forget that they booed an anti-racist show of unity before one game. People literally get assaulted and/or killed in the parking lot of that place. I once saw a dude taking a shit in the parking lot. I know you're jaded about public shitting, but I can't be when it's some shit-caked hillbilly still wearing his Steve Deberg jersey.

Oh! Wait a minute! I just found a flaw with the actual organization! They actively cosset all this racism, just like the Washington Football Team did before they were finally shamed into changing. The Chiefs still beat a giant "War Drum" before every game. Their name is intended to evoke the "savage warrior" trope of our indigenous brethren, and the fans still do the Chop. The Chiefs no longer play the tune that accompanies it, and they say they don't encourage it, they do absolutely nothing to prevent it happening.

Football is like America. It fancies itself a tough guy and is actually racist at its core. The Chiefs are absolutely emblematic of this.
Kellin:
I pretend to like Travis Kelce's two-bit Dwayne Johnson shtick but Jesus Christ, I don't know how they managed to make a tight end more obnoxiously white-boy than fucking Gronk.
John:
My hometown team is a juggernaut, but I can't go to a game because I expect someone will do the Invasion of the Body Snatchers point at me if I don't do the chop and chant along to Gary Glitter. 

With Kareem Hunt getting cut in 2019, Terrell Suggs retiring in 2020, Tyreek Hill signing in Miami last year, and Frank Clark and Eric Bienemy leaving the team this season, you might think they finally don't have someone with a domestic abuse arrest on the team. I wouldn't blame you, but you're forgetting about Willie Gay.

Harrison Butker is an evangelical piece of shit, Travis Kelce is the embodiment of Reddit who sang on stage with Machine Gun Kelly, George Karlaftis has a weird little mouth, and there's a nonzero chance Jackson Mahomes dies in a hoverboard accident.
Vikram:
To be a Chiefs fan now is to alternate between villainy and clownery. It's spending the entire season with a grim satisfaction that your vocally anti-choice kicker is very clearly cooked and waiting for him to be replaced, only for him to go full Vinatieri in the playoffs. It's getting just enough bad ref calls against you that you get way too defensive when calls break your way in high-stakes moments. (Also screw you Drew for saying the flag ruined everything.) It's joining a chorus of fans indignant that no one will hire Eric Bienemey to be a head coach purely out of racial bias, while trying to ignore how a good chunk of that choir does the racist chop and chant on gameday. It's breathing a sigh of relief that you no longer have to root for Tyreek Hill before remembering you still have Frank Clark.
John:
My former boss invented a cocktail he called "The Big Buffalo," specifically for tailgating at Chiefs games when it's cold. Two shots each of Irish Creme, Creme de Menthe, and Wild Turkey, served over ice. In its combination of grossness and self-destruction, it's symbolically perfect drink for Chiefs fans. I can easily imagine Andy Reid chugging one.
Fiddlesticks:
Patrick Mahomes and company have ruined football for me. After he leaves or suffers some debilitating trauma, it's back to above-average QB play at best. I am no longer the type to be able to enjoy the moment as much as I would like, so the looming decline weighs heavy on my football mind. Always. 
Nick:
I was born and raised in KC. I'm 32 now, so most of my life has seen the Chiefs bouncing between devastating disappointments in the playoffs and seasons marked by pure tragedy (Derrick Thomas' car wreck and death, Jovan Belcher's murder-suicide, Scott Pioli's employment).

Then in 2017, the football gods give us a QB who is seemingly both Steph and LeBron. Being a Chiefs fan should be pure joy right now, until you interact with another Chiefs fan and remember that this team's success brings joy to some of the worst people on earth. The only phrase less popular than Black Lives Matter at a Chiefs game is Designated Driver.

Weed is legal in Missouri now, but meth is still the go-to drug for all of our superfans who aren't currently incarcerated for robbing banks.

We're all just waiting for Kelce to get caught saying the N word on camera. It's inevitable.
Jacob:
I am the worst kind of Chiefs fan. I don't give a shit though.
Ryan:
I hate our fans so much. Yes I already got my ticket for opening night vs. the Lions. 
Alexander:
Patrick Mahomes is the best football player ever, Kelce is better than Gronk, and it's going to fucking suck watching them star in political ads for Republican candidates for the rest of my life.
Tuffmitch:
Mahomes is God's one true chosen quarterback, and yet I still will never be satisfied. It's now Super Bowl or bust, and I am now an insufferable fan on the level of the typical Boston dipshit.

The defense under Reid and Spagnuolo exists solely to piss me off. It's like Spags wakes up on Sunday morning and shouts to himself, "Oh boy, I can't wait to put a mediocre corner in man coverage against Ja'Mar Chase today!" Mahomes could throw for 20 TDs in one game and somehow Spags would find a way to blitz us to a defeat by a score of 147-140. 

Fuck Herm Edwards and Todd Haley.
Kyle:
Has kicking the league's ass the past five years, with a QB that sounds like Kermit and holds grudges like Jordan, made me into an insufferable, Patriots-like fan? You better fucking believe it. And you know what? It was worth every shitty minute of the 33 years before it. 
Bryan:
Arrowhead on a gameday is like if Barstool sponsored the Republican National Convention. It's July 5th as I write this, and would sell my dog to be there right now.

Also, it was a hold. I don't care if it ruined everyone else's time, or that Hurts probably deserved a chance to answer. Tough shit, Drew!
Special thanks to the rest of the Defector staff, and to all of the readers who helped me compile the previews this year. Enjoy the season, everyone.
Stay in touch
Sign up for our free newsletter