NBA
It's Over For The Sacramento Kings, Who Are Just Getting Started
5:23 PM EDT on May 1, 2023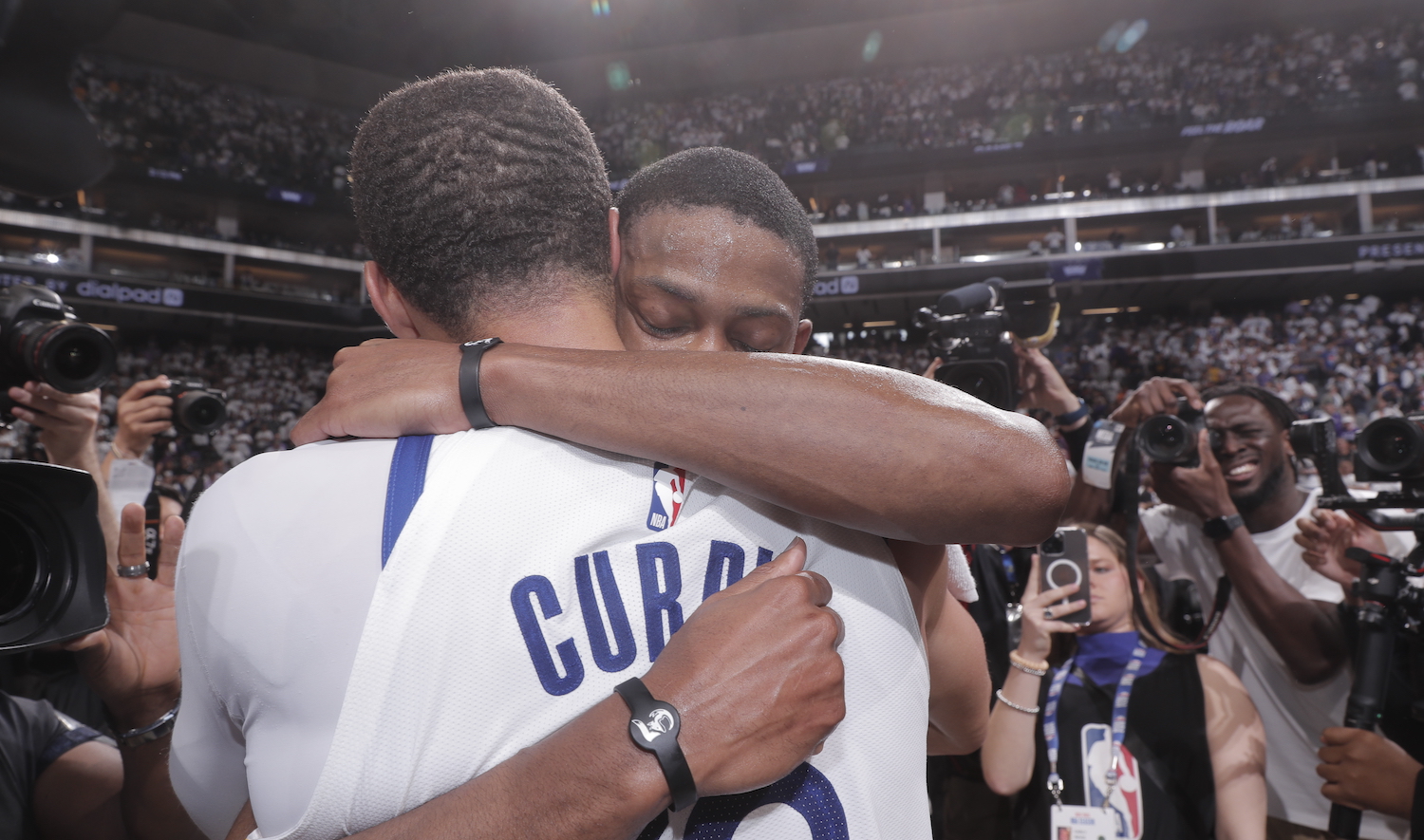 SACRAMENTO, Calif. — The basketball story here is a heartbreakingly simple one. The Sacramento Kings lost Game 7 of the best first-round series of the playoffs to the defending champions, on their home court, in front of a frothing 18,253 people, because the Golden State Warriors grabbed 13 offensive rebounds in the third quarter, the Kings shot 37.5/25.5/59.3 for the game, and Steph Curry responded to Mike Brown's bold and failed offense-first gambit by annihilating the Kings with an all-time closeout performance. De'Aaron Fox, who had been tremendous through the first six games of the series, couldn't get into the paint; Domantas Sabonis, who had been the opposite of tremendous, followed up his first great half of the series by getting outrebounded again at the worst possible time. After a spectacular season, the Kings earned the three seed only to lose Game 7 at home to the worst road team in the playoffs. The most charming story in the league did not have a happy ending, and the team's best campaign in 17 years ended in pain. It's over. It feels incredible.
As I have explained the Beam and the Kings' "whole deal" to many of the normal, non-basketball fans in my life over the past two weeks—for the first time, they actually wanted to know—many of them have raised the obvious question of why anyone would stick around as a fan of any team, especially a bad one, when doing so means choosing to care about something you have no control over, in a competitive framework where almost every season will necessarily end without a title. Aren't you just signing up to be disappointed? Damn bitch, they may as well have been asking upon learning of the 17-year playoff drought, you live like this?
Fans generally square this contradiction either through embracing the community of believers or through a love of the process, and when viewed through either lens, there is plenty to be excited about where the Kings are concerned, loss and all. Kings fans made the most of getting to throw themselves a long-delayed party in each of their four home games, and on Sunday, they were as loud as they have been all year. There was a palpable nervous energy in the building for the early-starting game, and the frantic crowd helped heighten the amplitude of some of the most dramatic basketball of the season. Kings fans rose and fell with every shot, and when they screamed Curry into missing two free throws, they gave their loudest roar of the night, both for the free cookies they'd just earned and for the rarity of what they had just seen. To beat the Warriors in a Game 7, the Kings would have to hit a new level, and the crowd was trying to join them there.
Let us pause here at halftime of Game 7, with the other shoe still hovering, and marvel at the symmetry of the first 26 quarters of this series. The first three games were a perfect, mirrored opposite of the next three. Each team won a deliriously entertaining offensive game where the opponent missed a would-be game-winner (Games 1 and 4), which each winner then followed up with a gritty defensive masterclass (Games 2 and 5), only for the seemingly reeling team on a two-game to respond with a defiant blowout (Games 3 and 6). It was so good and so even; all it was missing was a buzzer-beater somewhere along the line.
After the Kings fumbled Game 5 by letting Draymond Green drop 21 on them, the series felt cooked, and Game 6 in San Francisco seemed like the end. Instead, with Sabonis getting worked by Kevon Looney, Brown ceded the middle of the floor entirely and put together a bizarre small lineup with Trey Lyles at center, Terence Davis on Curry, and Keegan Murray in charge of grabbing boards. That five-man group had never shared the floor in the regular season, but they played 17 incredible minutes in Game 6 and the Kings showed what a scary team they can be when they dictate the tempo and actually convert their threes. Fox, who'd broken his finger in Game 4, was the best player on the court.
In the first half of the third quarter of Game 7, the Warriors enjoyed three distinct possessions that they were able to extend with three offensive rebounds; those possessions led to seven points. The Kings are not a gifted defensive team by any measure, though they had scraped together enough stops to extend the series to seven by being well organized and disciplined. For that sort of team to get as many stops as it did in the third was impressive, but wasting all that defensive effort as Kevon Looney snagged board after board was backbreaking for the team and agonizing for the crowd. The Kings are at their best when they can create a positive feedback loop for themselves—stops lead to fast break buckets, which leads to defensive possessions with a fully set-up defense, which leads to stops, which lead to rebounds, and so on and so on until the Beam profanes the Sacramento night. If a team that works that way cannot close that loop by rebounding the rare Warriors misses, it will wind up burning out its legs by sprinting around for a full minute, over and over again. That team will, eventually, be unable to play the way it wants to.
Game 7 featured exactly two fast-break points, which is the clearest sign that the Warriors dictated terms. The downsized Kings couldn't sprint out in transition, and the normal-sized Kings were still getting mauled on the glass; all that was left was for Curry to destroy them, and he obliged. Might Davion Mitchell playing more than eight minutes have helped the Kings? Certainly. Would it have made the difference in the game? Probably not. The Kings lost Game 5 because they overplayed Curry in the primary action and left themselves exposed on the back-end. They won Game 6 by playing the secondary action better and forcing Jordan Poole to make decisions with the basketball, which is something he is apparently incapable of doing. The Kings were legitimately locked in through most of Game 7, and what is most impressive about Curry's killer 50-point performance is that he was forced to initiate and end so many plays. Klay Thompson and Andrew Wiggins shot a combined 9-for-35 and clearly couldn't get the space they needed, so Curry was left to, in Mark Jones's words, pull out his do-it-yourself kit. He had one turnover despite running 42 pick-and-rolls, the second most of the season. If any Kings defender bit on the wrong fake or played him too high, he got to the rim every time and finished. If they went under the wrong screen, he punished them with a three. It was a brutal, perfect performance.
And the Kings, in their first playoff series, with the scant few veterans on the team disappearing, played forcefully enough that Curry needed to be so legendary to get past them. If your season is going to end because a generational player put up the first 50-point game of his long playoff career and the first 50-spot in any Game 7 ever, you can leave with a clean conscience. The Kings could maybe look back at this series thinking they left an extra win on the table by shooting a dreadful 30 percent from three on a pretty wide-open diet of longballs, but Warriors in 7 is an objectively fair outcome for this thrilling series.
This is why the Kings and their fans can enter the offseason feeling...well, not good, not yet, but reasonably hopeful. This group played the Warriors as tough as any Western Conference opponent has in the Curry era, and did so in its first postseason go-round, despite broken fingers and a defensive scheme that erased their best player and a crushing Game 5 loss at home. Their 22-year-old rookie needed three bad playoff games to find his legs, but by Game 6 he was playing 45 minutes to help lead the team to their most impressive win of the season. And this was a season that already had a historically impressive win it.
This is the kind of series that pops up every few years—Mavericks against Clippers in 2020, Warriors against Spurs in 2013—in which a young, up-and-coming team announces themselves with a bang. Most playoff debuts are not like this. They are like Grizzlies-Jazz in 2021, or Cavs-Knicks in 2023, where the new team maybe takes a game but mostly learns what playoff basketball is like by getting flattened. Most young cool teams do not do something like travel to San Francisco for an elimination game and destroy the Warriors.
The Kings gave the Warriors everything they had, and it took an earth-shaking performance to oust them. If you love basketball, you loved Kings-Warriors, and while that's insignificant compared to what a series win would have meant for Sacramento and the Kings, I think it matters all the same. Returning to the notion that the basketball itself redeems the psychic damage of fandom, Kings fans have suffered a hilarious amount of psychic damage, so why not look back on 89 (not 82!) games of incendiary basketball, consider the promising future of this young group, and feel grateful? How could you have risen and fallen with such a cohesive, charming group that so clearly loved playing for each other and for the fans and not leave the season on a high?
The hard part is what comes next. There will never be another team as charmed as this one, free from expectations and floating on the goodwill of ending a 17-year playoff drought. Losing in seven to the champions is still a success now because the Kings were projected to win like 38 games and finish 11th this season, and instead they pushed offensive basketball to psychedelic new heights for a whole regular season and proved they belong in the playoffs. Everything broke in their favor this year—health, a bizarrely mid Western Conference, the element of surprise—in a way that it will never break again. Things only happen for the first time once.
And now that it has finally happened, the Kings are no longer lovable, small town losers. They are once again, finally, an NBA team. This is what Kings fans have wanted for over a decade, and now that they have it. The window of possibility is wide open; the Kings could credibly contend for a title next year, or they could regress and miss the playoffs. Everything is on the table, now, for the first time in 20 years, and this delightful season was hopefully only the beginning. "Sacramento Kings" is no longer an oxymoron.
Stay in touch
Sign up for our free newsletter