NBA
It Took Everyone To Put Steph Curry Somewhere He's Never Been Before
4:10 PM EDT on April 18, 2023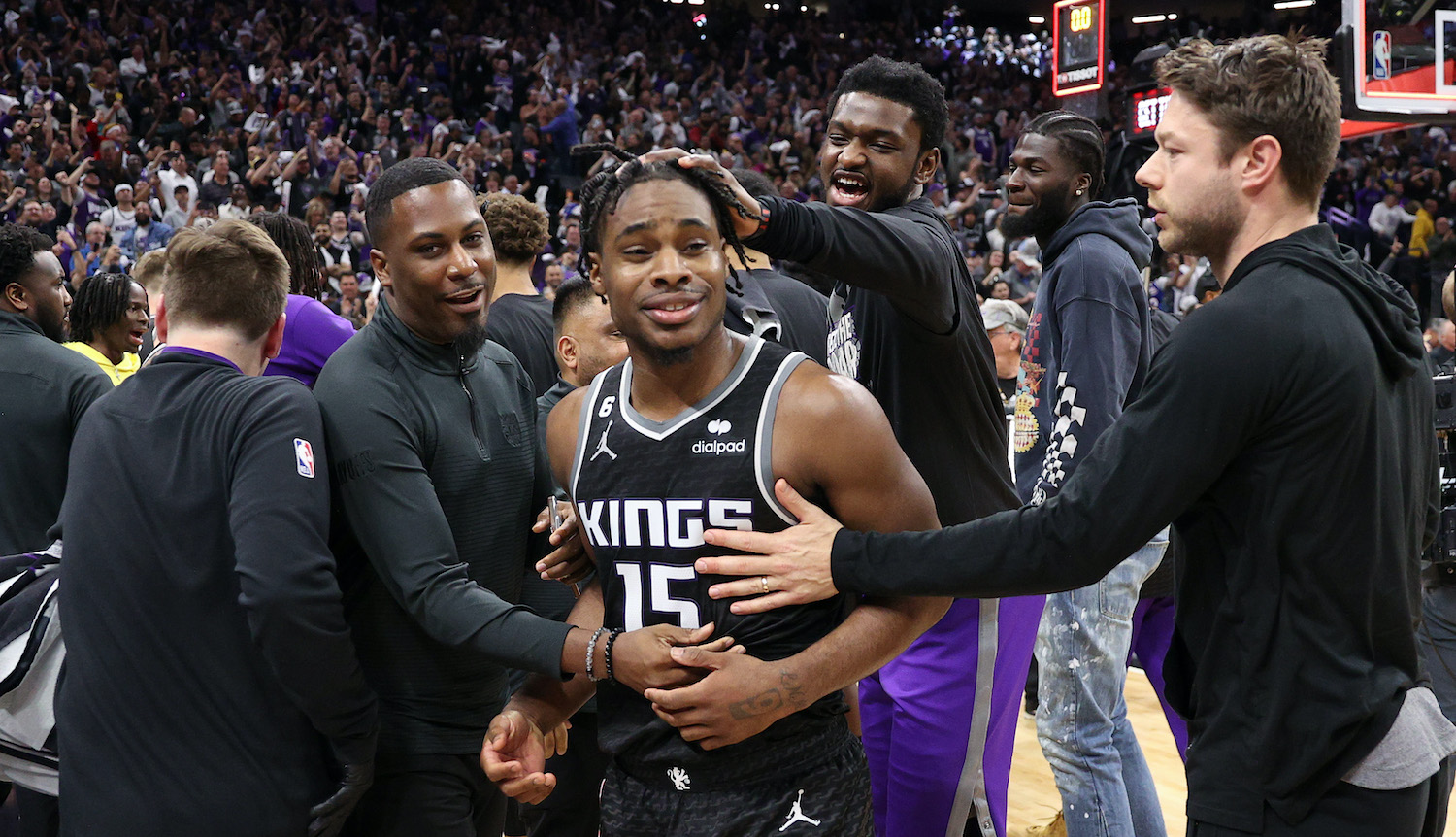 SACRAMENTO, Calif. — With four-and-a-half minutes remaining in the second quarter of Monday night's Game 2 matchup between the Kings and Warriors, Sacramento fans rose to their feet and toasted their team with the loudest ovation of the half, for a play that would ultimately end in failure. Davion Mitchell was attached to Steph Curry's chest from three-quarter court, and after Domantas Sabonis, Malik Monk, and De'Aaron Fox did a perfect job containing a Curry-JaMychal Green-Klay Thompson double-drag action, Curry had to dribble back out into space and reset. Kings fans, perhaps unused to such extreme effort on that end of the court, stood and roared, and if the Kings had gotten the stop, they would have exploded. Instead, Curry engineered a Monk foul and hit two free throws.
What was most impressive about the Kings' 114-106 win was their doggedness. It can be hard to continue playing with intensity on both ends of the court when so many lung-busting defensive efforts amount to nothing and when shots aren't falling. I asked Fox about this after the game, and he replied, "Just because shots aren't going in, we don't stray away from anything." In fact, the poor shooting only seemed to motivate the Kings to play harder on defense and run on offense. It worked. One of the worst defensive teams in the league treated their ravenous home crowd to their best defensive performance of the season, playing with a ridiculous amount of force on both ends of the court and putting this version of the Warriors in their first-ever 2-0 hole.
Though Game 2 hosted more Warriors fans than the first, it was perhaps louder than Game 1. I'd chalk this up to the smaller stakes; this was not the first playoff game in 17 years, this was Game 2 of a first-round series. Unshackled from the mental anguish of that epochal drought, Kings fans were free to clang those cowbells and scream. Perhaps it also helped that a Game 2 ticket was not as prohibitively expensive, and though celebs like Rich Paul (who glared at me in the media elevator), Floyd Mayweather, and Jimmy Goldstein were in the building, the crowd felt a little more feral, a little more Sacramento. I talked local hoops and shared my end-of-quarter stat sheets with a season-ticket holder named Edison, who somehow personally knew every coach I've ever played for.
Standing-room-only fans crowded around the small table I sat at, which is maybe the wrong verb as everyone stood so much that I had to stand as well to even see the game. I lost my voice trying to talk to the guy next to me, and I did not realize how thoroughly the cowbells destroyed my kinocilia until I left the concourse to go to the presser. Other notable moments included the guy who tortured Warriors GM Bob Myers all night, someone wearing an ironic Frank Mason III jersey, and a man in a Reggie Theus jersey who somehow brought either a mastiff or pit-bull puppy into the arena and was walking him on the concourse at halftime. I found him after the game, and he and his friends asked me to take their picture under the beam. The crew unanimously predicted Kings in four, and said the dog—Sonic—enjoyed the game and doesn't mind crowds or noise, though I was not allowed to pet him.
And just like the Kings arena, the Kings had that dog in them. The game up to the point of that Monk foul had been ugly (it was only going to get uglier), and the Kings once again put forth a substandard offensive performance. They missed their first 11 three-pointers, scored just 17 in the first quarter, wound up shooting 45 percent from the field, and only hit 9-for-38 from three. That's their fourth-worst three-point performance of the season, and when they've shot that poorly this season, they're 3-16. After they built up a couple of leads in the low teens in the third quarter, they were in position to break the game open, only to miss what felt like seven potential daggers. When the Warriors held Sacramento to two points over a five-minute stretch spanning the end of the third and beginning of the fourth, it appeared imminent that the best player in the series would take over and put the Kings to the sword.
That potentiality seemed even more likely after Draymond Green got ejected and went heel mode. Within a minute of the ejection—which the Warriors actually gained a point from, as Curry hit a free throw and a shaken-up Sabonis missed both—Golden State tied the game up. They were rickety all night, tossing the ball all over the place and never quite looking in sync, but champions can win ugly, stupid games, and this one was there for the taking. Andrew Wiggins logged his highest minutes count since November, and again, he barely looked like he'd sat out for two months. Sabonis got his, yet Kevon Looney's gifts as a defender in space made his night incredibly hard. The Kings are incredibly difficult to defend if you don't have someone who can contain Fox on their own, though the Warriors are also playing the Sabonis handoff game very well.
If Curry could have gotten loose, the Warriors probably could have won, but he could not because Mitchell had the game of his life. Curry, of course, is the greatest shooter of all-time, but he might also be the best off-ball mover of all-time. Staying in front of him requires you to keep up with his craft on the ball but also sprint around and through screens for 24 seconds as he eats up space in a way nobody else does. Mitchell didn't stop Curry—that's basically impossible—but he made life complicated for him. Curry not only didn't score one single point on Mitchell, he only got off one shot. Mitchell is tiny, but he's incredibly strong and he fights over and through screens as well as any defender in the league. That is an essential skill for anyone who wants to make life hard for Curry, and Mitchell was up for the challenge. The Kings' best defensive night of the year began with Off Night, and though Mike Brown and Jordi Fernandez schemed up a good team game plan, none of their traps or blitzes or zones would have worked if Mitchell didn't clamp down on Curry. After the game, Fox credited playing against Mitchell in practice for some of his improvement this year.
When the Kings picked Mitchell ninth two years ago, fans were surprised and he was surprised. In his second season, he averaged just 5.6 points and 18 minutes per game, which seems like a regression unless you watched him earn his team-high seven Defensive Player of the Game chains. He clearly took some time to settle into a new way of playing this year, and his shot is still not very consistent. But at no point has his defensive intensity or impact ever wavered, and this Warriors matchup is the perfect showcase for his gifts. He had Curry in hell. It felt cosmically justified that Mitchell, on his team's 90th try, would finally be the one to plunge the dagger into Golden State's heart.
Stay in touch
Sign up for our free newsletter