NBA
The NBA Playoffs Have Not Truly Begun Until Draymond Green Has Kicked Someone In Anger
2:04 PM EDT on April 18, 2023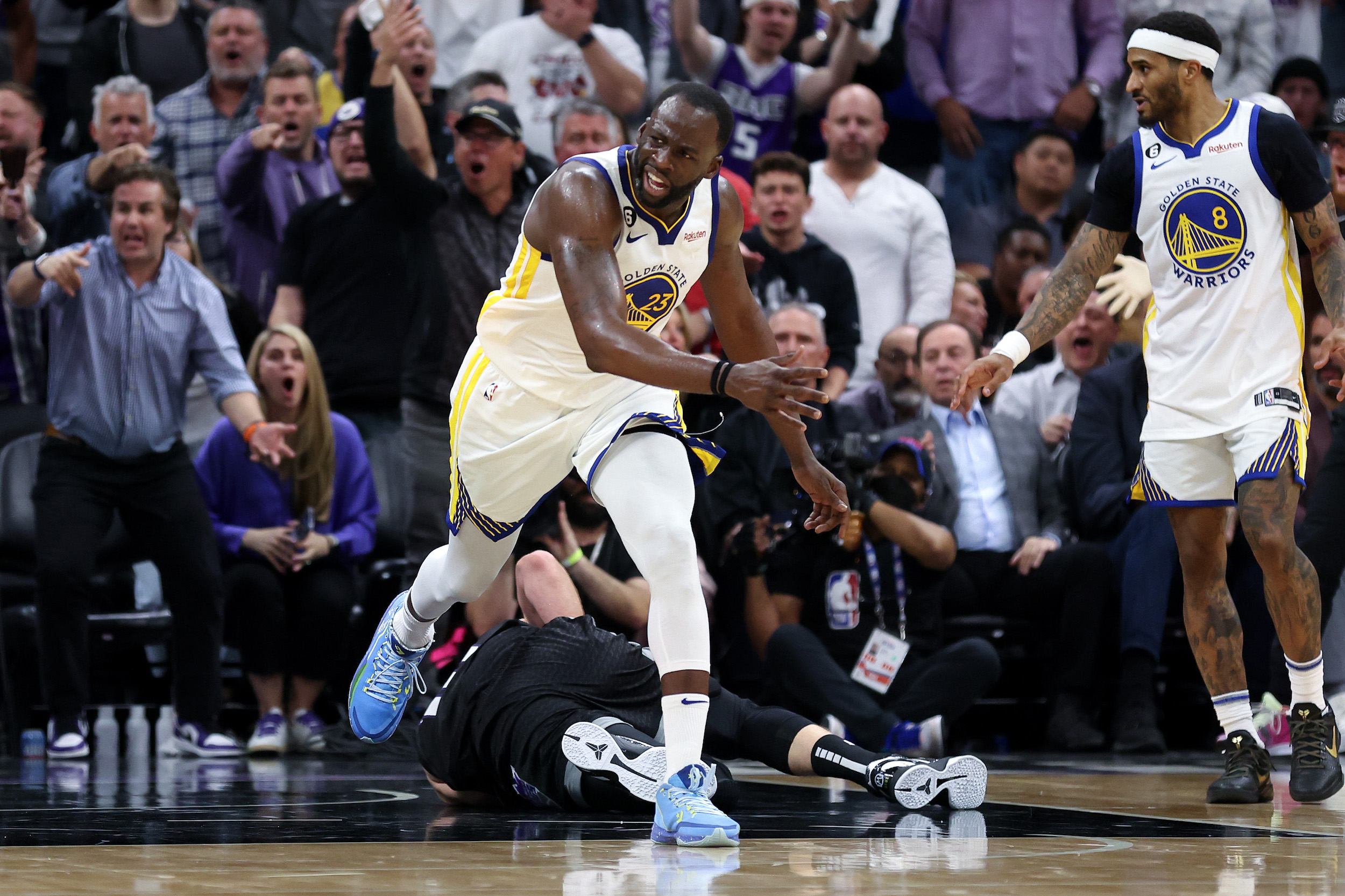 Draymond Green was ejected Monday night from Game 2 in Golden State's first-round playoff series against the Sacramento Kings for stomping on the chest of Domantas Sabonis. The photo up there doesn't really do the play justice. For that matter, the top-line description also fails to really capture the cartoonish violence of the act. In real time it looked awful; every time I watch the replay, I scrunch up my face and sharply inhale. Green clearly lifts his foot, pounds it down onto the chest of Sabonis, and then bounces up off of the writhing Kings center for a theatrically villainous dismount.
Green's explanation for the stomp after the game focused on Sabonis having grabbed onto his leg during the play, an act for which Sabonis was assessed a technical foul. "My leg got grabbed. Second time in two nights. Referees just watching," he explained. "I gotta land my foot somewhere. I'm not the most flexible person so it's not stretching that far ... I can only step so far, I'm pulling my leg away. So, it is what it is." Notably missing from this is any suggestion that the stomp was, you know, accidental. To Green, it is simply a fact of NBA life that occasionally his opponents will deserve to be stomped on, due to a combination of their own actions and his own physical limitations. Green's frankness is almost commendable, except of course that he is justifying the use of an opposing player's solar plexus as a mini-trampoline.
Green used the dead-ball time after the play, while referees huddled around the replay monitors, to inflame the hostile crowd's animosity, which led to this enjoyable shot of a reserved but disapproving Kings fan giving Green the double-thumbs-down:
This was Green's sixth flagrant foul in 147 career playoff games, per the Associated Press. Green is obviously a fabulous basketball player and a future Hall-of-Famer, but he has gained a measure of infamy due to his penchant for aiming retaliatory strikes at the tender parts of his opponents, especially during playoff games. He famously karate-kicked Steven Adams, then of the Oklahoma City Thunder, in the dick and balls during Game 3 of the 2016 Western Conference Finals, earning a Flagrant 1 foul that was later upgraded to a Flagrant 2. Nineteen days later, in Game 4 of the NBA Finals, Green hauled off and socked LeBron James, then of the Cleveland Cavaliers, in the groin, in a move that the league office considered overt and retaliatory; as this was Green's fourth flagrant foul point of just that playoff run, he was suspended for Game 5. This is generally considered the turning point in Cleveland's historic comeback from a 3–1 series deficit to win the franchise's first and only championship.
The NBA might still hand down additional discipline for Green's Monday night stomp. By my count, the NBA has levied at least two suspensions this season as tacked-on punishment for Flagrant 2 fouls: Dillon Brooks of the Memphis Grizzlies was suspended for one game after being assessed a Flagrant 2 foul for punching Donovan Mitchell in the junk during a game on Feb. 3; and Thanasis Antetokounmpo was docked a game for head-butting Blake Griffin during a stoppage in play on March 30. NBA officials tend to be somewhat more lenient about physical play in the playoffs, but this does not generally extend to instances of overt and excessive violence—once they get to the monitors, decisions tend to be made by the book.
Notably, both of the regular-season strikes that led to suspensions were retaliatory, and neither seemed anywhere near as painful for their recipients as Green's stomp. Sabonis underwent X-ray tests on his ribs and lungs Monday night; ESPN reported that he "would undergo additional testing" Tuesday as a precaution. It's not entirely out of the question that this is strategic messaging by the Kings, who would certainly benefit from a Green suspension; Mike Brown indicated after Monday's game that he would be paying close attention to how the league office handles the incident after further review. And, in a possibly related bit of gamesmanship, Green also requested an X-ray Monday night—of his right ankle, the one that was grabbed by Sabonis. Considering it was sturdy enough to lift him onto a sideline chair for antagonism of Sacramento's frenzied crowd, it should surprise no one that the tests showed no injuries.
Update: He's suspended!
Stay in touch
Sign up for our free newsletter