NBA
Draymond Who?
9:00 AM EDT on April 21, 2023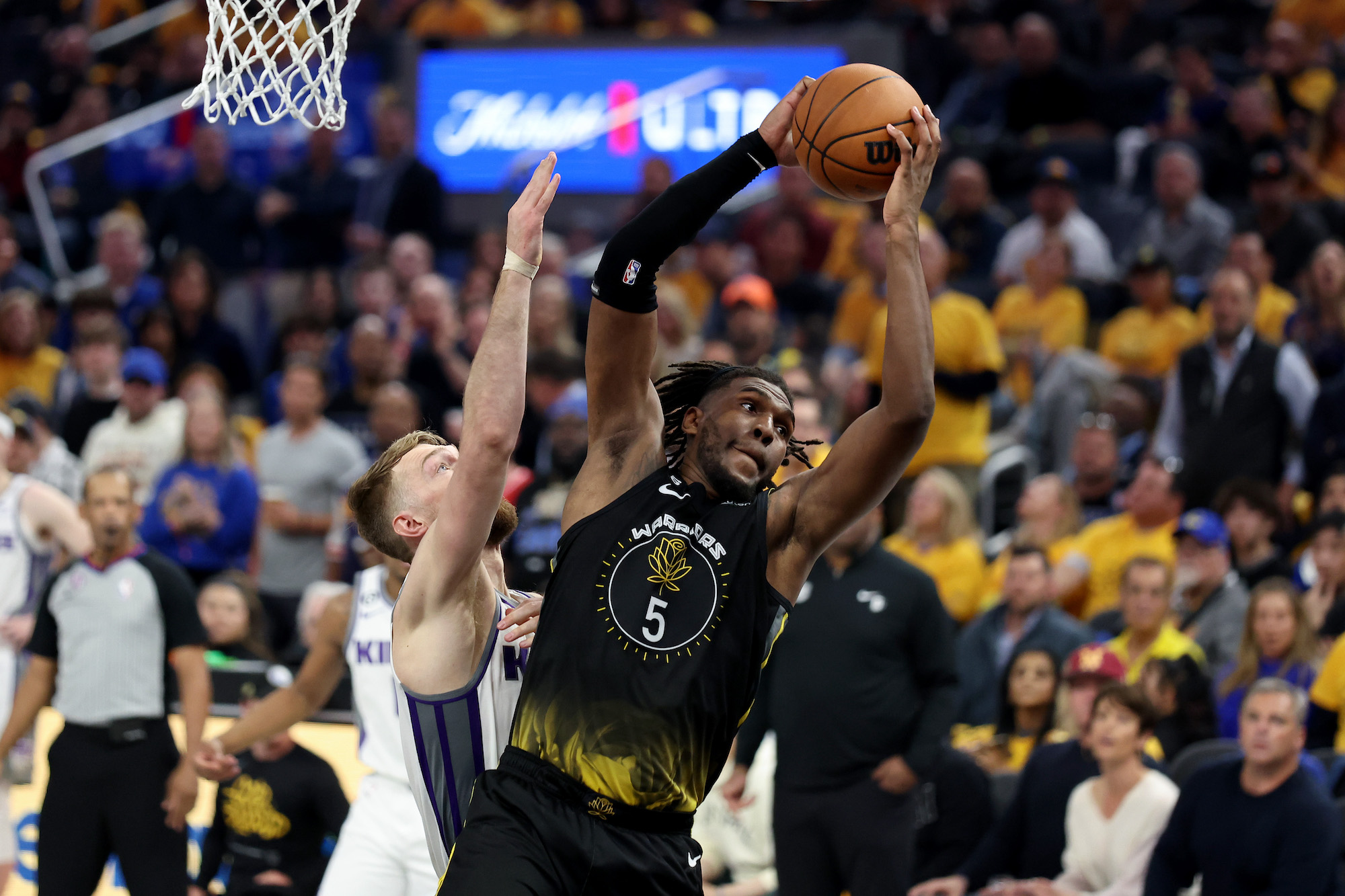 So, what happened with Draymond Green again?
Therein lies the beauty of a first-to-four series: Nearly anything that happens in Game 2 is forgettable after Game 3. Indeed, Game 2 is traditionally the least important game of any series because there is not enough done yet to call a series, but still too much left to be done for it to be pivotal, so all the sturm und drang after Game 2 of Kings-Warriors have faded not because of Green's incendiary properties but because of Kevon Looney's calming ones.
Looney is Golden State's ATM, next to Stephen Curry the one automatic on a profoundly erratic team. He is not nearly enough in so many physical ways and yet the ideal Warrior because he is the living breathing reminder that the Warriors win because they do small fundamental things rather than splashy jaw-slackening things. Thus, Thursday's 114-97 win over the Fightin' Redfords was not a triumph of style but substance, and the Warriors' substance was defined in significant part by Looney's 20 rebounds and nine assists. He outplayed Sacramento's famed floor impersonator Domantas Sabonis, kept multiple possessions alive with either offensive rebounds or tipped balls, and in many ways reminded us of the subtleties that can make the Warriors more than the sum of Stephen Curry's stat line. Not that Curry's stat line is ever offensive, mind you, but everything Warrior looks better when Looney is making a substantial difference in the one place the Warriors are most disadvantaged.
Golden State won Game 3 convincingly and almost immediately because of the defense it has shown far too infrequently. They were hardly inspirational offensively—indeed, the whole game was a bit of an aesthetic mess—but 24 second-chance points and 18 offensive rebounds (nine by Looney) more than made up for whatever claims of inspirational spark fans could make on Green's behalf. They led for all but the first 103 seconds of the game, held the Kings below 100 points for only the fifth time all season, and in essence kicked all the arse that the Kings had kicked in the first two games.
Suddenly, this is interesting again, and if it meant that Young Redford slept poorly, he is still guaranteed more basketball than he's had since he could convince the guy who sleeps in front of the 7-Eleven to buy him beer.
The Warriors' secret-in-plain-sight has always been its defense, the thing that could always hide the profligacies of a jumpshot-heavy team, and their defense Thursday was exemplary. Sacramento is 6-23 when scoring fewer than 116 points this year, and they were counties away from that last night. They had 41 at halftime, so they may as well have had eight for the chance they had of getting to 116. This would have been true whether Green had played or not. Looney was his Looneyest, Andrew Wiggins was superb, and the oft-forgotten Moses Moody was particularly useful in his 15 minutes. None of the Warriors skimped defensively, and that's why they were never threatened by a team that had been the superior show in the first two games.
Part of this can also be totted up to the Warriors at home, where they win slightly more often than they lose on the road. Part of their erratic nature is that they actually can turn it on and off at whim based on the location of their showers, with the "it" in question being their defensive care and acumen. They have allowed 120 points at home only eight times all season (and a Hornetesque 26 times on the road).
Sunday afternoon, everyone is back in place, Green most notably. He will be given a standing ovation because San Francisco is his Switzerland, and Sabonis will continue to be booed for having such an inviting sternum. That, though, will be the sideshow. The real story will be with Kevon Looney, the one Warrior you always remember to forget. As he goes, the other Warriors typically remember to go as well.
Stay in touch
Sign up for our free newsletter