NBA
This Is What Flipping The Switch Looks Like
3:53 PM EDT on April 24, 2023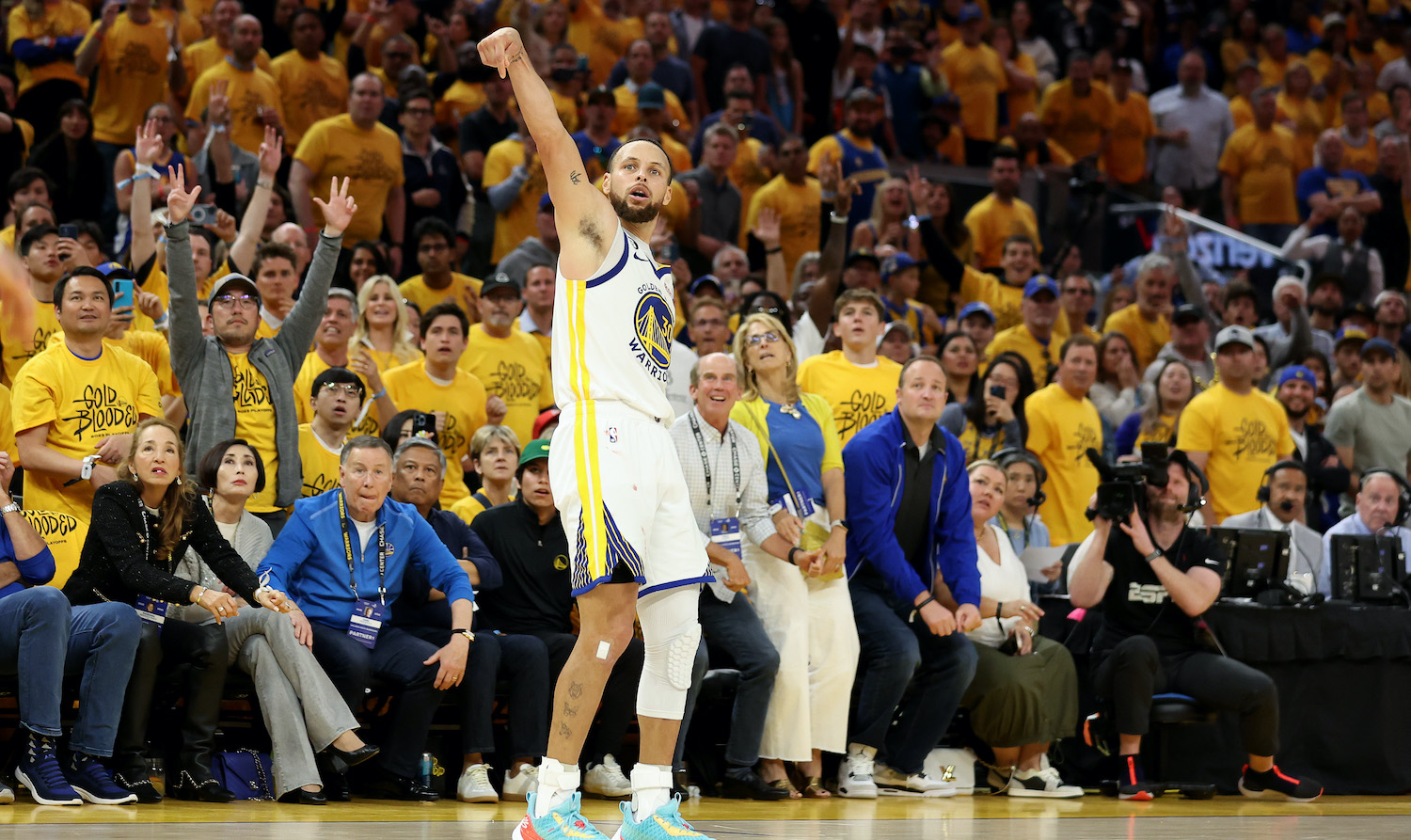 The national media consensus ahead of Kings-Warriors was that Golden State would probably win in six games. Spectacular as the Kings' regular season run to the three seed was, Dubs in six was the rational position even though the Warriors hadn't played with their full team intact basically all year. You couldn't just ignore the reality of that core having hoisted a trophy 10 months earlier. The crux of any pro-Golden State case was that they would flip a switch once Andrew Wiggins rejoined the team and Gary Payton II's midsection healed up, and that all the team's depth issues would be obviated by the stars playing 40-plus minutes per night. What we saw in Golden State's spectacularly thrilling 126-125 Game 4 win was that switch being flipped. The turbo-mode Warriors are back.
The clearest difference between these here Golden State Warriors and the unserious bunch that got the shit kicked out of them in Oklahoma City one month ago is that Wiggins is back, and appears to be back at full force. In his first game back since February, Wiggins came off the bench to score 17 points and block four shots, and that was as long of a trial run as Steve Kerr needed to throw him fully back into the fire. Wiggins has started and averaged 37 minutes in the three games since, among his highest totals of the season. Aside from some wobbles readjusting his shot selection to appropriately Warriors-y levels, he's been Golden State's best two-way player. Wiggins's defense is mission-critical for his team, that, without him, would have to accept the gambit of putting Draymond Green, Donte DiVincenzo, or an ailing GP2 on De'Aaron Fox, all of whom can hang with him for stretches but not without compromising the structure of the team's defense. With Wiggins on Fox, it all snaps into place. The Kings have no wing scoring threat, so Wiggins can dedicate himself to sticking with Fox and doing rude blocks like this one.
Pundits and fans on both sides of this series have long predicted a fabled "Klay game," and Thompson finally broke through during Game 4. His ability to hit shots against locked-in, engaged defenses who nail every rotation is a backbreaker, and his third-quarter-ending dagger was just one of four audacious threes he made. Though he only nailed four, it felt like each one counted for double, as he either splashed with a defender in his airspace or punished a single missed rotation with brutal efficiency. That is all sort of to be expected. What was more shocking was his defense. You may recall Fox dropping Thompson like an anchor in Game 1. That Klay was nowhere to be found in Game 4. The Kings occasionally hunted him early, but once he acquitted himself well, they went away from it. He spent a lot of time on Keegan Murray, who finally joined the series and went for 23 and seven. He notched 15 in the first half, but in the pivotal third quarter, Thompson was glued to him and he capably denied him space on the Domantas Sabonis handoffs that killed his team in the first half.
The Kings' defense has been notably more rickety in San Francisco, some of which can be chalked up to the dip in their physicality, though most of their regression is due to Golden State attacking their weak points more ruthlessly. The Warriors were ready for the high, quick double-team the Kings like to spring on Curry, and in Game 4, they ran screeners at Curry's man—Davion Mitchell and Fox split the assignment; neither succeeded—further out in space. This left the roll man—usually Green or Kevon Looney, though they also destroyed the Kings with an inverted Curry-Green pick-and-roll—with a four-on-three and a runway from the three-point line instead of the foul line, and Golden State found cutters on seemingly every play in the third quarter. When the Kings defended the action well, Curry went to work and diced them up. He was notably springier on the drive, seeming to score whenever he got past his man, despite playing 43 minutes.
If your opponent has neither rim protection nor the ability to rotate their way through the fastest four-on-threes in NBA history, you're going to score a lot, especially if that tactical adjustment coincides with the miraculous disappearance of the turnover problem; Golden State had as many giveaways in Game 2 as they did in Games 3 and 4 combined.
All this improvement added up to their most complete performance of the series in Game 4, and part of what has made this series so fun for the neutral (I think; I am too wrapped up in this series to empathize with this position) is that the Warriors still only won by one single point and could have lost if Harrison Barnes had nailed an open buzzer-beater. After sinking into the first 2-0 series deficit of Steph Curry's career, the Warriors fought with the manic desperation of a team with its back up against the wall, and Kerr pulled out his best stuff. Curry only rested for five minutes, Thompson for nine, and Wiggins for 10. They made changes because they had to, and now they have the momentum as they head to Sacramento to try and do the impossible: win a road game. This task seemed significantly more difficult 24 hours ago, and now that De'Aaron Fox is doubtful with a broken index finger on his shooting hand, they have the chance to slam the door shut in Game 5.
Stay in touch
Sign up for our free newsletter