NBA
The Kings Needed To Be Just A Little Better
8:59 AM EDT on April 24, 2023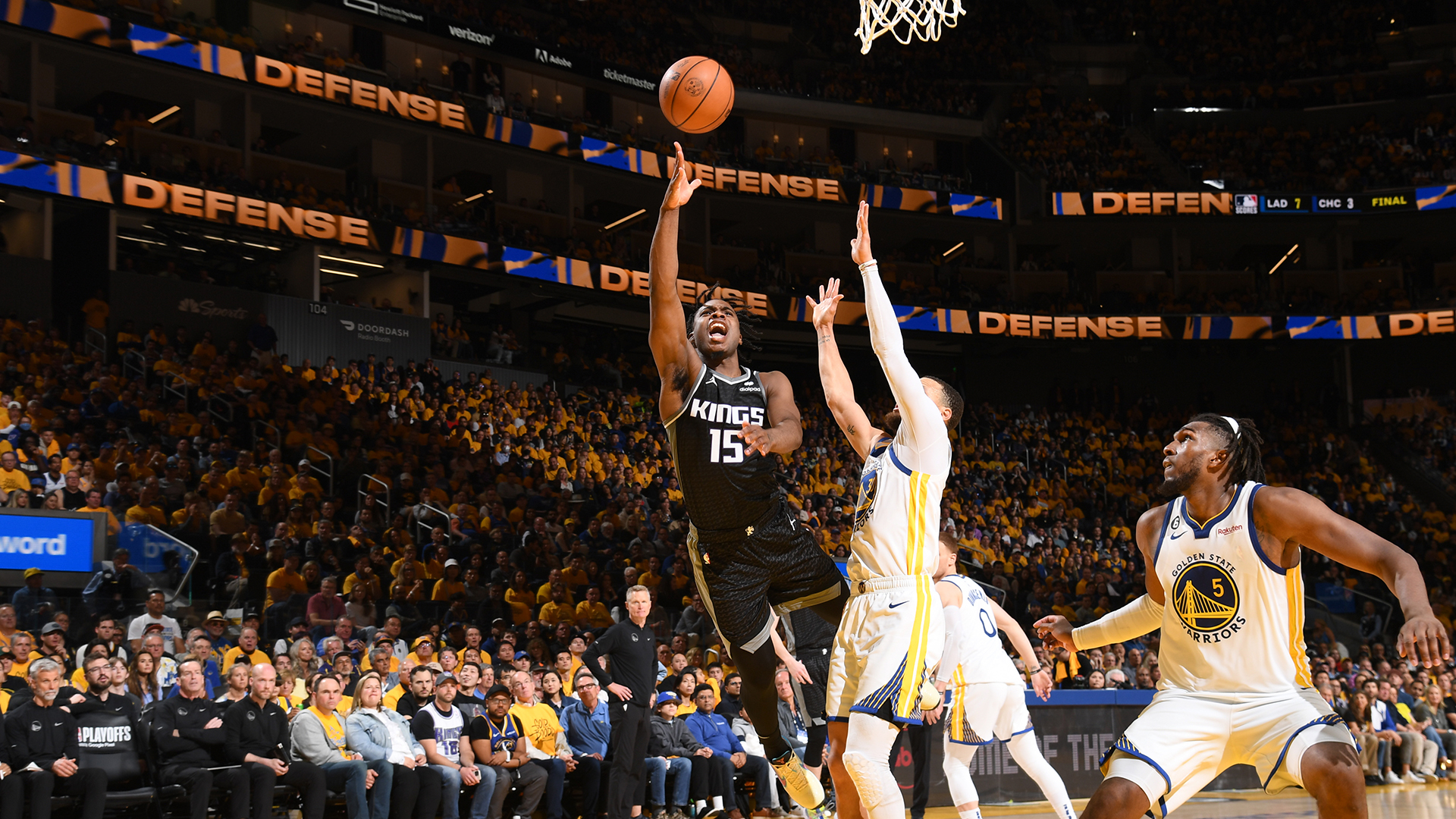 In the end, there was not much to separate the Sacramento Kings and the Golden State Warriors in Game 4. Both teams shot well, statistically: a 47/40/83 split for the Kings, and a just-a-bit-better 50/41/92 for the Warriors. Ten turnovers to 11, respectively, didn't open up a gap; neither did the 44 rebounds each team grabbed. In the end, the Warriors walked out with a life-saving win to even the series at two home victories a piece only because the Kings, those run-and-gunners of historic proportions, picked a really awkward time to deploy some rushed and shambolic plays late in Sunday's venture into San Francisco.
After the Kings took a four-point lead into halftime, the Warriors obliterated their visitors in the third, opening up a 10-point lead of their own thanks in part to Jordan Poole's eight points and, perhaps in a bigger part, the Kings' failure to keep up the pace from the first half. Oh, and also, the Warriors had a buzzer-beater three from Klay Thompson, because that was the kind of quarter it was for them:
The Kings' pace did come roaring back in the early fourth, though, and not even three minutes in, the Kings took back the lead thanks to a Malik Monk layup that made it 107-106 with just over nine minutes left. The same Kings offense that blitzed the league this season did it again to start the fourth, and it looked like this Warriors team, still so dangerous but vulnerable, would cave to what is a better team on paper and, so far this series, mostly in practice.
Unfortunately for Sacramento, though, that wasn't the case: the Kings lost that one-point lead on the next possession and never gained it back again. While the Warriors did what the Warriors have done for almost a full decade on their end—getting wide open threes, sometimes with complex sequences and other times, disappointingly for Sacramento, thanks merely to simple actions that should have been snuffed out—the Kings reverted back away from this season's beam-powered offense and into hasty transition runners and contested threes.
After De'Aaron Fox made two free throws with 3:54 remaining, Sacramento only scored one more basket (a Davion Mitchell layup) over the next three minutes. Around that shot, the Kings produced the following results: turnover, blocked shot, missed three-pointer, turnover, missed pull-up jumper, missed jumper, blocked layup, missed floater, and one more missed jumper. It was worse than that list sounds. With every trip down the court, the Kings either rushed their shots with plenty of time on the clock, or held the ball until they had to push out a no-flow, potential shot clock-beater. Domantas Sabonis, so often great this season, was especially bad during this period, shying away from shots to hand off responsibility to someone else, and getting blocked by Draymond Green on a follow-up from an offensive rebound:
And yet, even with those demoralizing trips down the court, Sacramento held on just enough to give itself a shot, with some help from the Warriors. The Kings' next point came with 42 seconds left on the clock and the Warriors leading 126-121. That was when Monk hit a technical free throw after Steph Curry, of all people, pulled a Chris Webber and called a timeout when the Warriors had none. After that goof, the Kings were still down four, 126-122, but with the ball. Harrison Barnes took one more bad shot for the road, but the ensuing offensive rebound and eventual in-bound set the stage for Fox, who finally hit one of those shots that he has hit all season long, a 29-footer in Green's face with 28.1 seconds left, shrinking Golden State's lead to one:
After Curry came up short on a pull-up jumper on the other hand, while strangely not wasting too much clock, the Kings got the rebound and called timeout. There's something to be said for letting them ride the momentum of Fox's shot and the stop on Curry and try to run out following that rebound, but Mike Brown probably made the right call with the time out, given how out of control each transition attempt from the Kings had gone in the late fourth quarter. It's hard to watch your team blow several transition opportunities late in a playoff game and then trust them to try it one more time with 10 seconds left.
The play that followed wasn't ragged, really, but it did devolve quickly: Fox had the ball at his hand and hunted Curry for the matchup, which he got, only to blow by his man and run straight into the waiting and double-teaming Green. Fox could have tried to barge in anyway and draw a foul—the Kings were in the bonus—but instead, he dished it out to Barnes again, who had a good look that was just too far left and long to go in.
While a loss on the road doesn't kill the Kings, particularly given how bad the Warriors have been on the road this entire season, this was a game for Sacramento to assert its dominance over the reigning champs. Even with a wretched third quarter, the Kings were still within range with just a handful of minutes to play, but things fell apart as they quite often do for a young team in its first trip to the playoffs. Possessions become rushed and every moment feels life-or-death, shots are sent with too much force, and a game is lost. The Kings were good enough to be in this game, but they needed a bit more of their normal play to come out on top. That offense is there, somewhere, but if it falters again, that might be all the Warriors need to clean up and clear out the playoffs' most entertaining team.
Stay in touch
Sign up for our free newsletter