NBA
A Guide To Mark Jones's Food References And Do-It-Yourself Kits
12:24 PM EDT on April 6, 2023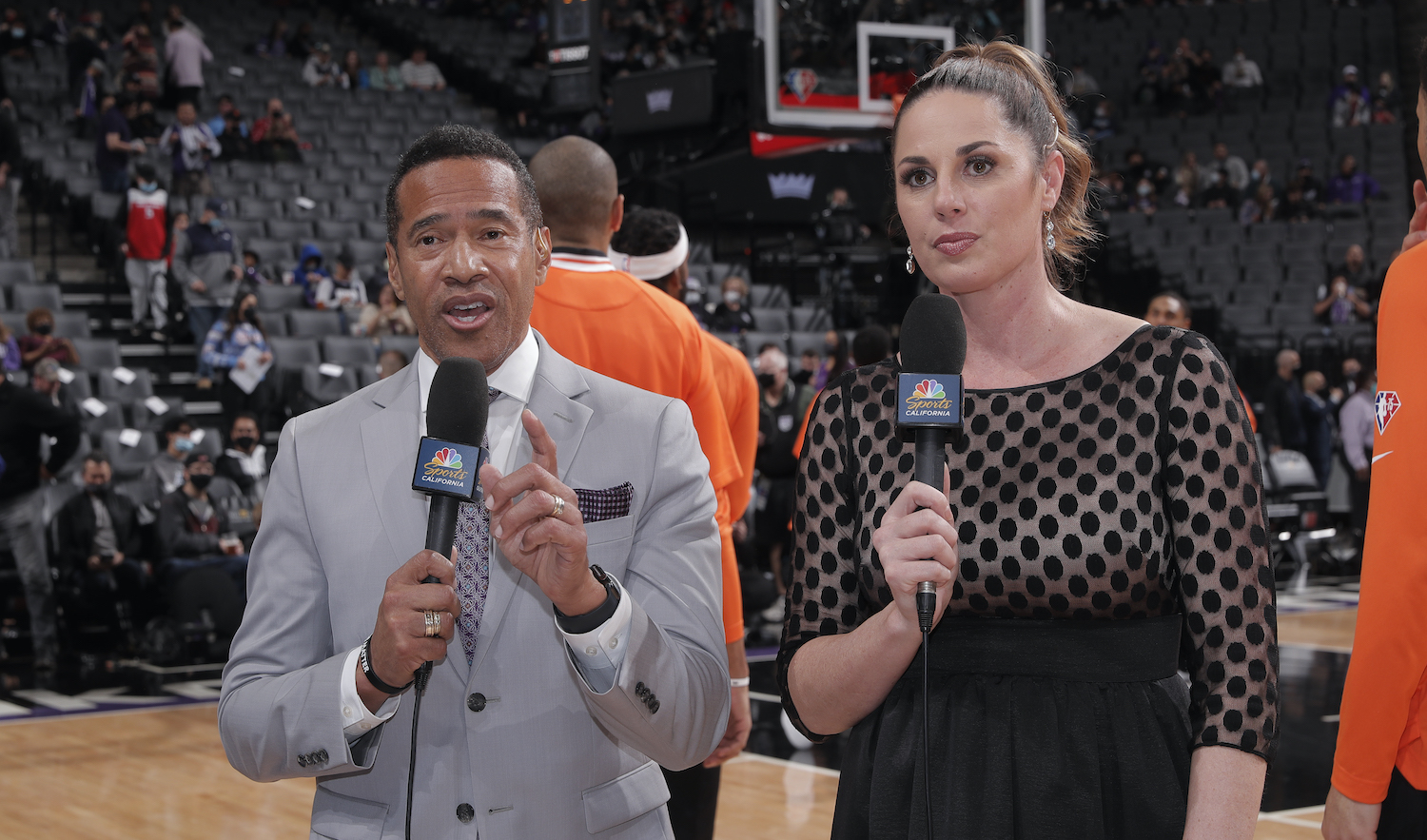 Throughout the NBA regular season, I make a point to watch every team's broadcast crew call a few games on League Pass. Local crews tend to have a good sense of their team's vibes, and you can get keyed into weird little trends you might otherwise miss, such as Jaylin Williams's charge-taking excellence or the Bollercoaster.
Some crews (Nets, Clippers) add to the experience, while others (Hornets, Warriors) make it actively worse, but I watch them all, so I say the following with some bias but also a completist's sense of confidence: The Sacramento Kings have one of the best booths in the NBA. Color analyst and former WNBA pro Kayte Christensen has been around the game forever and can diagnose on-court action in real-time. In the play-by-play role is Mark Jones, an experienced Canadian broadcaster with a head for the game and a voice for the booth. He's become a symbol of the Kings' renaissance, since he joined the team shortly before they started taking themselves seriously. The players and coaching staff love him, and Kings fans do too—at least the ones who don't mind his stable of catchphrases.
Jones has been in this role for three seasons, replacing the disgraced Grant Napear in 2020. He splits his time between Sacramento's NBC local network and ESPN, so when he's on national duty, the affable Kyle Draper replaces him in the booth. I'm a fan of Jones's work. Like Christensen, he knows ball, and he lets himself get a bit nerdier on the local broadcast, constantly calling out pistol actions, hammer plays, UCLA cuts, and complicated defensive schemes, all in between making often inspired, occasionally corny calls. He's not a homer, and his suits look incredible. His time on the national desk gives him a great perspective on the whole league, unlike many local broadcasters who clearly only watch their own teams. If you watch Jones call games, you'll learn something as a basketball fan.
Where your mileage may vary is with Jones's catchphrases. He will cover the playoffs this season for ESPN, which will exclusively broadcast the Western Conference Finals. My hope is that he gets to call some Kings games in that round, but in any case, you'll be hearing a lot of him over the next two months. With that in mind, here is a rundown of some of Jones's most notable catchphrases and tendencies.
---
"Do-It-Yourself Kit"
The Defector staff's amusement and fascination with this call is what inspired this blog. Jones loves to credit a player who gets work done in isolation with "taking out his do-it-yourself kit." To which I always reply, in my head: What? Do-it-yourself kits are real, but this one is still confusing. Given that De'Aaron Fox has spent this season taking over fourth quarters, Jones has said this a lot.
"Black Air Force Energy"
Mark Jones has only used this call a few times this season, reserving it for the nastiest of Fox's fourth-quarter moments. The black Air Force 1 bit is more or less about how the shoes are the official footwear of a person with nothing to lose. Pittsburgh Steelers head coach Mike Tomlin gave his whole team black Air Force 1s last season in an attempt to stoke that energy.
When I hear Jones say this phrase, I imagine that I'm playing basketball on a Sunday morning on the good courts at Roosevelt Park in Sacramento. It is not yet 9 a.m., but the June sun has already begun to bake the asphalt, trees, and detritus, an ominous sensation you smell more than feel. I have already played two games to 15 and am sapped to exhaustion when a new player joins the run, someone whose presence instantly heightens the game's tension. On every possession, they talk to themselves and their opponents. They hit beautiful swishes with an ugly jumper, and they staunchly refuse to call a foul even when they're thumped. They are making a really stupid ball fake work. They score the last bucket. Nobody sees them arrive; nobody sees them leave. They are wearing black Air Force 1s.
The Food References
There are four food references that form the bedrock of Jones's output. I like three of them. When someone comes up with a nice steal, Jones will remark, that the player "took his cornbread!" That's a nice mental image, and the Kings get steals so rarely that he doesn't even have the chance to overuse it. When someone starts to make a ton of shots, they are deemed "hotter than fish grease," which effectively evokes all sorts of sensory details. Jones will even modulate this one by issuing an occasional "fish grease alert" when someone makes a few shots in a row.
When anyone takes out their do-it-yourself kit and dribbles against a defender long enough that they resemble the guy from the "Real Baller!!!" Vine, Jones will rule that he's "playing with his food." This is fine but he tends to reach for it too early, like when a player has taken only two dribbles. Finally, there's "jelly," deployed for a stylish layup. This is not strictly a food reference, nor is it a unique Jonesism: It's an homage to the loose NYC basketball collective JellyFam and all their extra-cool layups. Jones loves to use "jelly" through every one of his broadcasts. What elevates his work here is how he takes it one step further with jam puns and jokes.
"HBO"
Harrison Barnes is the lone veteran who plays significant minutes for the Kings. His initials are HB. When HB gets some HBO, do you know what that means? No, he's not watching Succession or the Gabrielle Giffords episode of The Newsroom. HBO, in Jones's world, "always means 'help a brother out.'" He has done this only a few times this season, but I always enjoy it. As the season has progressed, Jones has deliberately increased the gap in between making the call and defining HBO for the audience, which adds some nice dramatic tension.
"Put Them On A Flight"
This was the most inspired Jones one-off special of the season. I will note that a few minutes earlier in this game, Jones said that a similar ball fake from Barnes had his defenders on "a cheap flight," so clearly he had to think of a new phrase in the moment.
"Friend Zone"
The worst of Jones's consistently used catchphrases is the "put him in the friend zone" call he reserves for big blocks. Might be time to retire this one.
---
Most of these calls come from this season, the first campaign in a while where the Kings have been worth watching past January. Some other Jones career highlights include when he called a Summer League game during an earthquake, when he remarked that Marvin Bagley was "smoking that Cleveland pack," and every time he's brought up Jamal Murray's strict Jamaican father whenever the Nuggets are playing on his broadcast. There was also this gem from 2020, when the Jazz and Nuggets put together a sequence of turnovers that prompted Jones to note that "it's looking like L.A. Fitness at three o'clock right now."
Jones can also lurch into occasional incoherency, as he did in the Finals last year when he lauded the Celtics' "insurrection" as they "stormed ahead," or in the bubble, when he got too far out over his skis trying to make a point about ... honestly, I don't know what he was trying to say.
Jones is at his best when ESPN pairs him with Doris Burke, as she's also a huge basketball nerd whose sensibilities pair well with his. He's at his worst when he's alongside the sour, sleepy energy of Mark Jackson, leaving him to do all the work and rely too much on the same four calls. In an ideal setting regardless of booth partner, Jones will have the space to both freestyle a hilarious one-liner and hit you with the best way to defend the Spain pick-and-roll. He's made a great Kings season even better. If the above catchphrases provoked more laughs than eye rolls, welcome. Your do-it-yourself kit will arrive through the mail in four to six business days.
Stay in touch
Sign up for our free newsletter