NBA
Nobody Is As Clutch As De'Aaron Fox
3:56 PM EDT on March 16, 2023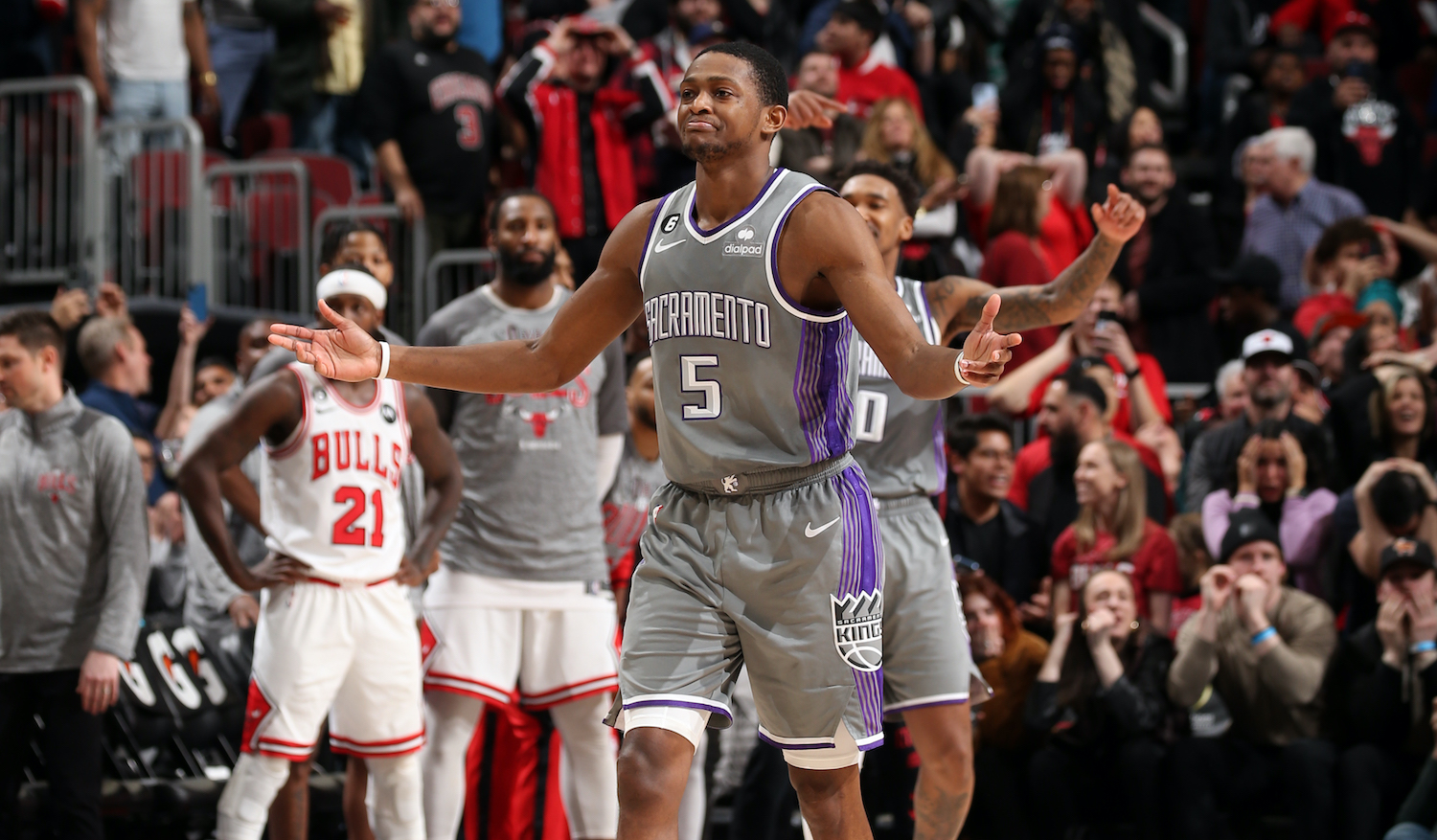 Point: The Sacramento Kings spend roughly 40 minutes of every game playing an orchestral brand of offense, spacing the floor while two guys cut in front of, behind, and around Domantas Sabonis as he plays quarterback and makes the correct play every time. Isolation basketball is more easily schemed against than a fluid movement style in which any of a team's five guys can hit an open shot. Clutch stats represent such a small, inconsequential sample that they are basically all noise. The bigger thing is the bigger thing.
Counterpoint: De'Aaron Fox is, in his own words, "fuckin' nice!" Correct.
Fox sealed a truly repulsive 117-114 Kings win over the Bulls with the preceding three-point buzzer-beater, and though it's one of his more dramatic game-winners of the season, he's made a startlingly consistent routine out of taking over and ending games with dramatic fourth-quarter scoring binges. Hell, he hit what looked like the game-sealing jumper 45 seconds earlier, only for a few late bungles to force him to end it for good. Since the all-star break alone, Fox has sealed five Kings wins with clutch buckets, twice against the Clippers, once against the Knicks, and once against the Suns. "I don't know how many game-winners he's had," Fox's backcourt partner Kevin Huerter said after the win. "We know who's taking the last shot, just get out of the way for him." The three-pointer that defeated Chicago was probably his third-best, out-and-out game-winner—he's finished what feels like one-third of Kings wins with a jumper to go up four points with 45 seconds left—after the turbo-mode layup that got his team past the Jazz in January...
... and his half-court three-pointer against the Magic in November.
Fox's development into the best late-game scorer in basketball has been timely, as he should be the unanimous winner of the league's first-ever Jerry West Clutch Player of the Year Award. There's not a credible argument for anyone else in the NBA, and the statistics are hilariously lopsided. In the clutch, which the league defines as games within five points in the last five minutes, Fox has scored 180 points on 68 made field goals and 54.8 percent shooting. Those first two numbers are comfortably the best in the league; the gap between first and second place in both categories is the same as the gap between second and 19th and second and 44th, respectively. He's also the league leader in fourth quarter points, and has scored in double digits in 25 fourth quarters, the most in the NBA.
It takes some schematic and developmental deliberateness for Fox to morph from what he was before this season (an extremely fast point guard whose game depended completely on getting to the rim) into what he is now (a true three-level scorer). The obvious question that follows from this is, what's different this season? How can he keep killing teams despite still shooting worse than the league average from three? How do you stop him?
For one, he's never played with this much space around him, and when Fox and Sabonis are on the court together, they're almost always surrounded by three credible three-point shooters, typically some combination of Huerter, Keegan Murray, Harrison Barnes, Trey Lyles, and Malik Monk. Teams have only recently started doubling Fox on the ball, and given how hard the Kings offense is to cover playing straight-up five-on-five, the results have been predictably dire when they take the gamble of letting Sabonis cook off the short roll into a four-on-three with open shooters everywhere. So that's out. The obvious next step is to sag off of Fox and dare him to shoot. Accepting that invitation has been the key to Fox's charmed season.
Fox has been the single fastest player in the NBA and one of the league's best drivers since he was drafted in 2017, and once he learned to change speeds in 2019, those midrange pull-up jumpers that only superstars should be taking started opening up for him. Or, as he put it after beating the Pistons in November, "I get whatever shot I want." Mike Brown and his staff realized the value of that sort of shot creation, and the first sign that Fox might be able to capitalize on all that space came in July, when Fox casually mentioned that he'd be bringing two coaches, including shooting coach Luke Loucks, with him and his wife on their honeymoon to Italy. Armed with a capable, potent jumper and that familiar ability to teleport into an open shot whenever he wanted, Fox went to work, and the results have spoken for themselves. He's shooting his fewest shots at the rim of his career, only half as many as his career-high clip in 2019-20, yet is nailing both rim shots and mid-rangers at the best rate of his career.
Here is a staggering pair of stats that show how spectacular Fox has been: The Kings, who currently have the highest offensive rating in NBA history, run the seventh-fewest isolation possessions in the NBA per game, yet score at the most efficient rate. Fox's clutch-time murderousness is deliberate. He typically comes out of the game first, within the first six minutes, and doesn't play for any stretch of the game longer than that until the fourth quarter, when he usually plays the whole frame. By that point, defenses that have spent the majority of the game scrambling around onto shooters and doing the exhausting, connective work of containing Sabonis's dribble handoff game suddenly have to answer a very different sort of question. Fox loves to hunt switches, and he'll punish any overreach with a pass out to a wide open shooter.
The team clearly feels a great sense of confidence, and one reason I'm less nervous than I should be about a group of guys with basically no playoff experience heading into the lion's den is that they've built up such an impressive body of work in tight games. They haven't been debilitated by nerves yet, and their triple-comeback, all-time win over the Clippers should assuage worries that the moment might abruptly become too big for them. As Sabonis told Shams Charania earlier this week, the whole team feeds off of Fox. At least three times this year, Sabonis has fouled out, gotten to watch the Fox show from the bench, and then given smirking press conferences about how he never felt uneasy since he knew Fox was just going to take over anyway.
The message here is clear: If you want to take the next step, in basketball or any other area, identify the equivalent of a shooting coach in your life, bring them on an intimate family trip, and success will follow.
Stay in touch
Sign up for our free newsletter