NBA
Well, Shit: Steph Curry's Fourth-Quarter Buckets, Graded For Rudeness
9:44 AM EDT on May 1, 2023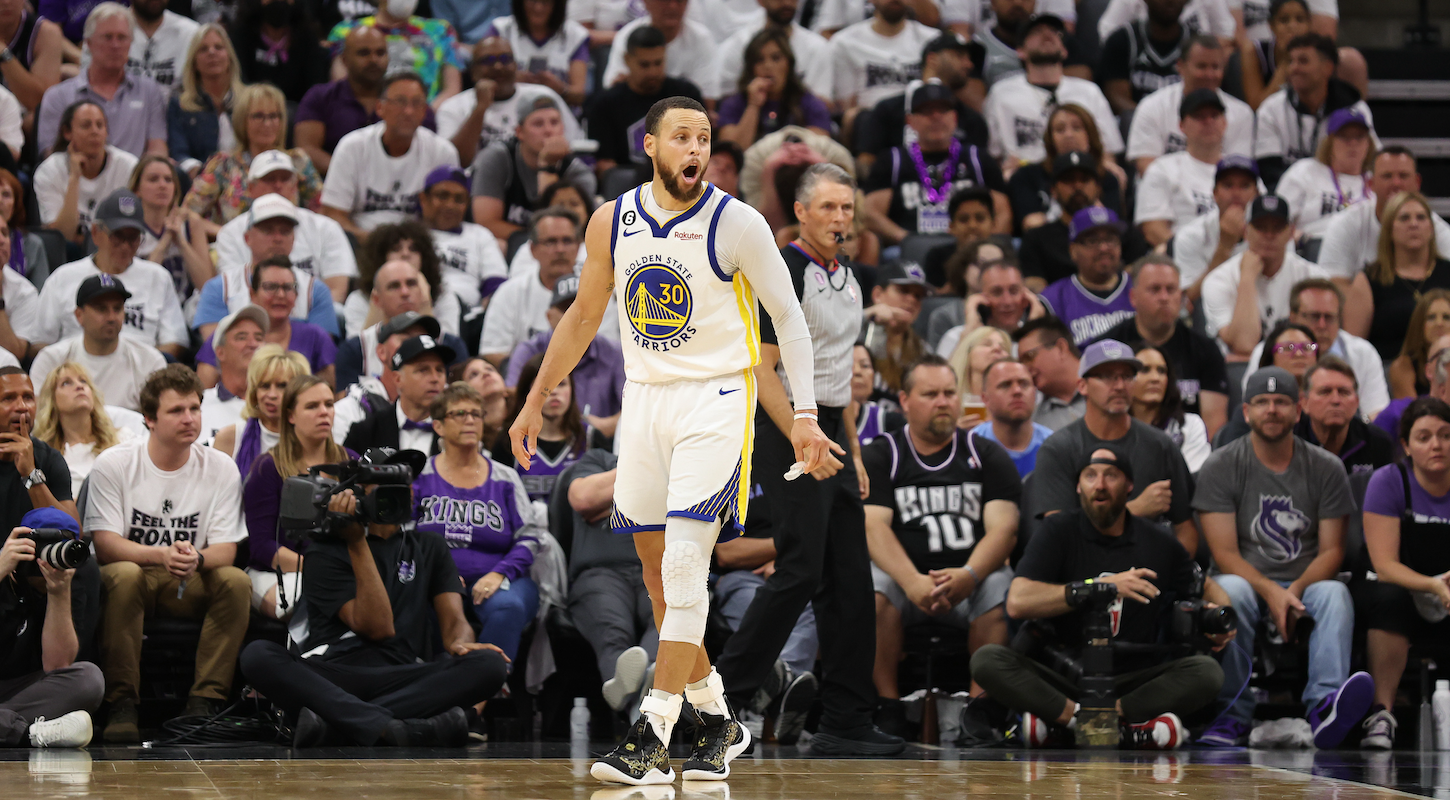 Steph Curry scored 50 points in Sunday's Game 7 between the Golden State Warriors and Sacramento Kings—30 after halftime, 14 of those in one breathtaking six-minute stretch of the fourth quarter in which he pretty much killed the poor Kings all by himself. Below I have graded the baskets in that 14-point sequence for their rudeness.
10:47 left to play, 14-foot jumpshot, 93-81 Warriors
Sacramento had scrambled like crazy to shrink Golden State's lead over the last few minutes of the third quarter. The Kings cut it down from 12 to five, and the Warriors promptly scored four straight; the Kings cut it to six on a superheroic and-one tip-in by Malik Monk, and Klay Thompson hit a four-point play to make it 10 again at the end of the quarter.
A 10-point deficit is a lot to make up in a fourth quarter, in a Game 7, against the defending champs—for anyone, but perhaps especially for a very young team that has never been tested in any even vaguely comparable circumstances before. It's not over until it's over and all that, but you could understand if some of the Sacramento guys had, and had to fight off, various Well, we're fucked-type thoughts after Thompson dropped in that free-throw. Given the circumstances, nothing but the bravest, best, most focused 12 minutes of their season would get them out of the hole. That and probably a couple of lucky breaks.
The teams traded misses for the first minute of the fourth. Then, bringing the ball up the floor in transition after a miss by Monk, Steph Curry dribbled left, knocked Monk back a few feet with a sturdy shoulder, and dropped in a 15-footer from the left free-throw line extended. It looked about as routine as a bucket could get—no drama, no heroics, no particular tactical resonance—and this is precisely what made it rude as hell. The Kings were grinding their legs off to bring the game within reach, and here was Curry, simply bashing Sacramento's most dynamic scorer out of the way and bloodlessly erasing the last bit of progress the Kings had made over the game's preceding five minutes. Watching on TV and rooting for the Kings, I muttered, "Well, shit."

Rudeness (out of 10): 7
9:10 to play, driving layup, 95-81 Warriors
In the minute-and-a-half or so following that Curry jumpshot, the Kings missed three three-pointers and committed a turnover. Their hopes felt extremely tenuous at this point, bordering on imaginary. Playing well and hard wouldn't be enough. They'd need the Warriors to leave an opening. And here came Steph, curling around a handoff from Draymond Green on the left wing, knifing down the baseline, and kissing a scooped layup high off the glass, over the hand of a leaping Domantas Sabonis and in, to make the lead 14
There was a particular rudeness to this bucket: I'd already gone to the Well, shit well just 90 seconds before that, but this was definitely also a Well, shit moment in the game, and, like, what was I supposed to do? I grunted another "Well, shit," which is just the most wretched situation for a TV viewer. There were nine damn minutes left in the game and I'd already said that twice. I think one or both of my kids noticed, but they were both too polite to say anything.

Rudeness (out of 10): 8
8:07 to play, another layup, 97-83 Warriors
This was a lovely bit of ball- and player-movement by the Warriors, shortly after De'Aaron Fox scored Sacramento's first bucket of the period. Andrew Wiggins dribbled to the right wing and handed the ball off to Klay Thompson, curling up from the corner; out near midcourt, Curry feinted toward Thompson as if to receive a pass, then slammed on the brakes and cut behind his defender, Terence Davis, toward where he'd shot that 15-footer earlier; at the same time as Green popped out to the top of the key to take a pass from Thompson and shovel it to Curry, then set a screen for Curry to run Davis into. On the catch, Curry immediately planted his left foot, let Davis's momentum carry him by, then drove right and made a neat-o little double-clutched backhand layup over Fox, who feebly tried to draw a charge instead of contesting, and Sabonis, who just kind of watched.
This was not an especially rude basket, except in the deflating power of Curry seeming so much fresher and more energetic than the desperate fools trying to beat him on their own home court in front of their own frenzied fans. Which ... is pretty rude.

Rudeness (out of 10): 6.5
7:46 to play, 27-foot three-pointer, 100-83 Warriors
The Kings immediately turned the ball over after the lil' layup. (Unbelievably, I said "Well, shit," again.) Barely 20 seconds had elapsed when Curry, guarded tightly by Davis at the top of the key, slithered around a hilariously moving pick from Green that forced Sacramento's Keegan Murray to switch onto him, shook loose from Murray, and splashed in a ludicrous high-arcing step-back three to make the lead 17.
What even was there to say at this point except "Well, shit"???? There was nothing else to say!! So I frickin' said it!!! For the fourth time in five minutes of play!!!

Rudeness (out of 10): 10
6:40 to play, 20-foot jumpshot, 104-83 Warriors
The Kings missed a three and got the offensive rebound, missed another three and got the offensive rebound, and committed another turnover. Andrew Wiggins made a jumper to push Golden State's lead to 19. The Kings missed another three. Curry missed a three, Kevon Looney corralled the offensive rebound and fired it out to Green at the top of the key, and Green whipped a pass to the left wing, to where Curry and Wiggins were crashing into each other at that exact moment.
It was a small defeat for the (let's face it, already much more generally defeated) Kings when Curry merely controlled this pass, instead of losing it to a Sacramento player or letting it bounce out of bounds. But then he spun clumsily away from a Murray steal attempt, took a dribble toward where Sacramento's Trey Lyles waited for him the free-throw line, and tossed up a very ridiculous one-handed 18-foot floater over Lyles ... and made it. Golden State's lead was 21 points now, and the game for all practical purposes was over, with more than six and a half minutes left to play.
I caught myself this time! I did not say, "Well, shit." I merely thought it. What I said was, "Fucking hell!" while looking around for the remote, on the brief impulse to find something else to watch before remembering that I had the Monday morning blog duty to fulfill.

Rudeness (out of 10): 14
5:56 left to play, 23-foot three-pointer, 107-85 Warriors
Sabonis made a tough interior bucket to cut Golden State's actual lead to 19, and its psychological lead to 19,994,418. After a timeout, the Kings played 22.4 seconds of good, tough, desperate defense, forcing a brutal miss by Thompson on a three-pointer that caromed out of bounds without touching the rim, leaving the Warriors with 1.6 seconds on the shot-clock and a baseline inbounds play.
Nothing that happened at this point—with Golden State up 19, less than six minutes to play, and the game having been virtually one-way traffic for pretty much the whole second half up to then—had much more than a purely theoretical chance of changing the outcome of the game. Which made what happened next all the ruder. Steph threw the baseline inbound pass to Green on the right block and then instantly darted toward the right corner; the pass was coming back to him before he'd even gotten both feet on the ground; and he flushed a buzzer-beating three-pointer to push Golden State's lead to 22 and fully break the poor Kings' backs in their own building.
I will not lie to you, dear reader: I did in fact reflexively mutter "Well—" as the shot splashed through the net, in what has to be one of the most comprehensively owned moments of my life. I was going to say "Well, shit," for the fifth time in half of a damn quarter. I don't know that I ever would have recovered from that. There's no coming back from having the same defeated expression squeezed out of you five damn times in six damn minutes. I caught myself just in time, and pivoted to "—that's it." The Kings and I were a shambles. Our defeat was total.

Rudeness (out of 10): 238
Steph scored again, a layup with 2:57 to play that made Golden State's lead 24 points, but I turned the game off after that corner three, as much to protect my shattered dignity as for any other reason. Go ahead and assume it was rude as hell! Imagine if he'd torn another "Well, shit" out of me. Would I even be here today? Would there even be a morning blog on Defector dot com right now? I suggest to you that the answer to both of these questions is no, and that for this reason I am a hero for the ages.
Stay in touch
Sign up for our free newsletter