Some people are fans of the Miami Dolphins. But many, many more people are NOT fans of the Miami Dolphins. This 2023 Defector NFL team preview is for those in the latter group. Read all the previews so far here.
Your team: Miami Dolphins.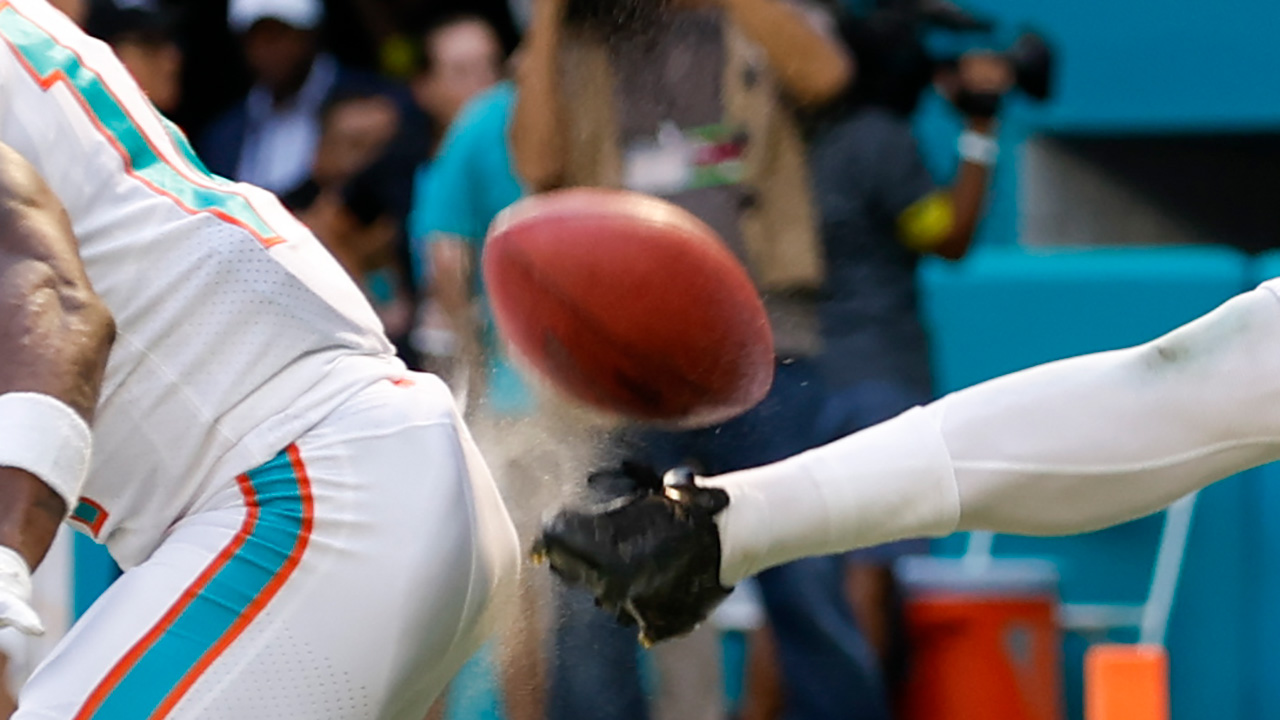 Your 2022 record: 9-8. Best story in football … for three weeks. The Dolphins were fresh off an offseason where they'd unceremoniously fired their head coach, were accused by that same coach of bribing him to lose games, got caught tampering with Tom Brady and docked a pick for it, and were still 23 years without a playoff victory. But since this is the NFL, where redemption comes cheap, everyone forgot all of that shit the second Miami hired the wisecracking computer hacker from every heist movie as their next head coach, and then ripped off three straight wins to start the season, including a shocking upset of Buffalo that even a butt punt couldn't prevent. Party in the city where the heat is on/All night on the beach till the break of dawn, etc.
And then, on a dark and lonely Thursday night, all of America got a reminder from this team about what the fencing response looks like.
This moment really put things in perspective. That perspective being, Oh right, the Miami Dolphins are bad at their jobs. Because this was the second hideous concussion that their quarterback had suffered in as many weeks. He smashed his melon against the turf in that upset of Buffalo, but was put back into that game after everyone affiliated with the Dolphins insisted that he had suffered a back injury. A now-obviously flawed concussion protocol backed them up on it. Even with an independent neurotrauma consultant on the scene during that game, Tua Tagovailoa's innocent little brain still passed the smell test. That consultant would later be fired.
Everyone on the Dolphins, though? They kept their jobs. We really need to get the state of Florida a search firm.
The Dolphins went onto lose that TNF game to the Bengals, of course. They got crushed the next week by the Jets, who knocked out Tua's backup on first play from scrimmage and got a safety as their reward. To their credit, the Dolphins didn't force Teddy Bridgewater back into that game. Instead, they put him back on the field the next week, after his own backup got hurt. They lost that game as well.
Then they won five in a row against non-playoff teams, which would have been neat if everyone wasn't still thinking about the whole quarterbacktricide thing. The Dolphins got so cocky during this little revival party that they shifted into All-In Mode and gave away a first-round pick to Denver in exchange for underachieving edge rusher Bradley Chubb, and then they gave Chubb a contract extension that'll hamstring their cap for a million years. Chubb would register 2.5 sacks for the rest of the season.
Then they got killed by San Francisco in the worldwide debut of Brock Purdy, who looked razor sharp after replacing an injured Jimmy Garoppolo. This means Brock Purdy is kind of your guys' fault. When the Dolphins get their QB hurt, it dooms them. When they hurt the other QB, it only makes their opponents stronger.
The good (but also sickening) news is that Tua came back the following week. The bad news is that he went 10-of-28 for 145 yards and lost. In fact, Miami would lose all but one of their remaining games. They blew a 29-21 fourth-quarter lead in Buffalo, with Tyler Bass kicking the winning field goal at the gun. The next week, they blew a 20-10 lead to Green Bay, with Tua chucking three picks. He also—big fucking surprise—suffered his third concussion of the year and never played again after that. The next week, they let a Matt Patricia-led offense score 16 unanswered points on them in the second half to lose. Many Hooties cried to bring you this information.
But Miami still made the playoffs anyway, because the expanded field is stupid. For their trouble, they had to start a healthy(?) Skylar Thompson in Buffalo in the first round. And I'll be goddamned if they didn't almost win that game, until the refs decided to get a little … spotty. This was a feel-good season only if you're an impossible rube. Good thing the Dolphins don't have any fans like that.
Your coach: Mike McDaniel, who goes days without showering and was more than willing to abandon his Football-Coach-But-Cool persona to toe the company line regarding his endangered quarterback. He also praised team captains for getting rid of the locker room ping pong table, because ping pong is the enemy of proper execution. Mike McDaniel is an extremely smart and personable guy. Also, his sideline fits are impeccable. He also doesn't quite have that dog in him.
But you know who does? Special teams coach Danny Crossman, who has had just about enough of your butt punt jokes, young man:
Oh you think a man punting a football into another man's butt is funny? Well how would YOU like it, mmkay, if someone took a football, mmkay, made you bend over, mmkay, and then launched one right up YOUR mudtunnel, mmkay? I bet you wouldn't be laughing so hard then, would you?
This was one of the worst pass defenses in football a year ago, so McDaniel also hired Vic Fangio—of the fabled Fangio defense—as his new defensive coordinator. If you like opposing giving wideouts too big of a cushion, you're in for a treat.
Your quarterback: Still Tua Tagovailoa, who is now in permanent danger of suffering a career-ending love tap, but has apparently learned to avoid such injuries forever thanks to the healing powers of MMA. Is there anything that MMA can't do?
Tagovailoa was an MVP candidate early last season. He had a better DVOA on deep balls than any other passer in the league. Absolutely no one outside of TuAnon believes that he'll ever regain that form. I know the Dolphins picked up Tagovailoa's fifth-year option prior to this season, but you know about this team's history with quarterbacks this century. You know that this man's brain damage is already presenting itself in new and terrifying ways:
So get ready to see a lot of new backup Mike White this season, until they kill him, too.
What's new that sucks: In an effort to fix a leaky secondary, Miami drafted CB Cam Smith with their highest draft choice back in April, and then shipped their third-rounder off to the Rams in exchange for CB Jalen Ramsey, who needed meniscus surgery right afterward. Stadium aside, this organization loves shiny new toys, so Ramsey is here to (eventually … maybe in November) add some pizzazz to a defense that's still just as overmatched as a South Florida seawall.
They also signed CB Eli Apple, because the rest of the league loves it when Eli talks big and then gets his shit ruined the next game.
On offense, Miami made little more than depth moves, adding G Dan Feeney and T Isaiah Wynn to a slipshod O-line, and WRs Robbie Chosen and Braxton Berrios to a corps that I guess was too low on turds and mayo boys. Minus TE Mike Gesicki, this offense is going to rely even more heavily on Tua throwing play-action bombs to Tyreek Hill and Jaylen Waddle, who represent the best receiving tandem in the entire sport. Hill was brilliant in 2022. Like most criminals, he ran off to Miami, where no one asks questions, and had it pay off handsomely. So on paper, this is going to be an extremely fun team in 2023, until half the offense gets their livers forcibly removed during a game and McDaniel keeps all of them out there.
Over on defense, Miami lost two productive edge rushers in Trey Flowers and Melvin Ingram, which isn't a good sign given that Fangio's scheme relies heavily on generating pressure without blitzing. But again, fun teams don't play defense. So I, the casual observer, consider this addition by subtraction.
Why the players think you suck: Players love pretty much everything about working for the Dolphins: the weather, no state income taxes, all the cocaine they can eat, etc. But the union still dinged them on being stingy with the guest credentials:
They only give limited number of passes to the postgame area, which players with larger families feel is very restrictive.
Marco Rubio says this policy is anti-Catholic.
What has always sucked: In a city that doesn't give a shit about sports, the Dolphins are still the third favorite football team here. And why wouldn't they be? They never win anything. They don't know how to find a decent QB, much less keep him alive. The current owner is just as big of a MAGA-boosting shitbag as the last one. And the biggest football star in town by miles now doesn't even play American football. Nobody cares if any Dolphin shows up at Publix. This is a team built to fail, and no amount of flashy playmakers will get rid of the stink.
That's true now, even with McDaniel in charge and all those fun wideouts running downfield. There hasn't been one interview that's convinced me that Tagovailoa is no longer concussed. His fans online are all batshit insane, and Dolphins fans in general have a persecution complex that is in no way justified by the team's on-field accomplishments. You're the Miami Dolphins, man. The NFL isn't out to get you. It doesn't have to be. You guys are perfectly capable of punting your own butts, thank you very much.
As for Miami itself, it's a pyramid scheme. Every American city is unserious, but only Miami is Miami. This is a town that currently living off crypto money like it's drug money in the '80s, the key difference being that the drug money is real. As a result, half of Miami is crypto bros now: bored millionaires all swapping mistresses and selling each other pretend bank accounts. Even the mayor is now accepting crypto donations. Don't you assholes know that market already crashed? Can't you see that the rising seas are about to swallow your city whole? And don't you realize that Tua could die out there on that field at ANY moment, and likely will?
No? Of course not. You're Miami, and you never had a brain worth preserving anyway. You're not getting Jonathan Taylor. Jimmy Butler is never winning you an NBA title. Zach Thomas doesn't deserve to be in the Hall of Fame. The reason Dan Marino never won a Super Bowl is because he wasn't good enough.
Ratto says: Nothing is more revealing than a team that's lousy at cheating when almost every other team has a cheating expert on staff. Steve Ross is desperate to have a team win as many games (11) as his first Dolphins team did. There's as much chance of that happening as Helen Mirren consuming a live hippopotamus.
What might not suck: Haven't I said enough nice shit about this team already? Jaelan Phillips and Christian Wilkins are both very good. There. You happy now, dickheads?
HEAR IT FROM DOLPHINS FANS!
Gaby:
We had a five-game losing streak and then limped into the playoffs by beating an already eliminated Jets. We played that with a third string QB because the organisation and o-line spent most of the year trying to get Tua killed, and we blew any chance of a comeback because the coach couldn't call a play in time. It was the most enjoyable Dolphins season I can remember.
Ezra:
Every time Tua drops back, there's a sinking feeling that a stiff wind will cause him to forget his social security number for the rest of his life.
Mike:
As soon as I read that Tua was working with a judo instructor to learn how to keep his head from hitting the ground, I accepted that Miami was going to kill him.

Fuck Davante Parker.
Kevin:
Because I'm still not convinced Tua is for real. Me and the rest of Miami will immediately turn our pathetic, pleading eyes towards a certain retired fancy dog the second Tua takes a bad sack or shows any sign of the permanent brain damage he's probably already suffered.
Eric:
We got excited about the Jay Cutler year. We deserve everything we get.
Tyler:
Now that Snyder is gone, can we agree that Ross is the worst owner in football?
Michael:
Anytime I'm at work and mention that I'm a Dolphins fan, someone starts laughing. Every single time. 
Callum:
All you need to know about the Dolphins is that they tampered with a Super Bowl-winning coach and QB, and got neither one. They were also so committed to tanking the 2019 season that they offered Brian Flores a bonus for games lost, but they couldn't that right and missed out on Joe Burrow, who has now played in more Super Bowls over his short career than the Dolphins have in this century.
Manuel:
People here love McDaniel. He's smart! He's snarky! He's nerdy! He wears cool sneakers! But after almost blowing the season due to the his disregard for Tua's brain, and his inability to relay a play in time, we all know he's just another wannabe Shanahan whose act will wear thin the next time Tua's brain leaves his skull. The Heat and Panthers had more playoff success last season than this team has had since Bush v. Gore.

Fuck Ronny D. Never thought Florida could be made even more miserable, but he did it. Hope Mickey Mouse chokeslams him through Cinderella's Castle.
Luis (not Paez-Pumar):
I've been a Dolphins fan since January 15th, 2000. That was the day Dan Marino played his last game in the NFL, and was infamously demolished by the Jags 62-7. I'd been hearing so much about this Dan Marino guy ("the guy from Ace Ventura?!") and that this was a big game, so I decided to tune in to see what the fuss was about. It wasn't just the first Dolphins game I had ever watched, it was the first football game I had ever watched. My Dolphins/football fandom began in the most loudly ominous way possible. 
Jon:
The fascist semi-human who runs this state was the first Republican gubernatorial candidate to win Miami-Dade County in decades. Something is fucked. The pandemic and the accompanying influx of the worst rich sociopaths in the world somehow broke this place before climate change could. It's bad. It's so bad. Horseshit about the vaccine cost me family members. You should be actively rooting for Trump to curb stomp DeSantis. Fuck him forever. 

I'm happy that the Heat and Panthers had finals runs this year, and that the Marlins are looking solid. When Tua explodes like Megaman jumping into spikes, I'll be able to say it was still an okay sports year. I hope he doesn't die. I like my Panthers conference champs t-shirt. I'll be okay when the Dolphins are bad.
Geoffrey:
I moved to Europe and am thankful the Dolphins suck so much that they never get any prime time games, which start at 2:30am here.
Brett:
I'm not even from Florida. I should be a Packers fan by birth. I'd have two Super Bowls and two quarterbacks who should be prisoner swapped to Russia by now. But I spurned that fandom, which is how I ended up at a family Christmas in a Dolphins jersey: surrounded by Packers fans, watching the Dolphins go scoreless in the second half to blow a halftime lead to a listless Green Bay team, all while dedicating Tua's career to Florida's favored daughter, Terri Schiavo. Our final three drives ended in INTs, and our only other second half possession was a missed FG. 

I'm 33. I've been a Dolphins fan since I was 10, and that is, without a doubt, the absolute BEST the experience has ever been. 
Epicus:
The beauty part of being a Dolphins fan is that you already know EXACTLY how each season will play out. They'll start hot, and occasionally look sensational. The chatter about serious contention will begin. Then, somewhere between week five and seven, they'll play a real team, and they'll be utterly exposed as total frauds. After that, they'll trudge their way to eight or nine wins, snag the last WC spot, then get destroyed in the WC game. It's set in stone. I've been following the Dolphins since the glory days of the early 1970s, and the template has been exactly the same since 1995. QB, coach, it makes no difference.
Zach:
The Dolphins are the best example of why the NFL playoffs don't need 7-seeds. I've watched an awful lot of Dolphins teams that finished 7th in the AFC, and none of those teams were worth adding an extra four hours to Wild Card Weekend.

I want nothing more than for Tua to hang up the cleats. I don't think any team is worth getting CTE for, but I can confirm for a fact that this team isn't.

Stephen Ross's real estate firm is responsible for that ugly structure in Manhattan that they had to close because people were jumping off it. Thus, the Dolphins are so mediocre that, even among their owner's portfolio of suicidal thought manufacturers, they can only come in second. 
David:
Last summer, I started dating a Canadian girl who was fairly new to the States. She's one of those lovely people that encourages their partners' interests, is willing to give everything a shot herself. So she readily accepted my invite to go to a bar with some friends to watch the Dolphins take on the Bengals on a Thursday night in September. Coming off a thrilling come from behind victory against the Bills and leading the division at 3-0, I was flying high and could not stop telling her how exciting the team was, how great a sport football is, and how much she'd enjoy herself.

About an hour later, as Tua lay on his back in fencing position looking like a roadkill armadillo, and a dreadful silence fell across the bar we were at, my girlfriend turned to me with a look of horror and confusion as to how I could possibly enjoy this sport. She was probably wondering if this was some bizarre American form of mass sadomasochism. That was the first and last Dolphins game she watched with me all season. Lucky her. 

And even after all that, I can't stop talking about how excited I am for this upcoming year. I already know I'm going to spend Sundays glued to the TV, watching Mike White play the quarterback equivalent of whack-a-mole for the last seven games after Tua accumulates enough concussions to earn a PhD in neurology, as the Dolphins eke into the playoffs only to lose a heartbreaker in the Wild Card round to Buffalo, Cincinnati or, god forbid, Jacksonville. 

I hate this fucking team.
Submissions for the NFL previews are now closed. Next up: Los Angeles Chargers.
Stay in touch
Sign up for our free newsletter