Some people are fans of the Seattle Seahawks. But many, many more people are NOT fans of the Seattle Seahawks. This 2023 Defector NFL team preview is for those in the latter group. Read all the previews so far here.
Your team: Seattle Seahawks. Let's doink it up in here a little.
(They won this game, but a doink is a doink.)
Your 2022 record: A stunning 9-8. You could argue that, outside of Kansas City, no team had a better season in 2022 than the Seahawks. You could make that argument, if you wanted to. But this is not the space for such things. This is a space for sneering derision, so you 12s—and what an asinine, "I'm being legally compliant!"-ass nickname you all picked for yourselves—can go sit on a Space Needle for all I care.
Anyway, a lot of people (me) picked the Seahawks to be one of the worst teams in the NFL a year ago. I was looking forward to it, too. Russell Wilson was gone, and the Seahawks could go right back to their status as the Guam naval base of the NFL: a remote and inessential wasteland that bosses transfer their underlings to whenever those underlings fuck up in public. To my dismay, this is not what happened. What happened instead is that Denver and Wilson ended up having one of the most embarrassing seasons in NFL history, starting off with this loss in Seattle:
Everything for the Seahawks was house money after that, even with Jamal Adams getting hurt for the 9,000th time. Wilson became a financial and spiritual millstone for the Broncos from that game forward. Meanwhile, the picks that Seattle got in return for him helped them net a 2022 draft class that rivals New Orleans' 2017 class as one of the best in recent memory. They got two stud tackles AND two nice corners from that draft, allowing them to skip right past the bottoming-out phase of rebuilding. I feel cheated. I wanted pain. I wanted fire.
So let me cherry-pick some lowlights to artificially boost my self-esteem. After beating their old QB, reality set in for the Seahawks with a 27-7 loss to San Francisco in which they gained a total of 216 yards, followed by a last-minute loss to Atlanta and the Falcons' vaunted passing attack. That game was temporarily postponed due to a drone flying over the stadium. Watching that little drone do its thing—when I spot a drone in the air these days, I ooh and ahh like I just saw a fox in my backyard—was easily more fun than what transpired on the field.
And the run defense! Holy shit, Seattle's run defense was fucking terrible last year. Third-worst in the entire league. EVERYBODY rushed for a buck and change on them … even Tampa! I could stop the Bucs' running attack. The Seahawks couldn't, nor could they stop Taysom Hill from racking up four TDs against them in a loss to the Saints. They got run over by the Panthers. They got dispatched with ease by the Chiefs. They got killed in Germany by the aforementioned Bucs, and if the idea of 60,000 drunken Aryans cheering for their ideal avatar in Tom Brady nauseates you, that's nothing compared to what else happened in the stands that day:
"It felt very electric from the time we took the field," Brady said. "The end of the game with them singing 'Sweet Caroline' and 'Country Roads' — that was pretty epic."
SO GUT! SO GUT! SO GUT! I wish I was more deaf than I already am. This feels like musical payback for "Wind of Change." Germany would be right to start a third world war over it. Ach!
But I digress. Later on in the season, the Seahawks took Vegas to overtime, and then let this happen:
They also endured a director's cut sweep at the hands of San Francisco, who clinched the NFC West against them in their rematch and then laid waste to them a third and final time in the Wild Card round. Seattle took a 17-16 lead in that game after Jason Myers nailed a 56-yarder going into halftime, and I was like, Oh shit can they really do this? Is the first playoff game of the year actually gonna be good for once?
Fuck and no, it wasn't. After the Seahawks gave a recovering Deebo Samuel a playful tug o' the leg—all in good fun, they swear!—the Niners went on to score 25 unanswered points on them in the second half, with Brock Purdy throwing for 332 yards. Not a fun way to end things, but still a great season, especially for this guy…
Your coach: Well shit, I knew there'd be a downside to all this.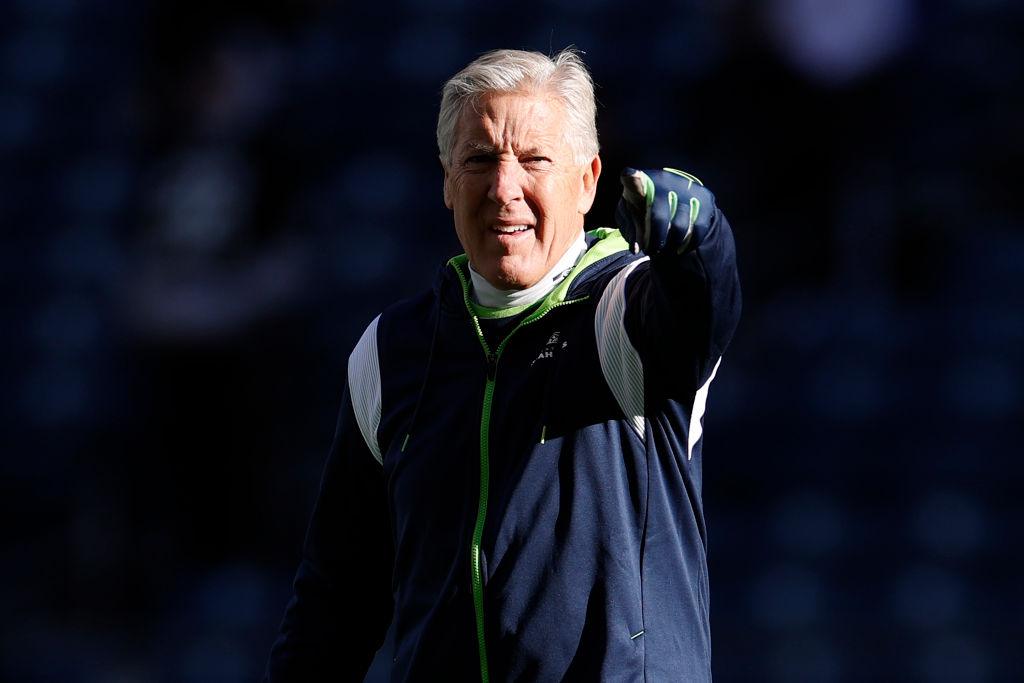 Yes, Pete Carroll is still here. Every Seahawks fan was hoping that the team would lose enough in 2022 to end the reigns of both Carroll and GM John Schneider. Both men are now more entrenched than they've ever been. Russell Wilson couldn't kill them off. Opposing teams couldn't kill them off. Even Death himself won't be able to kill them off. Pete Carroll is 71 years old. He's even older than Bill Belichick, but look at him! He's so incredibly, annoyingly ALIVE, smacking on Hubba Bubba and hopping around the practice field like a hyperactive kid after a bowl of Fruity Pebbles. When is nature gonna take its course with this jackass? He's gonna cling to power longer than Dianne Feinstein, for fuck's sake.
Your quarterback: Geno Smith, who didn't have a great back half of last season but was still good enough that the Seahawks rewarded him with a contract extension after it was over. In essence, this is a one-year deal that allows the team to cut Geno next offseason with no future cap hit of any sort. It's a perfect deal, because there's no chance that he will be any better than he was a year ago (in fact, he will likely be worse). So it was smart for Seattle to give themselves a decent option behind center while acquiring and developing their next franchise QB … except that they forgot to acquire that QB in the spring. Oh, Pete talked a good game about it:
Pete Carroll made it clear that all possibilities are on the table for the Seahawks in the draft. The 32-year-old Smith isn't exactly getting younger, and the Seahawks don't want to fumble what Carroll calls "a rare opportunity" at the quarterback position in the draft.

"The position we're in, we are totally connected to the quarterbacks that are coming out," Carroll said at the NFL Combine. "This is a really huge opportunity for us. It's a rare opportunity."
Thanks to the Broncos' collapse, Seattle had the No. 5 pick going into April, plus their own 20th overall pick. They had all the ammo in the world to move up and grab Bryce Young, or any of the other big names from this year's QB crop. Like Pete said, this was a rare opportunity, and do you know what he did with it? He stayed put and took a CB and a WR instead. No QB. A rare opportunity, pissed away. Not unlike calling a slant when you only need a yard.
Behind Geno is reliable punchline Drew Lock. Behind Lock is someone called Holton Ahlers. Sounds like the name of a college library.
What's new that sucks: This could very well be the Seahawks' final season under current ownership. I don't know how Jim Irsay ended up being our best source for NFL news, but he was the one who correctly told the media that Dan Snyder's days in Washington were numbered, which means that this little bit of tea that he spilled a month prior could turn out to be shockingly credible:
Seattle—with Paul Allen my friend unfortunately passing away and that team is in a trust—is going to become available I'd imagine in the 2024 range
And I think you know who's waiting in the wings now, don't you?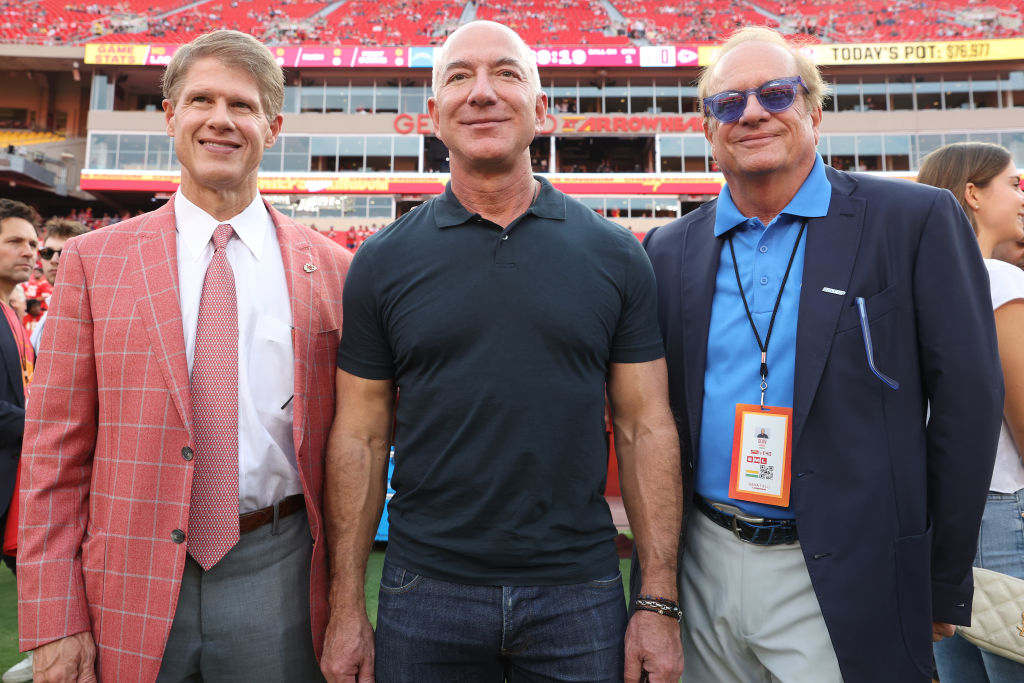 That's right. After this season, you guys are swapping out bone collector Jody Allen with soul collector Jeff Bezos.
Amazon carries the NFL's package of Thursday night games. Other owners have expressed a desire for Bezos to buy a team. Even if he stays out of the bidding on the Commanders, Bezos could get that opportunity if he pursues the Seattle Seahawks. That team is expected to be sold in the coming years. "Bezos knows that Seattle is sitting there," the person with knowledge of the NFL's inner workings said Wednesday.

Washington Post
Once Bezos takes over, you can expect him to Amazon-ify the joint by 500 percent. All of the remaining affordable seats at the Seahawks stadium will be replaced by $5 million vanity apartments. Any pretzel you buy will come from a mysterious third party vendor who has an awful return policy. And no fans in attendance will be allowed to use the bathroom. That's how Jeff Bezos rolls, so you may as well get used to it right now.
On the field, the Seahawks tried to fix their run defense by getting rid of their entire interior D-line, Poona Ford included, and replacing them two high profile free agents in former Bronco Dre'Mont Jones and former Packer Jarran Reed. Then they brought in even more beef in form of DE Mario Edwards and second-round pick Derick Hall, the latter of whoms main issue is that he, uh, struggles to defend the run.
The team has also set about rebuilding the secondary after the Legion of Boom's demise, so here is free agent S Julian Love, plus the premier CB of the draft, former Illinois standout Devon Witherspoon. Whether all of this retooling pays off is uncertain, because Witherspoon is already having hammy problems (uh oh), and because the Seahawks now run a Vic Fangio defense, which only works when Fangio himself is running it.
Oh and Bobby Wagner is back, for whatever that's worth. People here seem to like him, and that's nice.
Over on offense, I mentioned up above that Seattle unearthed two brilliant tackles in the 2021 draft. What I left out is that the interior of their O-line is abysmal, and that adding new guys like C Evan Brown didn't stop PFF from ranking this unit third to last in their 2023 projections. But don't worry kids, because Carroll and Schneider just burned another second-rounder on a running back (the luxuriously named Zach Charbonnet). They did this even though they did the same thing with Kenneth Walker a year ago, and even though Kenneth Walker turned out to be a stud. No matter. Pete's gonna have those two backs carry the ball together through every pinhole that o-line opens up. Gonna look like your brothers bringing a new TV set through the front door.
In the passing game, the Seahawks had their pick of wideouts at the No. 20 slot and grabbed OSU stallion Jaxon Smith-Njigba with it. You might remember JSN from the time he put 347 yards (!!!) in the Rose Bowl. What you might NOT remember is that he played in only three games after getting hurt the following season, with a grand total of five catches to show for it. And it's unwise for this team to take a flyer on potentially damaged goods because…
Why the players think you suck: …The training room.
There are just two areas where player respondents believe that they lag compared with most of the league: staffing their training room and team travel. In short, there is a desire to have more staff support player training and recovery, and also improve on making travel more comfortable for players, as they are one of only seven teams that do not offer players first class flights – the only exception being after road victories.
At a time when many NFL teams are discovering the psychological and strategic benefits of handling their players with the utmost care, the Seahawks are still employing just one trainer (who probably has a cute nickname like Alfie) and making basic legroom on the team plane some kind of demented prize for barely beating John Wolford in Inglewood. Suddenly Carroll doesn't look so youthful to me.
What has always sucked: My earliest memory of the Seahawks is the Dave Krieg era, when the team played in the Kingdome, went 8-8 every year, and no one gave a fuck. The Seahawks still had expansion vapors coming off of them in those years. They had no legacy to speak of. Their all-time best player was Steve Largent, who would be practice-squad chum if he played today. There were no 12s, no decibel level records, no rings, none of that shit. I liked the Seahawks that way, because I didn't have to give a fuck about them.
And the nice thing is that, without any long-term plan at QB, they're about to fall off the face of the fucking earth again. This is good, because I never wanted Seattle to matter. This city has spent the past 30 years living off of VC panhandlers, overpriced coffee, and the remains of Kurt Cobain. It's well past time to stuff Seattle back into a foot locker and leave that foot locker in the basement. I've seen these fans. They're all hill people who look like they drive around in windowless vans in search of unaccompanied minors. I'd like them, and their football team, to disappear. They're well on their way to doing just that.
Ratto says: Geno is only the sixth Smith to ever play quarterback in the NFL, and the second-best one after Alex, which will surely be inscribed on his Hall of Fame bust. Nobody believes he will match last year's production, when he was able to hide a wretched defense on this largely bleak team. But one cannot help imagining him in some bizarre alternate universe holding up the Lombardi Trophy and telling Tracy Wolfson everyone needs to form an orderly queue to kiss his ass. Sadly, that won't happen for any number of reasons, starting with the fact that the Seahawks will finish 6-11.
What might not suck: Pairing JSN with D.K. Metcalf and Tyler Lockett means that every Seahawks game is gonna be a 51-48, Big 12-style shootout. I am fucking DOWN with that. Beats whatever Denver will do.
HEAR IT FROM SEAHAWKS FANS!
Matt Ufford:
I am a relatively intelligent person who is an absolute moron when it comes to the Seahawks. The last decade-plus has been by far and away the most successful stretch in Seahawks history, and it has made me MISERABLE. These are my sincerely held and absolutely awful takes about the team:

I would happily trade in the Super Bowl 48 win in order to not have Super Bowl 49 as part of sports history. I don't care that this is the wrong take, or that the Falcons did the same thing much worse shortly after. "Oh cool, a dominant Super Bowl victory for a historic defense that no one cares about... how about we chase that with a profoundly stupid loss that will live forever as a cornerstone of sports talk?" It sucks; I hate it. Leave me out of Patriots discourse forever. Michael Bennett and Marshawn Lynch deserve better.

In the six years after the Super Bowl loss, the Seahawks made the playoffs five times and lost roughly the exact same way each time (rolled into the stadium like they had no idea there was a game that day). You non-Seahawks fans probably think this is a run of successful seasons. It wasn't. It was a team that white-knuckled its way to wins past inferior teams in the regular season, regularly lost to Jared Goff because John Schneider didn't feel like acquiring interior linemen to block Aaron Donald, and fell short in the playoffs because of poor game-planning – and every year it got a little worse. A pathetic slow decline clad in playoff appearances. It sucked!

I wrote a whole article about how letting go of Earl Thomas was the wrong idea and that he had plenty more good seasons ahead of him. It used analytics and historical comps and it was WRONG AS HELL! This team makes me stupid! I hate them!

There was a years-long debate about whether Russell Wilson or Pete Carroll was the reason the team kept falling short ("Let Russ Cook," etc). I was a big-time Russ proponent. Even though he's a cheesy weirdo (Football Tom Cruise minus emotional range), he was still the best QB the Seahawks had ever had. I grew up cheering for Dave Krieg. We picked Dan McGwire second overall. Russ was great. When he got traded, I decided it was time to take a break from Seahawks fandom. You already know what happened next: Geno Smith was immediately as good as Russ, his teammates actually liked him, and the team was more fun and plucky and entertaining than they had been in years. I know because I only watched the highlights on YouTube.

After one year away, I am all the way back in on this team because of the throwbacks. Also because of Geno and a couple of good drafts thanks to the Russ trade. But mostly the throwbacks. I am going to reminisce about Curt Warner, John L. Williams, and a ceiling of losing to the Oilers in the AFC Wild Card Game, because I am the dumbest idiot fan this side of Pittsburgh.
Kelly:
I became a fan of the Seahawks after the Sonics left 15 years ago. Every day, I wish for the NBA to come back to the city so I can get away from this team on Sundays. 
Jeremy:
Despite being an educated man, I am convinced that Geno Smith and Pete Carroll will lead us to victory in the NFL in the year 2023.
Jeff:
I've spent the entire last season and offseason actively following, watching clips of, and relishing news about Russell Wilson being hated in Denver, and couldn't tell you a single thing about my *actual* team in that timeframe. Do I even like them anymore? Do I even like football?
Alex:
To a person, every single fan of this team (myself included) got far more enjoyment out of seeing the greatest QB in team history shit the bed in historical fashion for another team than they did watching a Rex Ryan castoff take them to the playoffs. 
David:
It took a whole season of Geno fucking Smith stepping up in the pocket to realize that we were gaslit to believe that scrambling, letting the protection break down, and heaving it was the way a normal offense should be run. 
Stan:
The Seahawks entered the draft desperately needing defensive linemen. They left the draft desperately needing defensive linemen.
Hamilton:
The Seahawks' offensive personnel is now optimized to run the Super Bowl goal line interception play on every down of the season.
Contemplating another full season of Geno Smith as my team's starting quarterback is a little like contemplating another full year of Joe Biden as my country's president. Yes, competent, steady leadership isn't bad. Yes, the alternatives would be a lot worse. But also, I'm gonna spend the entire time knowing that the absolute best-case outcome here is, like, an already-modest climate bill that still gets whittled down to nothing by Joe Manchin and then, if it somehow passes, absolutely vaporized by the Supreme Court (in this analogy, nine wins and a wild card spot, and then a three-touchdown ass-beating in Philly where Jalen Hurts has 200 rushing yards by halftime.)
Marcus:
I really thought Russell Wilson would stay great, and I'm surprised at how happy I am he hasn't.
Lerr:
Last year was the most fun watching the Seahawks in years. That said, I can't even gloat or talk shit about other teams without someone sending me a gif of THE interception, dragging my day straight to hell.
Nick:
I can't believe we've talked ourselves into Geno Smith just because he had a better-than-dogshit season. He's still Geno Smith. We're just gullible enough that any successful completion makes us forget all the times he chucked it straight into the ground. Yay we made the playoffs and got stomped in the first round. Again. By the goddamn Niners and their bottomless pit of who-the-fuck-is-that-guy quarterbacks. Yay us.

Also, we gotta stop complaining about the refs. Like, if it was just once or twice, yeah maybe we got screwed. When it's every other game, though? Maybe we're the assholes. 
Will:
Largent was a phenomenal player but also one of the shittiest human beings alive, even by NFL standards.
AK:
Does anybody really think Geno isn't just going to relapse?
Gabriel:
I say this as someone who spent the first 22 years of my life in Washington: There are no good towns in that state. Seattle is a miserable and expensive city that has been fully colonized by the same Californians that have made virtually every city on the West Coast unlivable for a normal person or family. 

Tacoma literally smells like fart most of the time. Everyone calls it, "the aroma of Tacoma," and traffic is usually so bad around there that you end up with the smell for hours, like sitting next to the bathroom on a Greyhound after a sick man disemboweled himself in there. 

Fuck Puyallup, Kent, Bellevue, Tumwater, Chehalis, Vancouver, Everett, Sequim, Hoquiam, Enumclaw, Lacey, Shelton, Yelm, Ocean Shores, Federal Way, the Tri-Cities, Mount Vernon, and Tukwilla. Leavenworth can get absolutely fucked with its Bavarian gimmick. Most of these towns are dominated by liberals who have those "in this house we'' signs but then argue that the most compassionate place for the state's exploding unhoused population is in a hyperbaric chamber surrounded by a net at the bottom of Hood Canal. Spokane and the entire east side of the Cascades are just Idaho, and can eat my ass. All we have to offer is natural beauty and nothing else.

I do like Forks, only because Twilight fans make pilgrimages there from all over the country, only to be confronted by locals who demand they take the digital soldier oath or be considered an active combatant against the United States.
Ian:
The Seahawks don't exist east of Idaho.
Dave:
Because, no matter what city I go to, the Uber driver sees my Seahawks hat and says, "They shoulda run Marshawn on that play."
George:
The Northwest was built by a bunch of Scandinavian Lutherans who would rather die than raise a fuss about something. Coupled with hippie testiness and residual 90s Gen X snark, this has made Seattle the world capital of passive aggressive bullshit.

A while back I got a room in a group house, and while I didn't know my roommate that well he seemed fine. On moving day I got all hot and sweaty hauling my stuff, so that evening I took a shower. I used the soap that was in the shower since I hadn't had time yet to go to the store and buy my own.

The next morning my roommate comes to me with an agonized smile on his face, hems and haws for what feels like 20 minutes, before he finally gets out that he would like me to please use my own soap instead of the soap that was in the shower, which is expensive because it has Mt. St. Helens ash in it and thus has healing properties. Raising this issue has clearly taken a lot out of him, but no worries; I buy some regular soap at Safeway and never touch his soap again.

A few weeks later, I start getting dirty looks from my roommate, no reason given. This goes on for days before he comes to me, another agonized smile on his face, hemming and hawing and finally asking if I could please put my soap below his soap in the shower caddy, or else water will drip from mine onto his and ruin the healing properties. OK, I'm flexible, and apparently this dude really digs his soap.

A few weeks later I start getting more dirty looks, no reason given, and the magic soap disappears. I ask no questions.

Then one day I get in the shower, turn around, and discover to my horror that the soap is back. Except roomie has put it in one of those plastic clamshell soap dishes that you take camping, and he's drilled holes in the top and bottom lids, and ran a cable through the holes, and locked up his soap with a fucking Master Lock.

I move out that weekend, convinced he's a serial killer and I'm his next victim. The really crazy thing is, when I tell this story to people who know Seattle well, nobody bats an eye. Half the people in town are wired like that!

In the next house my roommates were heavy metal drummer hooligans from New Jersey, who didn't care about dumb shit like soap and would just tell you when they had an issue about something rather than letting it drive them to madness. I never thought I would have anything good to say about New Jersey but holy crap, that was refreshing.
Paul:
The good news is the dead owner's failsister will sell the team soon. The bad news is she'll sell it to some consortium of tech douches who make Ed Norton's character in Glass Onion look subtle.
Sean:
I've seen my dad cry twice in my life. The first time was at his father's funeral; the second time was when Malcolm Butler intercepted the robot's pass at the goal line. With every passing day, I bear a greater resemblance to him and it terrifies me more than any piece of art ever could.
Submissions for the NFL previews are now closed. Next up: Miami Dolphins.
Stay in touch
Sign up for our free newsletter