Why Your Team Sucks
Why Your Team Sucks 2023: Tampa Bay Buccaneers
2:25 PM EDT on August 18, 2023
Some people are fans of the Tampa Bay Buccaneers. But many, many more people are NOT fans of the Tampa Bay Buccaneers. This 2023 Defector NFL team preview is for those in the latter group. Read all the previews so far here.
Your team: Tampa Bay Buccaneers.
Your 2022 record: 8-9. The Divorce Season. Tom Brady didn't enjoy a single second of his final year in the NFL, and neither did the rest of us. And trust me, I was VERY excited for his downfall. I was ready for Brady to throw 27 picks and then tweet out a bunch of angry divorced-guy shit. Instead, I got an incredibly Bucs season in which all of their losses were ugly and all of their wins were unwatchably languid affairs where they trailed 7-2 to a lousy team before Brady and/or the refs bailed them out at the end in cursory, almost begrudging fashion. These Bucs would somehow still manage to clinch the division a week early, and then get obliterated in the first round of the playoffs. All of it was appropriate and yet vaguely disappointing. Like your own marriage.
The Bucs beat two winning teams all season. They were the worst rushing team in the entire league, and by no small margin. All of their wideouts kept getting hurt. Brady had the worst QBR of his entire career. Yelling at his O-linemen to block more didn't even help this time. And Patrick Mahomes kicked his ass. While Brady will forever be the best QB in football history, everyone already likes Mahomes much, much better anyway. This is why:
The Bucs also failed to tie up Green Bay at the end of regulation because they got a delay flag on their two-point attempt. They were beaten by Pittsburgh in Mitch Trubisky's first and last act of football heroism. They got crushed by P.J. Walker and Carolina. The Ravens handed them their third straight loss, the first such losing streak Brady had endured in two decades. They lost to the Browns in the waning seconds of overtime. They took a 17-0 lead on Cincinnati that Joe Burrow needed only a quarter to wipe out. And they fell behind 35-0 to San Francisco in a game where lil' Brock Purdy snatched Brady's crown as America's favorite low-round, personality-free QB. Everyone begged Gronk to come back and salvage this mess, and even he was like, I'm good, which is remarkable because the next 40 years of Gronk's life will be nothing but bouts of sciatica and his family hitting him up for money.
But again, the Bucs won the NFC South, which is like me winning the smallest plush toy at the shooting gallery. Whoop dee fucking doo. They were rewarded with a first round matchup against Dallas in a game that absolutely no one believed they would win, not even with Brady at the wheel. And buddy, they lost the SHIT out of that game. The whole thing was over by halftime, with Jerry Jones emphatically clapping his bones together and back-slapping war criminals in the luxury box. This game made me hate the NFL playoffs.
What highlights to be had all season long for Tampa Bay were of the morbid variety: Brady spending every presser looking like he was on a hunger strike in prison, his continued desecration of Microsoft Surface tablets, Mike Evans obscuring the boundary between NFL officials and proper ethics, and former head coach Bruce Arians instigating sideline fights because he didn't know what else to do with himself. It's as if the Bucs were so eager for a long, brutal future without Brady that they decided to get that future started when he was already there. That's taking the initiative, and I like it. To that end…
Your coach: Todd Bowles, and you knew quality control would plummet the second this man was promoted, did you not? After justifiably blowing through cash in an effort to make the most of the Brady years, the Bucs now find themselves in the kind of long-term cap hell usually reserved for the Saints. There's very little point in them trying to compete for the next two years, which is why they haven't bothered replacing Bowles just yet. This man's job will be to suck quietly and respectably, and I think he's got just the temperament for it.
Elsewhere on the staff, Bowles fired offensive coordinator Byron Leftwich after the season. Leftwich was the hottest coordinator in football in 2020 and 2021. He is now out of a job. The man replacing him is former Seahawks OC and future The Bachelor star Dave Canales. Canales is the man who helped resuscitate Geno Smith's career a season ago, and he must relish challenges because now he's in charge of…
Your quarterback: Your choice of slobs! Brady retired to become a vanity minority owner of the Raiders, because his crypto experience has given him a nasty addiction to buyer's remorse. With him gone, the Bucs will rely on a three-headed toilet seat to replace him. Let meet our contestants!
DOOR No. 1: Future Immaculate Grid stalwart Baker Mayfield, who is certain to have it out with one of his wideouts on the sideline after he gets them decapitated with a shitty throw over the middle for the 12th time.
DOOR No. 2: UFA grad Kyle Trask, who's like Anthony Richardson without any of the upside.
DOOR No. 3: Former Rams emergency cadaver John "Wolfman" Wolford.
None of these men will be able to mitigate this O-line's horrific pass-blocking the way that Brady could, but somehow I doubt that GM Jason Licht would be pleased to see any of them succeed anyway. This is a burgeoning tanking operation, and if it results in Caleb Williams landing in Tampa, I will fly down there to kidnap Caleb and bring him back across state lines.
What's new that sucks: With Brady gone, every rat is either fleeing the pirate ship ORRRRGH being pushed off of it. So say goodbye to … deep breath … LT Donovan Smith, RG Shaq Mason, CB Sean Murphy-Bunting, WR Breshad Perriman, LT Josh Wells, RB Leonard Fournette, DT Akiem Hicks, K Ryan Succop, TE Cameron Brate, S Keanu Neal, WR Julio Jones, and S Logan Ryan. Some of these players were disappointments. Many of them were outright bad. But they WERE actual NFL players, which is more than can be said for anyone currently occupying the team's QB room.
But if you think that the Bucs will instantly revert back to losing form just because Brady is gone, well now CB Carlton Davis has something spicy to say about that! From Tyler Dunne:
"We're about to do it to 'em," Davis says. "Anybody who feels we've lost Tom — and lost something — is going to be in for a rude awakening. A rude awakening. Tom was a great addition for us, but obviously it's a team sport. Obviously, you need components to be successful. We still have those components. And I'm only getting better… We're going to wreck shit. Like, wreck shit. Interceptions. Turnovers. Plays will be made. I will say. Plays. Will. Be. Made."
I understand that you have to possess a certain amount of willful ignorance to be an NFL player. But Carlton—may I call you Carlton?—you are fucked. You are marooned in the middle of the sea, floating along on a blown-off door. What exactly will you be wrecking? A piece of hardtack you found off a nearby corpse? Why do you think everyone else who could leave left? Why do you think LB Devin White demanded a trade? More people have stayed at G/O Media than here. Please get real with yourself. Things are about to be done to you.
Meanwhile, the shadow of the 2020 Super Bowl team remains in place, with guys like WR Mike Evans, WR Russell Gage (already hurt), and S Antoine Winfield still hanging around. But eventually all of those guys will fade away too, and soon you'll be left with a Bucs-y collection of washouts, deadbeats, and whatever rookie OL Cody Mauch is: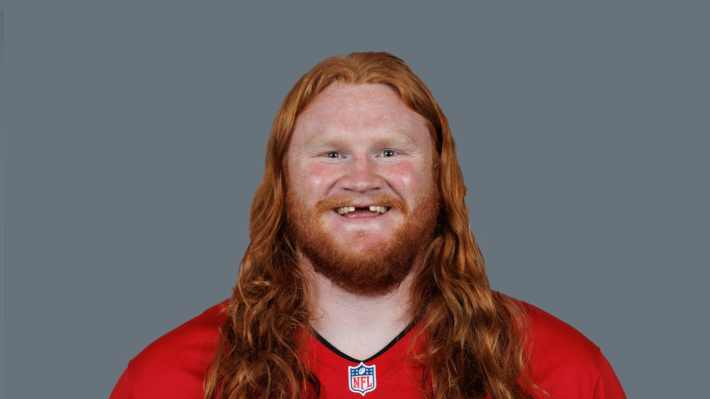 He looks like he eats children. The Bucs also drafted undersized DT Calijah Kancey in the first round, along with TE Payne Durham in the fifth to round out a tight end room stacked with premium lacrosse names like Cade Otton and Ko Kieft. Join us midseason when Wolford completes a pass to newly acquired fourth TE Curbes Lurb III. The good news is that your league-worst rushing attack is getting an infusion of Chase Edmonds, direct from Miami. Plays. Will. Be. Stuffed.
Why the players think you suck: The Bucs are the 67th most-cherished asset in the Glazer family sports portfolio, and the union's offseason survey more than reflects that fact:
The highest graded areas of their operations are the weight room, the strength coaches and training staff. Besides those three things, players would like to see improvement in nearly every other aspect of their operations.
This passage is also true of Tampa in general. If you need a roided out strength coach, it's your kind of town. Working infrastructure? Good schools? Restaurants free of airborne roaches? Best look elsewhere.
What has always sucked: It's not that I was sick of Tom Brady, I was just sick of him forcing me to pay attention to the Bucs. The Bucs are relevant once every 20 years, and I fucking hate it when they are. We all goof on the Jaguars for being the least essential franchise in this sport, but the Bucs are the original Jaguars, right down to the glaringly awful uniforms. They never win anything and when they do, it feels like a grand waste of everyone's time. The Bucs are that one shitty kid you always ended up in the same class with. His name was probably Danny. Fucking Danny. What a dipshit that kid was.
Anyway, the NFL is more legitimate when the Bucs are crap. So thank god the Brady years are over, because I never want Floridians to be happy. You are the worst of us, Florida. You are tacky, idiotic, fascist scum. Your chief export is divorce. You have the climate of an indoor pool. And your governor wants kindergarteners to check in with the police anytime they wanna watch a fucking Disney movie. Stay the fuck away from the rest of us, now and forever.
Fuck Ron DeSantis with a pumpkin that turns into a carriage.
Ratto says: If they raise a banner to last year's divisional championship, they are even more shameless than we already suspected they are. The good news is that NFC South is an even better place to hide than the AFC South, and almost as good as the AL Central or the Pac-12.
What might not suck: I find Vita Vea adorable.
HEAR IT FROM BUCS FANS!
Logan:
Literally no one who regularly goes to a Bucs game will ever use sunscreen.
Alex:
Because I would take Jameis Winston back over starting Baker Mayfield.
Dave:
They have the worst all time winning percentage, but could theoretically catch the Texans or Jaguars in the back half of next season. What an illustrious group to be a part of.

They traded up to take a kicker in the second round. He was statistically the worst kicker in the league that season, and then they cut him before the next season.

Are there are other Bucs fans? I've never met one. Have you ever met one? Has anyone ever met me? Do I exist?
Aren:
Let's be real. No one gives a shit, let alone two about this team. No one is watching theBucs because of our history, or because their dad watched the games with them long ago. People only tune in to see Tom Brady yell at his shitty teammates/inept coaches and then smash iPads, and now he's gone

With Brady off this team, we will morph back into the Charlotte Hornets of the NFL: the "Oh yeah I forgot about them" team you see on the schedule every year. Ask yourself if you even know anyone who is a fan of this franchise.

PS I hope we win the NFC Nascar division while finishing below .500 again.
Anthony:
This team may consist of nothing but Rutgers' long snappers.
Joe:
I'm a teacher and our school has a strict policy for staff about not wearing sports apparel outside of our own school team. While looking at the Bucs logo on my shirt one day, our principal once asked me if it was a sports team. I told him no, I just really like pirates. I got away with it, but now I'm just the weirdo at my school who likes pirates too much.
Chris:
The only way to truly relate to a Tampa resident is to have a neck tattoo, a premier membership to your favorite strip club, to lose a fortune in a crypto scam, or a combo of all three.
Kevin:
We pushed Tom Brady through a season with an o-line built out of third stringers and duct tape. The replacement is Baker Mayfield, who has one good game per season.

Mike Evans forgot how to catch until week 17.
Richard:
Anytime someone asks me if I am a Bucs fan, I daydream about a meteor hitting the governor's mansion and then The Villages, in that order.
Ladanian:
They win a Super Bowl every twenty years and then completely disappear. They're so uninteresting that during a Super Bowl, with the GOAT playing against Mahomes, all they could talk about was a stupid pirate ship in the stadium. "Third and ten, and fun fact Tony: the ship does not float because it's made from concrete!"

When someone finds out I'm a Bucs fan, they assume I that I got upset that the Raiders moved to Las Vegas and decided to go with another pirate-based team.
Josh:
Too bad every insurer above water is fleeing Florida for higher ground. I was really hoping we'd get some commercials with Baker living in the pirate ship.
Ian:
-The only time this team can win a title is by buying it.

-Baker Mayfield being a pitchman for an insurance company is particularly rich given the predatory insurance rates in our state, and his backup is Kyle Trask, who sounds like the third worst litigator at ambulance chasers Culpepper|Kurland.

-Warren Sapp is still banned from all Best Buys.

-Tampa is where running backs go to be useless, and you're still likely to see an Alstott jersey as any player not named Brady. If you're sensing a trend, then you're primed for what sucks about the area in general.

Tampa Bay:

-One of the few notable things the area has is its suburb (Dunedin) is the birthplace of Ron DeSantis, who claims he's culturally not even from here. Judging by the last few election maps, he is as wrong about that as he is about the history of slavery.

-We have tons of breweries, because there's nothing better when it's a swamp outside than an 8% IPA or an experimental live-culture sour that tastes like my own asscrack after being outside for 30 seconds. 

-We created the Cuban Sandwich but everyone thinks it's from Miami. 

-We, as a state, are the sin-eaters of this country. Every other state sends their most degenerate and detestable citizens, and then mocks us for being insane. You people have sent us enough old racist assholes to create a Bizzaro San Francisco in our state then have the gall to be surprised when it goes red? You don't like Florida because it's a reflection of all the worst parts of yourself. 

-Tampa native Terry Bollea bankrupted your prior boss, though, so you're welcome?

Fuck Ron DeSantis and Donald Trump with each other's faces.
Ken:
Thanks to climate change, the heat in Tampa will pentuple to lethal levels, rendering attendance at a home game possible only from January 8th to January 10th. The only good news here is that those killed by the permanent heat dome will be retirees who have airbrushed images of Jesus riding a bald eagle while swaddled in a MAGA flag.

How on earth did this team not have a plan post-Brady? They knew he was 53 years old when they signed him, right? So now we're stuck with the washed-up gnome with a shoulder so screwed up he can no longer even carry the chip he likes to haul around. Or Kyle Trask. Two years and all the feedback we've received from coaches on Trask is that, "he works hard" and that, "he's a deliberate learner." I challenge anyone out there to find a lower nadir.

Our coaches stink. Defensive play calls are being shared three ways. Ask anyone who's dabbled how polyamory has worked out for them. Our OC is a first timer. We will win two games.

I have more but now I'm too depressed to write anything else.
Submissions for the NFL previews are now closed. Next up: Seattle Seahawks.
Stay in touch
Sign up for our free newsletter