Some people are fans of the Los Angeles Rams. But many, many more people are NOT fans of the Los Angeles Rams. This 2023 Defector NFL team preview is for those in the latter group. Read all the previews so far here.
Your team: Los Angeles Mentally And Physically Tough Players Who Play Smart & Love To Compete.
Ohhhhhhhhhhhh yes they were.
Your 2022 record: 5-12. This was the worst offense in football a year ago. Not the Falcons, not the Texans, not even the Broncos. This one. The Rams didn't have a 1,000-yard rusher. They didn't have a 1,000-yard receiver. Their second leading wideout was the immortal Ben Skowronek, who had 376 yards. They BARELY had a 2,000-yard passer. None of their three most important players were able to finish the season. These were the worst defending Super Bowl champions in history. I've had landlords deliver a bill later than this.
The particulars: LA started the season 3-3 and then proceeded to drop six straight. They let Christian McCaffrey hit for the cycle (ran, threw, and caught a touchdown) in their eighth straight regular-season loss to San Francisco. Tom Brady beat them with a 60-yard touchdown drive when he had only 44 seconds left and no timeouts to work with. They lost a game to Dallas in which rhinestone Ken doll Cooper Rush threw for 102 yards. They lost to Colt McCoy. They lost to the Seahawks when Geno Smith hit a touchdown pass in double coverage to D.K. Metcalf in the final minute.
They gave up the third-most sacks in the league. Their biggest free-agent signing, wideout Allen Robinson, came and went. They got their QB concussed, watched him clear protocol, and then got him concussed again two days later. That second banging of the gong included a spinal cord bruise that turned out to be a season-ending injury. John Wolford started at QB for these Rams. So did Bryce Perkins. So did Baker Mayfield, whom they picked up off the street to engineer a last-second win against Vegas in a Thursday night game that no one, not even the broadcast crew, stayed up to finish watching. This would prove to be their signature victory of the entire campaign.
So lemme tell you what that 2021 Super Bowl victory means, Los Angeles: NOTHING. Not a goddamn thing. NFL Films has already burned the master tapes of that season, it was such an indictment of football as a sport. You fucked them picks, and now them picks are fucking you right back, and will do so for another decade and change. I've never seen a more meaningless championship, and I lived through the 2006 Miami Heat, OK? I know counterfeit hardware when I see it.
Your coach: This barrel of fun:
This is the second straight offseason in which Sean McVay has openly toyed with the idea of retiring young. A year ago, that flirtation netted both him and GM Les Snead fat contract extensions that'll run through 2026. So you could argue that McVay pulled a Big Ben all over again this year as another cynical gambit, just so that he could force the Rams to grant him, like, two hours off every Tuesday afternoon or something. But what I believe is that he truly fucking hates this job and doesn't wanna do it anymore. You saw those new slogans, right? You have to hate your job to cook up refrigerator poetry like that, or to say any of this shit:
"I'm really committed to not having this become a story every year, because I know that's probably something that people are asking or wondering," McVay said. "And I don't take that lightly. That was why the reflection. Because there was never a doubt whether you wanted to coach again. It's really just, are you going to be able to have the appropriate perspective to be the best version of yourself for the players and the coaches? And I feel confident that that can exist moving forward."
I've heard Ted Cruz make more genuine statements than this. You see, the reason I contemplated quitting this job is because I love it just so gosh darn much. The only thing keeping Sean McVay in Los Angeles right now is guilt, and that guilt will fade once he endures another 12-loss season and Jeff Bezos offers him Saudi money to join the Thursday night booth. If my parents had ever gotten divorced, this is what the year before it would have looked like.
To that end, former offensive coordinator Liam Coen left the Rams to go be the OC at fabled SEC powerhouse Kentucky. Here to replace Coen is Mike LaFleur, whom the Jets just shitcanned after he couldn't teach Zach Wilson how to throw a swing pass. This coaching staff has more fallen stars than the judging panel of The Voice.
Your quarterback: Matthew Stafford?
Go look at Stafford's contract and tell me that this airhead is worth keeping around a second longer. For those of you who only speak meme, I have put Stafford's cap numbers in terms you can understand: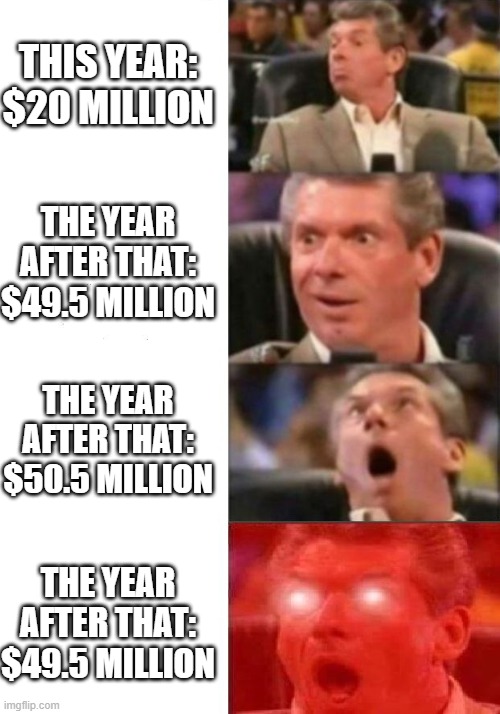 I have lived under Kirk Cousins's salary for the past five years of my life, and that's nothing compared to the hell that awaits you people. Stafford will never be effective again, and his presence on the roster all but paralyzes Snead and the rest of LA's personnel department. They can't trade him. They can't release him. Thanks to his cap figures, they couldn't sign any free agents this offseason; all they could do was cut loose name-brand players like Robinson, Bobby Wagner, Mayfield (oh no!), Leonard Floyd, and Jalen Ramsey, the last of whom they offloaded to Miami for a third-round pick and a random tight end.
But lest you think the cupboard is entirely bare, a savior awaits:
That's honorary Bush family member Stetson Bennett IV, whose predraft stock was so low that a majority of NFL insiders rightfully figured he'd go undrafted. This is 2023. Teams don't draft Gino Torrettas anymore. They know better, especially when there's a police report stapled to that prospect's forehead. But Snead went out of his way to showcase his indifference toward draft picks by reaching for Bennett in the fourth round anyway. A bit of stunt casting, if you will. And Stetson is going to the exact wrong place if he hopes to continue his bold foray into the depths of alcoholism, because ...
What's new that sucks: CUIDADO PISO MOJADO
Yes, the Rams stadium, that crown jewel of municipal grift, finds itself again failing to be up to code. It gets lightning delays despite having a roof. It has no way for fans to get in. And now its flooring is a Three Stooges bit waiting to happen. I bet striking actors wouldn't even be able to find decent shade inside of it. Stan Kroenke may as well have built a monorail next to it. How is this the LEAST nice building in Inglewood?
Why the players think you suck: If you think the stadium is a piece of shit, Rams players would to point out that the practice facility is even worse:
They are currently operating from a "temporary" practice facility; however, they have not even broken ground at their "permanent" practice facility, so players expect to be working out of the current building for the foreseeable future. Players do not feel that the "temporary" facility was built to support professional athletes, and unsurprisingly, in the opinions of player respondents, it leaves a lot to be desired.
You know how your kids are sometimes forced to attend class in portables when their grade school is under construction? That's the Rams. They are currently valued at over $6 billion, and their players have to sit on each other's laps if they want enough room to eat in the cafeteria. Mike Brown is taking notes.
What has always sucked: The Rams moved to LA for the most cynical of reasons, won a title, and will now operate under the most cynical of pretenses. Like McVay himself, they're now only here because they have to be. Even with a title banner, they add nothing to the LA sports scene, or to LA itself. Like Stafford, they are little more than a parasitic entity now: siphoning vital nutrients off of their host while offering nothing in return. I hope the wildfires reach their stadium and turn it into black hail.
Cooper Kupp will never be healthy again. Aaron Donald doesn't want to play anymore. Sony Michel retired and somehow that's kind of a blow to them. They won't have a first-round draft pick until the year 3,000. Kelly Stafford is a loser.
Ratto says: While it is comforting to think that Satan demanded immediate payment from Stan Kroenke for that Super Bowl, Satan does business with every owner. So this should happen every year, but does not. All of the Hamlet-infused hand-wringing Sean McVay did during the Rams' year in the woods was theatrically fun, but we suspect this is the actual cost of renting out their draft room every year because they're not going to use it.
Oh, and their uniforms need a re-do, stat, lest people start thinking they're Colorado State using the wrong detergent.
What might not suck: HOW 'BOUT THAT MAMMOTH, EH KROENKE FANS?!
So glad to hear this man is prospering. That's what sports is all about.
HEAR IT FROM RAMS FANS!
Jonathan:
We deserved that.
Kevin:
The bigger they are, the harder they fall. Well, this team fell harder than the Chicxulub asteroid. 
Andrew:
Remember that scene in The Simpsons when Homer is supposed to wreck Moe's car by driving it off a cliff, but when he bails out of the car, he rolls right back into it? The car is the Rams, and Sean McVay is Homer. 
Lisa:
The highlight of last season was 95 seconds in a meaningless game against the fucking Raiders by a jet-lagged Baker Mayfield who got lost trying to find the locker room when the game was over.

The good news is that the vendor carts aren't half bad when the stadium staff isn't tackling twelve-year-olds.
Brett:
The Rams have 30 rookies in camp. You know when jokesters always ask if Alabama or Georgia could beat a pro team? When the Rams' Big Three all break their elbows.
Rabia:
One of my fondest childhood memories is bumping into Kurt Warner at the grocery store and embarrassing myself by answering his question, "What's your name?" with mine and the following up with "...What's yours?"

It was deeply disheartening to watch Kroenke run the Rams into the ground in the late 00s and early 10s, and then have the gall to blame the city for the lack of interest in a team he clearly had other plans for. I was pissed when he left, and even more pissed when they started being *good* in the following years.

That being said, the amount of schadenfreude I felt when the team completely cratered last year, and Kroenke was told to pay $571 mil of the settlement with StL? Exquisite. I look forward to the day when I can piss on his grave.
Alex:
Everyone's fake retirement after the Super Bowl portended this daycare of a 2023 team. Aaron Donald is gonna punch Kobie Turner in the head during training camp. And notorious public drunk and 35-year-old college senior Stetson Bennett is going to be throwing hospital balls to Cooper Kupp in Week 5 when Stafford's elbow disintegrates into LA smog. 

My McVay-pilled brain is still going to get rock hard when Ben Skowronenk gets motioned into the backfield for a fullback counter. 
Greg:
Listen, I know on a deeper level that I can't bitch too much about the state of the Los Angeles Rams, considering they've been to two Super Bowls in the last decade, winning one. But oh, the ways this team has fucked with me, and I've just stood by and taken it.

Because you see Drew, I'm not a fan of the Rams because I'm some loser who was born and raised in LA and couldn't wait for the day they finally came back. Oh no, I'm a loser who was born and raised in St. Louis AND STILL stuck with this team after they dined and dashed the city and tried to leave me with the bill. The NFL would be better off if this team just went 0-17 for the next decade.
Neill:
All but the truly delusional knew that some lean years were the inevitable price for that ring in 2021. But I was wholly unprepared for this unwatchable shitshow. Oh well. I guess we can still look forward to the 2047 draft, if Snead hasn't already traded the picks. 

Fuck Stan Kroenke with the bleached raccoon he wore to the Super Bowl.
Matthew:
Did Rams fans tell ourselves that the window was still open for the team after Super Bowl 56, that we could run it back!? You know we did, and we were dead ass wrong. We're doomed. 

Our roster depth is a bunch of 22-year-old sixth rounders from academic schools and Van Wilder reincarnate Stetson Bennett. There is no way McVay will be around two to three years from now to oversee the rebuild. Here comes the pain.

75% of our fans are Laker stans who assume we're always going to find a way to get a big player to turn things around soon, because that's what LA teams do. That's not happening. 

Fuck Kroenke with a Pink's Hot Dog.
Josh:
Sean McVay spent the bulk of the 2022 offseason very publicly drunk, and apparently continued that bender well into Thanksgiving.

Our season's high point was Baker Mayfield.

Cooper Kupp said after he won Super Bowl MVP that God gave him a vision that he'd win the award. So it's safe to assume he has "become a corrupt megachurch pastor" as a post-retirement plan.
Jonathan:
Official FanZone Rams Tailgate, Christmas Day 2022.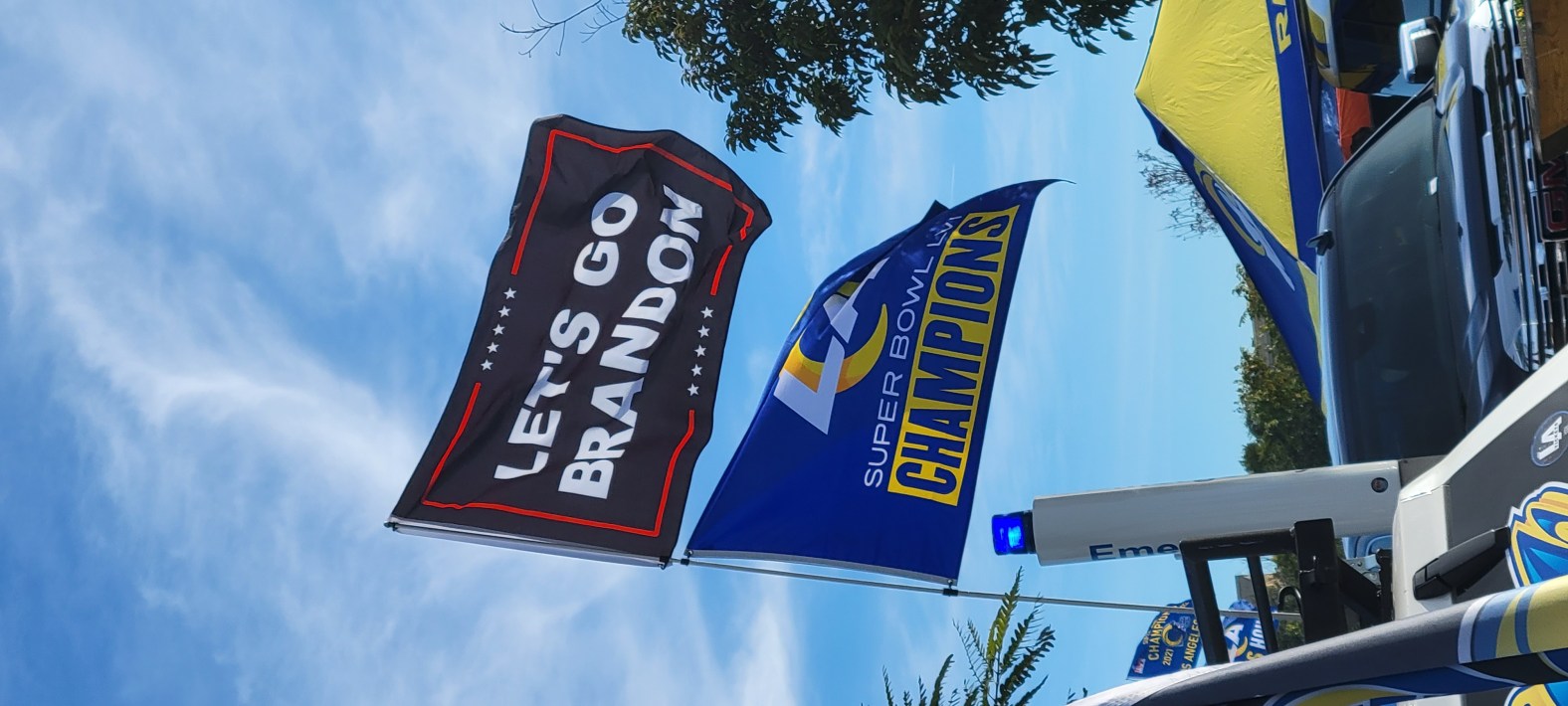 Jonathan:
Apparently Andrew Whitworth was the frayed duct tape holding the whole soggy cardboard package together. I would say that karma treated the Rams as bubble wrap as last season progressed. But to a non-apologist, it's evidently clear that fate played no role. Management did nothing to maintain the team in the 2022 offseason.

They pinned all their hopes on a rumored-to-be injured Logan Bruss to replace Whitworth, and SURPRISE! He blew out his knee in the preseason. Now our top pick from just last year is struggling to make the roster.

Von Miller's a Bill, OBJ's a Raven, Ramsey's a Dolphin. The entire Pro Bowl special teams battery was strewn by the winds to the four corners of the Earth.

Stafford's neck is teriyaki jerky. Kupp's ankle is crabmeat. Donald is eyeing every exit sign. The offensive line is put together with thumbtacks and glue. The rest of the team is 12 years old. The team photographer broke her back and then milkshake duck'd herself all the way to the Raiders.

SoCal is an uninsurable illegal fireworks stand ready to self-immolate. The LAPD has more gangs than all of South Central combined. Gavin Newsome is a conviction-less phony, an empty suit, and a fuck brother of Donald fucking Trump Jr. We're represented in the Senate by a baby-faced coffee intern and Bernice Lomax.
Mike:
I know you prefer personal stories about our connection to the team, but I don't know any other Rams fans. 

The only thing people remember about the Rams' Super Bowl win was all the crypto commercials.

Stan Kroenke looks like an undertaker AND a corpse. 

The highlight of last season was a Baker Mayfield drive, and we look like a worse team without him.
Submissions for the NFL previews are now closed. Next up: Las Vegas Raiders.
Stay in touch
Sign up for our free newsletter