NFL
Quit Your Job, Sean McVay
3:06 PM EST on January 10, 2023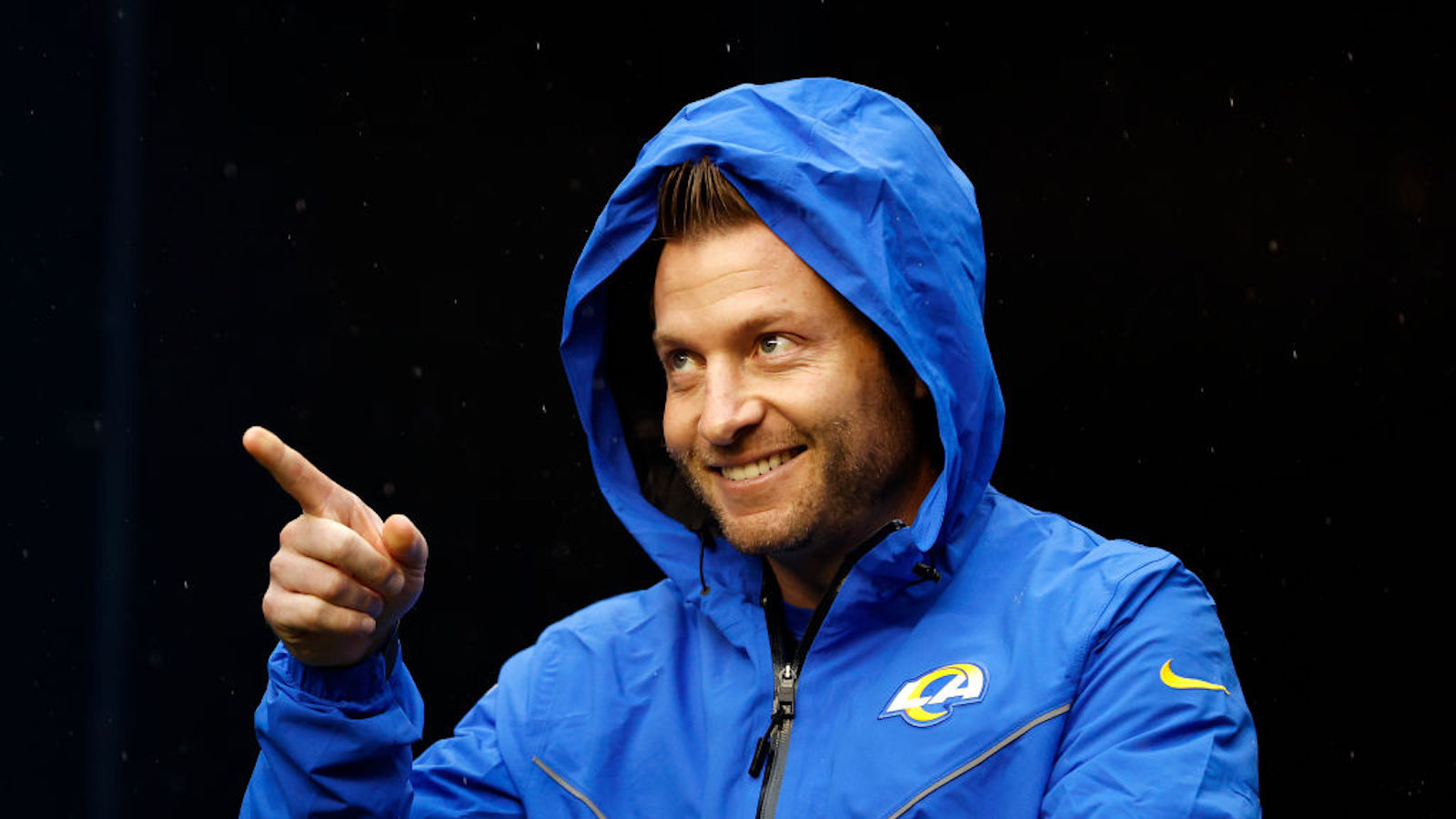 Yesterday was a distressingly quiet Black Monday. The three splashiest firings to go down in the NFL happened during the season (Matt Rhule, Frank Reich, Nathaniel Hackett), leaving us with a meager helping of schadenfreude to end with. Lovie Smith got fired on Sunday night, right after surrendering the No. 1 pick to Chicago by daring to win a football game just to win a football game, which meant that only Kliff Kingsbury ended up getting kanned on a day when fans (sadists) like me hope to see at least half a dozen heads roll off the chopping block. What a fucking ripoff.
But there's always the chance that a couple more big names will find their way onto the free market after Black Monday has passed, and the biggest domino of all is still looming out there, ready to fall:
Rams head coach Sean McVay won the Super Bowl less than 12 months ago and, in the wake of that victory, flirted with the idea of retiring young and making bank as a TV guy. Instead, he chose to remain on the job, even after this Seth Wickersham profile of the man back in August revealed that McVay was not only suffering from an acute case of Coach Brain, but knew it and hated himself for it:
"You know what?" McVay replied. "I f---ing hate this job. I'm f---ing quitting. F--- this s---. I hate myself..."
Given McVay's unease with his own profession, it only made sense that the Rams' 2022 season would turn to shit, and did it ever. Quarterback Matthew Stafford, fresh off signing a golden parachute of a contract extension, was lost for the season with a spinal cord contusion, which is the least desirable of contusions. The offensive line fell apart. The running game remained nothing but a rumor until LA's entire season had entered an extended phase of garbage time. And Baker Mayfield arrived late in the year to officially render the whole endeavor a lost cause. The Rams will go into 2023 uncertain of their roster and unable, thanks to the trade that brought them Stafford, to do much of anything via the draft to fortify it. Offensive coordinator Liam Coen already left to take the same position at Kentucky, an enormous step down that suggests Coen knew everyone and everything inside the Rams was living on borrowed time.
That especially goes for McVay, who instantly restored credibility to the Rams when he arrived from Washington and who now is keeping the organization at a standstill as he contemplates whether or not any of this shit is truly worth it. From Jourdan Rodrigue at The Athletic:
Even now, he has all of the autonomy here. The Rams, two people who spoke to me said, are totally open to whatever he needs to do, whether he stays or steps away — inclusive of making large-scale changes among his assistant coaches and the roles he delegates to them, or any personal or work habit changes. One person with direct knowledge of the Rams' contingency plans for either option, who was granted anonymity in order to speak freely, said that even if McVay decides to step away in 2023, the organization does not believe he would permanently retire from coaching.

McVay does not have a timeline for making this decision, nor does he have a deadline from the Rams, multiple people with knowledge of the process said.
If you read Wickersham's profile and Rodrigue's article (both are good), you can see that McVay has ended this season in the exact same spot where he began it: uncertain, unhappy, and unable to bring himself to admit that, even though he's one of the most accomplished and brilliant coaches of his generation, he doesn't want to do this anymore. I understand that it can take time for someone who was groomed for that position to summon the fortitude necessary to abdicate it. I know that's not an easy decision, and I'm willing to endure all of the "What is the cost of ambition?" discourse that such a dilemma can engender. But it's been a year now, and John Madden long ago set an example by leaving coaching when it became too much of a burden on both his family and his peace of mind. So I say this to Sean McVay in all earnestness and without any of my usual haterism: Quit your fucking job. Go have a mai tai and chill. You've earned it, and so has everyone else.
Stay in touch
Sign up for our free newsletter