NBA
The Wizards Are Exploring New Horizons Of Permanent Suckitude
3:12 PM EST on November 14, 2023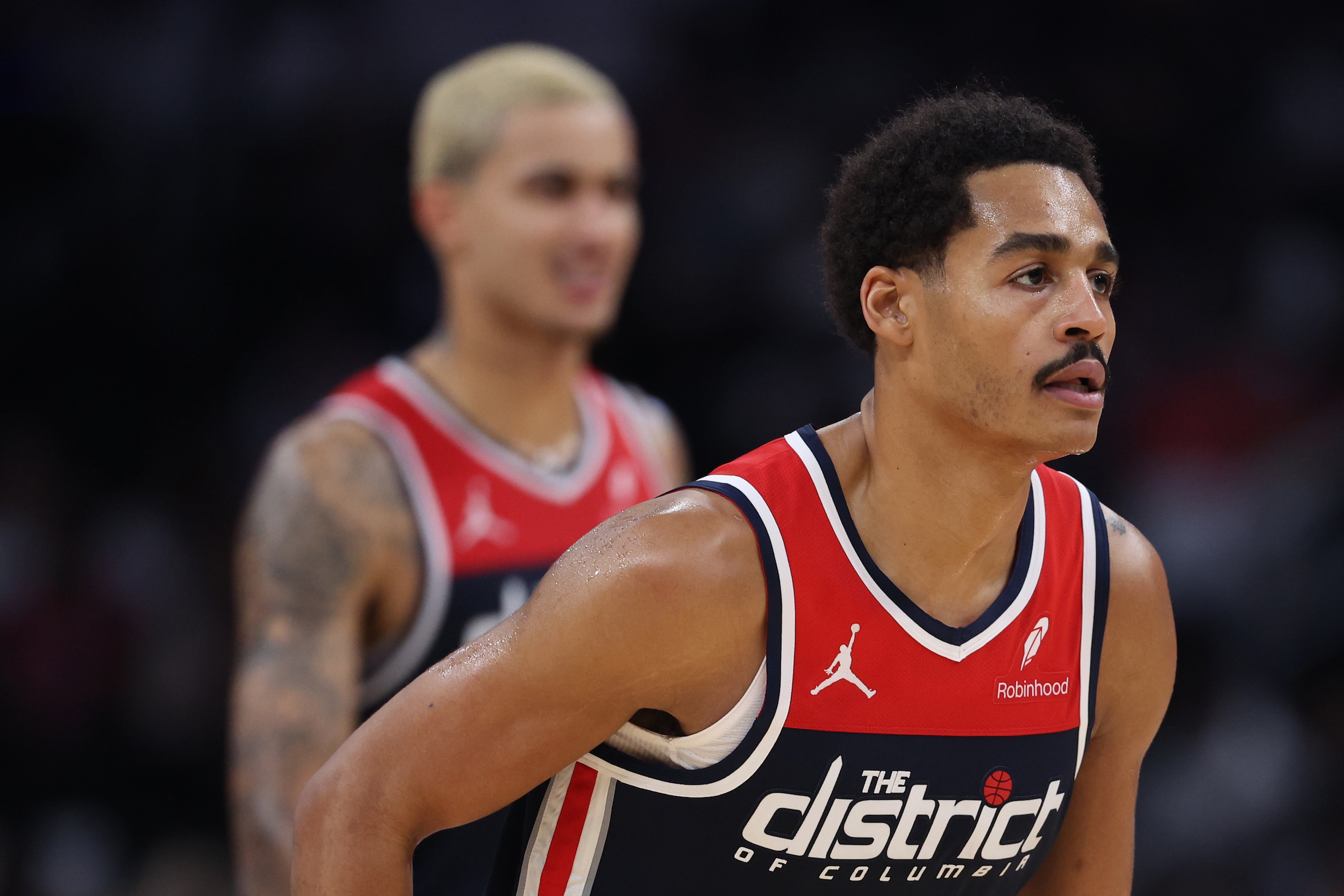 The Washington Wizards are, once again, horrendous. That autumn brought forth another horrendous Wizards team is somehow less surprising, given the state of Earth's climate, than the return of the long nights and falling leaves that arrive with the season. There are some particular delights to this team—for approximately the 50th consecutive season they're pretending that they've got a Superstar Core when what they have, instead, is a buildup of hilarious peacocking bozos—but certainly there is nothing here that should make the 2023 Wizards worth the sustained attention of anyone who is not brain-poisoned by lifelong affiliation.
Nevertheless I must now drag your eyes Wizardward so that you can appreciate their latest humiliating pratfall. Some background: The Wizards traded away Bradley Beal, a very good player that of course in Washington was A GOD, to Phoenix during the summer offseason; that trade returned veteran point guard and one-man-winning-record Chris Paul. Here is a funny fact: Chris Paul's teams have finished ahead of Washington by win percentage for an astonishing 16 consecutive seasons. Paul, now 38 years old and somewhere along the back slope of his career, might reasonably have opted to retire instead of accept the ignominy of donning a Wizards jersey, but we'll never know: The Wizards had no real intention of keeping him around. Paul was the chip Washington used to swing a subsequent deal for disgruntled and loathed and mostly superfluous Golden State backup guard Jordan Poole.
Poole stinks. He's got basketball ability but no sense of his limits. He is capable of dribbling but not of stringing together dribble moves, not without kicking the ball directly into an opponent's hands. He is capable of willfully transmitting the basketball to others but hates doing so, and anyway is at least as likely to fire a pass into the stands as he is to connect with an open teammate. He is good at making layups in a layup line but bad at making them in a contest. He is good at shooting from distance but bad at noticing when there is a 7-foot-3 opponent in position to knock his shot out of the sky.
Poole's co-star in Washington's slapstick Big Two is Kyle Kuzma, who suffers from a lot of the same delusions of greatness. Kuzma is handsome and a snappy dresser but it's not entirely clear that he would have a starting job on a good team: Washington, naturally, locked him up over the summer to a long-term contract and made him the face of the franchise. Kuzma was acquired in the desperate trade that offloaded the proud but awful Russell Westbrook to the Los Angeles Lakers; Westbrook was acquired in the desperate trade that offloaded the wrecked and staggeringly expensive John Wall to the Houston Rockets, and on and on and on, stretching to infinity. There is no one else worth noting on the Wizards, because no one else on the Wizards is allowed to interfere with whatever it is that Poole and Kuzma hope to accomplish in a given game. The Wizards, not coincidentally, have the ninth worst offense and the fifth worst defense in the league, and are on pace to lose 80 percent of their games.
Which brings us to Monday night. Washington took an early lead against a sleepy Toronto Raptors team down a couple of rotation players due to injuries. The lead grew into double digits as the Wizards benefited from unlikely hot shooting and Toronto labored to generate efficient offense—the Raptors had more shot-clock violations than made three-pointers in the first half—something the oddly shaped Raptors will struggle with all season. The Wizards stretched their advantage to 23 points in the third quarter, and were up 16 points with about 7:25 left in the fourth quarter. Raptors head coach Darko Rajakovic called a timeout. It would've been early to see either team empty the bench, but not very. Instead, Rajakovic subbed Pascal Siakam back into the game, and on the ensuing possession Kuzma and Tyus Jones blew their defensive assignments on a high screen, leading to an uncontested dunk for Precious Achiuwa.
That bucket kicked off an incredible closing sequence for the Raptors. Siakam followed with an and-one layup, and then Kuzma made one of two from the free-throw line to make the lead 12 points with 5:47 on the clock. From that point until the end of the game, the Wizards not only failed to make another basket, they failed to score even one single point. They did not even attempt a free throw. All of the ineptitude they'd hidden away in the first half came exploding back onto the court all at once. At one point in there Kuzma ran far into the backcourt to ask Wizards head coach Wes Unseld Jr. to use a coach's challenge to contest possession during live play, so that the Raptors were able to waltz to the rim for a layup. Washington watched in helpless spiraling horror as the Raptors closed the game on an improbable 21–1 run. It was the fourth-largest comeback in Raptors franchise history, per ESPN. Washington's last chances were dashed by consecutive Kuzma turnovers, two of the five that the Wizards committed inside the game's final six minutes.
It's going to be a really remarkably sour and awful season for the Wizards. Poole, in particular, is making no new friends or fans. Eagle-eyed spectators caught him having a little sideline meltdown during a loss in Brooklyn Sunday, repeatedly refusing to pay attention during a timeout and then trying to sneak a last-second peek at the white board in order to know what play his coach had just drawn up. His lowlight reel is already at mid-season length: He Nick Young'd a bricked three-pointer in his second game as a Wizard; he and Kuzma linked up for an off-the-glass alley-oop when down 21 points to the Atlanta Hawks. He likes taking 28-footers with 18 seconds left on the shot clock; he is especially fond of sizing up a defender and reaching into his bag and pulling out a greasy old banana peel, which he then drops directly under his own foot, so that he is splayed out on the hardwood as the opponent races the other way.
The rise of analytics and the related rise of Process-inspired multi-year tanking projects have largely ended the time when every team in the NBA began the season earnestly hoping to sell its fans on the product out there on the floor. It's common now for up to a third of the league's teams to be actively sandbagging. NBA fans have long since become savvy enough about this stuff to know that sometimes the thing to be excited about comes at the end of a few years of losing; for the most part the NBA's dregs nowadays only really give hilariously inappropriate latitude to rookie-scale stars of tomorrow, with the open understanding that the long-term play will lead to a lot of short-term losing.
It's sort of charming how year after year the Wizards are like Futurama's Professor Farnsworth, choosing a captain for his spaceship by going "hmm, you," and pointing at whichever stranger happens to be standing upright at the fateful moment. The Wizards have a somewhat more complicated process, burdened as it is by regrettable transaction histories and the lingering professional mortification of whichever empty suit happens to be on the hook for the sequence of failures that brought together the current roster, but it's every bit as arbitrary, and has almost nothing to do with basketball. It would almost be a little insulting, as a fan, except for that feeling of time-honored tradition. Bright foliage, that sweet ripe tang of autumn rot, apples, turkey, and a Wizards team propping up clowns for a ride to the bottom of the standings. It's almost comforting!
Stay in touch
Sign up for our free newsletter