NBA
All Anyone Could Ever Hope To Know Or Learn About The 2023–24 NBA Season, Or Indeed About Anything, And Well In Advance Too
6:26 PM EDT on October 24, 2023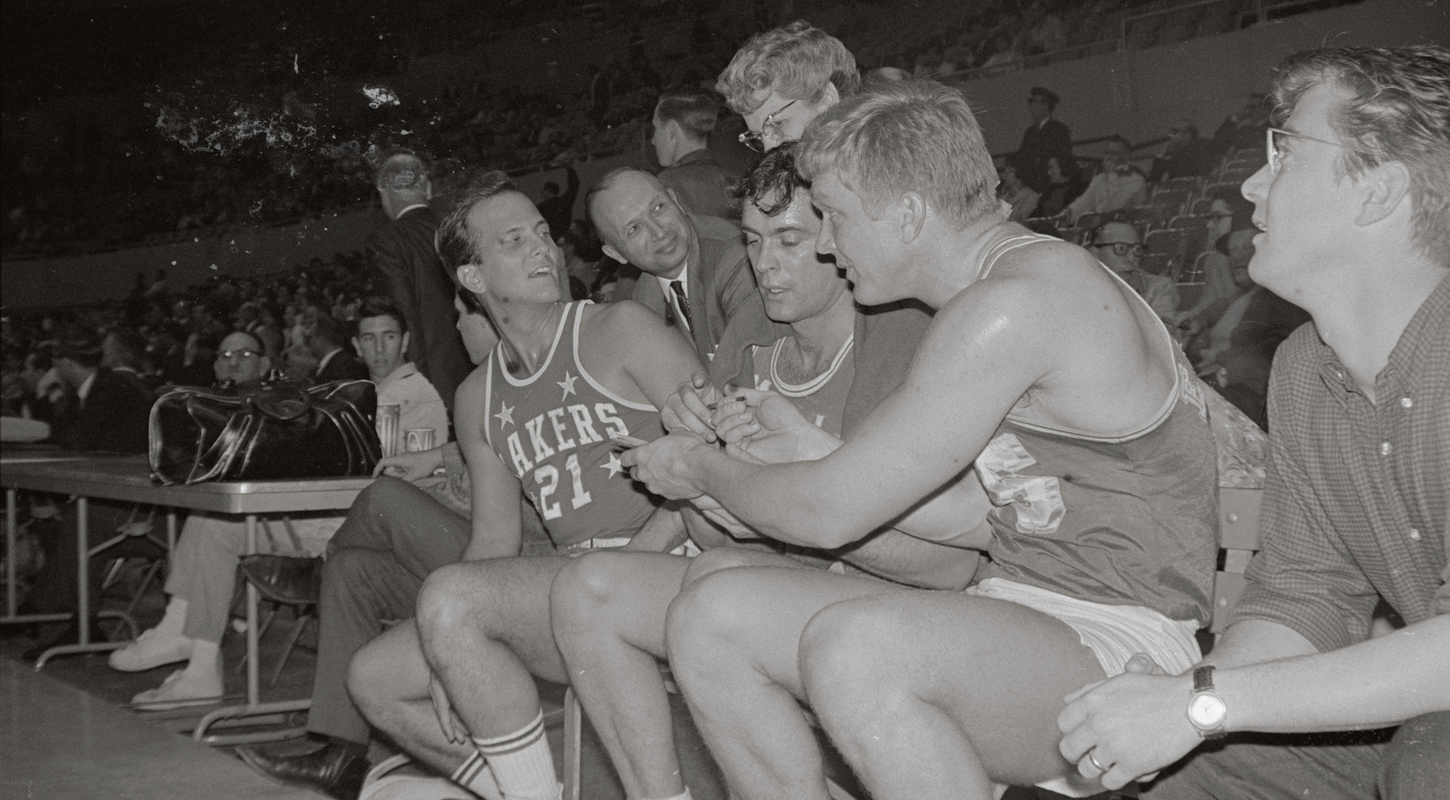 Hey! It's you! The casual basketball enjoyer whose name everybody for sure knows! It's nice to see you again. Welcome to the Defector 2023–24 NBA Season Preview.
We decided to try something different this year: Rather than having one insane dumbass haphazardly throw together an entire season preview in the 10 hours or so immediately prior to the tipoff of the first game, we decided to have 10 or so different insane dumbasses lovingly craft a thorough and thoughtful season preview in the weeks ahead of the games, ensuring that you, the faithful Defector reader, would receive the best and most informative possible blog in exchange for your subscription dollars, which after all are the lifeblood of this website and the means by which its staffers pay for the necessities of life. Reports that "all of us" "dragged our feet" and/or "completely forgot to do this," and that we thus were left "throwing together" this "big-time piece of crap" over "the past hour or so" are utterly false and in fact defamatory! You can expect to hear from our lawyer, unless all of us forget to contact whoever that person might be or assume someone else will do it, if in fact we have a lawyer, which none of us know at the moment!
Below you will find previews for each of the NBA's, uh, 30 (?) teams, containing all of what you'd need to know to ace the NBA Knowledge exam one can only assume is the barrier to graduation at many of our nation's finest universities. And written with charming wit as well! Why even bother watching the games, in fact, when you can just read this fun and entertaining blog, over and over again? That's what they call the "living the life of the mind."
---
Atlanta Hawks
by Chris Thompson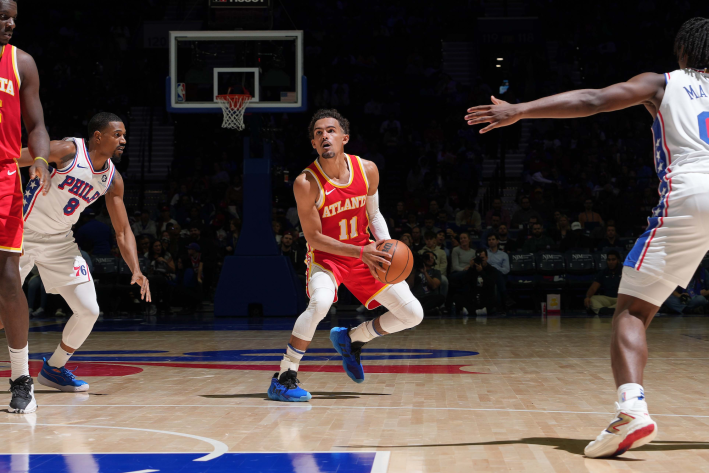 What is their deal?
The Hawks went 41–41 in the 2022–23 regular season and finished tied with the Toronto Raptors for the eighth-best record in the Eastern Conference. By tiebreaker they received the second of four play-in seeds; they beat the Miami Heat on the road to grab the East's seventh seed in the playoffs, and subsequently were bounced in a six-game first-round series by the Boston Celtics. It was a respectable finish to an enormously frustrating year. Here is a bonkers stat, from John Hollinger of The Athletic: The Hawks were never more than two games above or below .500 for the last three months of the season.
It was a second straight season of disappointing mediocrity for this outfit, after the Hawks backslid from a conference finals appearance in 2021 to post a 43–39 record the following season. They can't seem to hit on a happy formula: After firing head coach Nate McMillan 59 games into last season and replacing him with former Jazz head coach and possible Frankenstein heir Quin Snyder, the Hawks have now had three head coaches (plus an interim) in the five full seasons of the Trae Young era.
The Hawks did a whole multiyear Process-lite turning-of-the-soil thing to rebuild after the fall of the Mike Budenholzer regime, and they've got a lot of impressive players and assets and so forth. For a while it looked like they'd set themselves up to be a perennial contender. Now, after two seasons of mediocrity and with pressure mounting, they find themselves teetering perilously on the edge of the Butt Zone.
Who are their guys?
Atlanta's main guy is Trae Young. The waterbug guard can be deeply annoying out there—he preens, he sulks, he hunts fouls and baits refs—but however much you object to his overall deal or any specific part of it you simply cannot deny that he is one of the most effective offensive players in basketball. He's made himself into an unstoppable pick-and-roll operator: He's a threat to pull up from deep, to flip home a floater, to kiss a scoop layup off the very most remote inch of the backboard, or to feel contact anywhere along his path and expertly flop his way to the foul line, and he is also one of the most creative and accurate passers in basketball. It's torture to watch him drag your team's guards into high screens and then Electric Slide his way into the paint, over and over again; I can only imagine how exhausting and humiliating this experience must be for the players actually doing the defending.
Unfortunately, Young is a deeply shitty defensive player, his enthusiasm for the Hawks project seems to wane rather severely, and he's developed a reputation as a coach killer. He's also achieved the kind of stardom where you would not be surprised if he soon considers himself too big for lurking among the Eastern Conference's also-rans in one of the NBA's dipshit markets. He's locked up for a long time but if the Hawks continue to stall out among the play-in dregs you could imagine either side deciding the relationship has run its course.
Atlanta's next most important guy is their head coach. The Hawks hired Quin Snyder 61 games into last season, and their offensive efficiency skyrocketed. Snyder built a great reputation as a tactician during his time running the Jazz, and made some quick-fix adjustments to the antiquated stuff the Hawks had been running under McMillan, to immediate effect. The basketball looked a lot better, but the Hawks still couldn't defend for jack and they still lost more than they won. Snyder of course deserves more than 21 regular-season games and a quick playoff jaunt to implement his stuff.
He'll have to solve the defense. The Hawks have two (2) definitively good defensive players—veteran Clint Capela and frisky youth Onyeka Okongwu—and they share the same position. They'll have to figure out who will take the role and minutes of swingman John Collins, who was finally traded in July to the Jazz. And they'll have to see if any of their promising young wings can develop into a real-deal point-of-attack defender. Making a league-average defense with this crew will take some serious doing.
A screenshot from the classic 1959 horror film House on Haunted Hill that sums up their current vibes: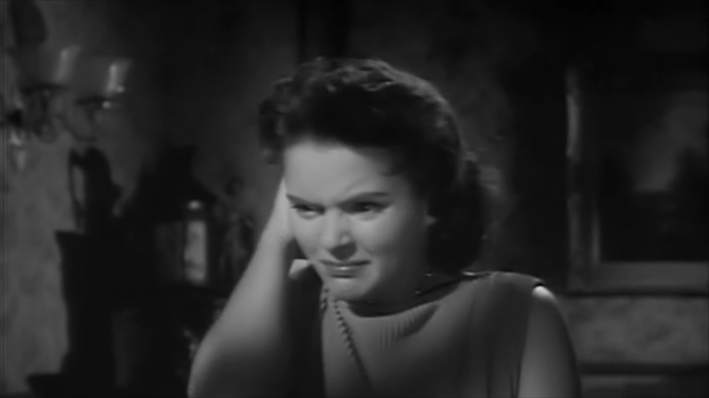 Are they good?
The combination of Snyder's big brain and Young's playmaking dynamism is tantalizing, and I don't think anyone would be especially surprised if Atlanta's offense lights up the league and the Hawks jump up into the East's top six. But given Atlanta's consecutive seasons of mediocrity and Young's tendency to become sullen and discouraged, it's probably a safer bet that they will once again toil around .500 and have to take the play-in route to the playoffs. That would almost certainly lead to a period of major upheaval, if not the total abandonment of the current core.
Are they fun?
The alley-oops are fun. Young is an incredible ball-handler and passer. And he truly launches some bonkers off-the-dribble deep bombs, although he's not quite the kind of logo-range savant for whom these shots could be considered responsible. Snyder will almost certainly excise a lot of the isolating and standing around and clunky mid-range jump-shooting that defined their offense under McMillan, and replace it with pick-and-rolls and more ball- and player-movement. The Hawks have more shooters now—they added Saddiq Bey mid-season and Patty Mills and Wesley Matthews over the summer—so even with Collins in Utah their offense should have more spacing and more pizazz. They could be fun.
Or they could start the season poorly and go into a funk and spend the rest of the year calling players-only meetings every other week. If this season is anything like the last two, the basketball will not be fun for more than a few consecutive minutes at a time.
Playoffs?
Teams now require special permission from the NBA in order to miss the playoffs, so the Hawks have a decent chance.
---
Boston Celtics
by Luis Paez-Pumar
The Boston Celtics blew it last year. Sorry to them, but the Celtics were gifted a return trip to the Finals, thanks to Miami knocking out Milwaukee in the first round, and Boston blew it. Sure, they made it look as good as losing to an 8-seed in the conference finals can look, turning a 3-0 deficit in which they looked like boiled ass into a 3-3 series equalizer via improbable Derrick White putback:
But then Jayson Tatum got hurt at the start of Game 7, the Celtics got blown out of their own building, and Bill Simmons almost cried. It was great, and I'm not just saying that because I'm a Heat fan. It also set up a very active summer for Boston, one that has changed their identity of the last few years in hopes of achieving a higher peak.
There were three crucial moves from the Celtics this summer, and any of the three could be the reason the Celtics finally raise title banner number 18. They could also each be the reason that they blow it again, though. 
Let's start with the most recent move, which is likely to be the most purely successful of the three. Once Milwaukee traded for Damian Lillard, sending Jrue Holiday to Portland, it became only a matter of time before the latter would be traded again. Portland had no need for a veteran of Holiday's stature, and so Boston jumped in and sent Robert Williams and Malcolm Brogdon to the Trail Blazers in exchange for the 33-year-old guard. While losing Williams and Brogdon weakens Boston's depth, Holiday immediately becomes the best option to guard Lillard in the playoffs, should a Bucks-Celtics series materialize at some point. Holiday's playoff struggles on offense are well-documented, but with Tatum and Jaylen Brown around, he should not have to create shots for himself come postseason.
Holiday will be especially necessary on defense, though, because the Celtics did something I never thought they would do earlier in the summer: They traded away Marcus Smart. Though Smart was never as good as Celtics fans believed him to be, he was a stellar defender who could get extremely hot from deep. More than that, he was a pest in every sense of the word, and though the idea of a team having a "heart" is silly, Smart was as close to Boston's heart as possible. Off to Memphis he went, though, in a three-team trade that landed the Celtics … well, Kristaps Porzingis. Oh boy. Though Porzingis was pretty good in Washington last year, he has a history of injuries that would make me very nervous if I needed him to be healthy for my team to have a chance at a title. Though on paper the big Latvian is an upgrade on Smart, and therefore worth the risk, this one could backfire in the most predictable of ways.
However, the most potentially impactful, and potentially damning, move of the Celtics' offseason came in the form Jaylen Brown's record five-year, $304 million contract extension. Boston kind of, sort of had no choice here, but from the outside, it seems pretty bad to give that kind of money to someone who forgets how to dribble with his left hand each postseason. Brown is a very good player who has been miscast as a secondary star with Tatum; though it may be unfair to trash him over one game, the fact that he could not step up with Tatum hobbled in that aforementioned Game 7 tells a story about the type of player he is not. However, Boston couldn't really do anything to improve on Brown, and so he will remain in Celtics green for a long time. For better or worse.
---
Brooklyn Nets
by Giri Nathan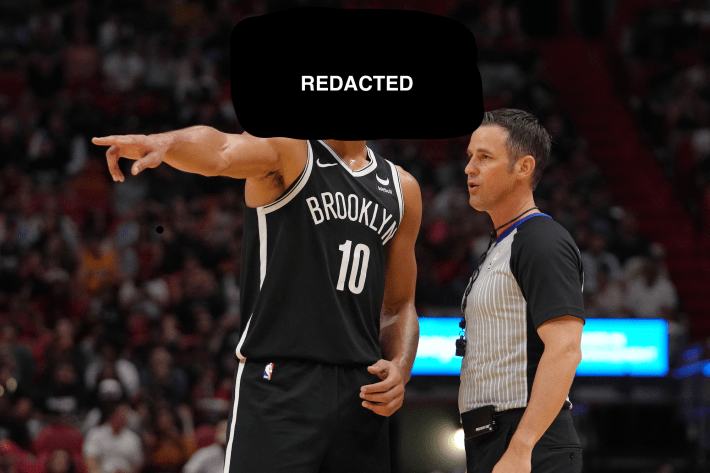 What is their deal?
The Nets are a blank canvas once again. What a tragicomic journey to blankness it has been. In the summer of 2019, a lovable roster of young scamps was torn up to create the Kyrie-KD Nets—and with good reason, because if you can unite two of the most skilled offensive players in the NBA, you do it. Then in 2021 they traded with Houston to create the Kyrie-KD-Harden Nets—and with good reason, because if you can unite three of the most skilled offensive players in the NBA together, you do it. What was lost in this calculus: Those are also three of the biggest babies in the NBA.
For reasons ranging from anti-vaxxing, to hamstring injury, to spiritual malaise, the trio played just 16 games together, including the postseason. Harden decamped for Philly in 2022. KD and Kyrie both fled at the 2023 trade deadline, ending the star experiment for good. Considering the dire circumstances of their unwinding, the Nets did pretty well to stock up for their future, but they are not much of anything at present. It's not worth dwelling on last season's record because it doesn't indicate much about the upcoming season. These Nets are a mishmash of solid players that better teams would make better use of, plus a barrel of nice first-round picks, and also Ben Simmons.
Who are their guys?
Their best player is Ben Si—ouch, ah, I seem to have woken up at a CIA black site. The document placed before me indicates that the Nets' best player is Mikal Bridges. He was once the league's paramount three-and-D wing, but has since transcended that label with a budding off-the-dribble game. Bridges can create some respectable shots for himself, though he's not yet qualified to manage an entire team offense, even if the Nets might frequently beg him to do so. Alongside Bridges are a bevy of good-to-decent wings. Cam Johnson is one of the purest shooters out there and one of the best to listen to on the craft of shooting. Dorian Finney-Smith is a versatile defender who'd be getting real minutes on any contender.
Meanwhile, the spidery Nic Claxton announced himself as one of the best defenders in the league last year, a mobile rim protector who can switch as needed. Alongside him is—ow.
Wait, you were about to say something. Is there anyone else?
It appears that I am being waterboarded. In the din I can discern only vague orders, barked from one man to another, a "Kalaf" and a "Burneko."
Speak freely. Are you sure there's nobody else on the Nets?
Hell yeah buddy it's the Ben Simmons comeback season and it's not like the prior comeback seasons because his back is finally healthy again after that surgery I mean it was supposed to be an 18-month recovery process in the first place and he's moving far more fluidly than he has in years and he's so big and fast and you've all forgotten that rare athlete who at 6-foot-11 can credibly guard any player in the NBA and he's about to submit a DPOY-quality season and he apparently got in the lab this summer to "fix" his jump shot because he's hitting those fadeaway middies in preseason and and yeah he still sort of shoots the ball as though he were an action figure with the arms plugged in backwards but at least he's taking the shots because the old problem was that he was so profoundly psychically broken that he wouldn't take those shots at all in truth the guy wouldn't take any shots he wouldn't even dunk when Trae Young was the only thing separating him from the basket and this devastating cowardice crippled his team's offense because it was effectively four-on-five every trip down the floor but he's still such a gifted slasher and passer that all he has to do is vaguely entertain the notion of putting the ball into the hoop to become workable again on that side of the floor and he's going to surpass that low bar and he's always such a demon in transition and he's going to resolve his issues in the half court—ow.
What?
Nothing.
Are they good?
This will be a lengthy, stubborn, switchable defense that can trot out cool lineups as needed. It could well be one of the best defenses in the league. It's unfortunate that they play a sport that requires them to put the basketball in the hoop from time to time. There's no one qualified to run the show on that end.
Are they fun?
Only to demented heterodox Simmonsians such as myself and Patrick.
Playoffs?
If I speak my mind they'll hurt me again.
---
Charlotte Hornets
by Chris Thompson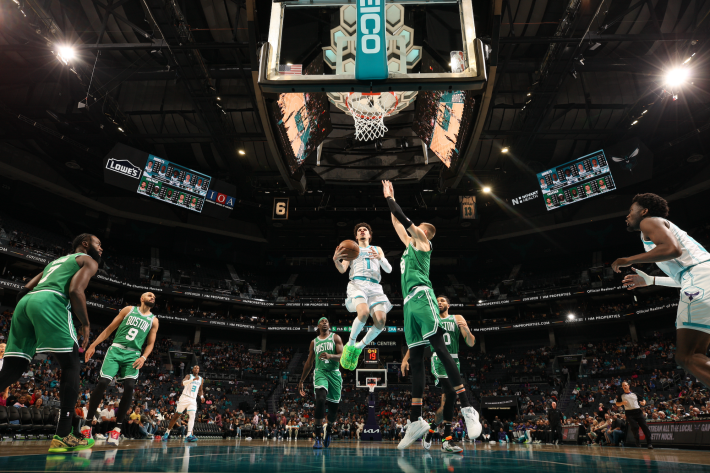 What is their deal?
The Hornets followed a very decent and encouraging 43-win 2021–22 season with a haunted and nightmarish 27-win 2022–23 season. They finished 14th in the Eastern Conference, ahead of only the putrid and rebuilding Detroit Pistons. Their best player by Win Shares—and I truly cannot believe I am typing this—was Mason Plumlee, who played the last 23 games of the season as a member of the Los Angeles Clippers. They may not have been the worst team in the league—they may not even have been the most depressing team in the league—but they were by a long shot the most forgettable. Personally, I have done the Sporcle Big 4 US Sports Teams quiz approximately 4,000 times since the end of last season, and I have remembered the Charlotte Hornets last of all NBA teams approximately 3,998 of those times.
The Hornets badly missed LaMelo Ball, who missed 46 games due to a series of ankle injuries. Without Ball to juice up their transition game and do all the playmaking, and with swingman Miles Bridges indefinitely suspended after being arrested for domestic violence, the Hornets had only the ghost of 32-year-old Gordon Hayward to score the ball—and only 50 games of that dubious resource—and no identity whatsoever, except as a collection of well-meaning bozos. Their roster is thin on reliable professionals and deep in self-destructive goofs. They recently thinned out the latter without really addressing the former: The Hornets finally cut loose online weirdo Kai Jones, for being a weirdo online while also being bad at basketball. For the record, Jones was selected with the 19th pick of the 2021 NBA Draft.
The Hornets have a new owner now, after Michael Jordan sold his majority stake to a couple of business types back in August. Perhaps under a new regime the Hornets will have better luck identifying players who are good at basketball, sturdier than a Balsa Glider, and capable of acting normal, all at the same time.
Who are their guys?
LaMelo Ball is really their only guy. He's very fun and cool, and in his second season as a pro he was the best player on and the centerpiece of a perfectly competent playoff-grade NBA team, even with a whole lot of youthful silliness in his game. If he's healthy again this season the Hornets should be loads better than they were during their lost and tormented 2022–23 season.
The last time Bridges was a part of their rotation he was clearly their second-best player, but he will miss at least the first 22 games of this season due to suspension, and recently turned himself in on an arrest warrant for violating a protective order related to his arrest and subsequent conviction last year on domestic violence charges.
The Hornets are hoping that hotshot rookie Brandon Miller will quickly become a guy, and he's certainly got the pedigree for it. Miller is a solidly built swingman with smooth and well-rounded offensive skills, who at least in theory should be easier to plug into a rotation role than a lot of other rookies. Here I am required to mention that Miller was recently sued for wrongful death by the mother of a woman who was shot and killed in Tuscaloosa in January, with a murder weapon that was allegedly transported to the scene of the shooting via Miller's vehicle.
What I am saying is the Hornets may still only have one guy, and that guy had four (4) ankle injuries last season, the last one a break that required surgery.
A screenshot from the classic 1959 horror film House on Haunted Hill that sums up their current vibes: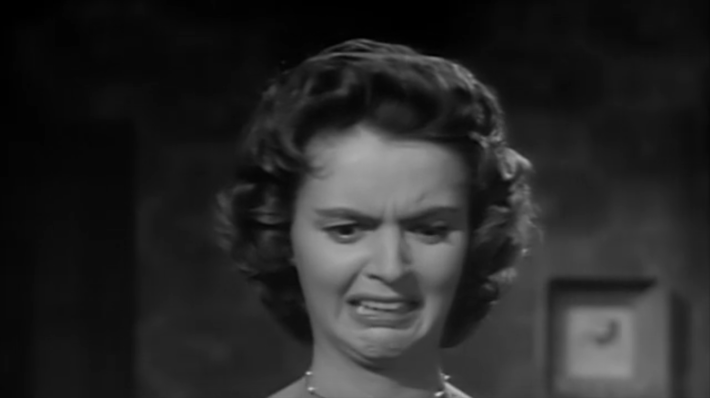 Are they good?
No, they are almost certainly not good. But if LaMelo is healthy and Miller is frisky and second-year center Mark Williams is even a minor upgrade on [snort] Mason Plumlee, they have a good chance of rising out of the realm of shit and into the realm of stable mediocrity. That's not nothing!
Are they fun?
I think so! LaMelo can be so much fun. He attempts stuff that most players would not, especially in transition, and the man never misses a chance to get out in transition. Or, at least, that was true when his ankles were not full of crabmeat.
The Hornets have just one nationally televised game, not counting the two or three slated for NBA TV. Unfortunately, Hornets home broadcasts are blighted by shrieking maniac play-by-play man Eric Collins, whose personal campaign of OH MY GOD inflation should be investigated by the Securities and Exchange Commission as some sort of long-shot pump-and-dump scheme. Throw him in jail!
If LaMelo gets hurt again you can go back to forgetting these clowns exist and struggling through a few moments of confusion at the end of your weekly Sporcle routine.
Playoffs?
Not impossible! They'll let any old mangy worm-riddled tramp of a half-dead stray dog scurry into the playoffs nowadays.
---
Chicago Bulls
by David Roth
What is their deal?
Imagine for a moment that the Chicago Bulls were owned by any other NBA owner. Just make up a rich guy. Skylar Tyler, made his fortune by inventing an application that makes poorer strangers bring you an egg roll, wears a lot of monochromatic $275 T-shirts or wears a lot of those quarter-zip Investor Fleeces or whatever you want. Maybe he is pleasant in conversation, maybe he is not. He grew up in suburban ... well, not Chicago, but anywhere else is about the same here. The important thing is that Skylar Tyler is not Jerry Reinsdorf, which is to say not a grumpy and habit-bound octogenarian whose main passion, at least as it has been expressed through his long decades of owning professional sports teams, is doing exactly what he wants to do and waiting for that to work. Would the Bulls look the same?
In the places that matter, maybe they would look pretty similar. They committed to their veterans and one old-bodied young player in Lonzo Ball, made the sort of moves around the margins that suggested they thought they were close to being very good, and actually were pretty good for much of the season before last. They were worse when Ball got hurt, and powerfully mediocre—the 40-42 record both does and does not nearly sum it up—last year, despite making a somewhat unexpected leap up the ranks of the NBA's better defensive teams. Their good players are pretty good, and moderately long in the tooth; their most important young players, notably Patrick Williams and Coby White, have shown flashes but mostly not gotten much better. Lonzo Ball, whose oblong suite of skills and top-of-the-market unselfishness briefly made all this work, might never play again.
This was true of the Bulls last year, and it is true of the Bulls this year. That Jevon Carter and Andre Drummond and Torrey Craig are now a part of the mix feels less intentional than inevitable, and part of the Reinsdorf difference. They found something that worked, and then it stopped working, and then they just sort of started waiting for it to start working again. They are still waiting.
Who are their guys?
While Lonzo, or the empty space chilled by his affectless ghost, seems more and more like The Pivotal Guy as his absence irises out infinitely, the other Guys are more or less the same as they've been. Zach LaVine will average around 25 points per game and do some cool stuff, and fans outside of Metro Chicago will forget that he exists entirely for weeks on end. DeMar DeRozan was an All-Star for a second straight season and remained as crafty and idiosyncratic and effective at 33 as he was at 32; he's 34, now, as attentive readers will have surmised, and hasn't really declined in any way you'd notice. Nikola Vucevic remains Nikola Vucevic; he's 33. All pretty good players; all, through no real fault of their own, trapped beneath the dense fog of this organization's weird patience or weirder passivity.
Are they good?
"If you look at all of us together, we've been good in some close games," Coach Billy Donovan told The Athletic earlier this month. "We've been not so good in close games. We've been poor on defense. We've been really good on defense. You can almost take any kind of scenario and say, 'At a certain point in time they were good at that.'" That's the Bulls!
Are they fun?
Well what is fun to you? Do you ever sit in an H&R Block around tax season and just watch the people that work there do their thing and sometimes hit up the Keurig in the back? If so, then maybe the answer here is yes!
Playoffs?
Absolutely the team that the First Four play-in tournament was made for. Obviously this is a symptom of bigger disorders but if you looked at the decisions that the Bulls have made in the last few years, the logical takeaway would be, "They are trying to get the seventh seed, by winning some games in that play-in bit." So if that's Playoffs, then I guess sure.
---
Cleveland Cavaliers
by Ray Ratto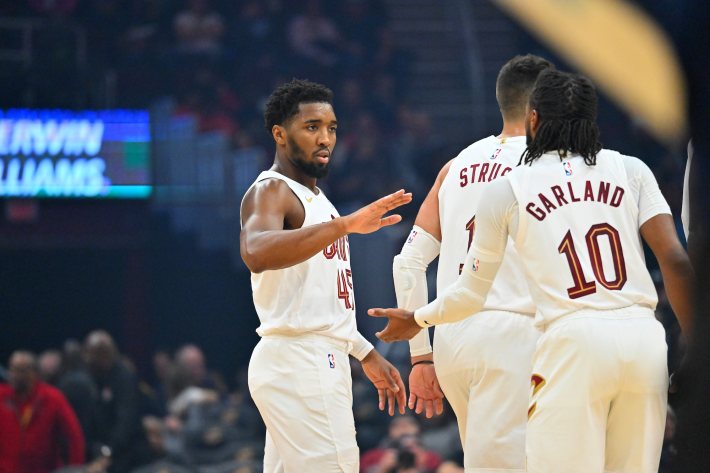 What is their deal?
Good question. On the one hand, they won 50 games last year and are likely to win 50 games again. On the other hand, when everyone was looking (the playoffs), they won one. Worse, they lost to the Knicks, which makes their failure more visible and therefore more galling. Hell, we nearly forgot about them ourselves, but that's probably because Comrade Kuhn, who lives in Columbus and therefore is closest geographically, said he'd rather not because eeeeuuuuwwww it's Cleveland.
There is no compelling reason to think the Cavs will be made significantly better with Max Strus and Georges Niang as their new additions, and they aggressively rejected the notion of the three-point attempt, which unless you have either Nikola Jokic or LeBron James is a limiting strategy. They were content to try to win 112-107, which is the most generic score in the modern game, and their disappearance in April was neither much noted nor long remembered. They aren't as dynamic as Milwaukee, as historically trenchant as Boston or as weirdly contrarian as Miami, so they'd better come up with a gimmick, fast.
Who are their guys?
Donovan Mitchell became their designated Guy last year, and Darius Garland and Evan Mobley form a coherent nucleus. After that the Cavs are a bit threadbare, hence their need for Niang and Strus to be weighty contributors; they are also wishing Ricky Rubio a swift recovery from the physical, mental and age issues that have caused him to step away from the game, (a) because they're all swell folks who care about the employees and (b) because they need a reliable playmaker. They really could stand more of a presence from behind the arc because as currently constructed, they're the Bulls with less of a depressing vibe, which is still kind of depressing.
Are they good?
Now that we all accept the fact that the regular season is a cheap imitation of what people come to watch, good is kind of a relative thing. The Cavs needed to beat the Knicks in the first round to be taken seriously by the hoopotropic cognoscenti, but lost the last three games by 20, nine and 11 while shooting 29 percent from three (26 for 89). That's 1980s just-merged-with-the-ABA level accuracy, and it also serves as the answer du jour for Are They Fun? Point is, they can't really be that team and be taken seriously over the longer haul—like, say, the conference semifinals.
Are they fun?
Do you like defense? Do you really? Honest and truly? OK then. Fine. They're fun. But if fun comes with expectations, maybe not so much. Their ability to stop the opponent was neutralized by the opponents' ability to stop them, so their toughmindedness only makes for so much telegenic basketball. They're good at the thing fans usually find tedious, which is why effective counterpunchers are still viewed as counterpunchers. I mean, they do what Miami does, only not for as long or as effectively.
Playoffs?
Yep, but look fast. They're likely a year away from being a year away. But at least they're not the Knicks, Hawks, or Bulls.
---
Dallas Mavericks
by Patrick Redford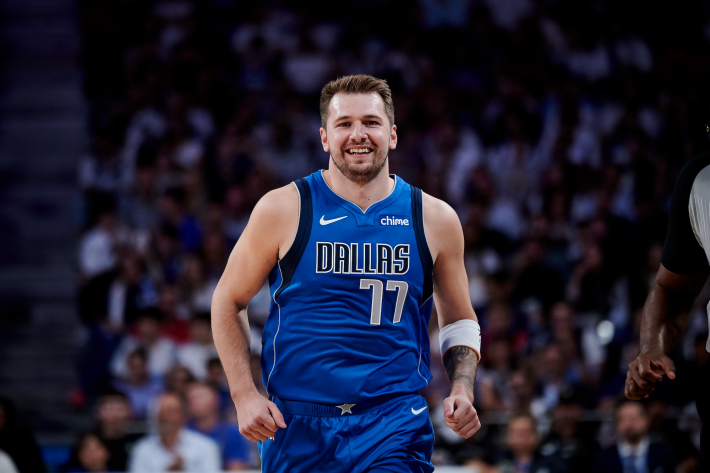 What is their deal?
Fresh off an appearance in the Western Conference Finals two seasons ago, the Mavericks seemed like they would soon become permanent fixtures among the conference's elite. Luka Doncic would be a perennial MVP candidate and the team's nails-tough defense would carry them in stretches when the shooters went dry. Doncic was such an obvious, singular player that team-building seemed a simple task: Get guys who were comfortable in orbit and let the Slovenian cook. An epochal shitkicking of the defending conference champion Suns in 2022 felt like confirmation. Instead they finished 11th, learning only after the fact how mission-critical Jalen Brunson was to their success and watching as their defense, composed largely of the same players, finished 7.3 points per 100 possessions worse.
Viewed through the narrowest angle, the Kyrie Irving trade and subsequent extension make sense for a team that likes to play with two unkillable ballhandlers, and Irving and Doncic truly were electric in their limited action last year. The problem is they're now relying on one of the most notably unreliable stars in the league, though at least they've built what seems like a coherent roster around them. Grant Williams will capably run around and do stuff, and fellow new additions Derrick Jones Jr. and Richaun Holmes (finally free to set picks and catch lobs instead of having to pass the ball in Mike Brown's big-man hub system) make an equal amount of sense. I have always liked Dante Exum, who seems to have learned how to shoot since his last lark in the NBA, and I have liked Olivier Maxence-Prosper since I heard about him this spring. Derrick Lively seems not to be a misnomer.
But how many of those guys are no-shit playoff minute–worthy? Probably just Williams, for now anyway, which is scary in the short term but represents what I think is smart roster building. This team needed a shake-up, and they're inarguably younger and more athletic now.
Who are their guys?
This is the most one-guy-centric team in the league, and for as skilled as Irving is on the ball, simply letting Doncic cook one-on-one will almost always get you a good shot. The two didn't spend quite as much of their time gawking as the other did real hooper stuff, though they're not quite fuly integrated. That makes sense! Irving arrived in February with uh, uhhh, uhhhhhh baggage. Given more time together, one hopes for some real fireworks; does Jason Kidd have League Pass, and has he seen what the Thunder have done with small-small pick-and-rolls?
I will always believe in Maxi Kleber, who is healthy now, and Josh Green, who has the seemingly prototypical Australian trait of being great at everything except shooting. Jaden Hardy is here to dribble for 14 seconds and take shots that would make Lou Williams blush, though as anachronistic as his game can feel at his worst, he also shoots 40 percent from three and will provide the Mavs with precious juice.
Are they good?
They're like medium-good.
Are they fun?
Not really, not to me! Doncic should be more fun to watch in the regular season, where he'll have the luxury of not being schemed against as hard as he is in the playoffs, yet there's something brutal and slow about his brand of heliocentricity. The Mavericks were 28th in pace last year, and their typical offensive set is either Doncic going one-on-one from the jump, or them running something to get him one-on-one with an advantage. I'm over it, man.
Playoffs?
Play-in.
---
Denver Nuggets
by Tom Ley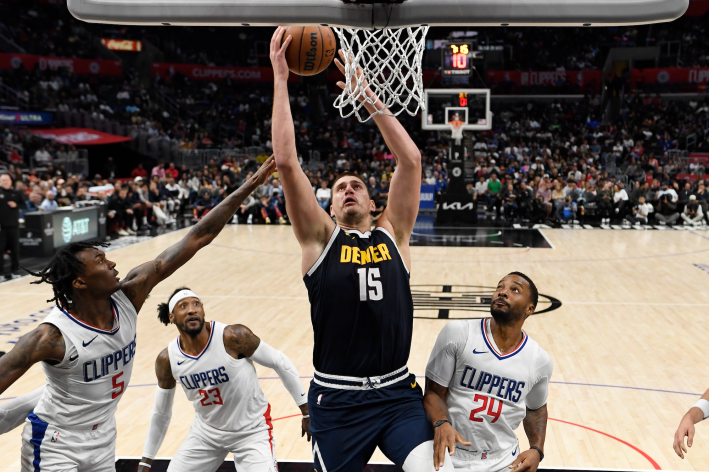 Hullo! I assume you have stumbled into my parlor, located inside my beautiful kingly estate, because you seek information about the Denver Nuggets' upcoming campaign. Well met, friend! Please, please, pull up a chair. We'll have brandy by the fire while we wait for dinner service in the banquet hall. We shall eat well tonight, my good lad. As we always do! 
Forgive my burst of revelry. They are hard to contain these days! But yes, I will inform you of what to expect from the Denver Nuggets this season. Clearly one as whip-smart as yourself doesn't need me to tell you that the reigning NBA champions, who still employ Nikola Jokic, the best basketball player on the planet, will be good this year. What you want to know, and I can see it in the glint behind your mischievous eye, is if the Nuggets shall repeat as champions. You've come to my grand hall to ask me if the Nuggets are on the cusp of becoming the NBA's next dynasty. Tut tut!
I will entertain your question, but only briefly. It is indeed true that the Nuggets are set up to make another run to the Finals. Their entire starting five from last season remains intact, and their most important players are still enjoying the primes of their careers. They lost two key rotation players from last season in Bruce Brown and Jeff Green, and will head into this season depending on the likes of Christian Braun and Peyton Watson to soak up those available minutes. Just how easily the Nuggets remain in championship form will depend quite a bit on how capably Braun and Watson can reproduce everything Brown and Green offered last season. Brown's absence will hurt much, much more than Green's. By the end of last season, Brown had become one of Denver's best shooters, best defenders, best rebounders, and the team's most reliable playmaker off the bench. Braun, by contrast, is a guy who just kind of runs around all crazy.
But enough prognostication! We do not come to this hall to fret about things like "wins" and "losses" and "championship windows." We come here to sit and to sup the pleasures only a post-championship season can offer. Do you know how I spent my summer, little lad? I spent it right here in this chair you see before you, blissfully unaware of various offseason developments across the league, thinking only of lobs dunked home by Aaron Gordon and the beautiful engineering that animates Nikola Jokic and Jamal Murray's elegant two-man game. Why come to a place such as this with the words "concerns about backcourt depth" on your lips? Put such trifles aside, friend! Think only of how much fun it is to watch the Denver Nuggets play basketball, and how much more fun it will be to watch them do it this year, with all the pressure that comes from chasing a championship removed from their shoulders. Heavens, I hear the dinner bell ringing! Come come, my boy! There is much pleasure ahead of us this night, and all the nights to follow! Hup hup!
---
Detroit Pistons
by Maitreyi Anantharaman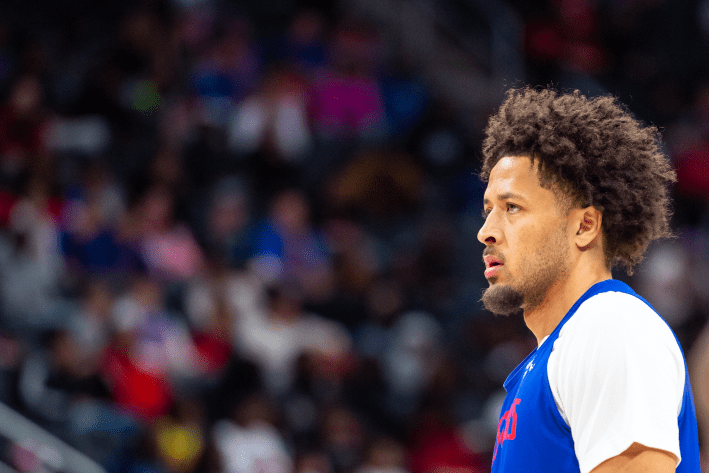 Sorry, I put this off too long and don't have time to write a full blurb. Here's me and Marvin Bagley.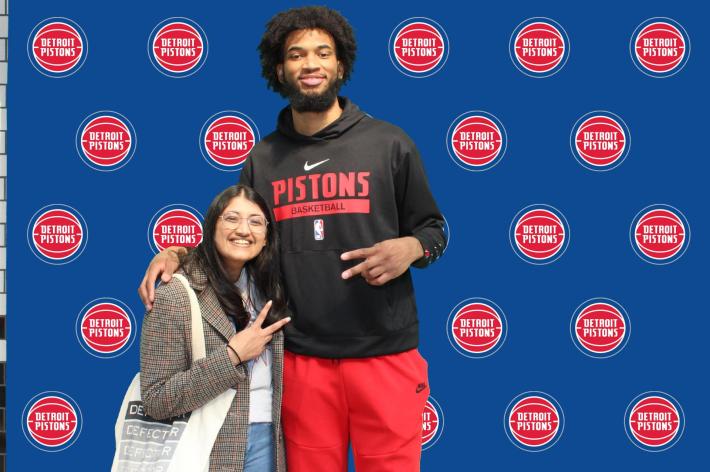 Maybe that works as a metaphor for the team or something? Sorry, again. Guys: Bagley is one and Cade and Jalen Duren and Ausar are a few of the others. Good: No. Playoffs: No.
---
Golden State Warriors
by Ray Ratto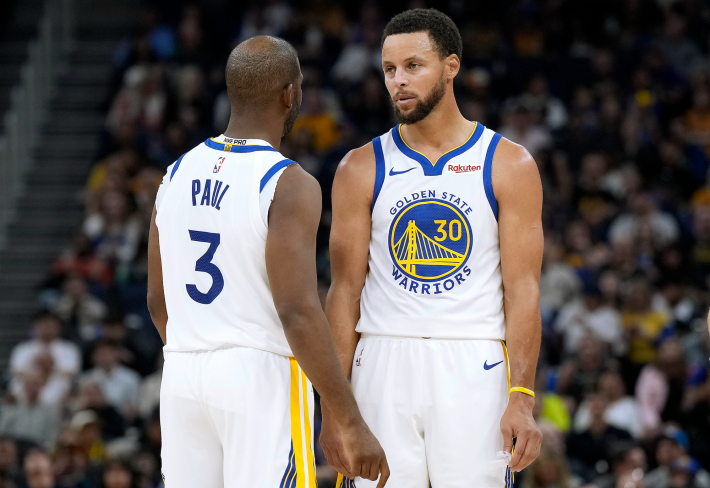 What is their deal?
They tried youth, found it too young, and decided instead to double down on oldth. People scratched their scabrous heads at the Chris Paul deal, but Paul was the required takeback for excising the problematic fit that was Jordan Poole. The signings of Rodney McGruder, Cory Joseph, Rudy Gay and Dario Saric (who looks like he plays with an unfiltered cigarette hanging from his lower lip) make it clear that the two-tier rebuild-ahead-of-the-rebuild plan was a modified failure. Impatience is never a virtue, even when it presumes patience, and the Warriors' desire to make 2027 happen four years early is an error that they are now willing to not only admit but reverse for the sake of the real goal—making sure that Stephen Curry's age-35, -36, and -37 years are as rewarding as possible.
Who are their guys?
You haven't been paying attention for the last decade, have you? Curry, Klay Thompson, Draymond Green, Andrew Wiggins and ... er, uhh, Jonathan Kuminga? Yes, Kuminga had a preseason that seems to allow Steve Kerr to play bigger in the face of teams like Denver and the Los Angeles Lakers, and puts Kevon Looney in what might be a better fit for the team, as the undersized honest guy who almost never makes the wrong play when the right play is required. The rest of the core is as it has been since the Warriors fell into Wiggins four years ago, and more importantly since they traded Monta Ellis to make room for Curry 12 years ago, and this is the core they will eventually die with because their hurry to look past this era was an error.
Are they good?
You haven't been paying attention for the last decade, have you?
Are they fun?
You haven't been paying attention for the last decade, have you?
Playoffs?
You haven't been paying attention for the last decade, have you?
---
Houston Rockets
by Patrick Redford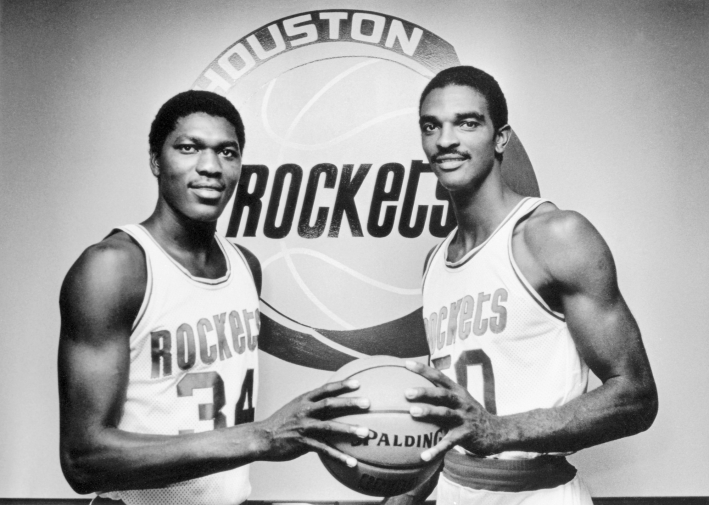 What is their deal?
Their collection of dead-eyed zoomers played some gross anti-basketball last year and now they have to show something. The Rockets were this summer's big spenders, bringing in Ime Udoka to coach, signing Fred VanVleet to make the team more normal, and also signing Dillon Brooks to balance that out and make it less normal. The adults are in the room because Houston owes its first-round draft pick to Oklahoma City next summer, so the time for running around and being silly for the sake of draft positioning is over.
Who are their guys?
It is probably time for Jalen Green to start feeling some pressure. The hyper-athletic guard can certainly score, though I don't think he's shown nearly enough as a playmaker or floor-spacer (to say nothing of his defense) to make me feel comfortable building a team around him. His dynamism is inarguable, and the operating theory of this team is that Green can grow into his game if the floor is spaced a bit better and other guys on the court can dribble. Rookie Amen Thompson is extremely intriguing in this regard, and the hypothetically fully realized version of a Green-Thompson-Jabari Smith core makes a ton of sense. Smith started slow last season but really popped in the spring. Alperen Sengun's weird-ass movement style and glacial footedness (he makes Domantas Sabonis look like Bam Adebayo) will hold him back, but for a team that likes its guys to stand there and dribble, his passing genius is crucial.
Are they good?
They will try, and probably fail, to be good for the first time in a while.
Are they fun?
Not to me, no, though I like Sengun and I'll be intrigued to see what Thompson looks like after only ever playing high schoolers.
Playoffs?
They're going to finish like 13th.
---
Indiana Pacers
by Albert Burneko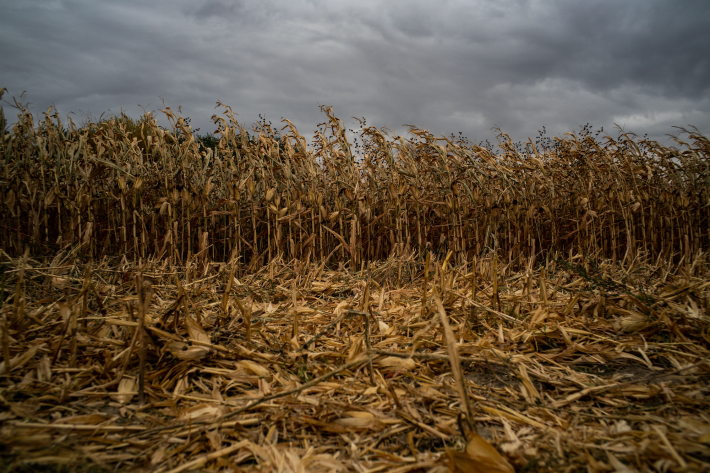 I had to look up everything I now know about the 2023–24 Indiana Pacers, other than the fact that they exist and have Myles Turner. This is a critique—a devastating one!—of them, and not of me.
---
Los Angeles Clippers
by Luis Paez-Pumar
The Los Angeles Clippers are, at present, with the season opener imminent, in a holding pattern. That's not really a place any team wants to be heading into a season, but here we are. James Harden wants out of Philadelphia, due to his simmering feud with Sixers GM Daryl Morey, and his thoroughly reported desire is to play for the Clippers. So far there has been no real movement on a trade, but it's likely to happen before long. Adding Harden would give the Clippers three stars with immense flaws, which is fun to watch if not necessarily to root for. Kawhi Leonard and Paul George are, in theory, great players, but they are injured more often than not, while Harden has always been plagued with disinterest when a situation turns sour. (See, uh, his current predicament in Philly.)
Even if the Clippers don't add Harden, though, there is still reason for optimism in Los Angeles. It's the same optimism that the Clippers have had since Leonard and George joined: If only they can stay healthy, this is a very good team. Is it foolish to rely on that for a fifth season in a row? Maybe, and that's why the possibility of adding Harden is so appealing. It's easier to play without any given star when you have two others.
If the trade doesn't happen, though, then we know what the Clippers are. They're going to rely on George and Leonard, along with role players like Ivica Zubac, Terance Mann, and Russell Westbrook, who is here and is still Russell Westbrook. A title and a first-round exit seem roughly equally plausible. The only real difference this season is the feeling that it might represent the end of the road. Both George and Leonard are in the last year of their respective deals, and it feels to me like if they are ever going to put it together, it has to be now. 
Perhaps that's why there's anxiety around a Harden trade. If the Clippers can't land the bearded one, then it will be back to the same story of the last half-decade. Will it end with something more than one single conference finals appearance and a lot of time on the bench for its star duo? If the answer turns out to be no, then the Clippers will likely look very different next season.
---
Los Angeles Lakers
by Tom Ley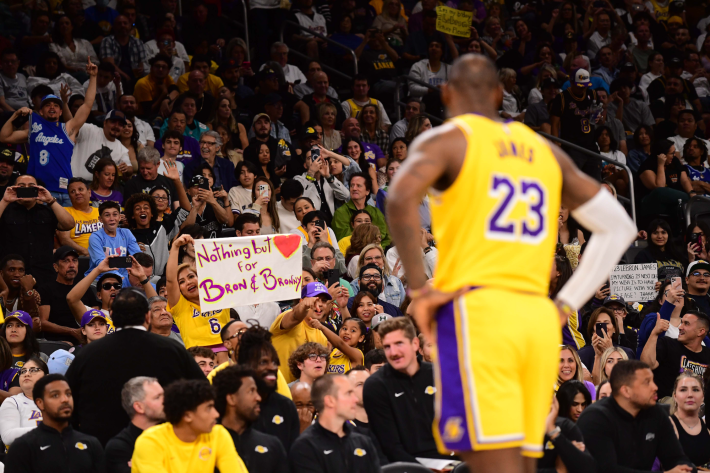 What is their deal?
The Lakers' deal is that they are sour old losers who spent the entire summer trying to manufacture a beef with the Denver Nuggets, who swept them out of the Western Conference Finals last season. These guys kept getting in front of cameras and being like, Believe me, we see what's being said about us by certain guys around the league, and we're keeping receipts, all while Nikola Jokic was busy petting horses and getting drunk in Serbia. Pathetic!
Who are their guys?
The two main guys in Los Angeles are once again LeBron James and Anthony Davis. Do you really need me to explain these guys' deals to you? Fine. James is 38 years old, has played something like one billion minutes of professional basketball, gets hurt a lot more than he used to, but is still one of the most complete and very best players in the league when he's on the floor and feeling strong. Davis is 30 years old, is still one of the best two-way big men in the league, and will inevitably miss at least 30 games this year after falling down weird.
There are more interesting or at least newer guys further down the roster, which was remade on the fly last season to remarkable effect. This time last year, the Lakers had Russell Westbrook, Patrick Beverley, and Juan Toscano-Anderson in their stable of guys. That went about as well as you might have expected, and through the first half of the season the Lakers were a huge (and hilarious) disaster. But they got busy wheeling and dealing at the trade deadline, and came out of it with useful players like Rui Hachimura, D'Angelo Russell, Jarred Vanderbilt, and (since-departed) Malik Beasley occupying the rotation spots that once belonged to those stinky bozos. The Lakers looked like one of the best teams in the Western Conference throughout the second half and made it from the play-in game all the way to the conference finals—where, let me say again, they got swept by the Nuggets.
The Lakers owed a good deal of their second-half success to the emergence of Austin Reaves, who signed a four-year extension in the offseason and now has total ownership over the starting shooting guard spot. Reaves is good, and the Lakers are a much better team with him on the floor, but he's also exactly the type of player (white, kind of rude) that feels explicitly designed to appeal to a certain type of basketball fan. Every time Bill Simmons got near his podcast mic this summer, he couldn't help but speak about what an injustice it was that the Spurs didn't snatch Reaves away from the Lakers with a max contract offer, or something. I swear to God I heard this man compare Reaves to Manu Ginobili last week. For that reason alone, am I secretly hoping that Reaves flops this season? Maybe!
Are they good?
They should be good, yes. The Lakers managed to win 43 games last season despite James and Davis each missing more than 20 games, and despite having Westbrook in the rotation for half the season. The Lakers' fate will always ultimately be decided by how long James and Davis can stay on the floor together, but they should be better equipped to weather spells without one or both of them this year. There are just a lot more competent basketball players with identifiable basketball skills on this roster than there were last October, which should allow the Lakers to, at the very least, get themselves into the playoffs without having to survive another play-in game. 
Are they fun?
Honestly ... no. James is one of the most spectacular athletes that basketball or any other sport has ever seen, but he's just too damn old to spend more than a few minutes each game doing vintage LeBron James stuff. He has to float in and out of games in order to conserve his energy, which leaves a lot of time for guys like Russell, Reaves, and Davis to drive the action. None of those guys do things that I would necessarily describe as "fun" or "cool." The Lakers are going to win a lot of games this year thanks to their ability to overpower teams with size and physicality, and to Reaves continuing to be one of the better foul-hunters in the game. Lakers games are going to feature a lot of methodical possessions, free throws, battles for rebounds, and defensive solidity. Yuck!
Playoffs?
Yeah.
---
Memphis Grizzlies
by Patrick Redford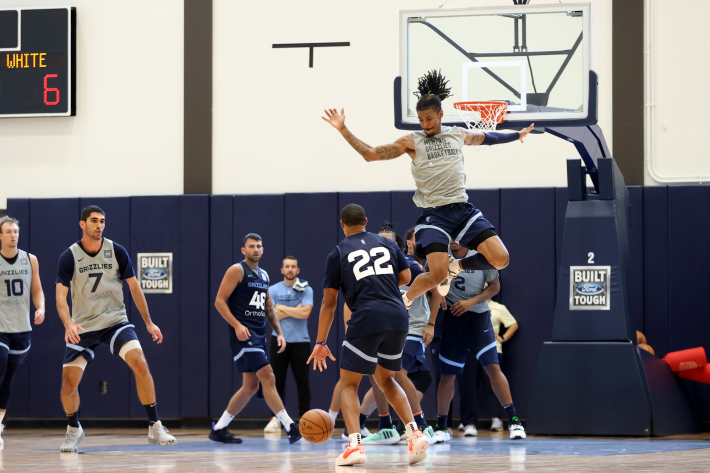 What is their deal?
Heading into last year, Memphis was the envy of the league. Everyone loves the Grizzlies, the charming ne'er-do-wells who puff their chests out and fight you and snarl and growl and steadfastly refuse to adhere to the tenets of modern five-out basketball! Ja Morant is the most marketable, exciting young superstar in the league, and this young core has a chance to do something special! They just keep finding meaningful contributors at the back of the draft, and they have a bunch of extra picks!
Though they finished second in the West last year, it's been a brutal return to Earth for the Grizzlies. Morant cannot stop getting himself into trouble, mostly though not exclusively for playing with guns on Instagram live; the team was comfortably stomped out of the playoffs and humiliated in the process; and the all-action front line that allowed them to play such an odd style is now severely hobbled. News broke Sunday that Steven Adams, the best offensive rebounder in the league, will miss the entire season following knee surgery. Brandon Clarke's Achilles tear means that the Grizzlies will go to battle with a front-line rotation of Santi Aldama, Xavier Tillman, and Kenneth Lofton, who is super fun but is also 6-foot-6. Morant is suspended for the first 25 games of the season, and while the Grizz have found success without their superstar in recent years, that was in large part due to Tyus Jones, who is now a Washington Wizard.
Who are their guys?
Absent Morant, Desmond Bane and Jaren Jackson Jr. will have to carry the team. I don't like framing a player as under- or overrated, since determining how a player is rated in the first place, and by whom, is impossible, so I will simply say that Bane seems under-discussed as a second star. He was the Grizzlies' best player in the six-game series against the Lakers last year, and while his shooting is his best and most important skill he's got more sauce off the bounce than you might think. He will be joined by Marcus Smart in the backcourt, and I'm very excited to see one of the league's most infamously pugnacious defenders join the league's most infamously pugnacious team.
Jackson Jr. might have to play more center this year than he's comfortable with. The team wasn't quite as good with him at the five, and though he's the reigning defensive player of the year and he blocked three shots a game last year, his weakness is foul trouble and he'll be in clobbering position. Luke Kennard is here, until he pisses off Taylor Jenkins.
Are they good?
They are still good as hell.
Are they fun?
They are still fun as hell.
Playoffs?
Every year the Grizzlies are a weirdly popular pick to fall off, since they're still so young and their style cuts against the grain.
---
Miami Heat
by Luis Paez-Pumar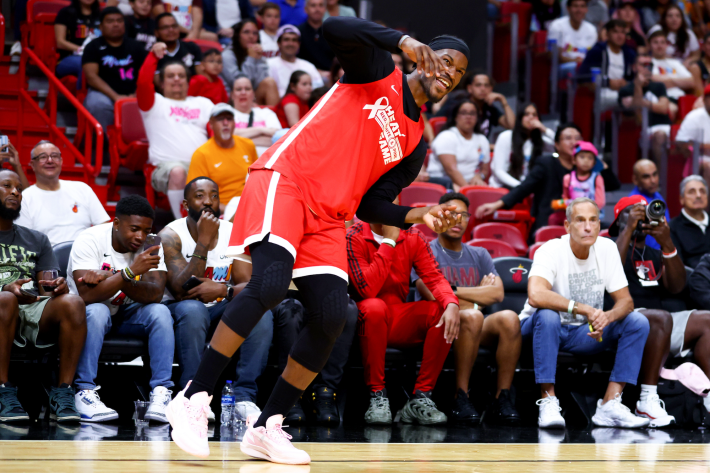 After blitzing through the Eastern Conference playoffs as a nominal eight-seed last season, the Miami Heat got rolled off the court in the finals by the Denver Nuggets in five games, as the eventual champs used their size advantage and Miami's exhausted playmaking to breeze to a franchise-first title. Though Miami's role players ascended to new levels during the Eastern Conference Finals against Boston, they couldn't keep the star-level play up against Denver, and Miami didn't have much to rely on if Caleb Martin, Max Strus, and Gabe Vincent stopped hitting what felt like every shot. 
The Heat have been the most consistently successful team in the league this decade, but have failed to win a title in that time, in part due to needing, and not having, more help for Jimmy Butler in playoff crunch time. That's why Pat Riley and company came into the offseason with the singleminded focus on acquiring Damian Lillard from Portland. And by god, they did it. [Aide starts whispering in my earpiece, with notes of panic in their voice. I ignore them.] 
Though losing Tyler Herro, Jaime Jaquez Jr., and Nikola Jovic strips the Heat of a pretty decent future, this is a franchise that will always choose to win now; none of that trio was a part of the Finals run last season anyway. In trading for Lillard, Miami now has the best trio of stars in the Eastern Conference, and those stars fit together pretty flawlessly. [Aide is now shouting in my earpiece. I am getting a headache. My nose starts bleeding.] 
While Miami may struggle with regular season depth, adding a great shot-creator and shot-maker in Lillard should allow Butler and Bam Adebayo to flourish come playoff time, with the former no longer tasked with producing 50+ points and the latter able to focus on finishing easy looks and making life hell for opponents on the other end of the court. Lillard might be old and expensive, but this was a risk Miami had to take, and with him in the mix the Heat should be the favorites to return to the Finals from the Eastern Conference. [Aide has now barged into the room and is trying to physically restrain me from typing more. I finally stop and listen to what they have to say, ready to ridicule them for daring to distract me with what is likely irrelevant information.]
Wait, Lillard went WHERE???
---
Milwaukee Bucks
by Ray Ratto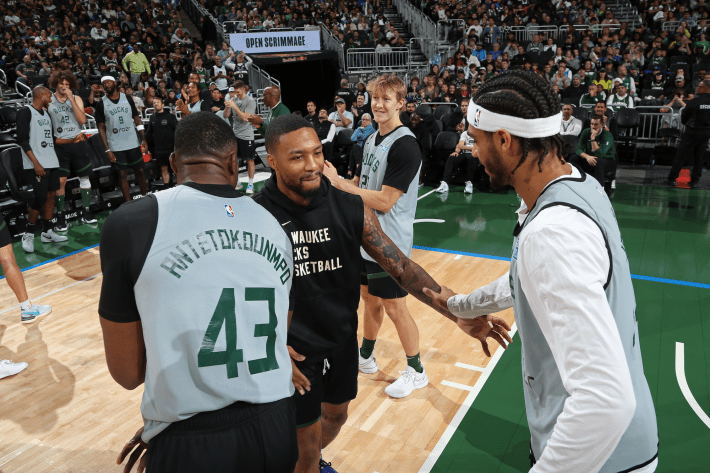 What is their deal?
Giannis Antetokounmpo wanted a greater sense of purpose around him, so general manager Jon Horst all-inned with Damian Lillard and replaced the competent but hidebound Mike Budenholzer with Adrian Griffin, addressing (if not definitively fixing) the biggest crisis the Bucks have faced since winning the title two years ago. Antetokounmpo will find the requisite benefits of all those additional ball screens he will have to set for Lillard, because he will be free to hurt opponents' feelings even more in his myriad ways—but mostly he will find that player empowerment works in mysterious ways. The Bucks got Lillard because Antetokounmpo wanted this team to be different, and they got Lillard because Lillard couldn't wish his way to Miami. They still have Khris Middleton, Antetokounmpo's best adjutant, and Bobby Portis, who can still light a highway flare with a single glance, but mostly they acknowledged that they go as far as Antetokounmpo takes them and he goes as far as the help takes him.
Who are their guys?
Beyond the above four, the Bucks have an array of spot-up shooters (Malik Beasley, Pat Connaughton, Brook Lopez, and Jae Crowder), and if Lillard starts to hear his legs barking at him as 33-year-olds often do, Cameron Payne is a quality distributor. So that's nine useful contributors on a team that has two discernible superstars, one at the zenith of his game, and a new coach in Griffin who gives every indication of wanting greater energy and less conservatism. He already established a level of firmness when assistant coach Terry Stotts quit in preseason, and seems like a new coach who has learned the lessons old coaches try to teach—namely, how to be in charge when being in charge matters.
Are they good?
Well, let's put it this way. Who's better? Assuming health, the Bucks are deeper than Boston, their chief rivals; they are more experienced at top-level play than every team save perhaps Golden State (and that assumes Chris Paul will be helpful); and they seem to have a unity of purpose that other teams don't have. Giannis was made happy, or at least happier, and barring the bad luck of disobedient ligaments, they have the feel of 60 wins. Whatever that feels like.
Are they fun?
Giannis. Dame. Brook Lopez. How much fun do you want, you greedy slobs?
Playoffs?
Yes, all of them. The NBA, NHL, Men's and Women's Final Fours, and the Champions Leagues.
---
Minnesota Timberwolves
by Justin Ellis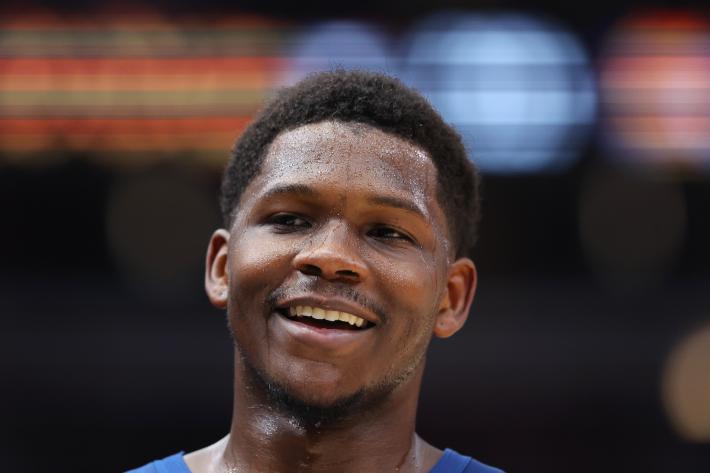 There is only one name that can sum up the state of the Minnesota Timberwolves, one athlete who has been the talk of the league and whose rise at a relatively young age has opposing defenders shook. Let's face it, there's no bigger news out of Wolves camp right now than the signing of former Philadelphia 76ers guard Shake Milton to a two-year deal at $10 million. For a Wolves team returning the core of a roster that got rocketed to a first-round exit in last year's playoffs courtesy of the Denver Nuggets, Milton will be a difference-maker. I think that about sums up any and all conversations about the Minnesota Timberwolves roster and the NBA champion Nuggets. Right?
OK, sure, Rudy Gobert was so shattered by the experience of his first season with the Wolves and the loss to Denver that he pulled an Aaron Rodgers and went into a "darkness retreat." There was also that moment over the summer when Karl-Anthony Towns went on Pat Beverley's podcast—somehow only the second most fraught sports podcast hosted by a dude named Pat—where he claimed that Minnesota's 2022 playoff run, including a dicey play-in game and eventual first round loss to the Grizzlies, was actually more significant than Denver's 2023 title win.
If Towns was looking to dispel any notions that he is an unserious or just plain goofy professional basketball player, he did not help himself. That this appearance on League Pass Uncle Ruckus's podcast came after Towns moped his way through the Wolves 112-109 Game 5 elimination to the Nuggets suggests a kind of break from reality that more often results in wellness checks than in titles.
That being said, the Wolves may in fact have a burly and nasty team in the 2023–24 season, and it may be a new-look team with a bunch of the same guys. As constructed last season, with the seemingly odd, and pricey, addition of Gobert, the Wolves never really got a chance to play together. Towns missed 52 games because of a mysterious calf injury, meaning he and Gobert never got a chance to work out the whole "turbo team" dynamic without clogging up the middle of the floor. Mike Conley provided a confident and steady presence at point guard, but he only showed up in February as part of the D'Angelo Russell trade. Naz Reid, who was coming into his own after switching into the 4 spot, missed the end of the year and the playoffs with a broken wrist. Jaden McDaniels was turning into a long range threat—he shot 40 percent from behind the three-point line—and solid defender, up until the night where he lost a fight to a wall at the Target Center and sat out the playoffs. 
Given all that, the fact this team made it into the playoffs for the second season in a row, albeit through the play-in window, is a sign the Wolves could (maybe) finally be a team on the rise in a declining but still dangerous Western Conference. If they can stay healthy, and avoid taking swings at inanimate objects, or at each other, there is no reason to believe this team won't be right back in the playoffs.  
Still, I feel as if I'm forgetting something. Oh, right. Anthony Goddamn Edwards, who signed a five-year contract extension with the Wolves worth an estimated $260 million. If you forget about every other line written here, focus on Anthony Edwards. With all the chaos around the team last year, Edwards was the one consistent factor and his game improved with each month. After single-handedly trying to pull the Wolves through the playoffs, Ant channeled his frustrations into a rampage through the FIBA World Cup in an otherwise lackluster summer for Team USA. To say he was "doin' some stuff" would be an understatement. But when Steve Kerr refers to you by saying "he's unquestionably the guy," and "I think he's taking a leap," it's probably a sign to keep the Wolves on your watchlist this year.
---
New Orleans Pelicans
by Patrick Redford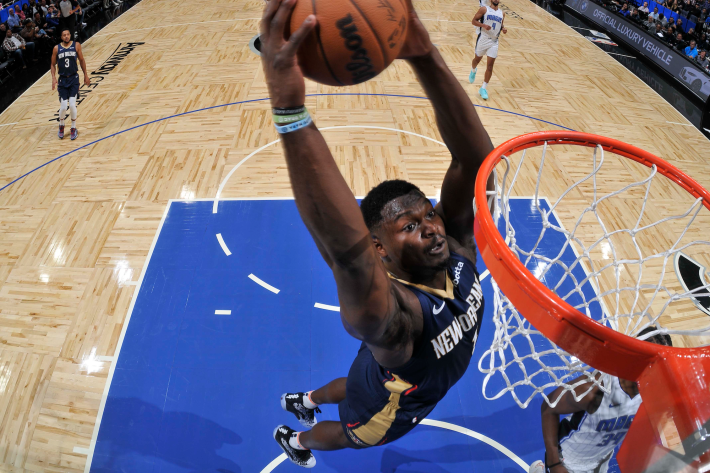 What is their deal?
History will neither remember nor reward the Pelicans for starting out last season on a mission, but good God were they glorious to watch through the first third of the season. With Zion Williamson healthy, they were jockeying for first in the Western Conference alongside Denver, hanging tough and talking wild shit to the Suns over the course of a two-game mini-series in December, and looking like a team destined for playoff glory. That it all went to shit should not necessarily be surprising—gravity was here long before Zion Williamson and it has defeated stronger foes—but the speed with which their promising season spun down into the toilet was: from second in the west at the end of December to ninth by the end of January. They made the play-in and lost at home to the Thunder.
Everyone is back for another go-round this season, and though the Pelicans made the fewest offseason tweaks of any team of ambition, projecting their fate is as murky as it gets. So much depends on Williamson's health. When he plays, the team is an unstoppable offensive force; he, Jonas Valanciunas bully you into submission at the same time as C.J. McCollum, Trey Murphy, and Brandon Ingram real-hooper you to death from the perimeter. They're balanced, fierce, and embarrassingly deep. Without Williamson (they also missed Ingram for a critical stretch last season), they're without an identity and average at everything. So whether they compete for a top-six seed or a play-in spot is pretty much completely dependent on whether Williamson stays healthy. Does anyone really want to bet on that? He's played 114 games in four pro seasons. This is an ongoing what-if of immense magnitude, and it will never end until Williamson plays more than 65 games or his leg falls off.
Who are their guys?
Their guys are Williamson, Ingram, McCollum, Valanciunas, and Murphy, plus a very deep bench featuring Herb Jones, Jose Alvarado, and Larry Nance. In theory this is a very coherent, well-constructed roster. The Pelicans could maybe use another big, though Nance was great last season as a backup and occasional game-finisher, and Dyson Daniels, while raw, showed some real flashes as a playmaker and point-of-attack defender. Again, imagine all of these guys situated in their ideal roles, making second- or third-order decisions and plays off of the attention that Williamson draws. There's an open three for Murphy, here's a bad switch for Ingram to attack, that sort of thing. Now imagine all of those roles but shifted up one. All of a sudden Valanciunas is getting double-teamed and McCollum's driving lane doesn't exist. This team hangs in limbo.
Are they good?
I guess I answered that one in the previous section, huh.
Are they fun?
If Zion plays, they are the most fun.
Playoffs?
Only time will tell.
---
New York Knicks
by Giri Nathan
What is their deal?
The Knicks finished last season with a 47-35 record, which put them fifth in the East. Then they over-delivered in the playoffs, pulverizing the fourth-seeded Cleveland Cavaliers with their beef and rebounding chops. Mitchell Robinson terrorized his feeble frontcourt counterparts. Reality struck back in the following round, as they lost to the Miami Heat even though Jimmy Butler reduced his ankle to lump crabmeat in Game 1.
These Knicks remain a very odd team. For a Tom Thibodeau-coached squad, they have an unfamiliar profile: middling defense and a mystifyingly elite offense that runs on minimal ball movement, minimal turnovers, lots of offensive rebounding, and lots of isolation. They often look as if they learned basketball in a foreign land where offensive sets are illegal, but that didn't seem to catch up with them until the postseason. I am praying that an assistant coach with a single offensive idea has gotten a hold of Thibs's ear in the interim.
They boast one of the league's best second units, and run nine-deep with playoff-playable dudes. They also lost no relevant pieces over the summer. Obi Toppin, a 2020 lottery pick, festering on the bench, never put in a position to succeed, was shipped off to Indiana for table scraps. Other than that, the whole gang's still here.
Who are their guys?
Julius Randle is as maddening a "star" as exists in the NBA. He has the general body language of a grounded teen. He gives up on the team in all sorts of tiny ways. Defense remains purely optional. But he is, on any objective view, quite good. Watch him for his very best two-minute passage of play and you could be deluded into thinking this was the best power forward alive: a Bronesque hybrid of speed and heft, a fluid lefty pull-up game, a bully-ball repertoire, and decent passing vision. The nightly reality of Randle is much murkier, however, and after an encouraging regular season, he couldn't score at all in the postseason. It remains to be seen how much of that dip was due to a badly re-sprained ankle suffered in the first-round series.
Jalen Brunson is better than I ever could have imagined when he signed with the team last offseason. For the first time in my adult life, the Knicks employed a competent starting point guard: a stout trickster who plays at his own pace, with craft and physicality, and never gets careless with the ball. For years, there was no Knick I could trust to soak up clutch possessions of a close game. Brunson is the one, an instant source of stability and calm. I think he could be the point guard of a championship team. It's not gonna happen in New York, but hey, he's already acquitted himself admirably here.
RJ Barrett's fourth season was fart-scented, but he stumbled into competence in the postseason, driving with aplomb and hitting his threes. A strong showing for Team Canada this summer has the RJ optimists feeling good. It's still hard to feel fully confident in the 23-year-old, a burly but stiff player with no clear outlier skills. Briefly it seemed like defense could be his calling card, but that no longer seems to be the case. His jumper appears and disappears every few weeks. He's quite good at getting to the paint, but hasn't figured out how to do anything consistently useful upon getting there. As the Knicks are presently constructed, there's a lot of anti-synergy with Randle, another lefty who likes to slash from the same spots but does it better. Finishing at the rim and hitting threes at an average clip will boost Barrett's stock. His contract should look fine as the cap grows.
Immanuel Quickley, Josh Hart, and Quentin Grimes are a beloved trio of perimeter-defense dogs. Mitchell Robinson never learns any new tricks but he's great at the ones he knows: block shot, grab board, do dunk.
Are they good?
They should be at least as good as last season. Off-season pickup Donte DiVincenzo adds some direly needed three-point shooting. The young players should have developed in the meantime. Brunson's shooting might fall off, because he ran awfully hot last season.
Are they fun?
Let me be clear: I support this team, but the ball is not exactly flying around the floor doing beautiful things. If you like to watch lefties deliberately grind their way into the paint, you can enjoy that in small, medium, and large sizes: Brunson, Barrett, Randle.
Playoffs?
Yes.
---
Oklahoma City Thunder
by Luis Paez-Pumar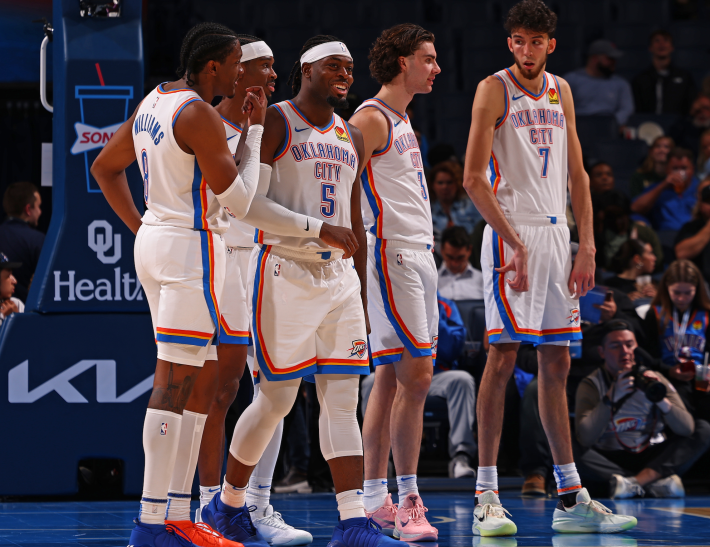 As Shai Gilgeous-Alexander went last season, so did the Thunder. He made the fabled Leap, going from a very good player to a star, finishing fifth in the MVP voting with a bonkers stat-line: 31.4 points per game on 51-percent shooting, with 5 rebounds and 5.5 assists to go along with it. The 25-year-old helped knock off the Pelicans in the first play-in game with a 32-point outburst, but the Thunder fell to Minnesota in the follow-up, with Gilgeous-Alexander shooting 5-of-19 from the field. There simply wasn't enough firepower outside of the team's star guard to overcome the Timberwolves, but that doesn't make last season a failure. Instead, it feels like a step in the right direction. That direction is up the gnarly Western Conference ladder. The climb will get no easier.
And hey, Chet Holmgren is healthy! Remember him? Last year's number-one pick missed his rookie year with a foot injury, which is not what you want from your lanky big man. If he can stay healthy with that beanpole physique, Holmgren should make the Thunder go from a fun team to watch to an actual good collection of basketball players. Holmgren gives the Thunder an extra dimension on offense, and he should help tighten a defense that finished in the middle of the league last season.
Still, for now at least it's the Gilgeous-Alexander show. There's no reason to expect that he will stagnate; this summer, he played a leading role in winning Canada a bronze medal at the FIBA World Cup, knocking the United States down to fourth with a 31-6-12 performance. 
There's a lot of momentum in Oklahoma City right now. If Holmgren can stay healthy enough to play running-mate to Gilgeous-Alexander, a deeper playoff run is a reasonable goal. Anything less than that will be a disappointment, which speaks to the raised expectations for the Thunder this year. Another play-in exit is possible—the West really is that brutal right now—but so is avoiding that morass entirely with a finish higher up the standings.
---
Orlando Magic
by Giri Nathan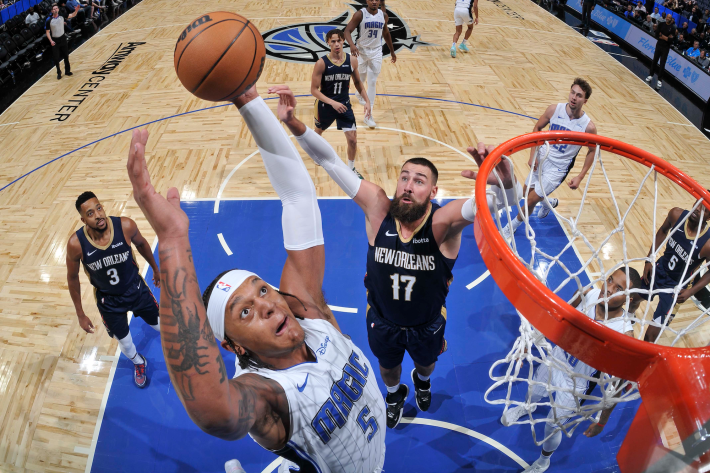 What's their deal?
A dumpster squad carrying lots of former first-round picks and zero expectations, the Magic opened last season with a 5-20 record, but they finished 34-48—that's better—as several of their youths found confidence and near-competence. This will be another season devoid of real pressure, just the pleasure of discerning which of these guys will pan out. As has been the case for several years now, it sometimes seems like the whole plane is built out of 6-foot-10-ish guys.
Who are their guys?
Their main guy is Paolo Banchero, the top overall pick in the 2022 draft and 2023's Rookie of the Year. He's a beefy, polished power forward with sweet play-making and a wealth of scoring options at 6-foot-10. Banchero is a long way from efficiency, and he doesn't do much on defense, but he's only 20 and the Magic are in no rush for wins.
The one Orlando guy who would be most useful plugged into any given NBA roster is Franz Wagner, a 6-foot-10 wing who can shoot pull-up threes, defend several positions, and run either side of a pick-and-roll. He's got some off-the-dribble sauce, and I suspect there's more to come on that front. Wagner, a 22-year-old heading into his third season, just won the FIBA World Cup with Germany. He and Banchero are the core of whatever the Magic are building.
Markelle Fultz and his jump shot are on the long journey back from brokenness. I am rooting for him. The 25-year-old is still such a captivating athlete, a slippery ball-handler and transition killer. There's a lot of scar tissue here, but I still like his upside more than the Magic's other lottery-pick options at point guard: Cole Anthony, Jalen Suggs, Anthony Black.
Wendell Carter, Jr. is one of my favorite young bigs: super-skilled, understated, great decision maker, no obvious weaknesses, and just 24. Jonathan Isaac looked as though he'd become one of the most disruptive wing defenders in the league, but he's played in 11 games across the last three seasons. He's one injury away from an unpaid internship with Breitbart.
Are they good?
Nope. They're just going through their roster with a sieve to figure out what they've got.
Are they fun?
Sure, why not.
Playoffs?
Nah.
---
Philadelphia 76ers
by Ray Ratto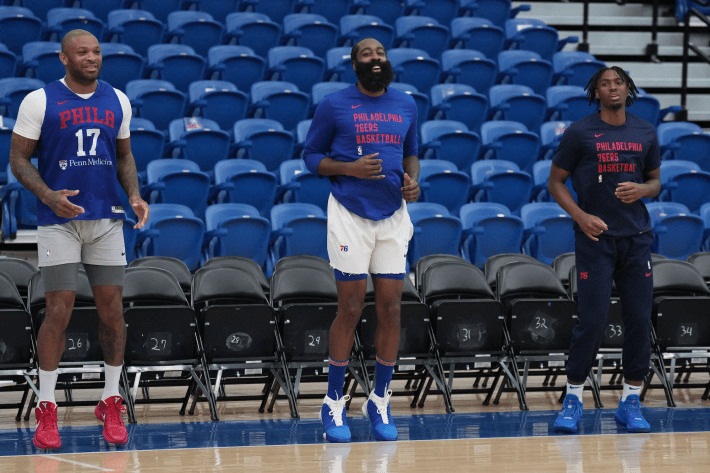 What is their deal?
Their deal is James Harden, and if you already feel waves of nausea-fueled depression, you're on the case. Harden's spat with Daryl Morey has made the Sixers less about Joel Embiid and more about who lied to whom about what and when. Yay sports. 
You don't even have to take a side in Harden v. Morey to know that this is already moderately untenable for a championship contender, and provides a disservice to Embiid's hopes of reaching a conference final, let alone an actual Finals. But Morey has made a career out of committing to Harden, and even though he used Harden to rid himself of Ben Simmons, he still had Harden, and that relationship is now mostly a wrench in the spokes of what would already be a problematic contender.
Whether Harden or the team acquiesces (and let's face it, this could be stasis for the entire year, in which case new coach Nick Nurse begs to be fired along with all those who will be canned) almost doesn't matter now, but as long as the stalemate is maintained, the Sixers are just the Knicks or Cavs with a better centerpiece.
Who are their guys?
The obvious answer is Embiid, whose MVP trophy merely moves him onto the list of great players who haven't played for the highest stakes. But the story of these Sixers is of a team of odd fits that make for a very dodgy boat. Tyrese Maxey is worth the notice, but Tobias Harris is now 32, P.J. Tucker is 38, and Danny Green is 36, and the bench starts with Patrick Beverley and Kelly Oubre, Jr., so what they lack in youth they make up in prop comedy. It's hard to see just how much better they could be unless Harden plays, and is fully bought in when he does, and that's not the way to bet. This team is a talented mess with a set of treadworn tires, so whatever they do get they will get from Embiid. Doc Rivers is therefore the luckiest man in America.
Are they good?
Not in the way they used to be, and not until they figure out what to do with the Harden-Morey spitfest. They still seem like a playoff finisher, but not one you should plan on seeing for more than a week.
Are they fun?
If you're a morbid little bastard, sure.
Playoffs?
Yes, but not for long and not very satisfactorily. Be sure to tip the Knicks and Cavs when you remember how much worse it could be to be the Sixers.
---
Phoenix Suns
by Patrick Redford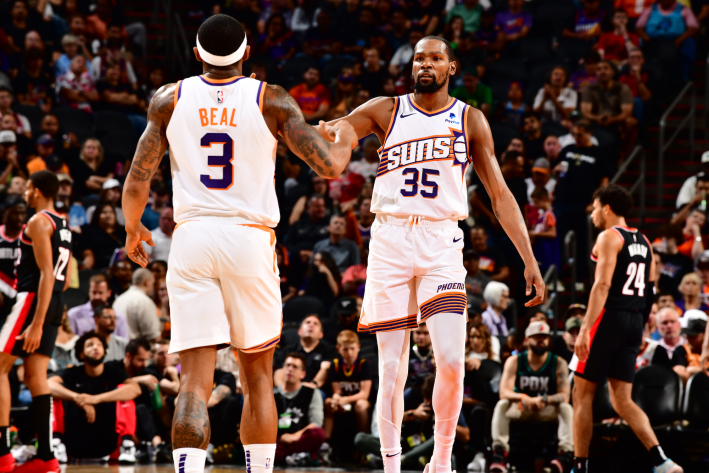 What is their deal?
Since taking over from the loathsome Robert Sarver, Matt Ishbia has slammed down the accelerator and maxed his team's roster out on the realest hoopers available on the open market. Gone are Chris Paul, the slowest point guard on planet Earth, Deandre Ayton: Gamer, and all notions that depth matters. Kevin Durant and Bradley Beal are in. Jusuf Nurkic, whose passing and rebounding abilities and rim-finishing inabilities rhyme with Ayton's more than one might assume, is here to be mostly a normal guy, and I guess Grayson Allen might also start though mostly because the league rejected the Suns' petition to just start four guys.
Can a team this top-heavy really win the championship? Yes, obviously, that's how basketball works, especially in the playoffs. The Heat brutalizing favorite after favorite and the Lakers knuckling down and going from the play-in to the Conference Finals last season were both reminders of how different playoff basketball really is. Each team is laser-focused on taking away each opponent's best stuff, a tactical scenario that leaves you relying on whatever stuff they can't take away. This is the epistemic framework for the Suns' roster: How can you lose if you build the team out of unguardable guys?
Who are their guys?
One reason for optimism about the Booker-Durant-Beal triad is that all three guys can pass and dribble at a super high level. All three have spent extensive time playing off the ball too, so it's not like there are significant stylistic tweaks that any individual will have to make to their game to make it work. If healthy, no collection of pure hoopers can match them. That's a huge if, as all three have missed significant time recently. The team's wing and guard depth is fine, though the second-best big man on the roster is Drew Eubanks, and Jusuf Nurkic hasn't played more than two-thirds of a season since 2019. Can they really defend at the highest level against the best teams with these guys? Wrong question. Can anyone match them for sheer firepower, and who even needs to play defense when you can set the court on fire every night?
Are they good?
Duh.
Are they fun?
I hate watching Devin Booker play basketball, though the the Suns should be fun as hell. They will try to score 150 a game and also Chris Paul is finally gone so they might run more than like seven fast breaks this season.
Playoffs?
They are one of two playoff locks in the West.
---
Portland Trail Blazers
by Ray Ratto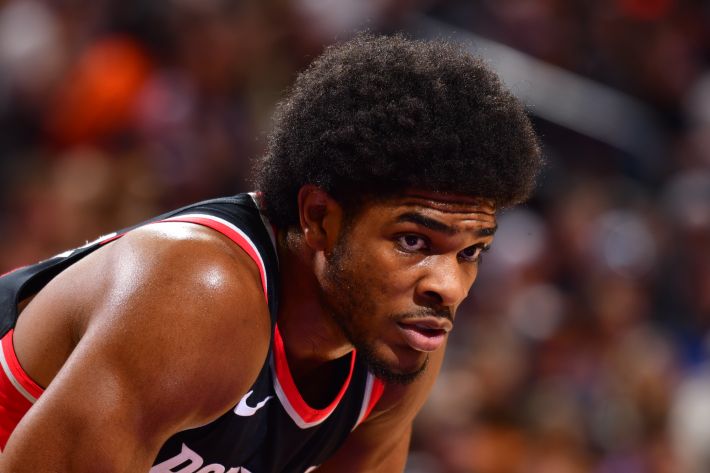 What is their deal?
The Blazers are the poster franchise for the end of the player empowerment movement, if that's something to aspire to. In making the clumsiest transition from Damian Lillard to Not Damian Lillard, general manager Joe Cronin came across as the guy who did the other 29 managements the solid they could not or would not do for themselves. That he is the person you think of first when you imagine the new post–Dame Time Blazers is not to the benefit of the operation: The face of the franchise should never be a middle-aged guy in a golf shirt and chinos.
On the other hand, they replaced their identity as a single-option team with a new one surrounded by and centered on relative children, so they've taken starting over seriously. Cronin did restructure the team in better ways than he would have had he done the Miami deal Lillard craved, so he gets Bob The Builder points from his contemporaries. Plus he provides the illusion that the suits run the league once again, even though that will always be an ongoing tension point in a sport in which one player makes so much difference.
On the other other hand, nobody pays those ticket prices to watch the general manager work the phone, so Joe Cronin's victory over the forces of Bolshevism probably won't save his job for much longer than it would have had he heeded Lillard's desire to stay if he couldn't have Miami. Telling Pat Riley to piss off has only so much longterm satisfaction baked into it.
Who are their guys?
The 3S Brigade: Scoot, Shaedon, and Simons. Henderson, Sharpe and Anfernee are the three players tasked with holding Blazers fans' attentions while Lillard chases jewelry in Milwaukee. Henderson is the 19-year-old third overall draft pick, Sharpe is the seventh pick from the 2022 draft, and Simons is the old hand at 24; the Blazers' future is largely dependent on whether they can find a mutually beneficial playing relationship. Cronin's summer machinations netted them the lubricating influence of Malcolm Brogdon and the potential benefits of a happier Deandre Ayton liberated from his Arizona hell. Brogdon's presence is a surer thing than Ayton's, because a center who likes the ball won't be happy in this roster.
Are they good?
Not in any way you would recognize as such. They traded in the rigid structure of Lillard first, last, and always, for an amorphous blob of a roster that at best will find cohesion after Valentine's Day and at worst will be a paint factory fire by Christmas. If all goes well, 35 wins. If none of it goes well, hello Wizards.
Are they fun?
Well, they don't defend much, except for Matisse Thybulle and Robert Williams, so fans who don't mind losing 128-119 could find them sufficiently cuddly. If you as the definitive Blazers fan define fun by where they are in the standings, you probably need at least six teams to go out of business, and even then you'd be sweating out a play-in spot.
Playoffs?
You're cute when you say things like that.
---
Sacramento Kings
by Patrick Redford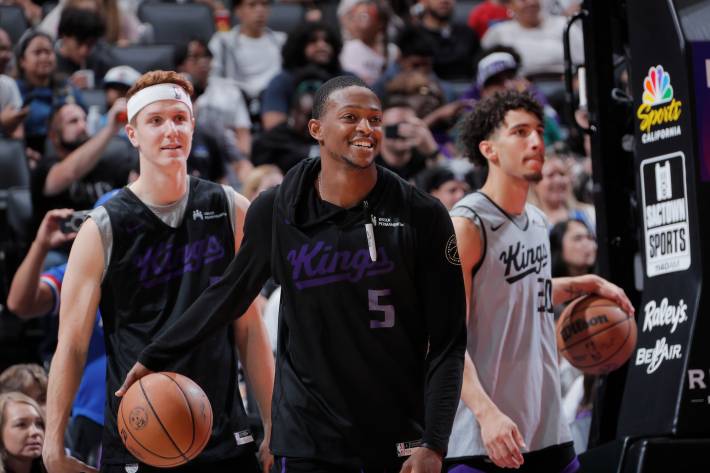 What is their deal?
How do you follow up the most charmed season in recent NBA history? Now that the weight of history has been replaced by the unwieldy heft of expectation, how do you play with any of the lightness and joy that defined your magical 2022-23 campaign? Armed with cap space, newly respected by the league, the Kings chose not to take any of the big swings they reportedly considered this offseason (trading for O.G. Anunoby, signing Kyle Kuzma), and instead brought back basically roster identical to last year's. In a Western Conference defined by huge splashy upgrades, the conference's smallest club stood pat.
This is basically a bet on two people: Mike Brown and Keegan Murray. Brown won Coach of the Year for synthesizing a brilliant, balletic offense that actually took as first principles that the best two players should play to their strengths. Everything flowed from Domantas Sabonis and De'Aaron Fox, but the entire team's commitment to moving without the ball, passing the rock, and playing at 10,000 MPH at all times was what pushed the offense to unforeseen highs.
Murray was a key part of that, even though his role was mostly to stand there and shoot. He was great at it! Rookies who start and play huge roles for three-seeds are rare, and though Murray was an older rookie, his adjustment was still so impressive in part because he'd been the main guy at Iowa. Murray's shooting and size made him the fourth pick, and the degree to which he can replicate his do-everything, all-the-time production at Iowa will determine his NBA ceiling. The team seems determined to develop him as the mythic third star, and he's looked like a different player in the preseason, already seeming to take more dribbles in the handful of games he's played than he did all last season.
Will it work? Maybe not! The margins are so thin in the Western Conference and competition is so fierce; Murray is already in instant competition with, to name a few, Andrew Wiggins, Anthony Edwards, and Jalen Williams, who are all far more accomplished than him.
Continuity feels safe, though the downside is that most opponents already sort of know the broad shape of how the Kings play, plus some of the details. The Kings mostly had good health luck last year, though you have to remember that Sabonis played half the season with a broken thumb and Fox broke his finger in Game 4 of the Warriors series. If opponents can neutralize Sabonis's thundering mid-post game or stick a huge wing on Fox, there is a clear formula for how to stop them. It will be up to Brown and Murray to show something new.
Who are their guys?
Fox and Sabonis are their main guys, and while Sabonis wasn't as bad in the playoffs as the talking head types screamed he was, the Warriors correctly determined that the Kings' motion blur offense can get clogged up if you simply give Sabonis like 11 feet of space and dare him to shoot. He's such a good passer that he can punish that space in different ways, and as obvious as his few limitations are (rim protection, three-point shooting), he's such a frenzied competitor that I don't worry about him ever being truly neutralized.
Fox on the other hand had a superstar-making run. His 38-point playoff debut in a comeback win was as good of an announcement as we saw all postseason, and his perfectly controlled 26-and-11 facing elimination on the road in Game 6 was maybe even better. In that game, the Kings had their backs against the wall, and Brown played a bizarre, tiny lineup that bet big on Fox being able to slice up the defense. His mid-range shot proved an unguardable weapon last year, which earned him the Clutch Player of the Year award at season's end.
Are they good?
Their defense will determine how good they can be. Sacramento finished 25th in defensive rating last season, the worst of any playoff team. In theory Chris Duarte and JaVale McGee are nice upgrades, though they're marginal. Murray needs to develop as a wing stopper, especially with Harrison Barnes slowly declining. You can make shooting-luck arguments in support of the idea that the defense wasn't as bad as it seemed, and they played six-and-a-half games of defense against the Warriors last year that defied all expectations. The problem is, they were so small last year, and if they are actually going to play the hilarious Trey Lyles-Sasha Vezenkov backup frontcourt this year, they'll be even smaller.
Are they fun?
They are the most fun.
Playoffs?
Championship.
---
San Antonio Spurs
by Patrick Redford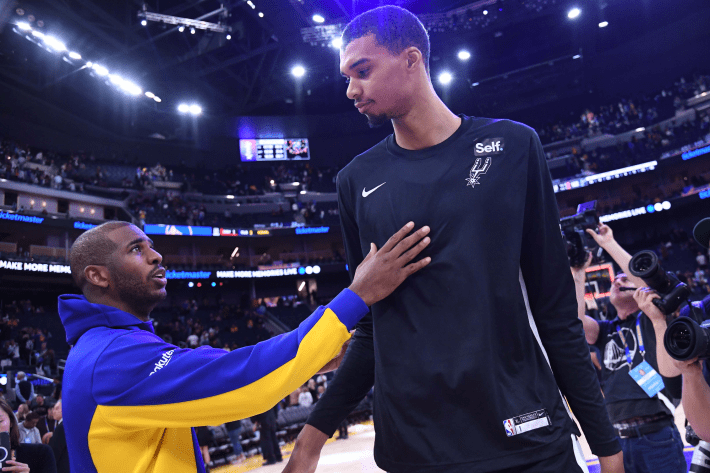 What is their deal?
They have Victor Wembanyama.
Who are their guys?
Victor Wembanyama.
Are they good?
I don't think so, but it's worth pointing out how well put-together the Spurs roster is around Wembanyama. Tre Jones is a competent, normal point guard. Devin Vassell has quietly (almost silently) developed into a very good young wing player. Keldon Johnson can do stuff. The rest of the team is either young, normal, young and normal, or Zach Collins, and Collins can at least guard centers so Wembanyama can practice teleporting. Nobody will be on the ball too much, and while you'd like to see more spacing around Wembanyama, this is not a Memphis situation.
Is coherent fit enough to get wins in this bloodbath of a Western Conference? I doubt it, not at a regular clip anyway, though I think they will surprise a few good teams this season. They seemed prepared to straight-up tank, but I don't know how rivals could watch Wembanyama's absolutely psychedelic preseason highlight reel and feel anything but pure cold fear that he might be even further ahead of schedule that anybody thought.
Are they fun?
Victor Wembanyama.
Playoffs?
No.
---
Toronto Raptors
by Chris Thompson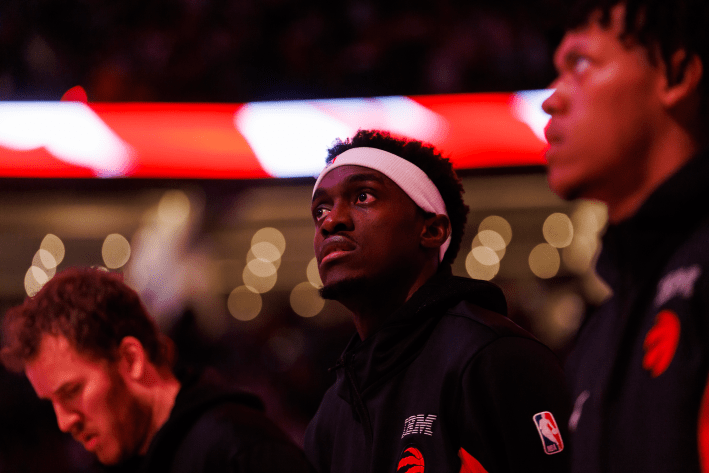 What is their deal?
The Raptors went 41–41 last season, looked disjointed and out of sorts the entire way, moped into the play-in, and suffered the brutal humiliation of being eliminated by the entirely crummy Chicago Bulls, the lowest-seeded of the East's play-in pack. The persistent dysfunction of their play and the team's evident misery ultimately cost title-winning head coach Nick Nurse his job, and over the summer steady veteran point guard Fred VanVleet packed up and left for the shit-show Houston Rockets. Some or all of VanVleet's minutes and duties will go to the dreaded Dennis Schröder, acquired over the summer via free agency.
It's been a rough few years for the Raptors, who for the most part are one of the best-run teams in the NBA. They won the title in 2019, and were very good even without Kawhi Leonard the following season, which was interrupted by the COVID-19 shutdown and then resumed in the Orlando bubble. But they had a miserable time in the truncated 2020–21 season, playing their home games at an arena in Tampa due to border restrictions, and though they righted the ship somewhat the following year they haven't had another whiff of real-deal contention, and last season was a significant step backward.
They've got kind of a weird roster, with a bunch of huge swingmen who all deserve rotation minutes and opportunities, but whose skills are not really complementary at all; part of what cooked Nurse in the end was an inability to figure out much for these guys to do on the court together beyond taking turns flinging up bad shots. Here's an interesting statistic: Last season the Raptors attempted the eighth-most passes per game in the league, but created the fifth-fewest points via assist. Only the insanely awful Rockets recorded fewer assists per pass. It's not that the Raptors refused to share the ball, it's that the guys doing most of their ball-handling were not (and are not) very natural passers, and with several of them on the floor at the same time Toronto's spacing becomes so cramped that for the most part there isn't really anywhere in particular for the ball to go.
The new head coach is Darko Rajakovic. Rajakovic was an assistant a few places and was formerly a head coach in the NBA's development league. Like most modern NBA head coaches he's got ball- and player-movement ingrained in his basketball philosophies, and because he was hired by world-beating team president Masai Ujiri he will be extended a lot of benefit of the doubt. But the roster is still real weird, and the downgrade from VanVleet to Schröder is pretty severe. It could be another long season.
Who are their guys?
Their main guy is very cool Cameroonian Pascal Siakam. Siakam can do some of everything, and in the right lineups he can be a kind of superpowered role player who shifts reasonably well into Alpha mode when the situation calls for it. He posted a career-high 24 points per game last season, led the Raptors in minutes and usage, and performed pretty heroically at both ends for a team that otherwise had mojo issues and seemed sometimes to slip into discouragement and apathy around him.
The Raptors want Scottie Barnes and O.G. Anunoby to also be their guys—they want them to become dudes—but there are challenges. Anunoby is a brilliant defender with some definite offensive skills, but at that end he's a worse version of Siakam with even less positional versatility. Barnes is huge and athletic but is similarly adrift when asked to make sense in Siakam's orbit: He's not nearly a good enough shooter to space the floor, and though he's a willing passer he's not yet anywhere close to dynamic enough with the ball in his hands to be a primary initiator.
Each of these guys is good enough to get big minutes in an NBA rotation, but it's not clear at all that they can work together in a functioning offense. Something's got to give, and probably will: Anunoby can opt into free agency after this season, and is redundant in Toronto's lineup, and will therefore be the subject of trade rumors all season long. If things go wrong early—or if they go a particular kind of right—Anunoby probably will be on the move.
A screenshot from the classic 1959 horror film House on Haunted Hill that sums up their current vibes: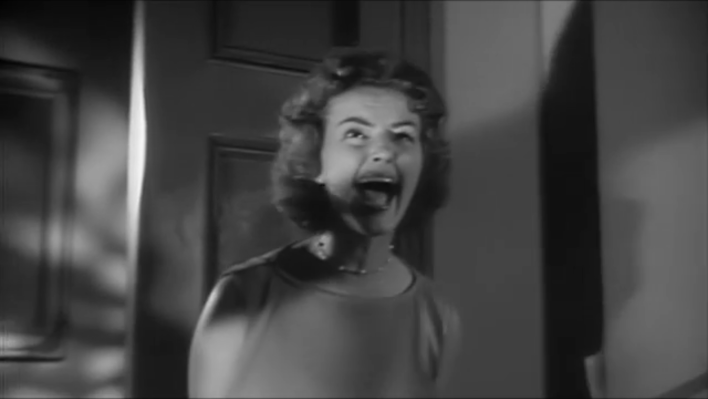 Are the good?
No, probably not, not if by "good" you mean "able to contend in any serious way." But it would be a big disappointment if they were bad. It's just that anything less than good and Ujiri might decide to take dramatic action, as he has done before, and that could lead to a major step back and a more painful rebuilding process. They really need Barnes to take a big step forward. His sophomore season was a dud, and that's somewhat alarming. If he settles in as a role player—even a very dependable role player—the Raptors quite simply will not have enough juice to contend, and Ujiri's past actions would seem to indicate that he will not be content floating around the bottom of a playoff pack.
It's hard to imagine how they will score enough to be a contender, but their defense should be fearsome. For a few seasons now the Raptors have had a notoriously difficult time finding a center who can stick in their rotation, so they gave up some serious draft capital back in February to trade for veteran Jakob Poeltl, who began his NBA career with the Raptors and is good friends with Siakam. Poeltl might not be a very sexy guy for the job, but he's an incredible rim protector and rebounder who has shown in his career that despite having absolutely zero moves he can survive in a functioning NBA offense. Also, since establishing himself in the NBA during his sophomore season he has never played in fewer than 66 games in a regular season. He's dependable!
The Raptors might find themselves in a situation where they lack the dynamism for greatness but are too solid to be bad, and that's the kind of problem that personnel honchos tend to solve via demolition.
Are they fun?
No. They've got a boisterous home crowd but it's safe to assume their offense will be a grinding slog until they prove otherwise.
Playoffs?
Do you consider the play-in to be the playoffs?
---
Utah Jazz
by David Roth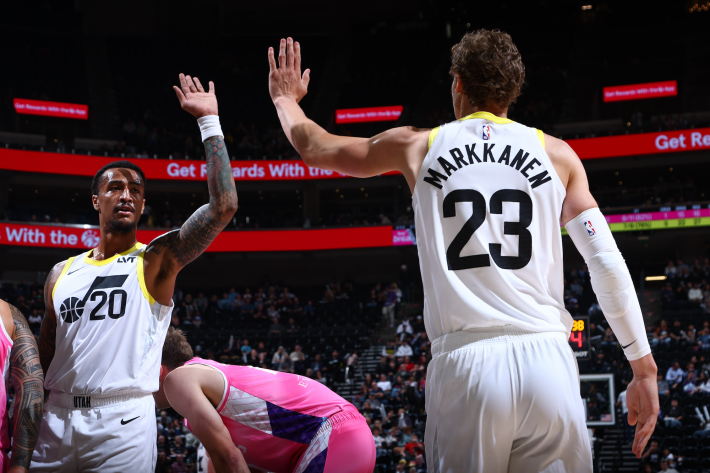 What is their deal?
Of all the things that the Jazz could have been last season, "interesting" seemed very low on the list. The roster was not so much constructed as it was salvaged from the teardown of a topped-out playoff squad, and while the players that the Jazz traded away, in Donovan Mitchell and Rudy Gobert, were good enough to bring back both a ton of draft capital and some valuable players, it happened quickly enough that the roster mostly seemed like a jumble of contract figures and notecards of variously impressive paper stock with "????" written on them in variously sloppy handwriting. Just on paper, they seemed a little bit too good to be as bad as they were setting out to be. But motivated GMs have a way of sorting that out.
And while Danny Ainge did eventually make the sort of moves that fit Utah's longer-horizon rebuild down the stretch, he also had to make them to prevent the Jazz from accidentally backing into the playoffs. They started the season 10-3, and while they obviously didn't sustain that pace they were one of the many teams in the lower-middle of the Western Conference that spent last year annoying the hell out of the others. If they hadn't traded Mike Conley Jr. away, they would have finished ahead of a number of teams making more concerted efforts to win games.
As it was, they got a pretty undeniable breakout season from Lauri Markkanen, effectively replaced not just Rudy Gobert's defensive function but his overall production with Walker Kessler, and managed to surpass expectations in every imaginable way. Kris Dunn was downright useful for them down the stretch. Kris Dunn! And then, when the season was done, they acquired John Collins from the Atlanta Hawks for a few of their leftover assets. They're not done rebuilding, but they somehow managed a total reboot without anything like the bottoming-out part.
Who are their guys?
Markkanen is their guy, a proper scoring stretch four who was very good all season long in a way that his previous pro career had only hinted was possible. Kessler was rather astonishingly Dude-like in his rookie season, especially for someone whose college output seemed to augur both a longish NBA career and a number of unwanted co-starring gigs in other players' posters. But I'm going to go ahead and treat myself here. We're very late in the alphabet, and very close to deadline, and I figure only the true perverts are still reading. So: 
Utah is Kris Dunn's fifth NBA team in seven seasons, and the 22 very solid games he played for the Jazz last year were not just the longest but arguably the only extended stretch of good play in his career. There are a lot of ways for NBA teams to get better, but the most interesting one for my money, and the one that the Jazz and coach Will Hardy managed last year seemingly despite themselves, is to find ways to make flawed players better, either on the merits or simply by putting them in positions to succeed and only those positions to the maximum extent that the game allows. This is very hard to do in the NBA; there are just not very many places to hide. But if the Jazz could make Kris Dunn a good NBA player, I am not going to rule anything out. (They guaranteed his contract for this season.)
Are they good?
By the standards of "a good NBA team" it's somewhere between "not really" and "not yet." For a team that was (seemingly quite reasonably) represented by a photo of a demolition site in last year's NBA preview, though, they're rather startlingly good. It's all relative.
Are they fun?
I mean, it depends what you're into. But they're notably more fun than anyone expected, and liberating Collins from the vibe vortex in Atlanta could make them even more so.
Playoffs?
It doesn't really seem like that's something they want just yet, but they nearly made it by accident last year, so who knows? I mean, we both kind of know. But who knows?
---
Washington Wizards
by Chris Thompson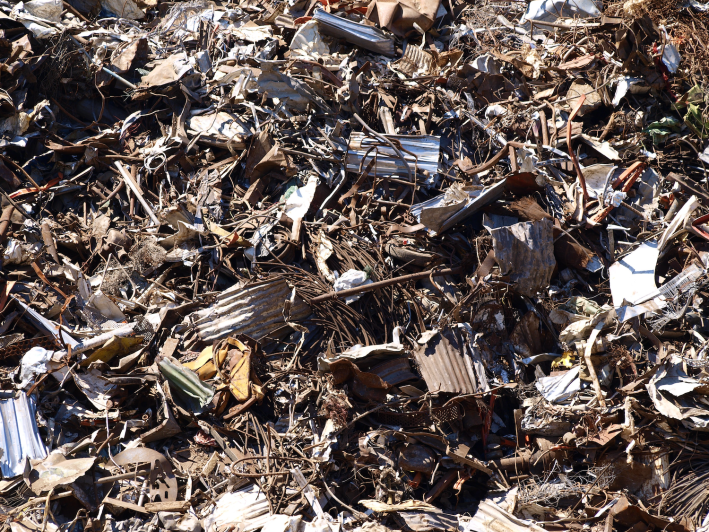 What is their deal?
Oh fuck, they're so fucking grotesque. Did you know they have Danilo Gallinari on their roster now? Mike Muscala? Landry Shamet? If this isn't the NBA's worst and least relevant team this season, something will have gone profoundly wrong for another NBA franchise. Like, we're talking an Ebola outbreak–level catastrophe.
Who are their guys?
They might hope to convince you that their guys are Kyle Kuzma, whom they re-signed to a ludicrously expensive contract over the summer, and Jordan Poole, whom they acquired at the end of the chain of transactions that started with the trade of Bradley Beal. But those guys stink. The Wizards have no guys.
A screenshot from the classic 1959 horror film House on Haunted Hill that sums up their current vibes: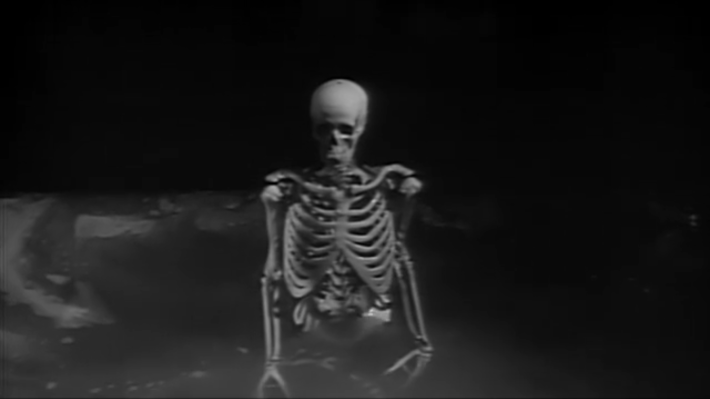 Are they good?
How dare you ask me that!
Are they fun?
This is unbelievably rude of you.
Playoffs?
That's it, I'm calling the cops.
Stay in touch
Sign up for our free newsletter