NFL
The Arizona Cardinals Are Still Intensely Fucking Weird
10:42 AM EDT on May 4, 2023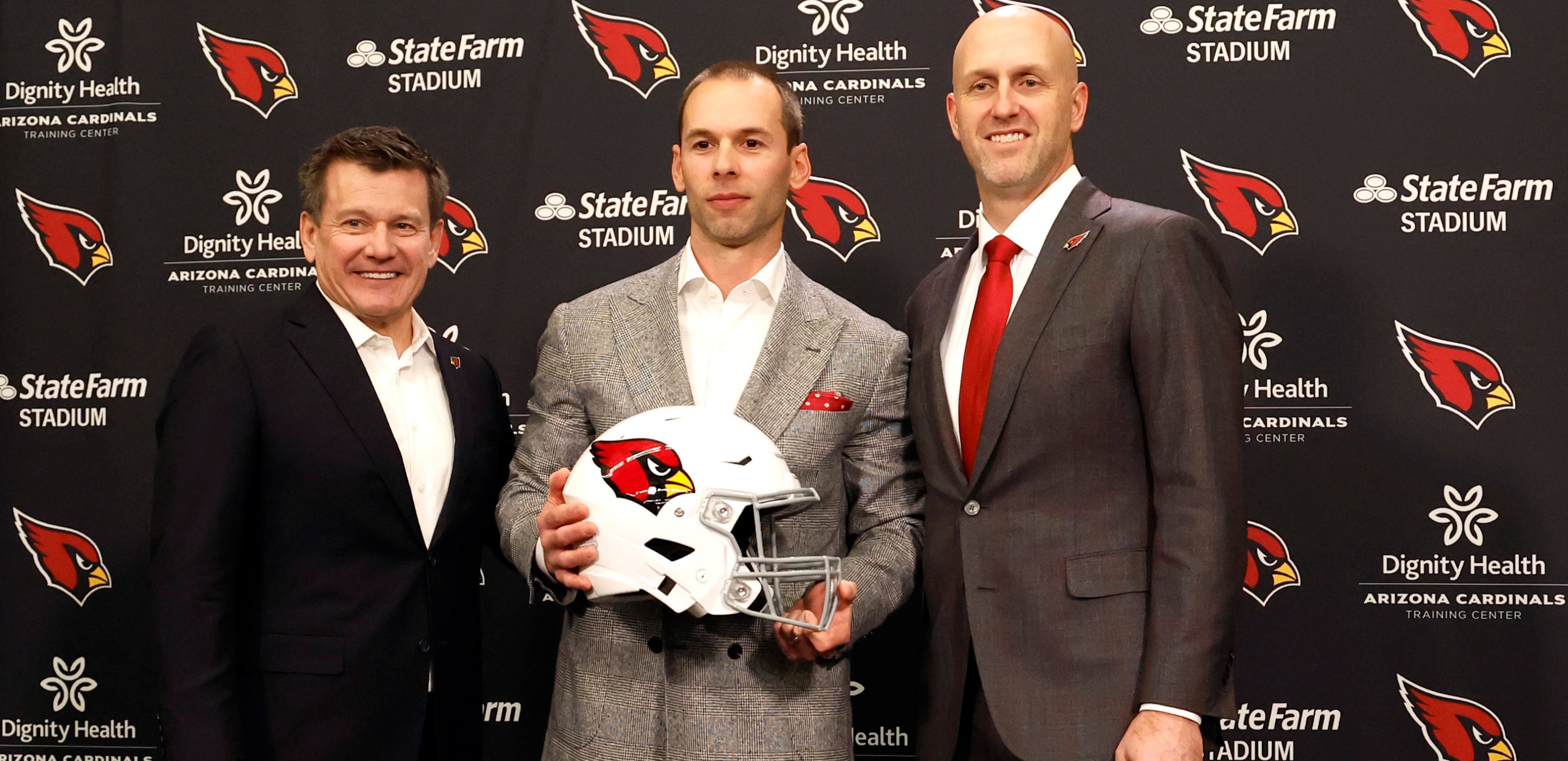 In theory … in theory … the Arizona Cardinals should be in a good place right now. They just shot Kliff Kingsbury out of a cannon and replaced him with former Eagles defensive coordinator Jonathan Gannon. They still have Kyler Murray under contract, and are thus far pleased with his ongoing recovery from a torn ACL. And they just horse-traded their way into dominion over the 2024 draft. That's the good news.
The bad news? They're still weird as FUCK.
In order to procure Gannon's services, new GM Monti Ossenfort gave the coach a congratulatory phone call after the NFC title game, a phone call that turned out to be a come-on.
"'Look, we're in the middle of a coaching search and don't know how the timing of this is all going to shake out, but, basically, would you be interested in interviewing if the timing gets pushed back to after Super Bowl?' And I said, 'Yeah, I would be,'" Gannon said.
[Human resources video narrator voice] Turns out, that seemingly innocent phone call was TAMPERING.
NFL teams with a giant, sucking void of a head coaching vacancy can only interview other teams' assistants either three days after the other team's regular season has ended, or right after the wild card round if that other team has made the playoffs. Chat up your prospect in either of those windows and you're free to have Zoom sex with one another as much as you like after that. But Ossenfort, whom Arizona hired away from the Titans on Jan. 16, never got a chance to ask Gannon if he could borrow a cup of sugar in the properly designated interview portal. So he told a little white tamper.
And for that, one must always answer to The Shield. Ossenfort narced on himself to the NFL office, which is amusing given that Cards owner Michael Bidwill is a very big fan of those who blithely disregard the law. Once Ossenfort came clean, the league forced the Cardinals to swap third-round picks in last weekend's draft with Gannon's former employer.
But I'm sure that the guilt that the Cardinals must feel in the wake of this scandal(?) is far worse than any punishment they received. Now don't you feel terrible, Jonathan Gannon? Don't you feel remorse for what you have done? 
This is a bit much for an infraction that happens routinely with every NFL front office and player representative, especially given that Ossenfort broke the rules just to land the guy who orchestrated the Eagles' defensive collapse in the Super Bowl. No one else wanted Jonathan Gannon. Even the 2022 Texans were like, "Oh shit, we can't hire that guy because everyone will fucking hate us for it; let's hire the failed Illinois head coach instead." No tampering was required here. Tampering with Jonathan Gannon is like asking your car dealer if he can add $2,000 to the sticker price.
But what am I doing expecting consistency from this cigarette burn of a football team? Just last month, the Cardinals were accused of tampering with their own (now former) GM while he was under suspension for extreme DUI. That same former GM just told the world that he was glad he didn't draft Nick Bosa, because we all know that Nick Bosa has never been an impactful football player. Their new GM put wideout DeAndre Hopkins on the block at his request, received no takers thanks to his pricey contract, and then watched Hop deny he ever asked for a trade, just as Hop is inclined to deny a great many other things. They're tearing down their roster while also paying Murray a fortune to be their franchise QB, and there's very little to indicate that Murray will magically turn into a great teammate instead of a dour asshole who's quietly despised in his own locker room. They didn't even bother to hire an offensive specialist as their new head coach. So what's the fucking plan here?
I'll tell you what the plan is: to suck shit for a good long time. This team cleaned house, only to build a Gross Gas tank on the emptied lot.
Stay in touch
Sign up for our free newsletter