TV
'Hard Knocks' With The Cardinals Was A Dark Workplace Comedy Starring Kliff Kingsbury
9:11 AM EST on January 13, 2023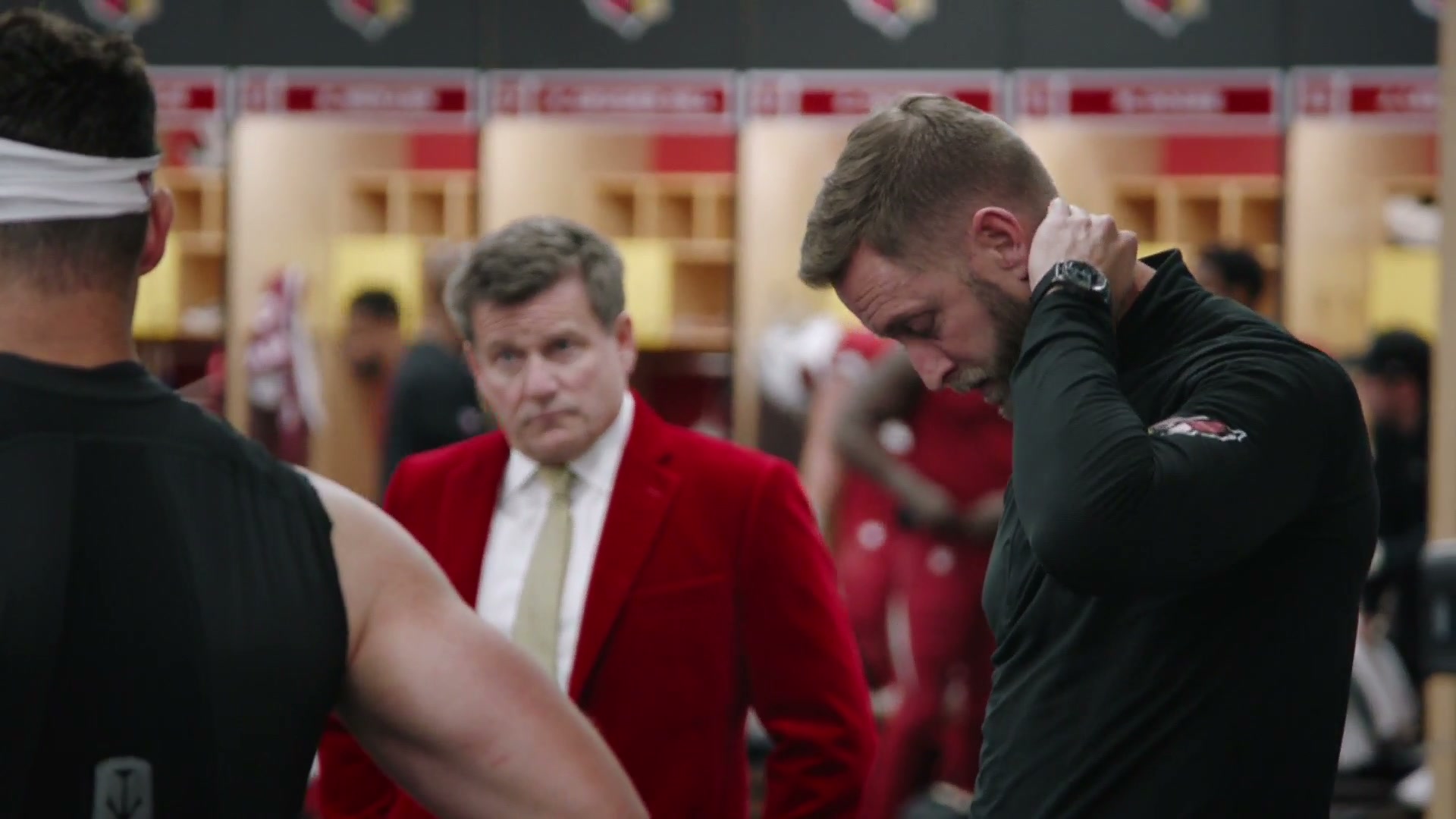 The Arizona Cardinals, coming off an 11-6 record and a playoff appearance, gave contract extensions to head coach Kliff Kingsbury and GM Steve Keim in March 2022 to keep them with the team through the 2027 season. It's not hindsight to say that this was an overreaction, but the following 10 months proved that this was very much an overreaction. This past Sunday, the Cardinals closed out the season by losing their seventh straight game. The next day, Kingsbury was fired and Keim had resigned.
Anyone could see that the 2022 Cardinals were bad just by looking at their 4-13 record, but this year's in-season version of Hard Knocks, which followed the team, offered plenty of additional evidence. Two Defector staffers watched along and discussed their takeaways after the finale aired Wednesday night.
---
Samer Kalaf: Hello, Maitreyi. I'm learning from my previous mistake, so I won't say that we were the only two people on staff to watch the Cardinals' season of Hard Knocks, but you were definitely the only one who agreed to write about it with me.
Maitreyi Anantharaman: What a show! I think what I like about the in-season version of Hard Knocks is that the countervailing narratives have had time to develop, and when you join the team mid-season you have a good sense for what those are. You can watch the games yourself, you can follow other reporting about the team, and then you can use that extratextual knowledge to read between the lines of the show. You know exactly what isn't being said. And it did feel like a lot was not being said about the Cardinals on Hard Knocks. For instance, if the show were your only source of information about the team, it would surprise you to learn about Kyler Murray's "homework" clause, the story of the offseason and one that was never ever mentioned on Hard Knocks. But if you know about it going in, you're searching for—and I think finding!—signs of his discontent/his teammates' discontent with him in every episode. Just a very funny dynamic. 
SK: Yeah, it sort of turned into a fun challenge in that way. Struggling GM Steve Keim was on the show for maybe a total of six minutes the entire season, and I don't think he talked. The only thing I remember him saying was muttering something after the Cardinals blew a lead in one episode. Now he's gone from the team. I've watched Hard Knocks before but not the in-season version, because I had no interest in the 2021 Colts. This version, as opposed to the usual preseason edition, felt like some sort of situation where spoilers were beneficial: You knew what would happen from that week's box score and wanted to see how the coaches and players handled it. For almost every episode, I knew the Cardinals would lose, and I wanted to see how ineffective Kliff Kingsbury's locker-room pep talks could get.
MA: Kliff!!!! Oh my god! I don't think I've ever hated anyone more? I remember telling you that he seemed to me like a sketch-comedy character—always affecting this pensive frown.
SK: Yeah, originally the draw of this season was supposed to be how Kyler interacted with his coaches and the front office. But after he tore his ACL, I was focused on figuring out when Kliff would be fired, and rooting for it. Like you said, Hard Knocks doesn't actually provide the access it advertises, but I felt like I had a better sense of what made a terrible NFL head coach any time Kliff huddled everyone up and delivered the same exact speech after a loss. He kept saying the effort was there and they needed to just win one, but they never did. The Cardinals didn't have a tough schedule, either: One of these losses was to the Denver Broncos while Nathaniel Hackett was still the head coach.
MA: If nothing else, the show helped me appreciate motivational speech-giving, which Kliff and Cardinals owner Michael Bidwill made seem like the hardest task on Earth. J.J. Watt had some OK ones. Budda Baker's were mostly sad. There's something kind of brutal about it as a viewer: You know it's not going to get better for them. You know that Kliff is totally overmatched. (At The Ringer on Thursday, Steven Ruiz wrote that Kliff's plays following timeouts cost the team 74.3 win probability percentage points over the season.) But you don't know if they know that? So then you just have to watch them delude themselves, either out of ignorance or self-preservation. 
SK: As someone who has been transfixed by fly-on-the-wall documentaries about Mitt Romney and Anthony Weiner, I enjoyed this aspect of the show. Treating it like a dark comedy made it so much better in my experience. The scene after they lost in overtime to the Bucs on Christmas was presented so well that I laughed like I would at an episode of Veep:
MA: Yes, again, Kliff is so dopey and uninspiring as to seem fictional. He has perpetual Kendall Roy face. 
SK: Shit, he really does. A bunch of the 30- and 40-something head coaches in the NFL coaches tend to make this expression after a bad play, where they look like they're thinking about how much they've disappointed their dad. In Kliff's case, his dad's not a big name in the pros: Tim Kingsbury is a former high school football coach and apparently the first person in the United States to buy a 2015 F-150 truck. Congrats to him.
We've spent a lot of space dumping on Kliff Kingsbury, and it's entirely warranted. Honestly, I could do it all day. The finale's 30-second scene of him telling the coaches he was fired made it all worth it. But what did you enjoy about this season? Rookie tight end Trey McBride was a pleasant guy, but there was a general lack of charisma on the team. It basically shifted into J.J. Watt's retirement documentary with the last couple of episodes.
MA: They did luck out with J.J. Watt retiring. One bit I loved was DT Leki Fotu making waffles for his teammates in the meeting room, but not making the batter beforehand, so that he was whisking ingredients in the meeting room? The finale also had a nice scene of DeAndre Hopkins showing everyone a plate that he painted. But yeah, there were no more than five or six Cardinals-affiliated people I respected by the time the show ended, and one was J.J. Watt's baby. 
SK: The producers dedicated a good chunk of episode time to the Watts' adorable baby, as if it were an apology for making everyone sit through so many shitty, dull moments. I appreciated the scenes with Kyler before he hurt his knee—my takeaway was that playing football with him seems miserable—but the three other quarterbacks who played didn't have a lot going on. 
MA: The scenes in the QB room were fab. Really seemed like the worst place in the world. Quarterbacks coach Cam Turner might actually be less inspiring than Kliff. 
SK: I don't remember a single contribution Turner made that helped the QBs in any way. He must have learned that from his uncle Norv. What were they doing all day??
MA: They were doing magic tricks with David Blough. 
SK: Not to bring this all back to Kliff—I'm actually happy to do that—but it speaks to his head coaching abilities that the QB room, which would be his area of expertise, didn't appear to be urgent in anything they did. With certain position coaches, you got a sense of how they carried themselves, and then you had defensive coordinator Vance Joseph, the former Broncos head coach who was basically auditioning for Kingsbury's job the whole time. His speeches at least had some variety to them.
MA: Shawn Jefferson, the wide receivers coach, also gave some good speeches. (Though the one I remember best was actually delivered to his son Van, who is on a different team.) I liked the scene of him reading Franco Harris's Wikipedia page. Coaching is so weird! I felt like I could tell pretty easily who on staff was and wasn't respected, but it's all kind of a crapshoot. 
SK: The other thing I have to keep in mind is that since NFL teams are so twitchy about having cameras around, that makes it difficult to separate what we saw and how these coaches actually introduced plays and concepts and taught them to players, because they don't want their secrets out there. Still, I remain convinced that Cam Turner isn't doing shit. 
MA: One story I liked from the finale was Kliff running his special "Joe Montana" play, which worked, earned the swelling orchestral Hard Knocks music, and helped them merely lose 38-13.
SK: That play mainly functioned as proof of life of A.J. Green. They simmed the second half of that game so they could get to Watt taking it all in on the field with his baby. Kliff can bring the "Joe Montana" play to his next job, which will either be working as an offensive coordinator or coaching a college team that will finish no higher than the Bahamas Bowl. 
MA: RIP, king. 
SK: I was hoping they'd feature more bad decoration decisions in his freaky cube house. The framed works of Batman and the Joker in his home theater were good, but the lion with the crown was perfect. Kliff is about as deep as a millionaire-mindset Instagram page.
Here's a fun question to close it out: From what you learned while watching this season of Hard Knocks, who on the show has the brightest future in the NFL? You can't choose J.J. Watt's baby.
MA: I was struck by the strangeness of the roster. I didn't pay much attention to the Cardinals before, but man, the team is kind of old and without a lot of Dudes at premium positions.
SK: My original answer was going to be that Budda Baker has a bright future, but then I looked him up and learned that he's 27 and has just finished his sixth season.
MA: You're right. That's why my answer is Matt Prater. 

Managing editor of Defector.

Stay in touch
Sign up for our free newsletter