NFL
The Arizona Cardinals Have A Nasty Workplace Scandal Of Their Own
2:22 PM EDT on April 5, 2023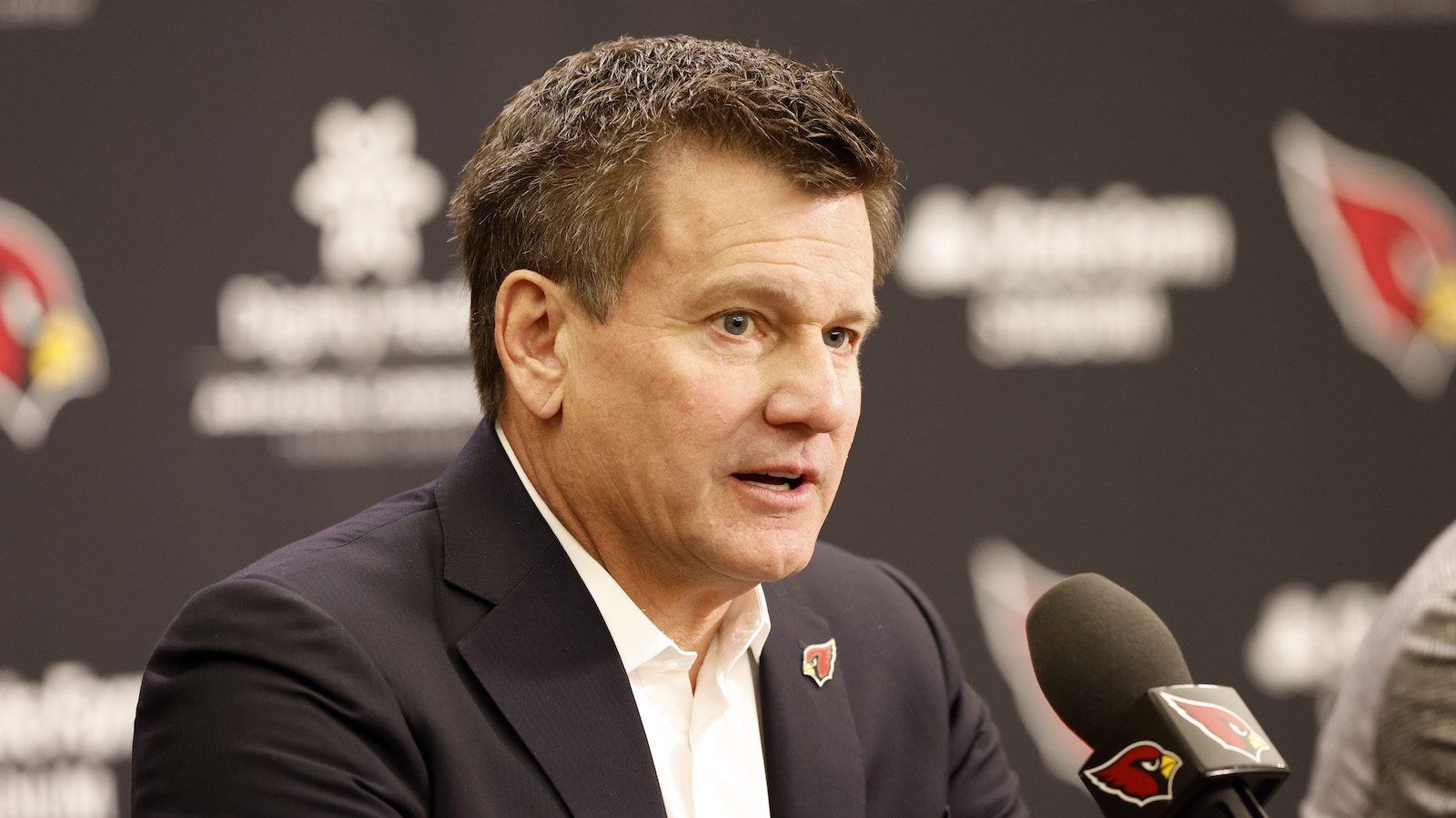 Former Arizona Cardinals executive Terry McDonough filed an arbitration claim against his former employer, claiming that he suffered "illegal and retaliatory mistreatment and abuse" from team owner Michael Bidwill for, among other things, refusing to participate in a bizarre burner-phone scheme meant to circumvent the suspension of former Cardinals general manager Steve Keim. McDonough's claim, which will now be judged by the league office, as well as the Cardinals' reaction, makes one thing clear: Working in the NFL is a real nightmare.
The filing claims that in 2018, after Keim was given a five-week suspension for pleading guilty to extreme DUI, Bidwill instructed McDonough and then-head coach Steve Wilks to violate policy and continue communicating with Keim by using burner phones. McDonough said he is still in possession of the phone used, as well as recordings of conversations he had with Keim during the suspension. What Bidwill actually hoped to accomplish through the execution of this complex and technically brilliant operation remains unclear. Keim is the guy who constructed a roster that went 3-13 that season; the Cardinals were likely better off with him out of the building for five weeks.
McDonough claims that he and Wilks refused to go along with Bidwill's plan, and as a result were unfairly punished. Wilks was fired after his one season in charge (he has since joined the class-action discrimination lawsuit brought against the league by Brian Flores), and McDonough says that Bidwill retaliated against him by demoting him and chopping his salary. From ESPN:
"In response to McDonough's objection to the illicit burner phone scheme, Bidwill cursed at, berated, and formally reprimanded McDonough, and ultimately demoted him -- irrevocably damaging the trajectory of McDonough's 34-year career in the National Football League. Bidwill also subjected McDonough to bullying, mocking, harassing and abusive behavior."

The filing said that the day after McDonough told Bidwill neither he nor Wilks wanted to communicate with Keim during the suspension, Bidwill summoned him to his office and wrote him up for "insubordination." McDonough also accused Bidwill of sabotaging Wilks' first opportunity as an NFL head coach before he fired him at the end of his one season on the job. McDonough said Bidwill has continued to "demote and harass" him since summer 2018.
McDonough, the son of Boston Globe writer Will McDonough and brother of ESPN commentator Sean McDonough, also used his filing to accuse Bidwill of mistreating other Cardinals employees. The filing says that Bidwill "created an environment of fear for minority employees," and brought two pregnant employees to tears by berating them.
Because every NFL team's front office is a snake pit full of the world's shiniest and worst-dressed guys, the Cardinals publicly responded to McDonough's filing with the tenor of a state senator accused of stealing funds from his child's little league baseball team. Bidwill, who is old buddies with Brett Kavanaugh and whose unpleasantness was obvious to anyone who watched an episode of last season's Hard Knocks, hired a crisis management firm called CounterPoint to go after McDonough. The firm's 1,400-word statement not only disputes the claims made in McDonough's filing but accuses him of all sorts of awful behavior, including violent workplace outbursts, surreptitiously recording conversations with colleagues, and "extreme domestic abuse." From the statement:
For legal due-diligence reasons, we conducted a records review in recent days that has uncovered a series of disturbing emails to and from Terry's work email account that include alarming, first-hand allegations of extreme domestic abuse by Terry. Clearly, these latest detailed accounts are even more shocking than the previous behavior by Terry in the workplace that we had already documented. As required under our team and NFL guidelines, we promptly alerted the League to these specifics. 

Jim McCarthy, external public relations advisor to the Cardinals
The league that was once a home for Jerry Richardson and is still, at this time, one for Dan Snyder has yet another ugly workplace scandal to handle. There are so many of these freaks, and the NFL exists to empower them and let them pursue their worst impulses. Aside from the toxic work environment, using burners to maintain communication with Steve Keim is a truly second-rate cheating scandal that fits a second-rate franchise like the Cardinals.
Stay in touch
Sign up for our free newsletter