Soccer
More Like Erik Two Hag
9:31 AM EST on November 9, 2023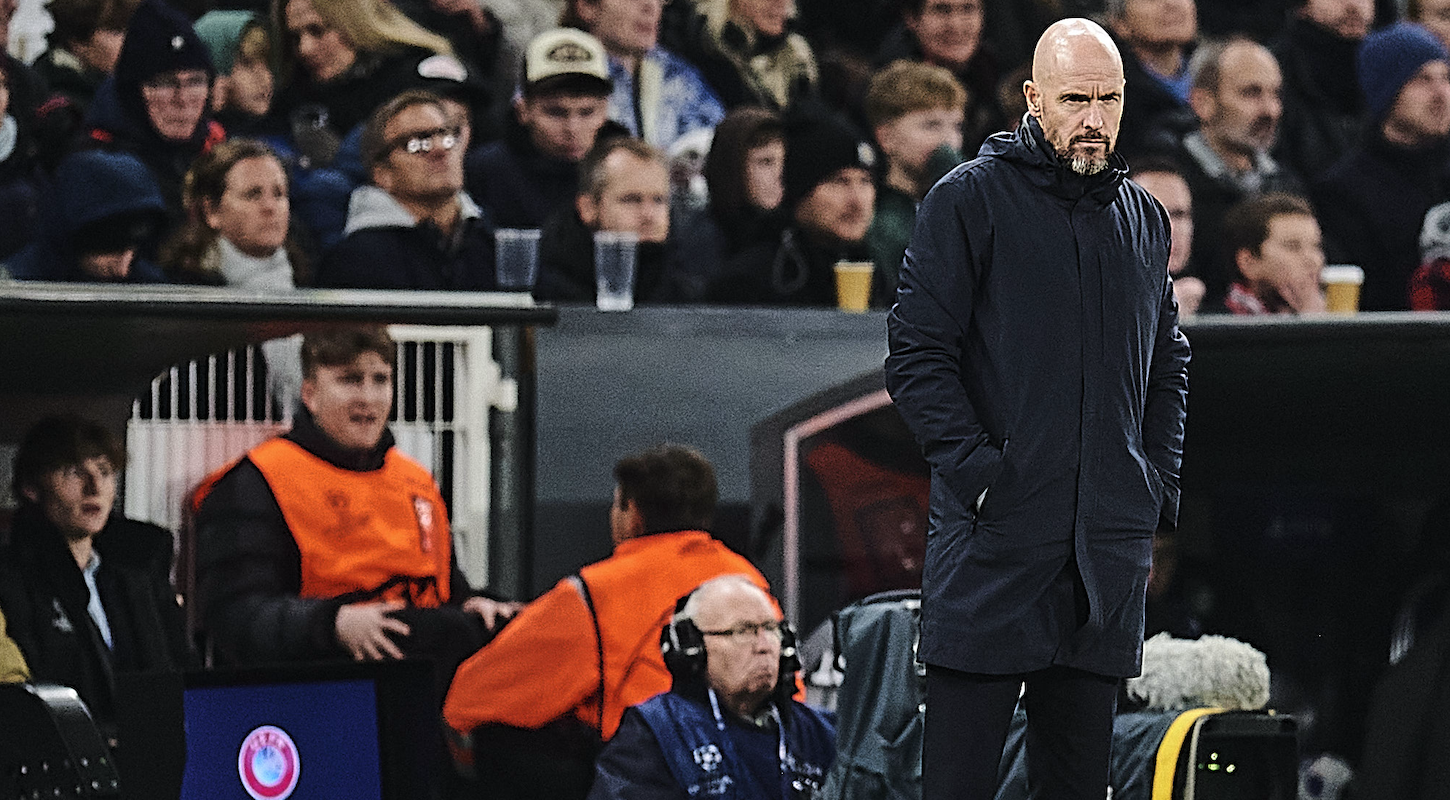 Manchester United led FC Copenhagen 2-0 in the 42nd minute of Wednesday's Champions League group stage match, when a red card to Marcus Rashford put the Red Devils down to 10 men. By the halftime whistle a few minutes later, the score was 2-2. They snatched the lead back in the 69th minute, and then blew it again, and then lost, 4-3.
The red card that flipped the match on its head was controversial. It came after a lengthy VAR review, which perhaps argues against it having been the kind of clear violation deserving of a straight red card. "The referee had such a long time to make it a red card," United manager Erik ten Hag complained afterward. "When you freeze it, it always looks worse. They took so long to make a red card of it ... The game was never meant to be like this."
He's not totally off the mark, I suppose. The foul itself seemed not much worse than innumerable others that have earned yellows. Then again it also seemed no better than plenty of others that have earned reds. That all feels slightly beside the point, which maybe explains why Ten Hag would latch onto it. It makes a better focal point than the bigger picture behind it.
United now sits last in Group A, with three points through four matches; back in the Premier League, the Red Devils are in eighth. Across all competitions, United has lost three of four and been outscored 10-4 in that time. At no point has this season looked not-terrible for the club—at only one juncture, the five-day span between an Oct. 24 1-0 Champions League win over Copenhagen and an Oct. 29 0-3 Premier League thrashing by Manchester City, had the team very briefly won more games than it had lost—and now the bottom might be falling out. Another bottom. A lot of bottoms have been falling out of Manchester United in recent years.
The club's on-field problems are well known and abundantly documented. The squad lacks ball-playing skill at the back and in midfield; they can't play through opposing presses or—germanely to Wednesday's disaster—control possession when in the lead. Up front, United also stinks at scoring goals; in the Premier League they've produced about half as many as any of the seven clubs ahead of them in the standings. Rashford has lost whatever spark accounts for his spectacular 30-goal 2022-23 season; he's scored once through 15 matches this time around, a gut-churning three-goal pace for the season.
The team as presently constructed simply can't play anything like the hyper-aggressive all-action style with which Ten Hag, hired over from Ajax before last season, made his name: playing out from the back, dominating possession with a crazy high defensive line, counter-pressing like madmen. Or, well, the team as presently constructed can try to, and do it very badly, and lose a lot. Moreover, whether the team as presently constructed can play any coherent style at all is, uh, undetermined as yet. Or it's been determined they can't. Or that if they theoretically could, Ten Hag hasn't been able to figure it out.
In the Expert Sports Analysis trade, there is a technical term for a tactically and stylistically incoherent soccer team that is weak at the back and in midfield, and that also is bad at scoring goals. That term is "shitty."
Then there's the quasi-on-field stuff, like the ongoing absence of winger Jadon Sancho, banished from the team since early September (and probably forever) over a dumb conflict with Ten Hag, who wants an apology for Sancho's social-media response to Ten Hag's public remarks about his training habits. And there's the fully off-field stuff that nevertheless probably weighs somewhat on members of the organization: United's owners, the execrable Glazer family, have been trying to sell some or all of the club for the past couple of years, without much success.
But at a certain point in the lifecycle of a rotten sports franchise the specific problems start to seem downright silly as culprits; the failure-state produced by all of them together coalesces into its own thing, with its own energy and momentum, best identified as, well, the franchise itself. Like how at a certain point in an unchecked house fire, the fire itself is only part of the larger problem, which is that the house is destroyed.
I know this phenomenon intimately, having grown up a fan of Washington D.C.'s pro sports teams. In any given NFL season of the 21st century it felt absolutely ludicrous to say, of the football team under any of its crappy names, that it needed, like, a better secondary, or a stronger offensive line, or even a full overhaul of the roster. The furious fools calling into local radio stations to rage against the state of the defense, or roaring about how "ya gotta have a winner at the quarterback position in the National Football League" or whatever, were saddest for their deluded optimism, whether or not they recognized it as such. That was just a fundamental misapprehension of the scale and nature of the situation. They were insisting their grandmother needed a kidney transplant— stat!—at her funeral.
United's rot seems certain to doom Ten Hag, if it hasn't already. Nothing short of a profound reversal can get the team off pace for a worse season than the one that opened the job for him in the first place. Two of the players who did the very most to turn around the club's miserable start last season and win its way back to the Champions League, defender Lisandro Martínez and midfielder Casemiro, are out with injuries and likely won't play again before Christmas. It's very difficult to imagine any reason why the results might improve between now and then, or how Ten Hag could keep his job that long if they don't.
Ten Hag's hiring itself, cause for so much optimism at just a year and a half ago, now looks suspiciously symptomatic of the club's disarray: Who thought lumbering old United could adapt to an Ajax guy's style of play in the first place? For that matter, did anybody think that? Did Ten Hag himself think it? Was anybody thinking at all?
Wait. I'm doing it again. The answers to these questions do not matter. It's Manchester United, man. This is just what Manchester United is like.
Stay in touch
Sign up for our free newsletter