Soccer
Manchester United Is Back In The Pain Cave
8:55 AM EDT on October 4, 2023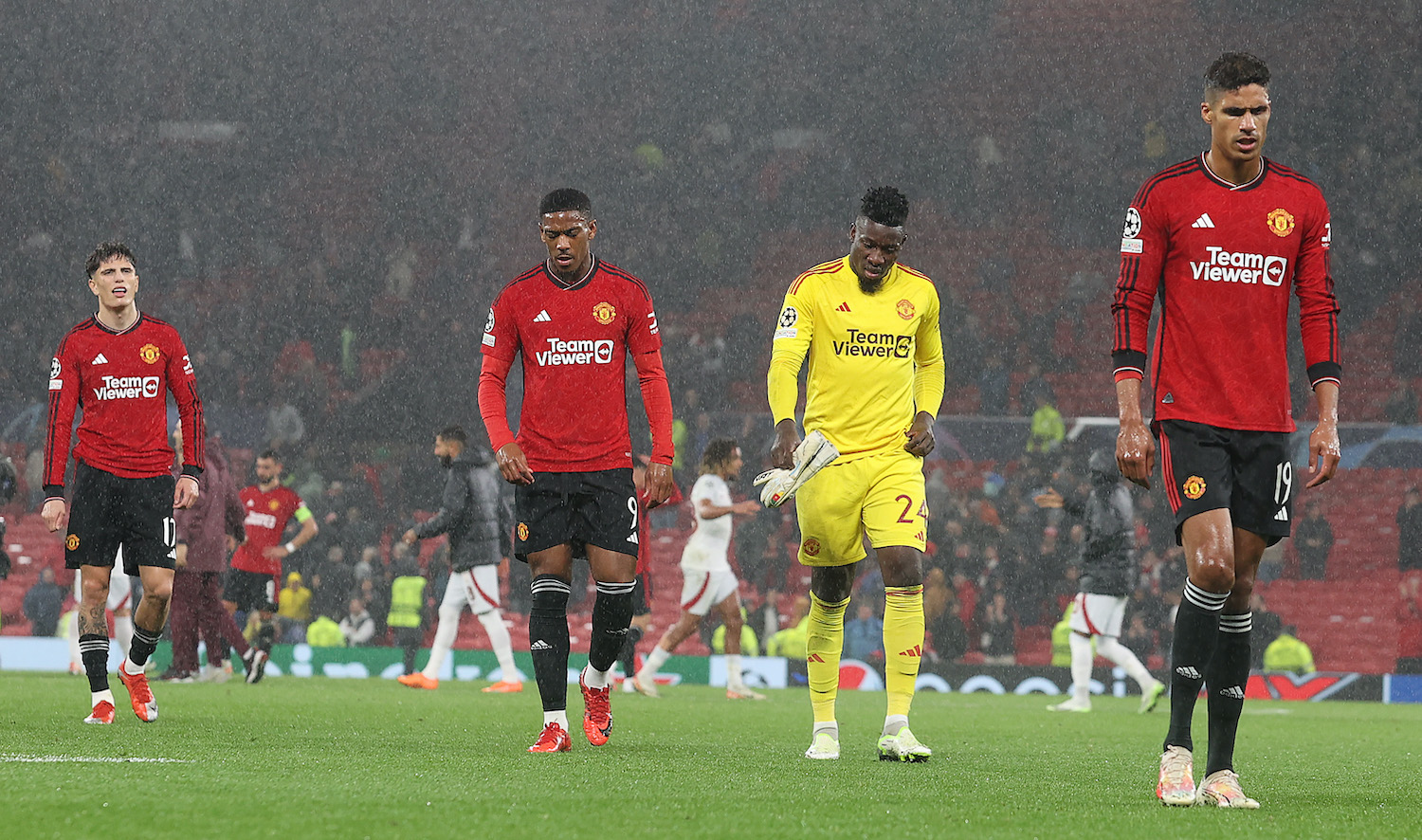 Back in 2011, Wilfried Zaha distinguished himself as one of the coolest and most sought-after English players in years by making the most of his moment against Manchester United in the League Cup, helping his Championship side Crystal Palace get back to the Premier League, and shredding opposing right backs to the point that it was clear he was destined for a shot at one of the biggest clubs in the world.
Unfortunately for him, that club turned out to be United, who brought him in right after Sir Alex Ferguson announced his surprise retirement. Since that moment, United has, when compared to its previous iron-fisted dominance of the Premier League, eaten shit. Zaha was nothing close to the Next Big Thing United fans wanted him to be. Zaha floundered under David Moyes, who gave him exactly 28 Premier League minutes, and then Louis Van Gaal, who didn't use wingers. He struggled immensely with the pressures of life at a huge club, and he lost that effortless swagger that got him there. Zaha wound up back at Palace within a year, his status as an unwilling and mostly unblamed (they don't boo him) symbol of the institutional decay already setting in at a post-Ferguson United only becoming more pronounced as he cemented his status as Palace's best-ever player.
Zaha doesn't play for Crystal Palace anymore, but on Tuesday at Old Trafford, he completed whatever redemption arc you want to frame his career with by equalizing in the 23rd minute. There is something lovely about Zaha, who is now 30 and moved to Galatasaray this summer to play in the Champions League, aging gracefully into the wily-veteran stage of his career while United is still wandering. A decade's worth of their false starts can be circumscribed within the full circle of Zaha's post-United career, so it only makes sense that he got to play a critical role in burying United that much deeper.
Galatasaray had never won a game in England until Tuesday, and United hadn't lost the first two UCL games until Tuesday. The story of the 3-2 defeat wasn't one of an underdog slipping by a dominant team; United had a slight possession edge though the two sides generated a roughly equal amount of good chances. The defining moment of the game came in the 75th minute, when keeper Andre Onana duffed a soft pass to Dries Mertens, forcing Casemiro to do what he does best and destroy Mertens (hilariously, while protesting his innocence), earning a red card for his troubles. Mauro Icardi missed the penalty, but he scored five minutes later to seal United's fate after Sofyan Amrabat was punished for lobbing in a soft forward pass while out of position.
Squint your eyes hard enough, and you may see three individual defensive errors leading to the three Galatasaray goals that were less athletically impressive than either of Rasmus Højlund's goals, and therefore less worth taking seriously as meaningful indicators of United's quality. Squint even harder and you can chalk it all up to the club's injury woes getting to the point that Johnny Evans and Harry Maguire have had to play. Basically do that trick where your eyes are closed but you can still sort of see through the crack and you can rationalize the notion that scoring three goals in Munich in a 4-3 defeat is pretty good, and that United's Champions League hopes aren't dead yet. That would require you to overlook both United's horrid Premier League form, their general disjointedness, and the sour vibes emanating from the club as it bumbles its way through several overlapping personnel crises of its own making.
As to the former: United has lost four times in seven league games, and sit 10th with a minus-four goal differential. The Red Devils have beaten Burnley, who suck, Wolves, who suck, and Nottingham Forest, who suck but also scored twice in the first four minutes of that game and ended with 10 men. Without Mason Mount and with Højlund only starting to get going, Marcus Rashford has had to carry more weight than usual and he's buckled. United nearly beat Arsenal away, only for the supposed winner to get yoinked back by VAR and Declan Rice to nail a 97th-minute winner at the other end. Bruno Fernandes has been his usual tricky self in the midfield, though you watch him make perfect passes, or Rashford beat a guy in space, or even Højlund flay a center back on the break, and you realize that the team isn't playing with any of the tactical complexity or mold-breaking ideas Erik ten Hag came in with (consider how comfortably Brighton outfoxed them.) This is a weirdly simple team, and it makes backbreaking mistakes all the time. Crystal Palace of all teams beat United at home over the weekend to seal the worst start to a United season in 34 years.
The real problem here is that this was supposed to be the season where United emerged as title challengers after a third-place EPL finish, a League Cup title, and the arrival of a bunch of new reinforcements for Erik ten Hag's squad. Injuries have made things much more difficult than anticipated, as have the nonstop foibles of new goalkeeper Andre Onana, though United is a big and rich enough club that it shouldn't be struggling like this. It shouldn't be so vulnerable as to be brought to its knees by Lisandro Martinez getting hurt. Ten Hag also played Antony for the first time on Tuesday since he was given a leave of absence following horrific domestic violence allegations by his girlfriend, a move that calls to mind the manager's support for the reinstatement of Mason Greenwood. This is also all happening while former big-money signing Jadon Sancho is being run out of the club.
Everything just feels kind of busted at the moment, and as Christian Eriksen said after the loss, the mood around the club is pretty grim. "It's a big disappointment. It was very quiet in the dressing room," he said. "I don't think it's about confidence. It's awareness and sharpness and wrong decisions at wrong times. A lot (needs to be done). It's the details. If we don't make mistakes, we don't concede like we do." United at least have Brentford, Sheffield, and Copenhagen to look forward to before the Manchester Derby, but the most important development for this team in the next month looks like it will be the international break, which will allow everyone to spend some time away from each other for a while.
Stay in touch
Sign up for our free newsletter