Soccer
Manchester United Can Stand On Marcus Rashford's Shoulders
10:09 AM EST on February 27, 2023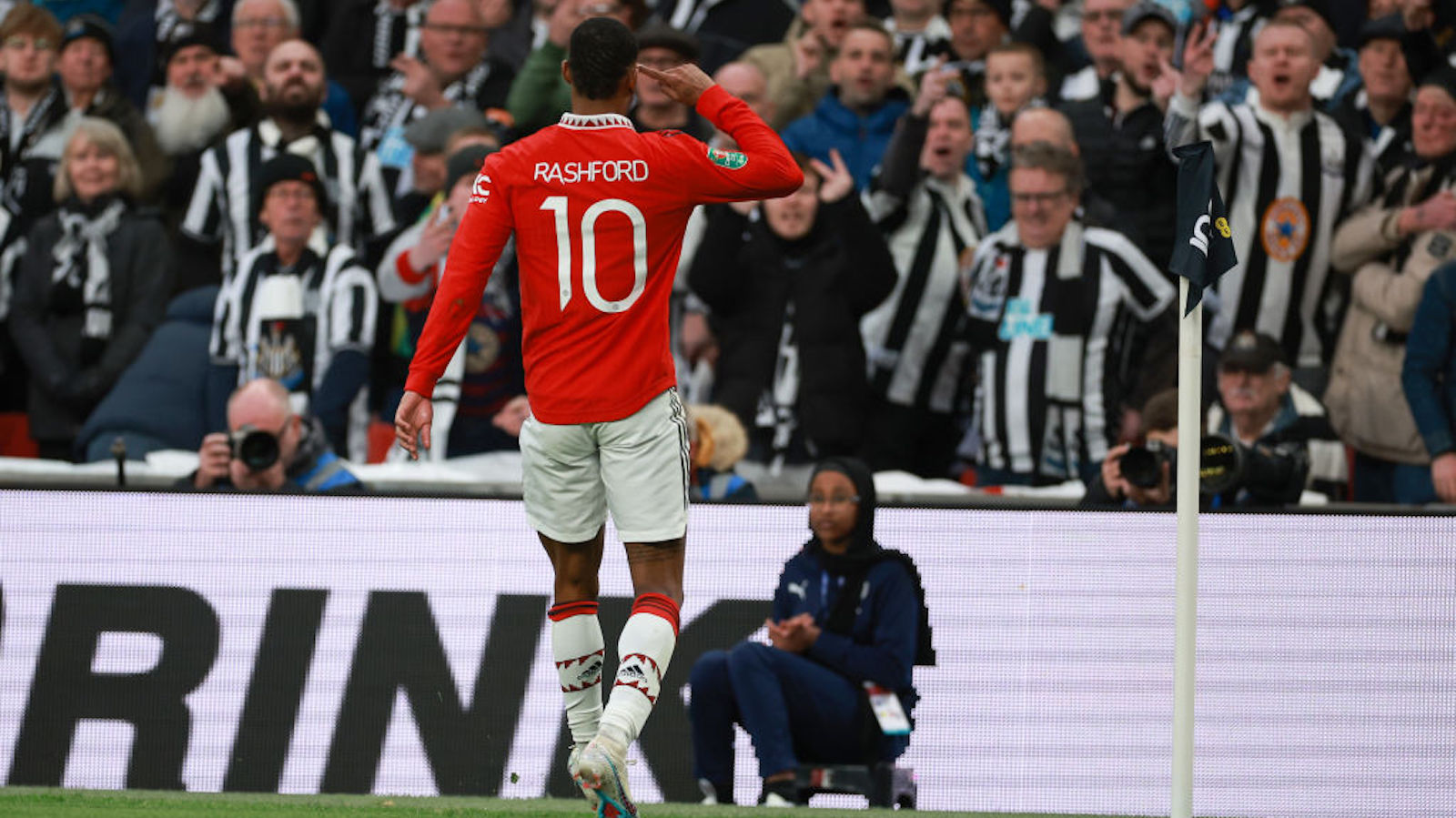 The English League Cup is a stupid waste of time, right up until it isn't. Yes, it is the least important domestic competition of any Premier League team's season; yes, any half-decent squad can sleepwalk its way into the final, provided that is it not purposely trying to get itself eliminated as soon as possible for the sake of conserving energy for more important games; yes, it has an unbelievably stupid sponsor. But also, a cup final is a cup final, and Wembley is Wembley, and if you put two teams like Newcastle United and Manchester United in a game with a trophy on the line, it's hard for that game not to matter.
Newcastle and Manchester United both came into Sunday's final with every reason to take the game as seriously as possible. For Newcastle, a newly mega-rich club that is already a step or two ahead of schedule on its quest to break into the Premier League's elite tier, the game presented a chance to put down a marker—raise silverware in Wembley after beating the Red Devils, and people have to take you seriously. For a suddenly competent, swaggering, and ascendant Manchester United team, the stakes were equally clear: The Mancs hadn't won a trophy of any kind since 2017, and to claim one now would give further credence to the belief that the laugh track that played over every United game earlier in the season is never coming back.
United brought an end to its trophy-less run with a convincing 2-0 victory. Casemiro, the veteran midfield stalwart whose arrival in Manchester back in August once seemed strange and ill-advised, got the first on a set piece. The second goal was scored by Marcus Rashford, who in doing so created a moment that mattered just as much as the victory itself.
We don't need to pretend that shot was one of the nicest Rashford has ever taken, but what came just before and just after the ball hit the back of the net tells you everything about what kind of season he is having.
Before the goal, you see the self-assurance that has been radiating off Rashford's body every time he's stepped on the field since the World Cup ended. It's Rashford who starts the scoring move, with a deft little flick of a chipped pass that sets striker Wout Weghorst running into space. And then it's Rashford who makes sure that run doesn't go to waste, first by attacking Newcastle's back line with a perfectly timed and directed run of his own, and then by collecting Weghorst's pass with a soft, instinctual first touch that opened up just enough of a window to get a shot away. What you are seeing in that sequence is the kind of clarity of purpose that is required for great forward play. Scoring a goal is the hardest thing to do on a soccer field, and the players who do it consistently are the ones who can see a play developing, and immediately understand where they are supposed to run, and how quickly; they are the ones who know exactly what sort of touch is required to turn a tight space into an open one, and who can transition that touch into a shot without thought or hesitation. To watch Marcus Rashford these days is to watch a player who knows exactly what he needs to do at any given moment, and then do it in full flow.
After the goal, you see Rashford sprint over to a section of Newcastle fans and show off his signature celebration. A soccer player's celebration can only really become "signature" if he has a lot of opportunities to show it off, and Rashford has been clearing that bar lately. Rashford now has 25 goals in 38 appearances across all competitions for Manchester United this season, and a bunch of those have been tightly packed into the last few months. Since returning from the World Cup, he's scored 10 goals in United's last 10 league games. He's added four goals in the League Cup over that same period of time, and one in the Europa League quarterfinal against Barcelona earlier this month. So when he ran over to the corner flag and pointed to his temple, as he has been doing every week since Christmas, he didn't do so as just as a guy who had scored a big goal, but as a player who is beginning to become something more.
The biggest and most famous clubs in soccer became what they are because of money, trophies, and history, but also because of the stories they manage to tell to their fans. That's all sports are, really—a collection of stories. It's the particularly compelling ones that leave a mark. The story that Rashford is starting to tell now is a good one. He grew up in Manchester and has been with the team since he was seven years old; he came all the way up through the academy ranks to break into the first team as a 17-year-old during the 2015–16 season. His development hasn't always been smooth, but now, at age 25, he's starting to look like the talismanic player fans envisioned when he first ambled onto the field as a teenager.
It means a great deal when a club like Manchester United has a player like Marcus Rashford to lead it. For as much as United's recent fallow period has been defined by a lack of title-race entries and trophies, it has also been marked by a lack of identity. To put it another way, the Red Devils haven't really had a good story to tell for quite some time now. In the absence of that story were increasingly urgent questions: Who does the team truly belong to? Who provides its direction and imbues it with purpose? Whose name are the fans supposed to sing?
For now, Rashford is answering all of those questions. To see an academy player wearing the No. 10 shirt, scoring every week, and bagging a goal in a cup final before arrogantly celebrating in front of the opposing fans is to see a team that's finally found a good story to tell. How long this one manages to last will have a great deal of influence over just how high United's climb back toward respectability will reach.
Stay in touch
Sign up for our free newsletter