NFL
Jordan Love Flops Against A Very Bearsy Opponent
12:01 PM EDT on October 10, 2023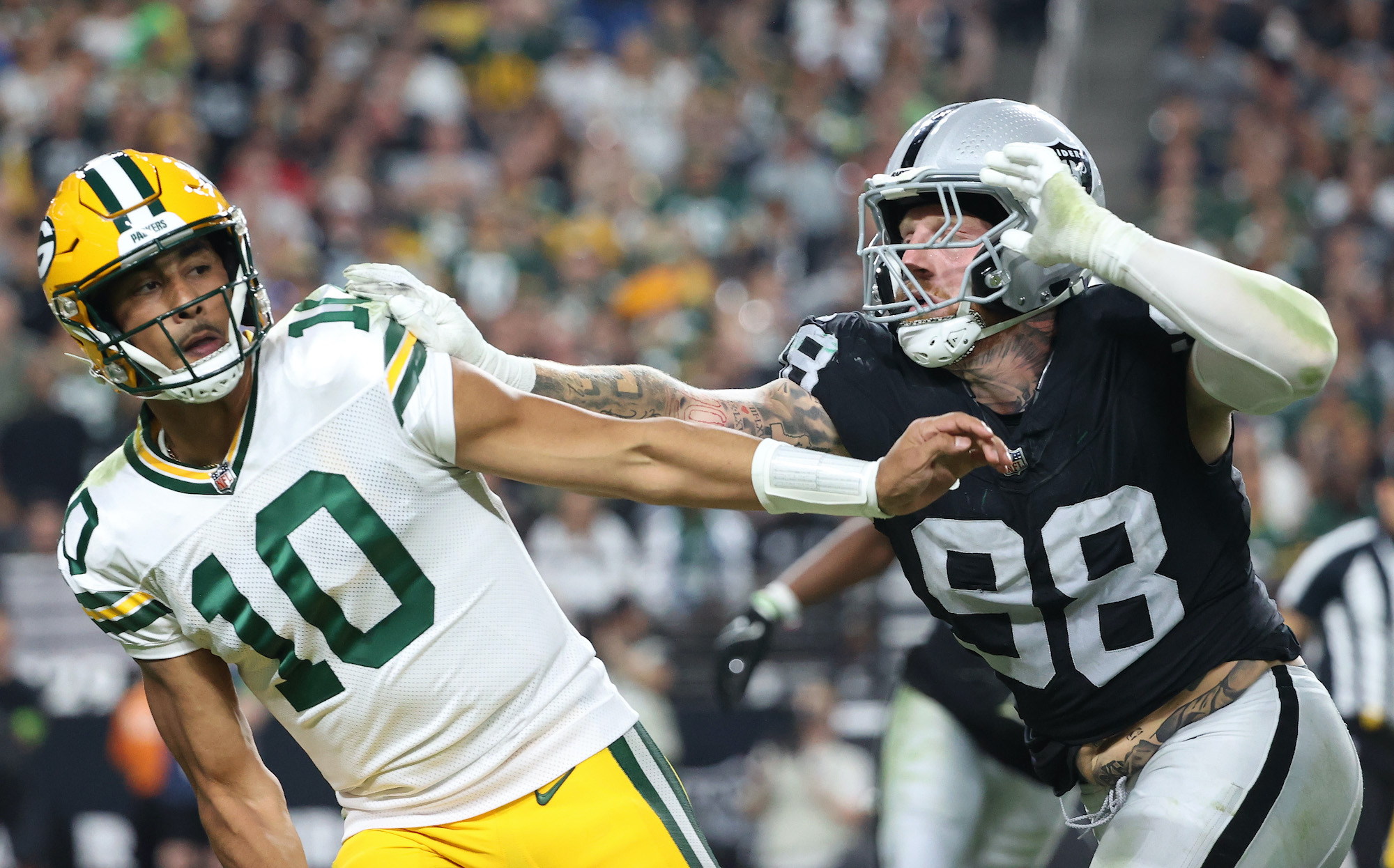 We here at Defector have spent the start of the NFL season attempting to divine whether or not Jordan Love, scion to the Packers quarterbacking dynasty, is worth a crap. The answer proved surprisingly elusive through Green Bay's first four games, in which they went an opaque 2-2. The first of those two victories came against the Bears, who are the Bears. The second was a frantic fourth-quarter comeback against the Saints, who are Not The Bears but are more than capable of Bears-itude anytime they step onto a field that isn't located in Foxboro, Mass. The Packers' losses, at the hands of the Atlanta Kinda The Bears and the Detroit Definitely Not The Bears, were mildly acceptable.
Monday night's defeat was not. The 1-3 Raiders, who barely have a better net point differential than Chicago, beat Green Bay 17-13. Lord knows that they didn't want to. You've met the Raiders. You've met their quarterback Jimmy Garoppolo, who will one day be inducted into the Hall Of Only So Good. You've met their head coach Josh McDaniels, who already blew a game in Week 3 when he opted for a field goal while losing 23-15 to the Steelers—with barely over two minutes to go—only to see his offense not get the ball back until there were 12 seconds left. Garoppolo threw a game-ending pick on the first play of that final possession.
These Raiders love to do their opponent favors, and they did so again last night when McDaniels trotted out kicker Daniel Carlson for a 52-yard field goal attempt on fourth-and-short at the two-minute warning. The Packers were down to their final timeout by that point. A first down would have iced the game. ESPN's analytics department said to go for it. Joe Buck said to go for it. Troy Aikman said to go for it. McDaniels did not, because he'd rather be the dumbest guy in the room. Carlson doinked the kick, and Green Bay received the ball in a better spot than if Vegas had gone for it and gotten stoned.
A good quarterback would have made McDaniels pay for his idiocy here. The final outcome would have been preordained. Here's what Love did instead:
That was Love's third pick of the night. His first was gift-wrapped to Raiders linebacker Robert Spillane (no relation to Mickey). His second was a bullet into too-tight coverage that Spillane also intercepted after cornerback Marcus Peters batted the ball into the air. I wish this game had gone eight quarters to see what other magical fuckups this young man had in his bag.
This was Love's worst game as a pro. After throwing for six touchdowns and no interceptions over his first two games, he's thrown for two TDs and six picks over the past three. His 6.5 yards-per-attempt are worse than that of Desmond Ridder, Sam Howell, Justin Fields, and Garoppolo. He's barely completed over 55 percent of his passes on the season. His best passes have been either to guys who are wide-open or to Aaron Jones, who was inactive last night.
You can call this loss evidence of growing pains for Love, but he had two years in dry dock to prepare himself for this kind of situation. Just because the Packers have shown patience with Love doesn't mean that their fans, or anyone else, has to. There are QBs with less experience than Love—C.J. Stroud, Anthony Richardson before his shoulder injury, Brock Purdy—who are already flourishing in ways that he has not. And when you lose to a team actively trying to give away the game, your potential is no longer as much of a mystery. Still, five games remains a small sample size, so I suppose we have to give Love a bit more time before we render final judgment, even though he had a dreadful performance against a team that actively wanted to give away a win. Defector will mark him down as average to sub-Ridder until further notice.
Stay in touch
Sign up for our free newsletter