NFL
It's Time To Entertain The Idea Of Bill Belichick Losing His Job
1:43 PM EDT on October 9, 2023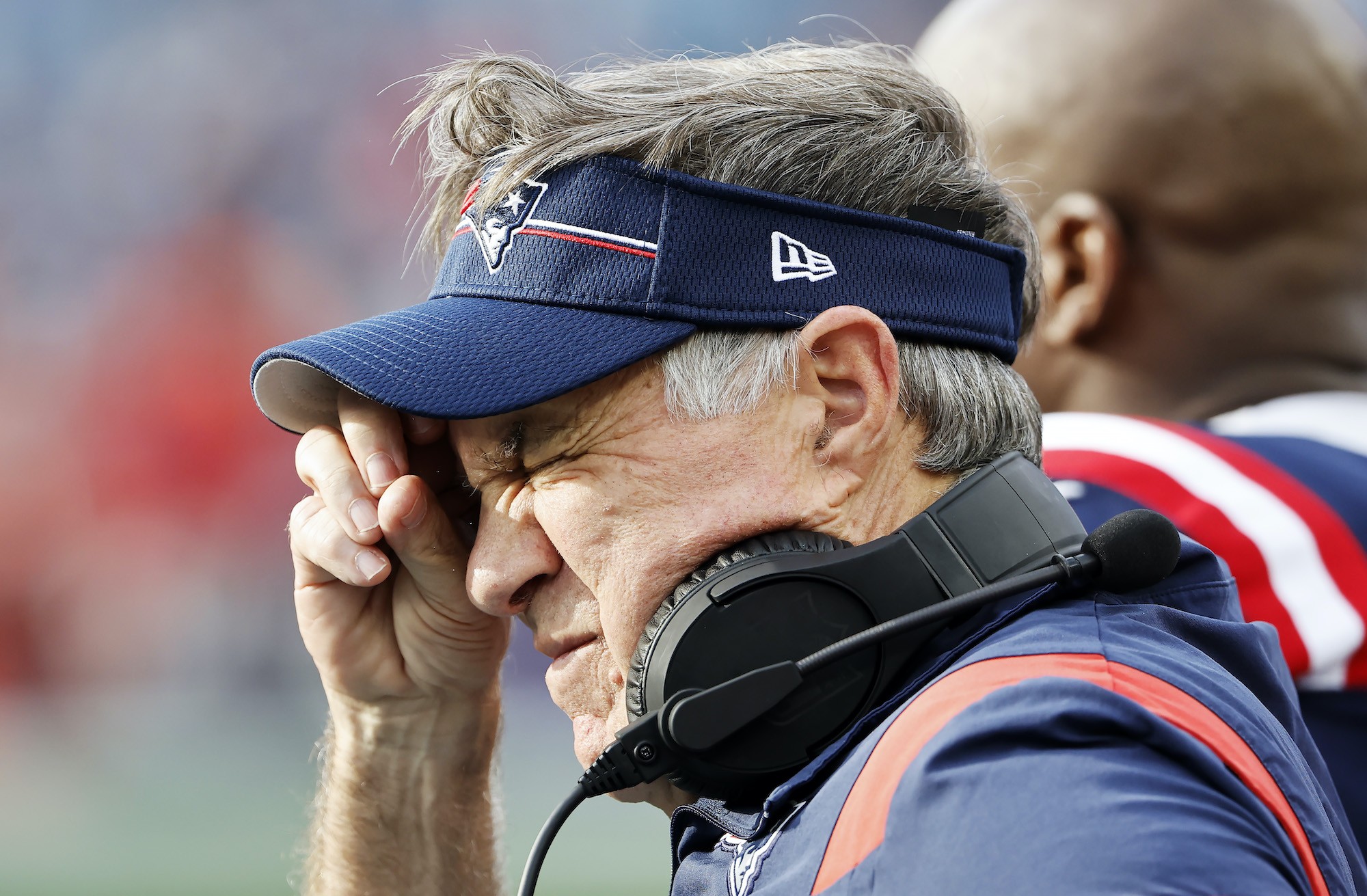 Historically, the New England Patriots under Bill Belichick are a team that bounces back after a loss. From 2001 through 2017, they held a 41-11 record in games when they lost the prior week. When you watched the Patriots flop, there was a sense it was an anomaly, with optimism that they'd make the adjustments and take out their frustrations in the following game. In recent years, and especially after the departure of quarterback Tom Brady, this sense began to fade. For the 2023 season, it is nonexistent.
Last week the Patriots were demolished by the Dallas Cowboys, 38-3. Mac Jones had three turnovers, two of them resulting in defensive touchdowns. It was the worst loss of Belichick's entire head coaching career. There was no bounceback this Sunday. The Patriots were shut out at home by the New Orleans Saints, 34-0. It was the second-worst shutout loss in franchise history; the first was when they lost 52-0 to the 1972 Miami Dolphins. Jones once again had three turnovers, including another pick-six. For the second straight week, he was pulled from the game for Bailey Zappe, because Belichick said there was no point in keeping him in.
While last season's tandem of Matt Patricia and Joe Judge handling the offense was a terrible setup, it's now clear that Bill O'Brien is worse, or the problems lie deeper than whoever's in charge of calling plays. Some of the issues are obvious: an uncharacteristic number of turnovers, injuries, a vulnerable offensive line, a rookie kicker who has missed half his field goal attempts. These are the symptoms of many a bad team deserving of its 1-4 record.
But because this is a 1-4 team coached by Bill Belichick, who hasn't started a season this badly since 2000, there's an expectation that he'll find a way to correct course and stop setting career worsts. In yesterday's presser, he kept repeating that the team needed to "start over." Here's an excerpt:
Q: You said you guys need to start over. Have you ever had to do that before five games into the season, just for reference? Is it something new?

BB: Yeah, I've done it before.

Q: What does that entail, starting over?

BB: Starting over.
There was no chance that Belichick would yell, air out his players, or bang the lectern and talk about how he's a man, he's 71. His vague, curt answers for the media have been consistent whether the Patriots lose or win. He'll only go in depth when the subject is special teams or how great an opposing player is in the week before a game. But the situation's different now. What was accepted as a coaching quirk now comes off more like apathy. Belichick can keep his plans to himself as usual, but there are no secrets left to hide. That the Patriots are out of ideas is clear to anyone watching.
Now comes the fun question: Is there a chance that after three-plus mediocre, post-Brady seasons, Bill Belichick could be fired? Will this man end up with neither a job nor a girlfriend? It's tough to imagine Robert Kraft making a coaching change in the middle of the season. Belichick needs one more win to become the third-ever NFL coach with 300 regular-season victories, although it's increasingly difficult to imagine him surpassing Don Shula's 328.
Based on nothing, the scenario in my mind for a few years now has been that one day Belichick would eat a bad loss, treat it like any other, then abruptly resign. This was more of an entertaining joke than anything, especially since it was clear he wanted the coaching wins record, though it felt true to his nature. Now, it feels like he's close to reaching the end of the goodwill that comes with being Bill Belichick. The roster is what it is. There's no GM to blame, since he also holds that role. While it'd be hasty to say that Belichick's on the hot seat, it's no longer ice-cold—more like someone recently farted in it.
Maybe the Patriots fatten up a bit on the weaker part of their schedule. Maybe they tank and try for Caleb Williams. Or maybe Belichick plays out a dismal season before he and Bob Kraft politely part ways at the end, giving Jerod Mayo, who is considered the heir apparent, his chance as head coach. The only thing that can be said with confidence is that this is a new situation for the Belichick-era Patriots, and the idea of "interim head coach Bill O'Brien" is too horrific to imagine.
Stay in touch
Sign up for our free newsletter