NFL
Jordan Love Beat Not-The-Bears, But I'm More Confused Than Ever
5:51 PM EDT on September 24, 2023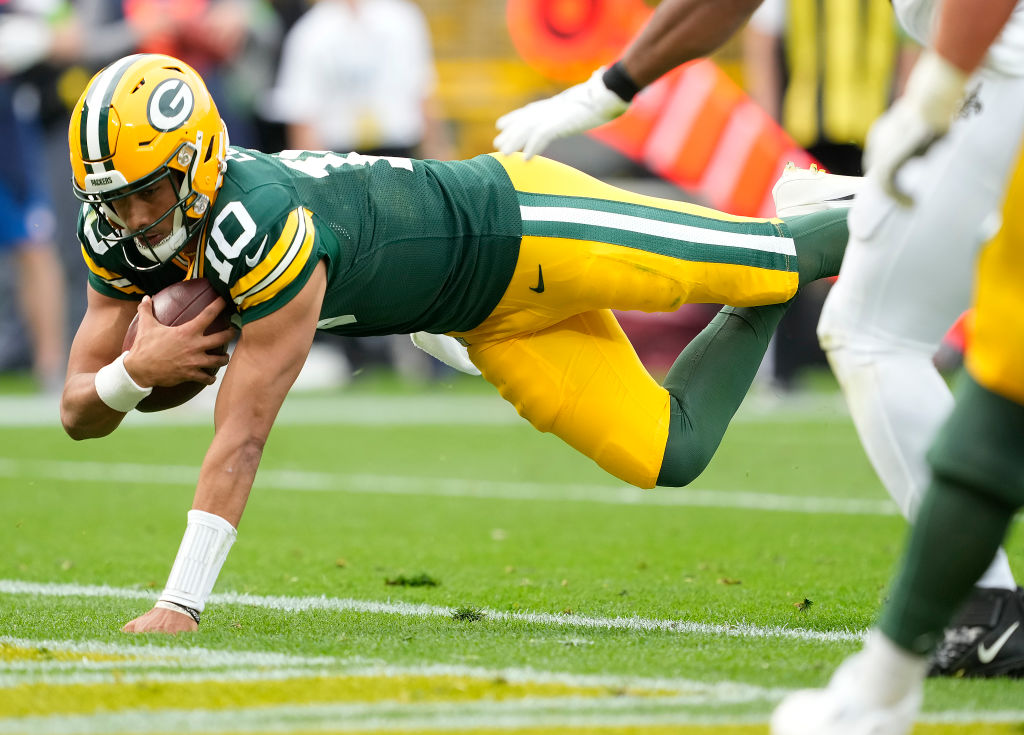 The comparison between present-day Aaron Rodgers in New York and his heir Jordan Love in Green Bay is a moot one, with Rodgers getting knocked out of the season almost as soon as it began. But even if Packer fans will never at any point this year wistfully look toward the Jets with thoughts of what could have been, there are still plenty of What Ifs swirling around Love himself. What if he's just as good as peak Rodgers? What if he's as underwhelming as Brett Hundley? I pondered these questions after Love won his first game on easy mode against the Bears, and Kelsey couldn't draw conclusions after Love and his team took their first loss last Sunday. Now, three games into his first season as a starter, with the Packers at 2-1, Love has been nothing but unhelpful as we've tried to solve this dispute once and for all.
The Packers just barely beat the Saints on Sunday, 18-17, in a home opener where their offense spent most of the time looking terrible. Love in the first half was just 7-for-16 for 74 yards as his team fell into a 17-0 hole. But those on the side of "Love is good!" could still find a few spots on which to solidly plant their feet. His receivers dropped accurate passes; other teammates hurt him with penalties; and sometimes, when everything clicked, Love looked like he could play quarterback beautifully, like on this sky-kissing ball to Romeo Doubs.
That said, rare is the QB who plays a good three quarters and still scores zero points, and Love showed several indisputable signs of badness against the Saints defense.
Badness Sign No. 1: A lack of coordination leading to a silly blooper. You can absolutely blame the surface and the coach's call on this trick play gone wrong, but that horribly awkward moment of Love doing the splits while throwing downfield was still the most memorable image of his game for quite a long time.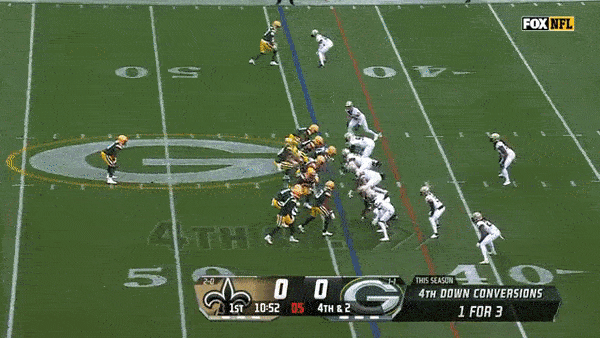 Badness Sign No. 2: Looking like you're just praying for something to go your way. Early in the third, as Green Bay looked for any kind of spark, Love threw the first interception of his season when he appeared to blindly chuck a ball into a faraway defender's hands, like he was quarterbacking in a game of 5000 and not a competitive NFL contest.
A few minutes later, Jameis Winston entered for New Orleans, replacing the injured Derek Carr, and no one could argue that Love was the worse of the two QBs in action. Except even as the Saints gave their punter a workout, Love couldn't stop exhibiting Badness Sign No. 3: No chemistry with his teammates. This botched fourth down in the red zone was the fault of either Love or his man out wide, Patrick Taylor, but either way it's indicative of a dysfunctional offense, and Love's in charge of getting it to work.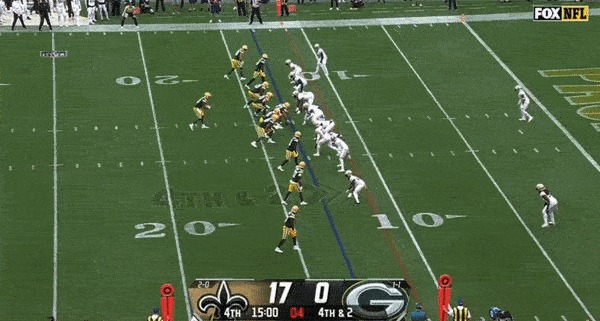 The Packers finally managed a field goal with 11 minutes to go, but their next drive was a case of Badness Sign No. 4: Needing massive chunks of yardage from pass interference penalties to put up a successful drive. That's how Green Bay managed their first touchdown of the day. Starting from their own 20, they gained 45 yards and then 22 yards on long throws from Love that weren't completed. And, even from 13 yards out, Love still made it suspenseful, getting to third-and-ten and then fourth-and-goal before running it in (and passing for two) to bring the Packers within six.
That's when the signs of badness disappeared and the whole feel of the game completely tilted in the home team's favor. The Saints went three-and-out and gave the ball back to the Pack with about five minutes left. With this opportunity, Love orchestrated a genuinely great come-from-behind drive, moving the ball with short passes, scrambles, and this moment of brilliance on a long toss to Jayden Reed.
And on the ensuing third down, Love placed the ball in a great spot for Doubs to fight up and grab it in the near-right corner of the end zone. Thanks in large part to that two-point conversion earlier, the Packers kicked the extra point to take the lead.
The Saints still could have stolen Love's thunder and won this game. But on their final possession, Blake Grupe missed a 46-yard potential game-winning field goal, and Love got to kneel three times in celebration. A 2-1 record feels worlds away from 1-2, and Love's late-game heroics must earn him some space from the angriest depths of Wisconsin talk radio. But for the true connoisseurs of Love's goodness or badness, what do we have? I'd say he's better than Zach Wilson and Jameis Winston. But in all important ways the mystery continues. It's possible, however, that the next Packers match-up on Thursday will provide a bit of clarity on where their QB ranks among the rest of the NFL. If Love can triumph over the Lions, we'll know, at least, that he's an improvement on last year's Aaron Rodgers.
Stay in touch
Sign up for our free newsletter