Jamboroo
Bill Belichick Is Going Out The Way He Came In
1:53 PM EDT on October 12, 2023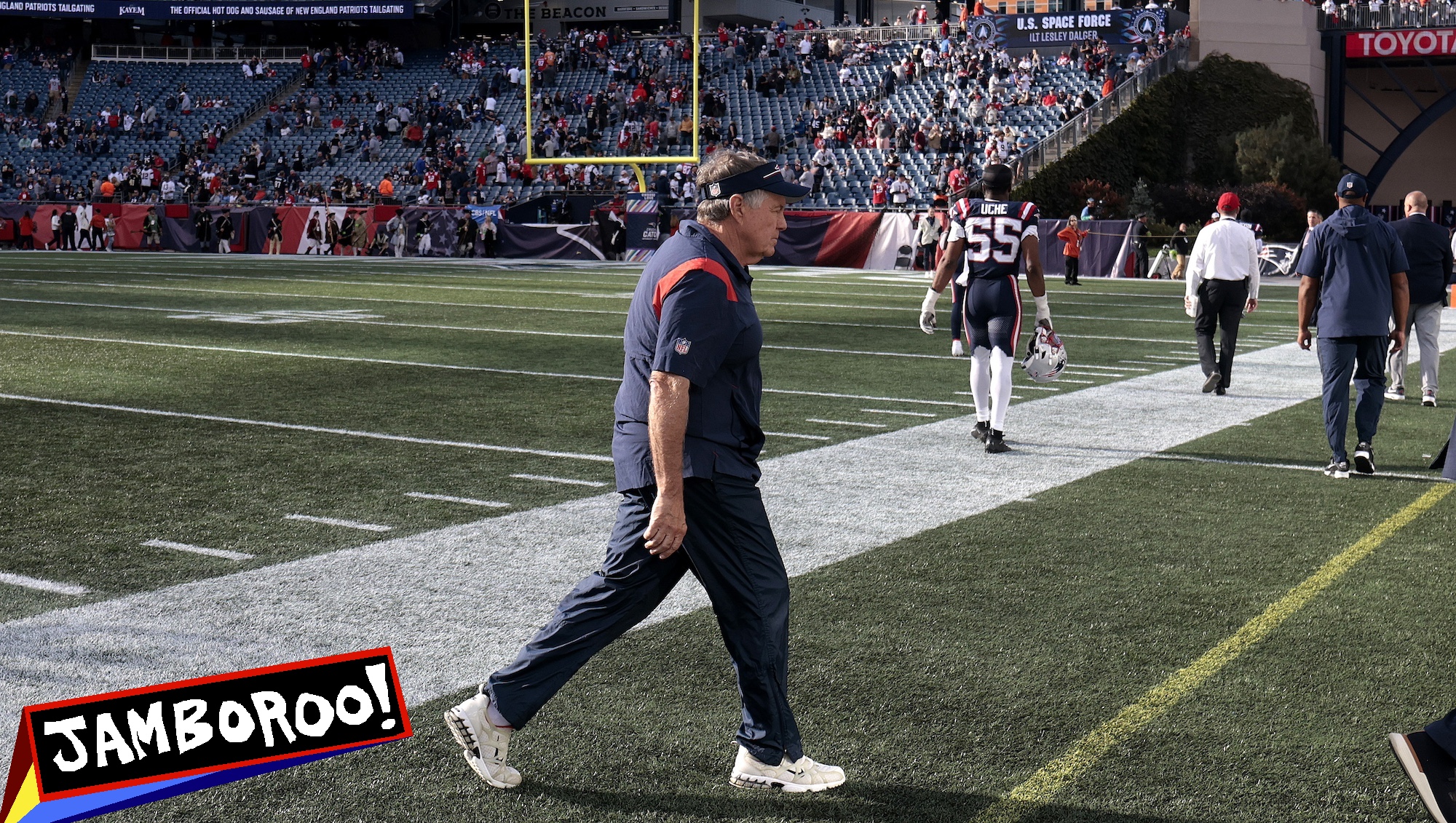 Drew Magary's Thursday Afternoon NFL Dick Joke Jamboroo runs every Thursday at Defector during the NFL season. Got something you wanna contribute? Email the Roo. And buy Drew's book, The Night The Lights Went Out, through here.
This is how it had to end for Bill Belichick. It was never going to end in a shower of confetti. It was never going to end with trophies, thank yous, or smiles. It was never going to end with the greatest coach in NFL history going out on his terms. It was always going to end the way it started with Belichick: curt, impersonal, and ugly.
And is it ever ugly. Belichick's Patriots have just suffered the worst two losses of his New England tenure in back-to-back weeks. The second of those losses, at the hands of a demonstrably average New Orleans team, was the second-worst shutout in New England franchise history. The Pats' offense, worst in the league, is averaging barely over 10 points a game. Despite Belichick hiring a genuine offensive coordinator in Bill O'Brien during the offseason to replace a clearly unqualified Matt Patricia, both the offense and the quarterback tasked with running it have somehow gotten worse. You've already seen a lot of the gory stats proving this; they exist in so many permutations as to be endless. Like this one, from The Athletic's Jeff Howe:
During the offense's last 31 possessions, which spans more than two games, the Patriots have actually been outscored, 22-3. 
It gets no better when you dive into the more advanced stats. Every offensive matrix designed by every analytics-intensive website shows the Patriots offense residing somewhere in the vicinity of Kamchatka. And those charts also account for the Steelers offense, mind you. The Patriots cannot score. Their wideout room is, as ever, nothing but slobs. Their O-line, once famous for being able to plug in virtually any Klecko and still rank among the league's best, is now inarguably one of the worst. Their starting QB, one-time Rookie of the Year candidate Mac Jones, has been benched twice in a row and has gotten about as much support from his bosses as you have.
None of this has been lost on Pats fans, nor on owner Bob Kraft, whose relationship with Belichick has steadily eroded ever since he forced his head coach to trade Jimmy Garoppolo to San Francisco. Again from Howe:
Kraft has grown frustrated, if not downright angry, over this shortage of success, according to people close to the situation.
Belichick started this year 30 wins from passing Don Shula's record as the winningest coach in NFL history. As the Tom Brady years grow more distant in memory, this record—this stat—appears to be the only reason that Belichick, at 71, continues to ply his trade. It is also, in this moment, unattainable. It's not unlike Tiger Woods closing in on Jack Nicklaus's major record only to have his life, his body, and his character dissolve before our eyes. Belichick is not going to break that record. He's probably going to be fired by Kraft at the end of this season, and the idea of another NFL owner hiring Belichick after that is growing more implausible with every blowout. After all, Dan Snyder doesn't live here anymore.
Again, this is how it was meant to end. In many ways, Bill Belichick is the exact same head coach he was back when he was in charge of the Cleveland Browns and got himself run out of town in five unhappy seasons, only one of which ended with a winning record. That Belichick was painfully uncommunicative, benched and cut beloved players like Bernie Kosar with little compunction, and served as his own offensive coordinator (without giving himself the title, of course) for two seasons. Go back and read the stories from Belichick's tenure in Cleveland and all of the details will ring familiar to you. From Ned Zeman at Sports Illustrated, back in 1993:
Several recently departed Browns—Brian Brennan, Paul Farren, Webster Slaughter—have blasted their former boss for being an automaton who offers no positive motivation and sees players only as faceless cogs. Last summer defensive tackle Michael Dean Perry finally had enough and briefly boycotted Belichick's practices.
Belichick's interpersonal skills, at least to outside eyes, didn't improve after he (and the Browns) left Cleveland in 1995. He infamously resigned as head coach of the Jets via Post-it note after just one day on the job. Once in New England, he never gave the media more than one-word answers to their questions unless it suited his interests to do so (and it rarely did). He worked his assistants to death. And he churned the roster at will, never letting his most accomplished players forget that they were expendable. He was, as he had always been, a weird and callous man: the kind of man who gets undue credit for being surprisingly pleasant for 5 percent of any given day.
But he won. You know that part, too. You know that everything that made Belichick so distasteful in Cleveland would make him a legend in New England. He was a champion. A genius. A visionary. This is the man who figured out, before the rest of the league did, that you never overpay your players if you suspect their best years are behind them. You never give the media any juicy copy to work with because there's nothing in it for you. You sweat every detail, you don't commit to a permanent offensive or defensive "philosophy," and you never let sentimentality get in the way. All of it was unpleasant, but also correct. Belichick created the blueprint for winning in the modern NFL, and he established himself as the greatest football mind that the league—hell, the entire sport—had ever seen. To say the Belichick was only successful because he lucked into Tom Brady, or the other way around, implies that greatness is a zero-sum game, which is nonsense. Belichick was a genius. He was a visionary. And for an astounding two decades, his process worked.
Now it resembles the worst moments of his time in Cleveland: sullen press conference answers that feel more clueless than strategic, no direction on offense, and a quarterback left to twist. This man is no longer Doing His Job. And if the Pats remain this terrible for the rest of the season—and without stud defenders Matthew Judon and Christian Gonzalez, it seems awfully likely—Belichick is set to be on the receiving end of the same ruthless approach he's cultivated over the course of winning six titles. It's an endgame that he surreptitiously designed for himself. He is the replaceable cog now, spinning idly away inside a once-powerful machine that no longer requires him.
The Games
All games in the Jamboroo are evaluated for sheer watchability on a scale of 1 to 5 Throwgasms.

Five Throwgasms
None. The bye weeks are upon us. NOOOOOOOOOOOOOOOOOOOOOOOOOOOOOOOOOOOOOOOOOOOO.
No.

Four Throwgasms
Cowboys at Chargers: I paid tribute to the majesty of dad sounds in this space not too long ago, but I'd like to take a moment to talk more about dad coughs. At least once a day, I'll get an itch in my throat which I address by emitting a single, very loud cough. No one in the house knows when this cough will come, but they sure as hell know when it's arrived. "Wow." "Jesus." "You OK?" I've heard it all. And if I'm in bed, and my wife is on the verge of falling asleep next to me? That's when my throat demands the spotlight. This isn't a cold. It isn't COVID. I don't have bronchitis. I'm just a dad who coughs. I could chug a bottle of Robitussin every hour and it would change nothing.

Three Throwgasms
Colts at Jaguars: I know they beat the Bills a week ago, but we need to give the Jags eternal shit for passing on Aidan Hutchinson in the draft two years ago. Travon Walker currently has 5.5 career sacks. Meanwhile, Hutchinson has 14 sacks and FOUR picks since joining the Lions. He's Rust Belt Nick Bosa. He's never known a losing season in Detroit. The Lions don't even feel like the Lions anymore now that he's in the fold. It's not like I spend every day hoping the Jacksonville Jaguars will one day make the big time, but this was worse than taking a punter over Russell Wilson.
Lions at Bucs
Saints at Texans
Seahawks at Bengals
Falcons at Commanders

Two Throwgasms
Ravens at Titans (London): Like you, I've been trained to despise every color guy my whole life. They add nothing. They never shut the fuck up. And they invent new terminology every season—this time, it's "tempo"—to sound like they know what they're talking about. That said, I think these people are getting better at their jobs.
Kurt Warner was the color guy for the London game a week ago and brought the same useful observations to the game that he posts routinely to his YouTube channel. And it's not just Warner. Dan Orlovsky was the part of the second MNF game crew in Weeks 2 and 3 and toned down his whole WATCH THIS PLAY spiel to instead point out things that were NOT obvious to me at live speed. Mark Sanchez is good. Louis Riddick is good. Adam Wainwright is fantastic on MLB playoff games for Fox. Even Matt Ryan is pretty good when I expected him to be a dead fish.
There are still a few "These guys are TOUGH!" analysts out there like Moose Johnston and Mark Schereth, and likely always will be. But I think that you and I have openly complained enough about their kind that network producers are actively hunting out new color guys who can add something to the broadcast instead of just playing Remember When for three hours. It's a heartening development.
The guys in the studio still all need to be cremated alive though.
Eagles at Jets: I watched the Jets in their sparkling new helmets play Denver in their sparking white alternate getups last week and felt like I'd been colorblind for the past three decades. SO MUCH COLOR. The football itself was execrable, but the unis? Elite. I hope the NFL makes like the NBA and goes batshit with the alternates from here on out. Free the rainbow, Roger. Gimme more pretty stuff to look at.
Cardinals at Rams
49ers at Browns

One Throwgasm
Vikings at Bears: Fan-wise, I have been against tanking my whole rooting life. There's no evidence that it gets you a ring, and I don't enjoy sitting through a three-win season if I don't have to, even if all that losing is done in the name of progress.
However, my team sucks right now, and quite badly. If they lose this game, which is more than possible, then all is lost and we really do have an OOPS WE'RE TANKING! season on our hands. I've made my peace with that. This is now, unquestionably, Kirk Cousins's final season in Minnesota. Do you how nice that feels? Signing Kirk Cousins is an invitation to look pretty while running in place, and that's what I've had to endure for six years now. I'm more than ready for a QB who can make plays outside of the pocket and who doesn't have the batteries missing from his internal clock. I don't even care if the Vikings DON'T get Caleb Williams. I'll take any young'un who can scoot. If I have to watch this team eat shit for the next three months to get there, so be it.
Broncos at Chiefs
Giants at Bills
Patriots at Raiders
Panthers at Dolphins
Pregame Song That Makes Me Wanna Run Through A Goddamn Brick Wall
"Win Hands Down," by the legendary Armored Saint. From Sverre:
Not only is this basically a perfect metal song - it has a fantastic main riff, several great solos, including a goddamned double solo, an awesome chorus, John Bush, an all-time great vocalist, in fine form and a cool video - the lyrics are on point too. This song rocks hard enough to make John Foster Dulles want to get in the mosh pit, and he's been dead for 63 years. Why this doesn't open every competitive activity everywhere is beyond me?
Strangely, I only know John Bush's work from when he replaced Joey Belladonna as the lead singer of Anthrax for a cup of coffee. I never actually looked into his original band, which was an ENORMOUS mistake on my part. More Armored Saint is in my future, Sverre. I'll make certain of it.
Eric Adams' Lock Of The Week: Texans (+1.5) over Saints
"Now I've lived in Houston my whole life, and lemme tell you about our town's most famous dish: lemon meringue pie. Some of our ancestors brought that pie up to Texas from south of the border, and it really hits the spot on a hot summer day!"
2023 Record: 3-2
Fire This Asshole!
Is there anything more exciting than a coach losing his job? All year long, we'll keep track of which coaches will almost certainly get fired at year's end or sooner. And now, your potential 2023 chopping block:
Matt Eberflus
Sean Payton
Robert Saleh*
Bill Belichick
Mike Vrabel
Brandon Staley
Kevin O'Connell
Kevin Stefanski
Ron Rivera*
Frank Reich
(*potential midseason firing)
Thanks to the comical exploits of the Broncos, Bears, Vikings, Patriots, and Jets, the Panthers have been able to avoid the intense scrutiny that usually comes with being the only winless team left. But it's worth acknowledging Carolina at the moment because A) Like Jacksonville, they might have made a catastrophic mistake with a No. 1 overall pick, and B) They now have a legitimate Owner Problem. Watch this clip of Frank Reich talking about his weekly(!) meetings with owner David Tepper and you'll see the face of a man who has deep, deep regrets about taking this job.
And can you blame him? Reich carefully amassed one of the more lauded incoming staffs a new coach has ever brought in, he drafted a pedigreed QB, and now he has to take time out every week from grooming an extremely young team to sit down with some aggro hedge fund dipshit to explain why the Lions just ruined their shit. There's no good outcome for this kind of set-up. I can smell the Snyder fumes from two states north.
Great Moments In Poop History
Reader Putt sends in this story I call BARE FORCE ONE:
I was in the Peace Corps in Kaedi, Mauritania, on the western edge of the Sahara Desert, when I got Type I diabetes and went into a coma for three days. One of the many bad things that happens to you when you go into a diabetic coma in the Sahara Desert is that your body chemistry gets completely out of whack and you stop shitting.

I am able to author this contribution to your important work because yes, I did get to the hospital in time (even though the car ran out of gas in the desert) and yes, the doctors were able to figure out what was going on (despite an almost total lack of testing equipment).

Getting treated doesn't mean, however, that I magically started shitting right, or that the Peace Corps doctor didn't see the need to call a medical jet from Geneva to fly me to Paris to continue my recovery.

The doctor and I weren't the only people looking to get out of Mauritania that day. Our small plane was packed full: pilots, medical attendants, one of the doctors from the hospital, and a group of Marines from the U.S. Embassy who just needed a change of scene. Quite a full flight, and quite a big audience when I voided at least four days' worth of shit somewhere over the Atlas Mountains. I have a lot of weird memories from that flight, including seeing one of the Embassy guards sitting on the wing. But one thing I know for sure is that my bowel movement elicited a great deal of lamentation from the other passengers. Fortunately for them, it was only another three hours to Paris.
As if diabetes weren't irritating enough. Damn.
Gametime Cheap Beer Of The Week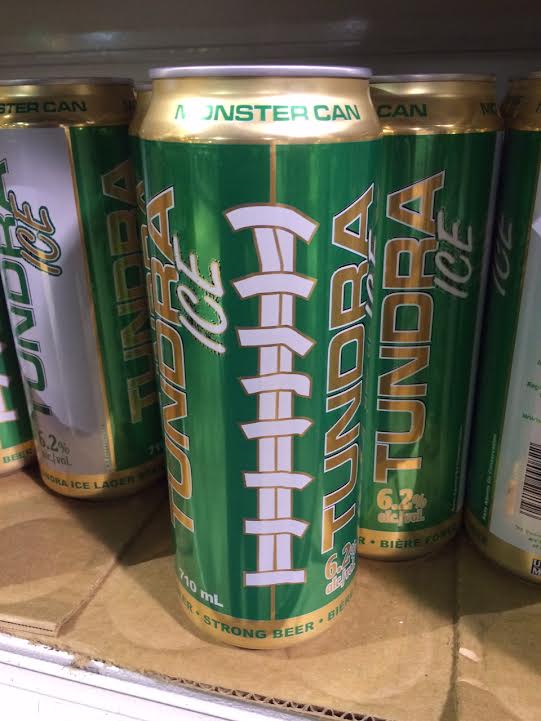 Tundra Ice! Yes I know that name is redundant but just roll with it. From Ty:
Attached is a picture of a beer they sell from time to time up in my home province in Canada. I had no desire to drink it, and actually bought a couple as a gag gift for a friend. Anywho, I was watching football one Sunday and ran out of good beer to drink. So I decided what the heck and cracked one of these bad boys. As you can guess, it did NOT taste good. Tundra Ice had a musty smell and tasted just as bad. It may or may not have contained real pieces of frozen tundra within the can. I was hoping with a name like "Frozen Tundra" and the football logo on the can would give this beer some GRIT and CHARACTER but alas it did not. $3.99 down the drain.
Yes but with all of the literal tundra melting away, this may be the only tundra we'll have left soon. We must preserve all of our Tundra Ice. For the children.
Gameday Movie Of The Week For Panthers Fans
American Made, which joins Oblivion among recent Tom Cruise movies that I had forgotten existed.
I saw American Made this past weekend as a rare impulse watch off the Netflix main menu. You've seen this kind of movie before. It resides firmly in Goodfellas Lite genre alongside the likes of Blow, American Hustle, Lord of War, etc. To be clear, I enjoy movies like this, and I enjoyed Cruise playing a genuine idiot in pilot-turned-drugs-and-arms-smuggler Barry Seale. It might be as close to a normal person as Cruise will ever play. He even tries on a Cajun accent for the role, which fits him about as well as you expect it would.
Still, the usual Cruise 110 percent effort is there, plus a shitload of "the crimes worked like this" narration, sex in the cockpit, familiarly racist depictions of South America, redneck cousins, poorly hidden money, and dead bodies. A firm three-star affair. I should've watched it ON an airplane.
Gratuitous Simpsons Quote
"Thirty-five years in television and already nobody remembers me. Just like what's-his-face."
Enjoy the games, everyone.
Stay in touch
Sign up for our free newsletter