Some people are fans of the Chicago Bears. But many, many more people are NOT fans of the Chicago Bears. This 2023 Defector NFL team preview is for those in the latter group. Read all the previews so far here.
Your team: Chicago Bears.
Your 2022 record: 3-14. This was the worst team in football a year ago. The Bears lost 10 in a row to close out the season. They lost to Carson Wentz 12-7 in one of the most Thursday Night Football games ever played. They blew a 14-point lead to Detroit at home. They traded their three best defenders away in an effort to care even less about winning. They were the foremost victims of Mike White-sanity when the Jets beat the ever-loving shit out of them. Their ninth-string wideout cost them a game in Minnesota by fumbling on the final drive. They lost on a 53-yard field goal in the final two minutes to Marcus Mariota and the Falcons … in a game where they led by 10 at one point and where both teams combined for 259 yards passing. The Giants passed for a total of 71 yards against them but still beat them anyway. They traded for pre-turdified wideout Chase Claypool at midseason and watched him score a grand total of one touchdown after that. They got flagged for illegal drying. And they still couldn't beat the Packers. All typical Bears shit.
And yet, if you ask Bears fans about the 2022 season—and it's a lousy idea to ask Bears fans anything—these Bears were shitty like a fox. This time, the Bears' ineptitude was a part of a larger, process-trusting process. New GM Ryan Poles, who looks like a former child actor who can't land roles anymore, staged an open tank job to get the No. 1 pick in the draft. Ask Scott from Oak Park about Poles's vision and his Vienna Beef will become fully engorged right in front of you. EYYY WE GATT THE TAP PICK EYYY WE'RE GAAANNA BE DA NEW PACKURSE!
Unfortunately for Scott and his fellow Izod shirts, A) Tanking hasn't won any NFL team a ring since the Dallas Cowboys did it over 30 years ago, and B) These are the fucking Bears we're talking about here. I cannot stress that last part enough. This organization couldn't outsmart an actual bear.
Your coach: Matt Eberflus. I have no idea if this man can coach or not but, given the rich and illustrious history of Bears coaches, I can wager how Coach Flu will turn out. The best Bears coach of my lifetime was Mike Ditka, a world-class idiot since birth. Ask Mike Ditka to recite the alphabet and his answer would be, "Six." Every coach that Chicago had since Ditka has either been a fraud or Lovie Smith. Working in this city gives you brain disease.
Your offensive coordinator is Luke Getsy, who looks like a college golfer who got kicked off the team for saying something racist. Your defensive coordinator is Alan Williams, whose unit gave up more points than any other team in the NFL a season ago. And your special teams coordinator is Richard Hightower, who should really get that lump on the top of his head checked out. Looks like Bugs Bunny bonked him with a giant mallet.
Your quarterback: Justin Fields. Don't the Bears know you're not supposed to give running backs jobs anymore? Christ. Anyway, Fields was a middling prospect for a season and change before Flu and Getsy were like, Hey man, what if we just kept running this guy until every ligament in his body died? HEY PRESTO! Fields cranked out the second best single-season rushing performance by a QB in NFL history. In fact, thanks to Fields, Chicago had the No. 1 rushing offense in the league last year. To fantasy football perverts and the eight people at Soldier Field who still think Bears Football is a real thing, this was a big deal. For normal people, it meant absolutely nothing.
Because for all of Fields's rushing prowess, he still couldn't win any games. He also passed for a grand total of 2,242 yards all season long, not even doubling his rushing output. Do you know how many times Fields passed for over 200 yards in a game last season? Twice. There's no worse purgatory than having a QB that's good enough to watch every Sunday but who's already reached his ceiling. That's Justin Fields. Every dumb thing people said about Lamar Jackson's passing ability is actually true of this man.
In fact, PFF had Fields as the 29th-ranked QB in the league a season ago, and that wasn't a metric fluke. He can't find open wideouts, he loves to get his brains sacked out, and he even sucks at throwing the ball away. Why bother giving this man wideouts when he can't even complete passes to the fucking waterboy? The Bears aren't building around a franchise cornerstone so much as the illusion of one. Fields is a shit passer, and he'll bust his ankle by October anyway.
That means that that you, Chicagoland, will soon be treated to a generous helping of backups PJ Walker and Nathan Peterman, who's got that Nathan Peterman in him. Memories of Caleb Hanie will abound. And Moses Moreno. And Craig Krenzel, Peter Tom Willis, Shane Matthews, Steve Stenstrom, Matt Barkley, and latter-day Kordell Stewart. The best quarterback the Bears have ever had was a Columbia grad who played 80 years ago. That fact won't be changing anytime soon. Poles could have sold high on Fields this offseason and drafted Bryce Young at No. 1. He didn't, because he possesses exactly as much backbone as a fucking squid.
What's new that sucks: Flush with cap space, Poles loaded up in free agency on the lowest value positions that any team could invest in. Your big ticket signings include former Bills linebacker Tremaine Edmunds and former Eagles linebacker T.J. Edwards. These are both perfectly good players. But again, they're linebackers. At a more important position, Poles signed DE DeMarcus Walker away from the Titans. Walker has started 13 games in six years and played for three different teams already. The Bears still won't be able to rush the passer or cover anyone. Their defense is now laughable AND expensive. Not unlike a Northwestern degree.
On offense, Poles also signed former Panthers running back D'Onta Foreman to take over for David Montgomery, the latter of whom took one look at the Bears' roster and realized that his best shot at lasting success would be to sign with Detroit. In keeping with 21st century Bears tradition, D'Onta Foreman will average six yards per rush and still only get a dozen carries per game. Oh, and here's former Packers tight end Robert Tonyan, who'll prove worthless without Aaron Rodgers throwing him the ball.
This is an ideal blueprint if you're building a roster in 1985. GO BEARS! In 2023, it'll get you buried. But let's give Poles a modicum of credit for trading down in the draft with Carolina to collect a shitload of picks and get wideout D.J. Moore into the fold as a bonus. Moore was the Panthers' best wideout for the past five years, and oh what a remarkable number of victories that earned them. For something like the 60th season in a row, the Bears are trying to force a WR1 out of someone who is not a WR1. Add in Claypool and perpetual "This guy is so dangerous" tweet Darnell Mooney, and Chicago's whole receiving corps is guys you pick up in Week 11 because you didn't plan for your byes appropriately.
In an effort to fix an offensive line that has been broken since Ronald Reagan was president, Poles also signed guard Nate Davis and drafted right tackle Darnell Wright. With these few tweaks, the Bears could be just good enough to blow their shot at Caleb Williams next spring. And you know what? I think they can do it. I believe in them.
Up in the C-suite, Chicago lured away Big Ten commissioner Kevin Warren to be their new CEO and to cinch up the franchise's deal to relocate to the Illinois equivalent of Foxboro. Let's see how he's faring:
Chicago Bears president Kevin Warren had a grim message for Arlington Heights residents hoping for a new stadium complex in their town: The effort is at a "stalemate," and team officials don't know if it will be revived.
Hard to believe a guy who got rolled by a handful of angry Nebraska parents into staging a pandemic season couldn't figure out a way to gain leverage over an anonymous, inessential exurb. No wonder every Big Ten school still has 58 pederasts in its training room. Uh oh, Arlington Heights, you might not have to pay $5 billion on a stadium for the dumbest team in football. YOU SWEATING YET, BROS?
Barstool is probably going to lose a compliance hearing because their resident Bears fan is an unfunny shithead. Will Dan Katz earnestly declare himself "the father of a daughter" after his boss films himself assaulting a teenage girl a year from now? Yes.
Why the players think you suck: Apparently, Bears players aren't wild about the dining options at Halas Hall:
both the quality of the food and the timing of the meals were flagged as issues.
What? Being served a dinner of hardtack casserole at 3:15 p.m. every day doesn't fit your needs? I guess kids these days just expect the world, and to have it handed to them!
What has always sucked: Poles and Warren are here to give the Bears the image of vision and competence. But you and I both know that this team is still ultimately controlled by a bunch of mummies who belong on display at the Art Institute. In fact, your principal owner turned 100 just this year. HAPPY BIRTHDAY, DEAD LADY!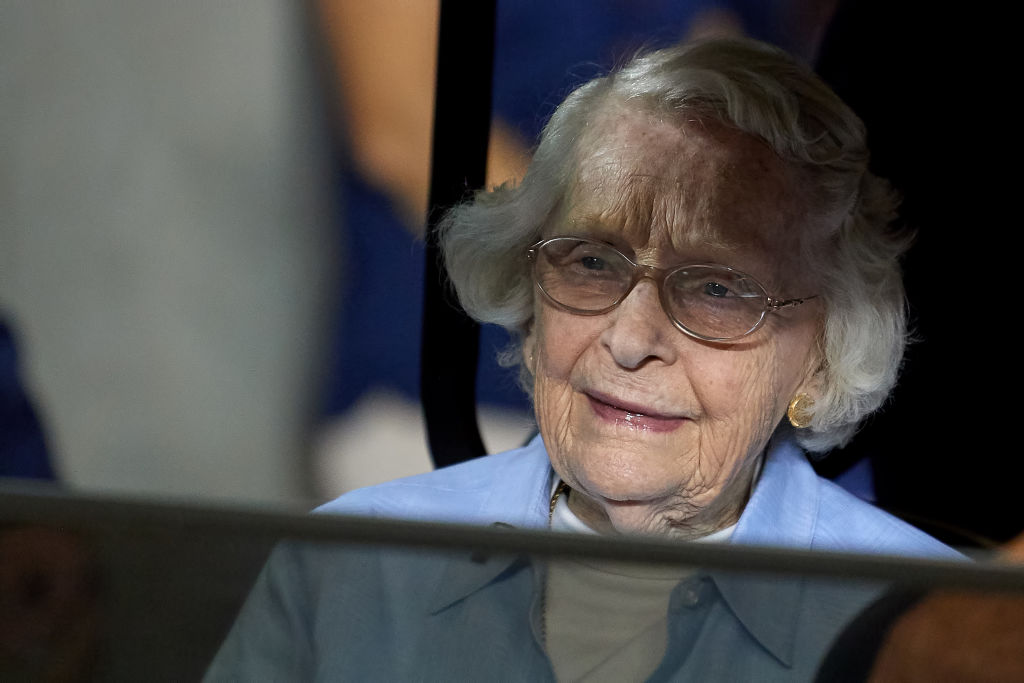 Virginia McCaskey is both the oldest owner in the league and the longest-tenured. She was alive when milk was invented. Her skullpan contains lost Caravaggio paintings. When she dies, her son Prince George will be named King Of All Bears in her wake. But guess what, Chicago? This woman will NEVER die. Never ever ever. She'll live until she's 207 and her asshole team won't get a single thing right in the interim.
And stop trying to make Cole Kmet happen. God, you people are desperate.
Ratto says: The Bears being all hot and bothered for a new stadium is the kind of thing that would normally derail an organization to the point where the stadium becomes the focus rather than the product. But with the Bears, how would you be able to tell the difference? They have operated as though they are perpetually distracted for almost the entire time they have existed without George Halas. So whether they close the deal in Arlington, Naperville, Gary or Centralia, they will keep that news out of your line of sight while they finish 6-11 yet again.
It is comforting for Bears fans to learn that no matter what might pull the McCaskeys' attention away from the team, the team remains impervious to quarterback development. And yes, we're saying it here and now—the Bears have eaten all quarterbacks within their view for decades, and Justin Fields will not break that fourth wall. Not because he isn't potentially very good, but because the Bears have been, are and will always be the Bears. If Fields wants to be an impactful Bear in a way that will get his employers to notice him, he'd either better be a suburban mayor who has actual juice, or a stadium architect.
What might not suck: With a bit of luck, this team could go 9-8 and put themselves in a position to be where the Lions are right now: favored to win the division, only to self-immolate and go 2-87. Fingers crossed.
HEAR IT FROM BEARS FANS!
Richard:
I'm only a Bears fan because my childhood nickname was Bear and I started paying attention to football in 1985. After enjoying Super Bowl XX and assuming every year would end like that, I have hated literally every NFL season since then. 
Sean:
This is not a serious franchise.
Rich:
Remember when the Bears were on the one-yard line against Washington at home and couldn't score a touchdown because they didn't call a running play? I do.
JJ:
A few weeks ago I drove two hours to get an autograph and picture with Jim Covert at a card shop so I could post it on social media and brag about it. I got 12 likes. 
Nick:
Fields has no choice but to be good at rushing. 
J:
My mom temped at the Bears one year for a bit and told me that one of the McCaskey kids, an adult man on the board of directors of the team, had one job at team headquarters: deliver the mail. Seriously. So an NFL franchise in the third largest market in the league had a director so useless that his fucking mother would only allow him to deliver the mail. I hate this team so much.
Jimmy:
Every year when these come out, I'm always shocked by how many teams come before the Bears, and find myself thinking, "There's no way this many teams were worse than the lifeless dipshits I spent five months watching last year."

But finally, this feels right.
Larry:
Justin Fields threw for a little over 2,200 yards last season and I've never been more excited for a Bears QB in my 30+ years of watching. Fucking kill me. 
Tyler:
I don't think Aaron Rodgers is done with us. It would be on-brand for the Bears to go to the Super Bowl and get thumped by the Jets 52-7. Rodgers wins MVP with seven TD passes.
Brad:
Our GM didn't want to engage in a bidding war for the first pick because of some imaginary code of conduct.
Dan:
It's been 11 years and I still think about Shea McClellin all the fucking time.
Fancy Boy Brandon:
This team exists to embolden people who lament Entourage being "ruined by cancel culture." Everyone in the fanbase has a wear sweatpants to a strip club vibe. Virginia McCaskey was 22 years old when the first atomic bomb was dropped. Jerry Jones was two.
Tom:
They are moving the team to Sebastian Maniscalco's suburban hometown. The inevitable SNF opener of him screeching, "We gotta beat tha Paaaaaaackersss" is already making me angry. 
Mike:
The Bears avoid being one of the league laughingstocks because of one freak Super Bowl win almost 40 years ago.
Nick:
Justin Fields will either have both knees RGIII'ed six games into an MVP-caliber season or he will not progress and our racist-ass fans will be clamoring for Nathan Peterman. Fuck Ditka with an Urlacher billboard.
Nate:
Fields will rush for 200 yards per game, and the Bears will lose every game 49-28.
Scott:
As a Bears fan living in central Ohio, the most common response I get from people learning I'm a Bears fan is just a confused "why?" This is coming mostly from Browns fans! "Why?" Honestly, good question. 
Justin (not Fields):
At this point I hope they end up in Gary. Or Rockford. 
Alex:
There was an opinion piece in the Chicago Tribune on why the Jaguars should move to Soldier Field if/when the Bears leave town. This is a brilliant idea because you could give the Jags new orange and blue uniforms and I swear to God, no one would ever know the difference. 
Matt:
Somehow I'm quite optimistic about the Bears this year (which always goes well for me) but I just wanted to write in and say FUCK BRIAN URLACHER. He was wildly overrated, too. Kyle Orton would've been a better linebacker.
Dot:
Chicago sports fans have a collective ability to hate the best players on any team we have. And this is especially true of the Bears. Justin Fields spent two years guarded by an offensive line that the XFL would've laughed at, and fuck me if the fans didn't blame him for every sack. Our lineman would just watch defense ends blow past them, and these fans are just wondering why he didn't run more. I talked to a Bears fan that said we needed to trade away Fields because, "He's not going to get us to the playoffs this year." This is a grown-ass man that is allowed to vote and operate a car. If the Bears don't win the Super Bowl after going undefeated, Bears fans will see this season as nothing short of a failure on par with Pearl Harbor. 
Eric:
We're so desperate that even the whiff of a functional QB makes every Bears fan secrete enough pheromones to send the entire fanbase into a drunken hope orgy.
A Different Eric:
I am a 39-year old Bears fan who hates the '85 Bears because that is all the Bears have to offer.

With an elite running back as our quarterback, our team gave up 57 sacks and only sacked the opposing QB 20 times.
Kevin:
I'm 35. I have seen the Bears do well in the playoffs ONCE.
Kissedtitties:
I am all the way in. I'm Bear-pilled. Forget drinking, I'm chugging the Kool-Aid. Whatever the hell cliché you want to use, I'm pumped for this organization's future. All it took was for them to be the literal worst team in the league.

This defense couldn't stop a flag football team from running up the score. The offensive line couldn't stop a Pomeranian from mauling Justin Fields, and the entire receiving corps couldn't catch COVID even if they licked every doorknob to every bathroom of every rest stop in the Continental United States. Despite being the worst Bears team I'd ever seen as an adult, this was the most fun Bears season of my life since maybe the Super Bowl season in 2006.

2011 is the last Bears team to win a playoff game. It was so long ago, our current tight end was prepubescent at the time. I myself was a college freshman. I'm now 31.

This city has nothing. Both baseball teams are run by rich jagoffs with zero intention of doing what it takes to win things of consequence, one of those rich jagoffs is cratering the basketball team because he's more stubborn of a human being than even The Last Dance portrayed him as, and the racist-ass hockey team is more morally bankrupt and evil than the next Trump cabinet could ever aspire to be.

Our non-football teams are all varying degrees of awful, and yet we are the way we are.

Just wait until the Bears start winning. We'll be like Patriots fans, but fatter. Bear Down!!!!!!!
Jeff:
I spent every week last season watching this team at the same bar hoping for 1) an absolutely insane Justin Fields scramble, 2) a close, exciting game, and 3) for us to lose so we could get the top pick. We literally had our worst season ever, and we're all trying to convince ourselves that we're a Super Bowl contender because our GM traded the #1 pick for 17 future linemen who will end their careers on the practice squad. But I am convinced that Fields is our God, and will until he Bo Jacksons his ACL on a 15-yard scamper while we're losing to the Packers 23-6. I am the problem.
Ryan:
I remember watching a highlight video of their Super Bowl against the Colts. They showed Rex Grossman shouting to someone on the sideline, "WE GOT THIS" after Hester's opening TD. Then the collapse. That's what being a fan of this team is. A lot of early promise only to get kicked in the ballsack when reality comes calling.
Stephen:
The best thing about the Bears leaving Chicago for Arlington Heights is the fucking south-suburban mustached contractor bros who fly Trump flags from the bed of their F-150s at tailgates will never, ever have a reason to go back into my goddamn city again. May you all die in a fiery crash on I-294 after we lose by 27 to the fucking Lions.
John:
I should know better than to have hope. My city elected an honest-to-hell progressive (albeit a waffling one) as mayor after four years of thrift store Bruno Mars. The lake looks cleaner even if it encroaches further on the beachfronts. We have the best coffee in the country. I paid first month's rent for decent seats to the opening game against the Green Bay Stinkies. They will lose by two tuddies because I did this.

This team couldn't even extort suburbia properly.
Justin Fields listens to Morgan Wallen.
I found an authentic Devin Hester Reebok jersey used in Japan while I was wearing my Bears Super Bowl shirt, and my sister had to explain to the checkout lady I was very excited in Japanese. If this Japanese woman knows nothing else about the NFL from now on, that is the image she will have of the Chicago Bears and their fans. You're welcome, America.

Justin Fields is gonna snap his leg in some horrifying fashion on one of our two (two!!) Thursday night games. It'll be like the fall of Derrick Rose, without the rape allegations.

The last WR we got from Carolina was Mushin Muhammad, so DJ Moore will be ass.

This fanbase claims to love our black QB but Naperville (where our fanbase spiritually resides) won't build a stadium there because of, "crime concerns," and why is your dog looking at me like that.

Fuck Mike Ditka with Grimace's Birthday Shake.
Chaz:
In the 90s, Jay Mariotti decided to write that Jim Harbaugh was terrible, demanding fans call him HAR-BOO. The fans booed him out of town, oblivious to the fact Harbaugh was catching Chris Doleman's helmet between his shoulder blades roughly 0.8 seconds after every snap. Harbaugh wasn't the problem.
Tim:
Way back in 2010, Glenn Beck of all people predicted Brian Urlacher would be a neo-Nazi. Game recognizes game. Today the best Bears' player of the last 30 years is a man whose tau protein buildup has smoothed his brain enough to communicate only in right-wing meme-speak and whose suburban politician brother was going to federal prison until Trump pardoned him. He also liked a social media post supporting Kyle Rittenhouse. He could have never played a down for the Bears and all of the above would still garner him support from at least a third of the fanbase.

The Bears are moving out of Soldier Field (which half the fans still call "Soldier's") to a suburb, and half the city is indifferent or actively wants them gone. Soldier Field is the tiniest dump in the NFL with lines to the bathrooms that make you miss a quarter of football and concessions run by a company that actual prisoners think is too hellacious. Nobody who lives in the city limits goes to Bears games. I only hope the new stadium has a roof so as to drive a stake through the hearts of all of the fans who think it's cool that snow and wind make it difficult to play here.

Jay Cutler will hold the franchise record for passing yards for at least the next two decades after taking the lead from a guy who finished his career at the start of the Korean War. The franchise's all-time receiving leader was retired before the Chicago PD beat war protesters outside the 1968 Democratic Convention. The guy ranked second retired six years before him. The franchise's all-time leading scorer is still in the league but hasn't been on the Bears in seven years. This is an NFL anchor franchise, folks.

And still each of seventeen games this season will have a deep emotional impact on me because I'm as big of an idiot as anyone else who roots for this team. I think the receiver they snagged in the fourth round this year is a huge steal.
Max:
If Jordan Love is a Hall Of Fame quarterback I am going to kill myself.
Rob:
I liked you better when you were fat.
Patrick:
The Bears bought Arlington Park without publicly exploring options in other counties or in northwest Indiana. Thinking they'd get the red carpet treatment by their mere presence in Stepford, they didn't bother bribing any politicians, starting up PACs, or starting out a meaningful PR campaign to get favorable tax treatment. Shockingly, they didn't get any concessions. It became so clear they had done zero work behind the scenes that, the day they commenced demolition at Arlington, after spending countless millions of dollars, they announced they were exploring another site in Naperville, followed by the usual gaggle of failburbs like Waukegan and Aurora.

Say what you will about shitasses like Davis and Kroenke, they at least had the business sense to wring everything they could out of their original cities before getting billions in public funds committed to their ego trips elsewhere. The McCaskeys traded the cow for a bag of beans without even asking if the beans were magic.
Brad:
Marc Trestman looked like Jeff Goldblum about halfway into his transformation into The Fly. His face was literally disgusting.
Larry:
The minute they leave Chicago is the minute I stop giving a rat's ass about this godforsaken team.
Yasir:
Because, "we get off the bus running."

Because of the myth of "Bear weather."

Because the greatest QB in team history played in the 40s.

Because Jay Cutler at his worst is still better than the parade of assclowns that played QB in the 90s and early 00s.

Finally, because we let Jim Belushi be the celebrity face of Chicago sports in general. We're really, really sorry for that one.
Matthew:
The highlight of my Bears fandom is drunkenly doing the dishes while pissed off midway through the fourth quarter of Super Bowl XLI after Sexy Rexy's second pick. Fuck all the McCaskey's with Ditka's mustache.
Sean:
Virginia McCaskey is going to live until she's 500 and keep creating additional McCaskey clones as owners until the sun finally envelops the Earth. The Bears still will not have won a playoff game during that time.
Max:
My dad would always recount the story of how the first thing he did with me after my birth was watch the Bears beat the Jaguars. Despite the years of mediocre football, I at least had that win to fall back on. Maybe the most fundamental connection to a sports team you could have. Who wouldn't root for a team that they've watched since birth? Later, when I attended college in Wisconsin, I'd often recount that story to defend my fandom. All of this came to a head in September 2019, where the Bears, fresh off their best season in years, lost one of the worst NFL games ever. The jeers of my friends still fresh, I decided to find highlights of that Bears/Jaguars game, hoping that I could find some solace in watching a win that held so much meaning to me.

Except the Bears had actually lost that game.
Scott:
My wife roots for them to suck so that we can do non-football things on Sunday. Fortunately for her, we've done a lot of non-football things on Sundays in our 20 years of marriage. Fuck the Packers with Matt LaFluer's Color Me Badd beard. 
Alex:
After the intervention of my best friends and family, I'm divorcing my wife, whom I've been with for about nine years. I wouldn't say anything overly dramatic happened, and I'll spare the petty details, But the long story short is I hadn't been happy in years, and I don't think either one of us was getting anything out of the relationship anymore. Truth be told, I think we both stuck around for so long because we started dating when we were young, and our lives became too intertwined. It was more habit than anything else. 

We're still a long way from this being over, but in the few months since we separated, there are things that I absolutely miss: stability (I've been crashing with friends until I find my own apartment), the routine, our shared friends. However, I can fully say I don't miss her. I don't mean this in a pedantic way, but I can say I'm already happier in a meaningful way without my ex. I wish her nothing but the best, but I don't have to build my life around her anymore, and it's freeing.

Will I take this as a sign to cut out other things in my life that don't provide joy simply because I've been invested for many years? Will I use the sunk cost fallacy, move on, and actually enjoy a Sunday? I will not. Go Bears. Justin Fields will be the MVP this year. Fuck Ryan Pace from now until the end of time. 
Jacob:
Them moving to Arlington Heights is hated by Arlington Heights, hated by Chicago, and loved by my mother. Don't make my mom happy, Bears. She doesn't even like football. 
Wanna be part of the Defector 2023 NFL previews? It's simple. Just email us here and tell us why your favorite team sucks. Submissions close tomorrow. Next up: Houston Texans.
Stay in touch
Sign up for our free newsletter