Some people are fans of the Tennessee Titans. But many, many more people are NOT fans of the Tennessee Titans. This 2023 Defector NFL team preview is for those in the latter group. Read all the previews so far here.
Your team: Tennessee Titans.
Your 2022 record: 7-10. Here were the Titans, the defending No. 1 seed in the AFC (I swear; look it up), starting off 7-3 and already a lock to win a division that they win every year by default. It didn't matter that they started 0-2. It didn't matter that they blew a 13-point lead to Daniel Jones in the season opener and lost on a hacky shovel pass for the game-winning two-point conversion. It didn't matter that the Bills put up a 24-0 third quarter against them. It didn't matter that they blew a 17-9 lead to Kansas City and let Patrick Mahomes pass for nearly 450 yards against them in the process, while their own QB completed five passes the entire game. It didn't matter that all seven of their wins came against teams that would end the season at .500 or below. These were the Titans, and the Titans save all their collapses for the playoffs, when they matter most.
But not this time. This time, God was like you again?, and then it was over. The Titans closed 2022 with seven straight losses. The Bengals beat them in Nashville. Again. Their former all-universe wideout went for 119 yards and two touchdowns against them; two days later, ownership fired the man who traded A.J. Brown to the Eagles in the first place. Justin Herbert beat them by staging a game-winning drive with just 48 seconds left. Their eternal Thursday night rivals, the Texans, snapped a nine-game losing streak when Davis Mills hit Brandin Cooks with a game-winning touchdown pass against them. This was the worst pass defense in the NFL a year ago. This was the third-worst total offense in football, too, and one of the very worst second-half offenses. This was a bad team.
[Stephen A. voice] BUT! This was still the AFC South, and the Titans could still win the division simply by beating Jacksonville in the final week. Here's how that went:
This was actually the second game Tennessee lost to Jacksonville in the final month of the season, and the Titans blew a 10-point lead in the rematch. It's hard to stand out as a disgrace when Nathaniel Hackett, Jim Irsay, Josh McDaniels, Kliff Kingsbury, and the Houston Texans all exist alongside you. But I just want it noted for the record: these Titans were a fucking embarrassment. Even more embarrassing than their home state, which is saying a great deal. It's been clear for years now that the Titans' formula of, I got it! Let's play Martyball! has resulted in increasingly diminished returns. Firing the GM should have only been the start. They should have bleached this organization out like a fucking swimming pool. Did they? Nooooooooooooooooooo …
Your coach:
Many years ago, before all the "7-9!" jokes would come to define his legacy, Jeff Fisher was regarded as a very good head coach. I swear. Look it up. Fisher coached the Titans for 16 years, steadfastly guiding the organization through not one, but two franchise relocations (first from Houston, and then from their temporary home in Memphis). His teams always ran the ball well, had a deep bag of tricks on special teams, and played admirable defense. His offenses never passed the ball a ton, but they at least did so efficiently. He had far more winning seasons than losing seasons. And in the end, he never won anything that mattered.
Now who does that remind you of? Mike Vrabel can't manage the clock. He can't win big games. He can't develop a quarterback, and he can't find assistants who can. Vrabel is like if you shaved off Fisher's mustache and taught him to deadlift.
And guess what? You're never getting rid of him. You're gonna get another decade of his bullshit, because the Titans just got a new stadium and don't have to care anymore. Ran Carthon is your new GM and if you're lucky (you're not), he's gonna do the thing where the new GM gives the old coach a one-year grace period before leaving him out on the curb. But Titans owner Amy Strunk loves Vrabel, and I know what happens when a checked-out owner adopts a mediocre coach as their personal shelter dog.
Down the masthead, Vrabel fired offensive coordinator Todd Downing and replaced him by promoting former passing game coordinator Tim Kelly. Again, this was the worst pass offense in football a year ago.
Your quarterback: For one more year, it's Ryan Tannehill. After this season, Tannehill will adopt Andy Dalton's late-career trajectory. But for now, he's still there, still ready to surprise you with a cool throw every other game and then two glaring turnovers immediately thereafter. He also gets hurt a lot, which is frankly a positive attribute at this point.
The good news is that there is a youth movement ("movement" here used in the anatomical sense) in the Tennessee QB room. The Titans have not one, but TWO guys in there who were projected to go as high as No. 2 overall in the draft before serving a five-year sentence in the green room. The first of those guys is Malik Willis, whom the Titans had to replace with free agent Joshua Dobbs as temporary starter midseason because Willis couldn't throw the ball. The other guy is rookie QB Will Levis, whose super solider serum is this:
More red flags abound. Levis transferred to Kentucky after losing his starting job at Penn State. He didn't play a full season a year ago. Leading up to the draft, he kept on getting swole when advisers begged him to stop because it was fucking with his mechanics. Levis's college film shows him biffing short passes as a matter of routine. And yet, when he free-fell into the second round, the Titans were like OH WE HAVE TO HAVE THIS GUY and then traded up to pick him. I'm a casual proponent of the "draft a QB every year until you get a good one" strategy, but not if it means drafting THESE stiffs. Even the Raiders didn't want Levis. Take the fucking hint.
What's new that sucks: Congratulations, Nashville! You got a new stadium, and all it cost you was $1.2 billion in public funds!
All my life, I've wanted a stadium that looks like one of those townhouses situated by a highway exit ramp. It's usually part of a complex called Springhill Park or something. First-class shit. This stadium looks like a Doubletree that spiraled out of control. It looks like Jason Aldean's Try That In A Small Town Honky Tonk N' Chicken Shack. It looks like the Republican blueprint for what will replace a black school district after they bulldoze it. There is no better edifice for America's most overrated metropolis than this bank branch of a stadium. The Titans could win the Super Bowl (ha) and every school board meeting in suburban Nashville would still be louder and rowdier than any home game played in it.
Speaking of laughing at your Super Bowl chances, let's check out the roster. The Titans tried to offload Derrick Henry at the combine, but you know how it is with running backs these days. So the Henry/Tannehill tag team will get one more cursory, painful season. Carthon has tried the mitigate the damage as best he can by clearing out flotsam like LB Bud Dupree, a retiring OT Taylor Lewan, WR Robert Woods, TE Austin Hooper, and signing mildly functional players like LB Arden Key, OT Andre Dillard, WR Chris Moore, LB Azeez Al-Shaair, OT Daniel Brunskill, and CB Sean Murphy-Bunting. All of those moves should help the Titans in their quest to make the playoffs and then lose their first-round game 23-10.
But the big news is that Carthon displayed an honest-to-god interest in the team's passing game by signing this fella:
I remember when DeAndre Hopkins was traded from Houston and everyone, myself included, was like, Oh shit Hop finally landed in a great situation! He played only one full season in Arizona, disavowed the COVID-19 vaccine, and got suspended for PEDs. Meanwhile, the Cardinals became just as embarrassing as the team that Hopkins fled. So I'm done calling this man a victim of circumstance. Also, he's just as washed as Julio Jones was when he arrived here.
Meanwhile, Carthon took Northwestern tackle Peter Skoronski in the first round to help out a line that's already projected by PFF to be the worst in the league. Skoronski has T-Rex arms and has already been moved inside to guard, so you have to work really hard to talk yourself into this being an exciting pick, which no local fan will bother to do because the Vols are good again. The Titans always existed as a pleasant Sunday distraction for SEC freaks. That distraction is no longer required.
Starting RT Nicholas Petit-Frere is already suspended for gambling. Kevin Byard was forced to take a pay cut after he tried to get himself traded. Treylon Burks will get hurt again. Harold Landry will never be the same after tearing his ACL. You guys are in a pre-build phase that will last exactly as long as the rest of Vrabel's tenure will. But at least the new stadium will have awful food.
Why the players think you suck: Here's a case where the players have it wrong:
91% of players feel that Titans owner Amy Adams Strunk is willing to invest money into upgrading their facilities.
Her money? On you guys, and not on Ben Shapiro's terrace suite? Don't be so naïve.
What has always sucked: Nashville is a magnet for chuds who want to live in a state with two Republican Senators, but who also like to go out to good restaurants. It has an awful downtown that's flooded with white trash bachelorette parties here to gobble up every available Jell-O shot and Airbnb. Aldean's music is the only thing that legally counts as gender affirming care. The Titans' idea of a championship window is whenever they can put together a 10-win season that ends horribly. And America doesn't give a shit about hot chicken anymore. All of you deserve the blade.
Ratto says: Derrick Henry is in the December of a glorious career that is not valued by either his employers or anyone else's. The good news here is that ownership will be focused on the new stadium they have bilked out of the government and thus will be less focused on the team itself, which is one less reason for Mike Vrabel to try to run over his own head. The bad news is their big signing of the offseason was 31-year-old wide receiver DeAndre Hopkins, and we all know how often relocated 30-plus players find a higher level of value in another place. When "I'm not a Cardinal anymore!" is the selling point, the bar at the new place is disturbingly low.
What might not suck: The throwback Oilers unis are coming this season, and they're tight. I look forward to Americans, in unison, telling the Titans that they don't deserve to wear them.
HEAR IT FROM TITANS FANS!
Molly:
No one is originally from Nashville, so why would our football team be any different.
Ilissa:
I felt more relieved than upset when we lost that last game to Jacksonville and missed the playoffs. I don't think I'm the only one.
Eric:
I look forward to them winning the AFC South without scoring more than 20 points in a game this year. 
Mike:
Really looking forward to drunken, orange-clad bozos driving three hours west to throw mustard bottles at Will Levis. 
Daniel:
Somehow our WR room is still the worst in the league.
Greg:
We lost the final seven games of last season, capped off by a loss to the fucking Jaguars for the division title on national TV. Instead of being relegated to the XFL for this, the city of Nashville and the State of Tennessee thought it was the perfect time to give the Titans over a billion dollars for a new stadium to go 8-9 in for eternity.

To somehow make things worse, we drafted a QB who thinks that mayonnaise is coffee creamer and who eats bananas with less sophistication than a wild ape. Will Levis is more likely to hit a drunken bachelorette party on Broadway with his throws than a Titans receiver.
Michael:
I saw the video for the Oilers' throwback uniforms yesterday, and it got me pretty hyped. Not for the upcoming season, just for the throwbacks.
John:
Ryan Tannehill takes the snap and is somehow sacked the exact moment the ball reaches his hands.
Hunter:
AJ Brown scoring a touchdown in the Super Bowl was akin to being forced to watch your ex-girlfriend's sex tape that she made with a WAY better looking guy.
Mike:
We are a sad lot, neither proud of anything nor deserving of it. We just got bilked out of a billion dollars for a new stadium by Bud Adams' least stupid child.
Nigel:
We would have a better shot at winning games with Steve McNair's ghost at QB than we would with any QB on our current roster.
Ned:
Just remembered that we drafted a QB that lost to Vanderbilt. 
James:
Will Levis is Redneck Josh Rosen.
Kennedy:
Please post the photo of Will Levi's being stranded in the green room on draft night.
[NOTE FROM DREW: OK.]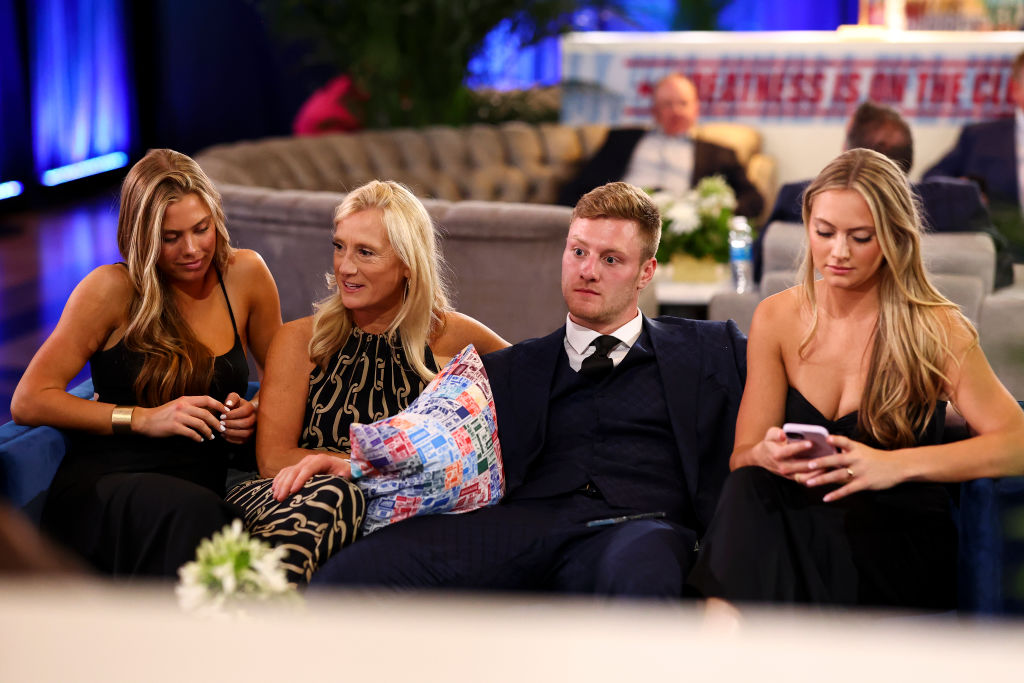 Ian:
The Titans opened their 2013 season at home against the Pittsburgh Steelers. It was part of the early slate of games, and I was getting my oil changed. While sitting in the lobby flipping through Motor Trend, I noticed the game was getting underway on the TV. When Darius Reynaud fielded the opening kickoff, he had his left foot out of the end zone and his right foot about halfway over the goal line. He secured the football, took a step backwards, and knelt. The nearest official ran up and signlaed a safety.

So what is it like to be a Titans fan, you ask? It's a lot like that: casually flipping through a car magazine while some guy takes a safety.
Sgt. Quarterback:
As a nod to how lazy most national media members are when covering the Titans, I'm going to do this a bulleted list:

Because they will always pick between 10-25 since Vrabel is too much of a competitive meathead to ever outright tank

Because Derrick Henry continues to crank out incredible numbers behind busted offensive lines but the rest of the country still rates Cristian McCaffrey's injury prone, white ass over him year after year

Because Will Levis is basically Nashville personified: tons of potential but will ultimately disappoint and make you want to drink

Because Hassan Haskins is still on the roster

Because all the good teams are in the AFC and the Titans aren't one of them
James:
The Titans have a history of being a place for good wide receivers to end their career by cashing a few last paychecks, taking some vacation time, and reverting to shit. Just to name a few:

Randy Moss

Andre Johnson

Julio Jones

Robert Woods

Nate Washington

Eric Decker

Eric Moulds

Carl Pickens

Yancey Thigpen

I'm not even going to list the WRs we drafted that I got my hopes up for. I talked myself into fucking Tyrone Calico for fuck's sake.

I hate how much I care about this dumb fucking team. We should have given them the billion dollars to go the fuck away.
Alex:
I have been a Titans fan for 17 years. I have owned five jerseys. Here is who they are and what happened to them next:

1. Jake Locker: Immediately got hurt (again) and retired
2. Marcus Mariota: Perpetually got hurt, got benched, got traded
3. Alterraun Verner: Became a free agent, signed with Tampa Bay, never heard from again
4. Delanie Walker: Got hurt and released
5. AJ Brown: Traded to Philly after being the best seasons Titans wideout in 20 years; created immediate need on the team for "an AJ Brown type"

Once, while on a layover in Detroit after their historic 0-16 season, a drunk guy in the airport bar told me he'd rather have that winless season than the one the Titans had just had (one-seed, immediate postseason flame out) and I think he actually meant it.
Charlie:
You East Coast media elites just don't understand the nuance of fielding six kickers a year and running the football on 3rd and 8. 
Dennis:
Maybe because this team is located in Nashville, a city you only visit with the expectation of being hammered by noon, you don't realize that just like Nashville, this team is a turd covered in a thin veneer of excitement and fun. 
Rob:
Hey, Chigoziem Okonkwo has the best name in football, and he might actually be good!
Andrew:
My mom moved to eastern Tennessee almost 10 years ago. In that time, she has become a Southern-fried Republican to the DNA. She was already a Republican, but now she's the Tennessee version, which is much worse. She has become a diehard Vols fan and watches all their games for every sport, including sports she had previously never shown an interest in watching. She is decked out in Vols gear at all times, and any sort of gift-giving holiday features her giving me and her other children Tennessee Volunteers-related things. I even have a Vols-branded cornhole set.

A couple of years ago, I was down for Thanksgiving. We were watching the Thanksgiving games. This was during Derrick Henry's 2,000-yard season, when he went from being, the best running back currently in the NFL to arguably one of the best running backs in the history of the NFL. I was discussing this with my mom. She asked me which team he played for. I said the Titans.

She asked, "That's in Tennessee, right?"

And that is why the Titans suck. 

Oh, and because Ryan Tannehill couldn't throw his way out of a broom closet.
Dylan:
Rob Bironas could've at least mowed down the entire franchise on his final joyride. 
Submissions for the NFL previews are now closed. Next up: Cleveland Browns.
Stay in touch
Sign up for our free newsletter