Why Your Team Sucks
Why Your Team Sucks 2023: Los Angeles Chargers
2:14 PM EDT on August 23, 2023
Some people are fans of the Los Angeles Chargers. But many, many more people are NOT fans of the Los Angeles Chargers. This 2023 Defector NFL team preview is for those in the latter group. Read all the previews so far here.
Your team: 27-0.
Your 2022 record: 27-0 27-0 27-0 27-0 27-0 27-0 27-0 27-0 27-0 27-0 27-0 27-0 27-0 27-0 27-0 27-0 27-0 27-0 27-0 27-0 27-0 27-0 27-0 27-0 27-0 27-0 27-0 27-0 27-0 27-0 27-0 27-0 27-0 27-0 27-0 27-0 27-0 27-0 27-0 27-0 27-0 27-0 27-0 27-0 27-0 27-0 27-0. As long as they've existed, the Chargers have been defined by their crushing failures. And now, at long last, we have a convenient form of numerical shorthand to convey all of it. Feels great. At least 28-3 came with a conference title. You guys? You guys couldn't even make it THAT far before doing what you did.
But let me save that collapse for the end of this section, as a treat. Before the 2022 season, the Chargers loaded for bear by trading for Khalil Mack and signing CB J.C. Jackson away from New England. We all know what happens when any non-Brady Patriot leaves the warm embrace of Bill Belichick, but Jackson seemed as good a candidate as any to carry over his production from New England to his new home. By October, he was benched.
He also got hurt. So did Joey Bosa. So did the Chargers' star left tackle. So did both wideouts, one of whom had just signed a fat contract extension. So did the QB. You have better odds of remaining healthy joining the Marines than you do playing for this team.
Nonetheless, this was still a talented roster than managed to win 10 games. The problem is that only one of those victories came against a winning team, and the losses were more than a touch ominous. The Chargers lost their first tangle with the Chiefs thanks to a goal-line pick-six. They got killed by the Jaguars after forcing Justin Herbert to play with a broken rib cartilage (they always make him play hurt!). They gave up 168 on the ground to Kenneth Walker in a blowout loss to Seattle. They gave away a 10-point lead to San Francisco, never scoring in the second half. They pulled ahead late at "home" against the Chiefs 27-23, only for Patrick Mahomes to happen immediately thereafter. They let Davante Adams post put up 177 yards against them in a loss to Vegas.
And, as a capper to the regular season, they got absolutely crushed by a Nathaniel Hackett-free Broncos team. Now that last game was meaningless, because the Chargers had already clinched a playoff spot two weeks prior by beating the Rams, i.e. the real Los Angeles team. But their coach still played his starters for the bulk of that Denver game anyway. You know, to keep them sharp. You'll never guess what happened next.
I don't need to tell you that all of this should have served as a warning sign heading into LA's Wild Card game in Jacksonville, a game they were favored to win. The Chargers themselves are a sentient warning sign. They are a voodoo doll standing under a ladder, with a black cat crossing in front of them. And you didn't even need superstition to doubt this team. They gave up 5.2 yards per carry all season long. They were one of the worst rushing teams in the league, despite having Austin Ekeler in the backfield. They couldn't tackle anyone. Per the FTN Almanac, they never threw deep, with "an average depth of target of just 6.6 yards." That's the worst possible offense to run when Herbert is your quarterback. And they had a nasty three-and-out habit. There is nothing the cosmos can do to this team that it is not willing to do to itself.
So now, the playoffs. The Chargers went up 27-0 in the first half. They won the turnover battle 5-0. They outrushed Jacksonville 117-67. No NFL team loses when this happens. But what other team would fumble the ball on a rock-stupid jet sweep on third down right before the half, giving the Jags a chance to finally put a TD on the board? What other team would pull a Kyle Shanahan and refuse to run Ekeler with that fatass lead? What other team would be surprised when the Jaguars decided to play tempo in the second half, and would never adjust to it? What other team would let Jacksonville convert an easy two-point conversion to tie the game because their best defender committed unsportsmanlike conduct after giving up the final touchdown? When you need a choke job, and you need it to be good and loud, accept no substitutes. This is your team, and this is your coach …
Your coach: Brandon Staley. For one more year. Brandon Staley is great at playing a capable young head coach on television. He comes from the Sean McVay coaching tree. He says all the right things. He's not shy about going for it. He looks like he knows what he's doing. He doesn't.
Staley saved his own ass after the Jacksonville debacle by firing offensive coordinator Joe Lombardi and letting defensive coordinator Renaldo Hill walk to Miami for a lesser position under Vic Fangio. He may as well have LAME DUCK tattooed on his face. Here to replace Lombardi is former Dallas OC Kellen Moore, who only seems like an upgrade if you ignore the Cowboys' own recent playoff history. Moore looks like Adam Carolla after a shower and shave. At DC, Staley promoted defensive backs coach Derrick Ansley, and the Chargers organization thinks so much of Ansley that they left his bio section on their team page blank. They never even bothered to make a page for Moore, so consider that two mics dropped.
But hey, at least Staley has a beard now.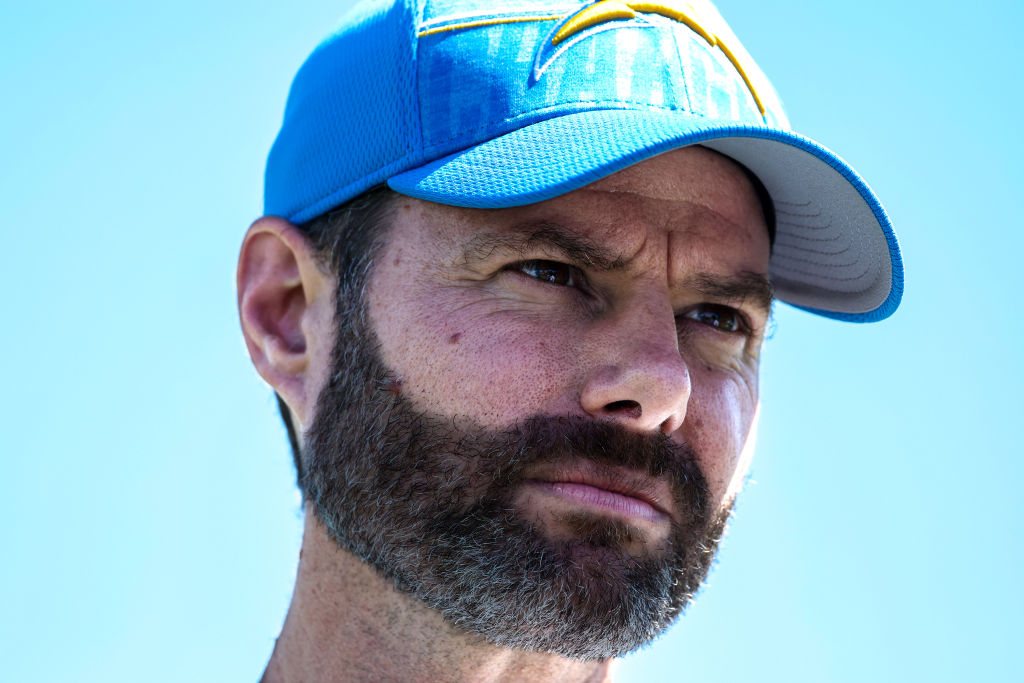 They can't fire you if they can't recognize you. The perfect crime.
Your quarterback: Justin Herbert, who is incredible and who will never, ever be the best QB in his own division. This offseason, the Chargers signed Herbert to a monster extension featuring a Russian nesting doll of guaranteed money. So get ready for an extended run of the Justin Herbert experience: superhuman arm, guaranteed losses in games that he has no business losing. Same as it was at Oregon. But at least Staley will force Herbert to play every game with 12 broken limbs, so that'll add some pizzazz to the whole thing.
Your backup is the immortal Easton Stick. I'll never get over that name.
What's new that sucks: Thanks to all the fat contracts they've handed out over the past two years, the Chargers weren't able to add much this offseason outside of former Minnesota LB Eric Kendricks, who can't play anymore. Depth remains nonexistent, which isn't good when you're the Chargers and your favorite pastime is killing your inspiration and then singing about your grief.
But L.A. did add muscle in the draft by taking TCU WR Quentin Johnston late in the first round. And how could they not, given the rich and illustrious history of TCU wideouts in this league? Can't go wrong with any of those guys, nossir. Johnston is tall, because the Chargers love nothing more than acquiring tall wideouts and then hurting them. Otherwise, this is the same team you've seen the past few years, only there'll be a knife to everyone's throat for the duration of it.
Joey Bosa is not only an asshole, but a sore loser to boot:
Why the players think you suck: Hard to believe that legendary philanthropist Dean Spanos would skimp out on providing resources for this team after moving them to LA, but it's true. He remains cheap as all fuck:
The Los Angeles Chargers are ranked 30th in the team guide. They are currently in a converted office building as a temporary facility and according to reports, the permanent training facility should be ready by 2024. It is understandable that the ranking and negative results reflect this temporary workplace.
It sure is. Details, please:
The maintenance for the hot and cold tubs is lacking, with multiple respondents calling them "gross"… 0% of players say there is enough room in the cafeteria… One of the lowest-ranked training staffs in the league… Limited number of showers, which causes a very long wait.
I've read all of these report cards—including the one for Arizona, who ranked DFL in this survey—and none of them come off as damning as this one. Dean Spanos saw the value of this franchise increase by $2.3 billion when he moved them from San Diego. He's passed that windfall down to his employees by forcing them to share two showers, to practice in an office park, to eat lunch in a utility closet, and to nurse their injuries in a giant algae tub. He's the scum of the fucking earth. He should never get to eat lunch in this town again. 27-0.
What has always sucked: Because NFL teams remain an unofficial public trust, there's very little that owners can do to fuck up a team. Mike Brown has run the Bengals into the ground for his entire tenure, and that team has still managed to find a way to both contend and draw in locals when the team is good. The Nü Browns have never won a goddamn thing, and they're still the most popular team in Cleveland. The Commanders are drawing fans back after Dan Snyder peaced out. And even relocated teams like the Titans and Colts now have entrenched fanbases in their new cities. These teams are all but bulletproof, with fans and cities always willing, over the long term, to forgive them their transgressions.
But the Chargers are proving to be an exception to the rule. They're fun to watch. They have the coolest uniforms in the league by far. They have the most valuable on-field asset in the NFL in a kickass young QB. And they play in the second largest city in the United States. If they were any other team, they'd be able to cultivate a new generation of fans and eventually become a civic treasure. You and I both know that this will never be the case for Spanos, or for this team. Literally most of Los Angeles still does not know that the Chargers moved there, and those who do know think of them as disappointing at best. This city doesn't WANT the Chargers, and no amount of Super Bowls (ha!) or good deeds will change that. This team is stillborn and will remain forever dead. Few will mourn, and even fewer will notice.
27-0. Also, San Diego isn't that good of a city.
Ratto says: At this point they are only cool uniforms away from being the new Washington Generals. Dean Spanos's sister Dea once sued Dean, accusing him of "misogynistic" and "financially ruinous" business practices that stemmed from the franchise's move to L.A., which she claimed put the family nearly $360 million in debt. More recently, she has offered to sell her 24 percent stake in the team so that the Chargers will presumably find corporate peace while continuing the ruination of Justin Herbert.
What might not suck: It's company policy here at Defector to despise every official social media account of every professional sports team. All of them are high on their own cutesiness. But the Chargers—the Chargers!—have the lone account that appears to be run by talented people.
It's fitting that this is the only place where you guys excel, but you excel all the same. Respect.
HEAR IT FROM CHARGERS FANS!
They are a nonentity in Los Angeles. They occupy a space past apathy. It's not even that people don't even care anymore, it's that they don't even remember there's a team. Last year, someone asked me if I wanted to "check out Sofi." That was how they phrased going to a Chargers game.
JTB:
27-0

27-0

27-0

27-0

Only the Chargers could have Dan Fouts, Philip Rivers and Justin Herbert at quarterback and have a combined zero Super Bowl appearances in 35 seasons.

27-0

27-0

27-0

27-0
Doug:
I know they're the best at two things: 1) Screwing up in the worst way 2) Those fantastic colors.
Michael:
Sure we went to the Super Bowl, but half that team died. 
Monte:
If you're wearing Charger apparel in San Diego, even the tourists are making fun of you.
Mike:
There aren't more than a few thousand of us in total.
Katie:
I just heard Rivers is expecting his 43rd-ish kid.
Kellen (not Moore):
This team was truly lost when they decided to improve upon a perfect theme song by allowing the updated version to be penned by P.O.D.

Fuck Nate Kaeding with Norv Turner's acne meds.
Alex:
They squandered LaDainian Tomlinson, a generational talent at running back. They squandered Antonio Gates, a generational talent at tight end. The future sure does bode well for their generational talent at QB.
Jesse:
My only consolation after all these years since Spanos moved them to Los Angeles is that he's Kronke's butler and everyone knows it.

People still see "LAC" and think "Why are they talking about the Clippers during an NFL game?"
Daniel:
We can't stop the run or run the ball. We lost to Jacksonville twice, despite not being in their division. Our coach gifted the game ball to Spanos when we made the playoffs. Brandon Staley, is the answer to, "What if Jeff Saturday had professional coaching experience before he was hired?" Somehow he still has a job.

Oh, and we are doomed to play Patrick Mahomes twice a year for eternity.
John:
I only know of one person who still likes the Chargers. It's embarrassing and honestly kinda offputting, like having an otherwise intelligent adult friend who earnestly cheers for the Washington Generals, and doesn't understand why they lose so much and why the rest of us don't want to spend our Sundays with him.
Asherdan:
My paternal grandfather was a drunken gambling SOB. When died and was cremated, me and my pops snuck into Hollywood Park and sprinkled him down the home stretch. So now, these LA Angels of the NFL now play their home games on the dust of my grandpop.
Ethan:
Things that haunt me about this team:

The look on Stan Humphries face right before they mercifully pulled him from the Patriots game. Sitting up. Wide eyes clearly seeing the hidden horrors of the universe that only a severe concussion can reveal.

The legacy and end of Junior Seau's life.

The Schottenheimer long ball team reverting to halfback dives and up the gut runs the minute it was playoff time.

Kevin Gilbride.

Norv Turner lasting more than a season.

The end of any significant game from 2010-2020.

All because a kid from the midwest thought their lightning bolt uniforms made them superheroes.
Ben:
So many years of Chargers Chargering have provided me with a smooth brain fan experience: catch a little bit of the early season hot start, tune out the midseason inconsistencies, tune back in for the playoff bubble surge, see how they Charger their way into the offseason, and then completely wipe my brain of any trace of that season. Looking forward to forgetting what dark horse team they lose to in the playoffs this year!
Patrick:
The first time I ever remember destroying something because of a professional sports team was 10 minutes into Super Bowl XXIX. In the middle of getting posterized by Steve Young, I picked up a portable phone and spiked it as hard as I could. Perhaps if I had hit carpet, the phone might have survived. But it caught part of the tile in the kitchen and shattered. I proceeded to watch the rest of the game from a television upstairs, leaving all of my friends that I had invited downstairs. I would like to say that's the last time I destroyed a piece of property due to the the Chargers , but somewhere in a landfill there is a Fathead ripped in two thanks to a late-2000s Jets-Chargers game. 
Beckett:
After 27-0, I transcended. I realized sports fandom has robbed me of my dignity and provided me with nothing but 20 years of choking and pain. Three days later I purchased a Jacksonville Jaguars tank top and hoodie. If you or the readers are disgusted with this, I understand and am unbothered. Neither you, nor the Chargers, can hurt me anymore. I saw God after 27-0, and He is laughing at us. I choose to laugh right back. Go Jags.
Collin:
Somehow getting obliterated in the Super Bowl in 1995 is worse than never making it at all. 
Weston:
Dean Spanos is solely responsible for me no longer being an NFL fan. 
Wayne:
Phil Rivers had one QB sneak over his last seven NFL seasons. 
Mike:
Even thinking about the Chargers makes me mad. They have a great team with tons of talent and then they hire Dahmer as their team doctor. They have an offense stacked players and then have an OC that squanders all of it. It's just one giant disaster every year. 
Andrew:
27-0 lead in the playoffs? HA! Child's play! I'm almost excited to see what new degree of embarrassment I'll get to feel this season. It'll be awesome!

I don't even feel pain anymore.
Brett:
Player A: 280.3 yards per game, 1.8 TDs, 1.1 INTs 

Player B: 280.3 yards per game, 1.9 TDs, .4 INTs 

Player B is Joe Burrow in his career. Player A is Justin Herbert only in games that the Chargers fucking lost. This team is so poverty that, even when they are gifted a top 3-5 QB, they still manage to do absolutely nothing. Justin is without a doubt the single best player any of my teams, and still the Chargers do NOTHING. The average Chargers game is three hours of praying that Justin can cook enough to make up for this god awful defense while he throws to Michael Bandy and Gerald Everett.
Jeff:
Watched that game on vacation with my wife's best friend and her family. When the Chargers started to Charger, I could see my wife watching me out of the corner of her eye like I was a toddler trying to pour milk. You hope they're mature enough to handle the task, but deep down you know they aren't. I can't say I handled it great, but at some point she said, "I'm surprised how well you took that." It appears that, at 40 and with two kids, I've now react to self-inflicted collapses with depression instead of rage. I think this is growth.
Conor:
I used to cry.

In 2004 I cried in bed after Kaeding missed that kick. My older brother came into my room and told me that it was going to be okay.

In 2006 I cried after Marlon McCree fumbled the game away. My brother was in the Navy by that point, but I told myself it was going to be okay. He said the same thing when he called the next day.

I cried less and less every year as these guys got beat by Tom Brady and, on one horrible day, Mark Sanchez. I did tear up a bit when Marmalard ended his Chargers playoff career the only way it could've ended: with an attempted 30-point comeback that fell short. 80% of my memories of Rivers are him slinging it down by 14+ in the fourth quarter.

Last year, with a new QB and in a new city, they could've ended Big Ben's career in the most wonderful possible way and made the playoffs to boot. They blew it and I just laughed.

Last night I laughed for the whole second half. I laughed when my friends reached out to me. I laughed on my way to bed, because crying doesn't do anything anymore.

My brother still texted me to tell me that everything was going to be okay. And it will be. Just maybe not for the Chargers.
Submissions for the NFL previews are now closed. Next up: Baltimore Ravens.
Stay in touch
Sign up for our free newsletter