MLB
Miguel Cabrera, First To The Last
12:39 PM EDT on October 2, 2023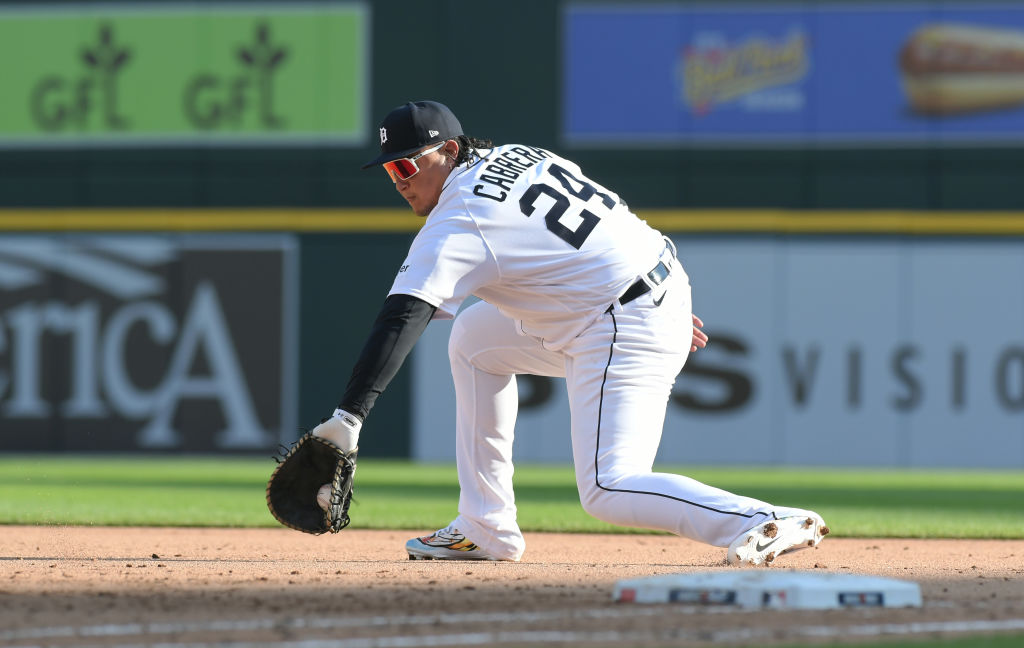 Ted Williams's career famously ended with a home run. Miguel Cabrera's ended with a groundout. It was perfect.
The first-ballot hall of famer played his final game on Sunday, in an Irish wake of a ballgame that Detroit won at home, 5-2. J.K. Simmons was there! Jack White was there! It was an overflow crowd that had bought tickets to pay tribute to all Cabrera had given this team and the sport, and they were hoping to catch one last glimpse of the player he was.
He had a good start to the weekend, squeezing every last bit of pace out of his legs as he went 4-for-8 with three doubles in the Friday and Saturday games. But Sunday did not bring with it that same magic at the plate. Cabrera struck out his first two times up and then hit an uninspiring little flare that was easily caught in his third AB. That's baseball.
That was his last swing, too. Guardians pitcher Enyel De Los Santos got booed in the bottom of the seventh for throwing four straight balls, walking Cabrera in his ultimate appearance at the plate. Personally, I was just glad he'd made at least one tangible contribution to the game, though Kerry Carpenter's ensuing double play ended the possibility that Cabrera could come around to score one more time.
But Tigers manager A.J. Hinch had one last card to play. In the top of the eighth, he sent Cabrera to play first base for the first time in two years, and his teammates took their time following him out of the dugout. For an extended ovation, Miggy was the lone man on a vast diamond, looking physically small in the grand vista of the ballpark but every bit the equal of the love sent his way.
And Steven Kwan, an infuriating little dude to play against, turned out to be quite obliging to the pageantry. After watching one strike pass by, Kwan spun around on a Will Vest slider and sent a solid grounder right to Cabrera. Thank God those knees still worked. Cabrera bent down to gather the ball and took it himself for the out. The game came to a standstill so Cabrera could exit there and say his goodbyes.
It was not a spectacular end to a career that was packed with milestones. But it was emblematic, in a good way, of Cabrera's last few years with the Tigers: After he was no longer the greatest in the world, he was still a guy who always showed up and figured out how to do his job as best he could with the body he had left.
The memories Cabrera drudged up were bittersweet, because they were all of better times. Of all the things that stood out to me from the vintage Miggy highlights I rewatched over the weekend, nothing cut deeper than the sight of a packed ballpark in Detroit. Here's just one for you, where the outfield seats are a colorful collage and not a dark-green expanse dotted with life.
In 2013, the second of Cabrera's back-to-back MVP seasons, the Tigers ranked sixth in MLB with an average crowd of 38,066. Ten years later, they're 25th with 20,946 per game. The drop hasn't been a sudden one. Over the course of what's now nine seasons without a playoff appearance, the Tigers have become more and more incidental to their city's life. Going to games is now the kind of thing people do for old times' sake, or because it's cheap and they want to be outside, and not because they really want to see the Tigers play. The sight of standing-room-only fans on Sunday was a reminder of what baseball can mean to this city when it's being played well. It's been a long time.
Thanks in large part to a ghastly AL Central, the Tigers improved by 12 wins and finished second in their division. They were still 11 games back of the wild card, but last year that gap was 20. I look at the 4.08 runs per game they scored—a number that only bettered the White Sox and A's—and wonder where the hitting is going to come from. But maybe, eventually, there's a version of this team that draws crowds on more than just nostalgia and good weather. There'll be a new hero eventually. But good luck finding another Miguel Cabrera.
Stay in touch
Sign up for our free newsletter