Soccer
Jude Bellingham Has Already Made Madrid His Own
10:31 AM EDT on October 30, 2023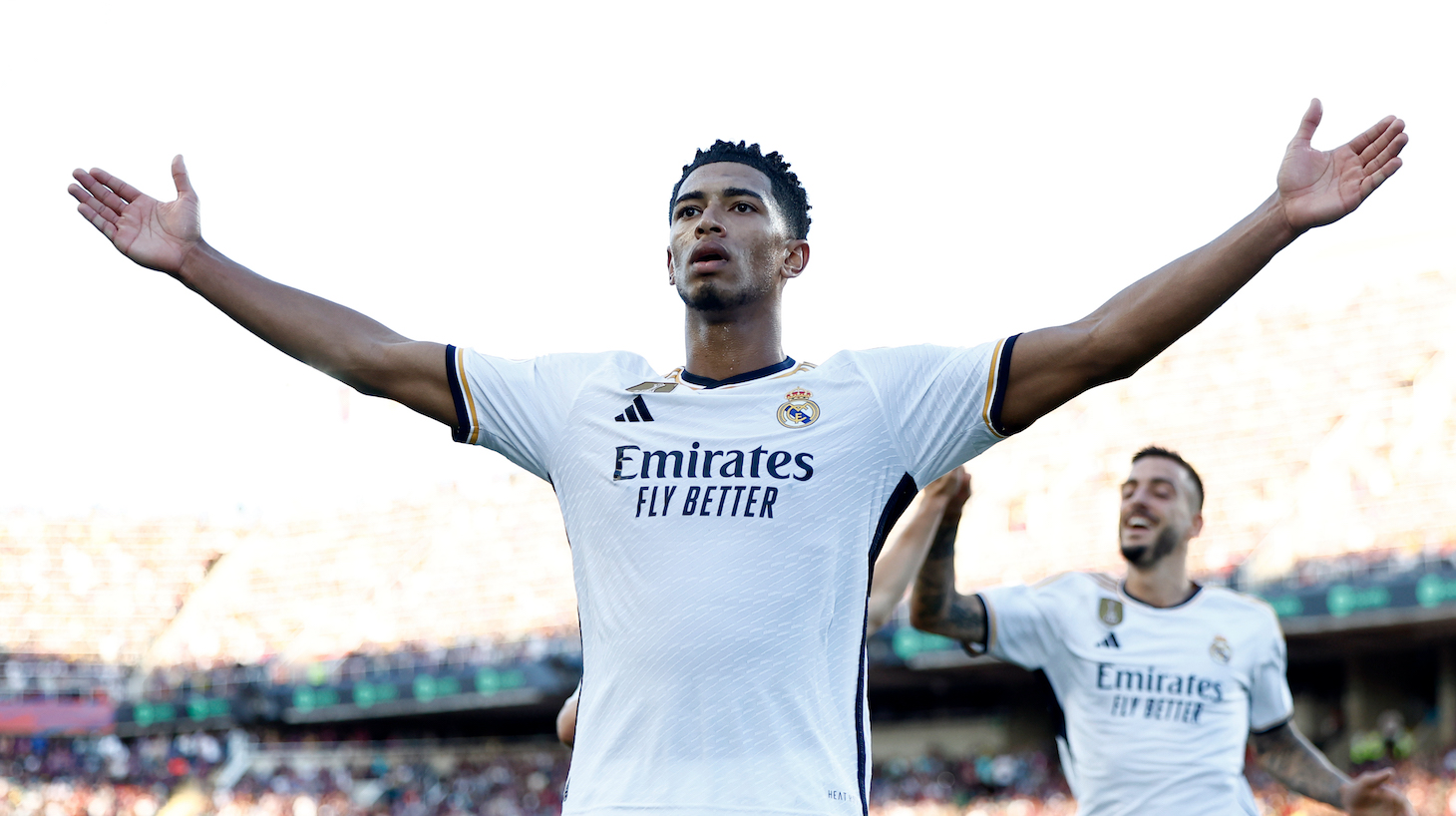 There are more great soccer players in the world than can fit even inside Real Madrid's capacious locker room, where, traditionally at least, not a single expense is spared to bring in as many of the biggest and best names as there is room on the bench, in the budget, and inside the always cramped psychological field where the club's collection of egos prance and clash. But not every player is cut out for Madrid.
In a sense, it all comes down to the jersey. It is a suit of armor. To a certain kind of player, even some very good ones, dressing in white means pulling on a cuirass that weighs 1,000 pounds. The pressure of the uniform, the ruthlessly unforgiving fans, and the expectations of perfection that come along with it feel, to this kind of player, like an impossible burden. To a different kind of player, even some without any particularly special talent, Madrid's armored jersey instills the calm and confidence that comes with a sense of invulnerability. No scoreline deficit is insurmountable, no howling crowd—not even the home one—is frightening, and no title is ungraspable, not when there are 11 similarly minded warriors in white who feel empowered rather than freighted by the suit of armor.
The big question for Real Madrid coming into this season was which kind of player Jude Bellingham would prove to be: one weighed down by the jersey or one made immortal by it. In signing with the Blancos over the summer in a blockbuster €103 million move, the 20-year-old Englishman was cast in an interesting role. The enormity of his transfer fee marked Bellingham as the newest Galáctico signing in a club that has actually turned away from that star-laden team-building strategy in recent years, mostly out of necessity. Amidst European soccer's changing financial paradigm, Real Madrid's old money no longer matches what the new class of oligarchs and oil families have brought to the game. Often priced out of the battles for the game's prime-aged superstars, Real has opted to scour the horizon in search of expensive but manageable protostars who appear good bets to soon go supernova.
Bellingham was something in the middle. His age meant he was still closer to his start than his peak, but his experience (he'd already played four whole seasons as a professional), the playing heights he'd already hit, and the cost of his signing all indicated him as full Galáctico rather than one in the making. And Madrid was in need of stars. Outside of the Bellingham coup, Real Madrid's transfer window was defined by two significant blows: the shocking departure of Karim Benzema and the predictable but no less painful failure to acquire Kylian Mbappé. Madrid replaced Benzema with 33-year-old journeyman striker Joselu, who will never score as many goals for the Madrid senior team as he did (33) in two seasons with the B team in Spain's third division when he played there a little more than a decade ago. Instead of the long-awaited, true Galáctico signing of Mbappé, Madrid had Bellingham. We return to the question: Which kind of player would the Englishman prove to be?
In retrospect, we should've seen it coming. It would be hard to instantiate in a single image a purer representation of madridismo than Jude Bellingham's trademark goal celebration. Arms spread high and wide, channeling the audience's cheers and jeers and eyes directly into his barrel chest and his impassive face, standing tall, strong, handsome, and unwavering, silent but with body language that practically bellows "Are you not entertained?!"—Bellingham, after scoring one of the spectacular goals he is increasingly becoming known for, is the personification of the kind of player for whom Real Madrid's plate armor weighs as much as a feather.
On Saturday, in the biggest match in Spain, Bellingham donned the white shirt and once again conquered. It did, to be fair, take a while for the effect to materialize. Reigning La Liga Champions and this weekend's Clásico hosts Barcelona started the match the way they often do—bursting with energy and inspiration. The first half was entirely a Blaugrana affair, about as one-sided a half as you're likely to see in a rivalry match of this magnitude. Ronald Araújo—probably the one man in world soccer capable of doing so—swallowed Vinícius whole. Gavi and Ilkay Gündogan dominated the center of the park, sidestepping Madrid's pressures with ease and having no trouble filtering passes into the final third, especially through Barça's latest homegrown sensation Fermín López, who had a certain Toni looking like the crows were circling overhead. João Félix turned, danced, and alternatingly sped up or slowed down play depending on which would most disorganize the Blanco defense. Barça was flying; Real, and especially Bellingham, were nowhere to be found.
But midfield overloads and progressions into the final third only really matter when there are goals on the end of them. And there, Barcelona struggled. Especially without Robert Lewandowski (unfit and on the bench [also: old and no longer as good]) and Pedri (still out injured), Barça lacks efficiency and elite quality when it comes to play the decisive pass or shot. Because of that, the Catalan team could not manifest all that impressive, match-controlling play between the two penalty boxes into big chances and, ultimately, goals. When Real Madrid went into the locker room at halftime down only a single goal, scored by Gündogan after a series of defensive mistakes in the 6th minute, the Blancos must've felt pretty good about their chances despite the run of play. Their armor had protected them, and there was more than enough time for it to demonstrate its offensive attributes too.
It was no surprise when and from whom the change eventually did come. The match began to even out coming out of halftime, but it was a series of substitutions early in the half that really tilted the field away from Barça. Eduardo Camavinga replaced an utterly useless Ferland Mendy, and the midfielder-turned-left-back brought new order and threat to Madrid's left flank. Lewandowski came on for Ferran Torres, and the Pole's half-fit legs neutered the high press that had previously counteracted most of Real's attacks. Joselu came on for Rodrygo, and the presence of a real center forward gave Real structure when going forward, even though Joselu's actual interventions with the ball were almost uniformly poor. And Luka Modric came on for Toni Kroos, which gave the team the organizing and creative presence it had lacked all match.
Those changes, all made by the 63rd minute, combined to turn the momentum away from Barcelona and toward Real Madrid. Yet it was Bellingham more or less alone who made the real difference. It started in the 68th minute, when the Englishman flicked his long leg and smoked the ball into the top-right corner from almost 30 yards out. In his first Clásico he'd scored what will probably be one of the first goals they'll show in his career highlight reel when he hangs up his boots. He reacted by turning away and jogging back to the halfway line, a couple defiant shouts (did I spot a crowd-pleasing "¡Vamos!" in there?) the only things that would have you believe he was at all affected by scoring a worldie like that. Real kept pressing for more, and Barça was led even further from its first-half dominance by subsequent backfiring substitutions. Madrid was rewarded for its efforts in stoppage time, when pain is at its sharpest and joy its most ecstatic: Bellingham charged through the Barça defense, met Modric's somewhat clumsily redirected touch of a Dani Carvajal cross, and coaxed the ball in between Marc-André ter Stegen's legs and into the Barça net. It was that moment of pure madridismo when Bellingham made that madridismo incarnate with his famous celebration.
It's worth pointing out that this Clásico was far from a classic. Matches between these two teams have already lost almost all of the global, apocalyptic importance they had for a solid decade-plus back when Lionel Messi and Cristiano Ronaldo were the ones running the show. During its hour of ascendance, Barcelona was tactically impressive but toothless, missing those moments of genius that used to typify the club in its pomp. Barça being so dominant for so long without putting the match away, and Real Madrid sputtering along until the last 30 minutes, when a couple of out-of-nowhere goals gave them the win, is a damning indictment of where both clubs are in comparison to what they once were.
And even Bellingham's game stands for some scrutiny in that department. Outside of his two admittedly stunning interventions, he was almost completely absent from the proceedings on Saturday. The Clásicos of yore, those of Messi and Ronaldo and Modric and Iniesta and Benzema and Suárez, were defined by players of historic greatness who could both dominate play and make the plays that converted pretty passages into goals. For all Bellingham's exploits so far this season—which have been plenty, don't get me wrong; we're talking about 13 goals and 3 assists from a 20-year-old ostensible midfielder—he's yet to demonstrate the ability to get Real to play better, the way Modric, Kroos, Benzema, and Ronaldo did in the truly great Madrid teams before. It reminds me of a fitting quote from Benzema himself, who was often criticized from the outside for his perceived lack of scoring even while his managers and teammates raved about his all-encompassing influence on the trajectory of matches: "Football has become a game where players can play bad for 90 minutes and then score a goal and be called Man of the Match and get the spotlight. I don't want to be that kind of a player."
This assessment of Bellingham is certainly no criticism. He is, again, only 20 years old. Though he's played this season mostly as a forward to make up for the team's lack of goals, there's no doubt that the unparalleled depth and breadth of talent that has made him such a marvelous prospect for years will eventually start to manifest itself in the midfield, where he stands to grow into a true, epoch-defining player. Carlo Ancelotti is brilliant at developing and maximizing his players' skills, so Bellingham is in great hands. He has the manager to help him grow, the club that fits the aura and greatness his talent portends, the match-winning goals to endear him to his teammates and fans right away, and the suit of armor to make him feel impervious to all impediments along what seems like his inevitable climb into history. Bellingham is only beginning to become what he will be, and what he already is is perfect for the biggest and best club in the world.
Stay in touch
Sign up for our free newsletter