Soccer
Jude Bellingham Is Real Madrid's Newest Savior
3:49 PM EDT on September 20, 2023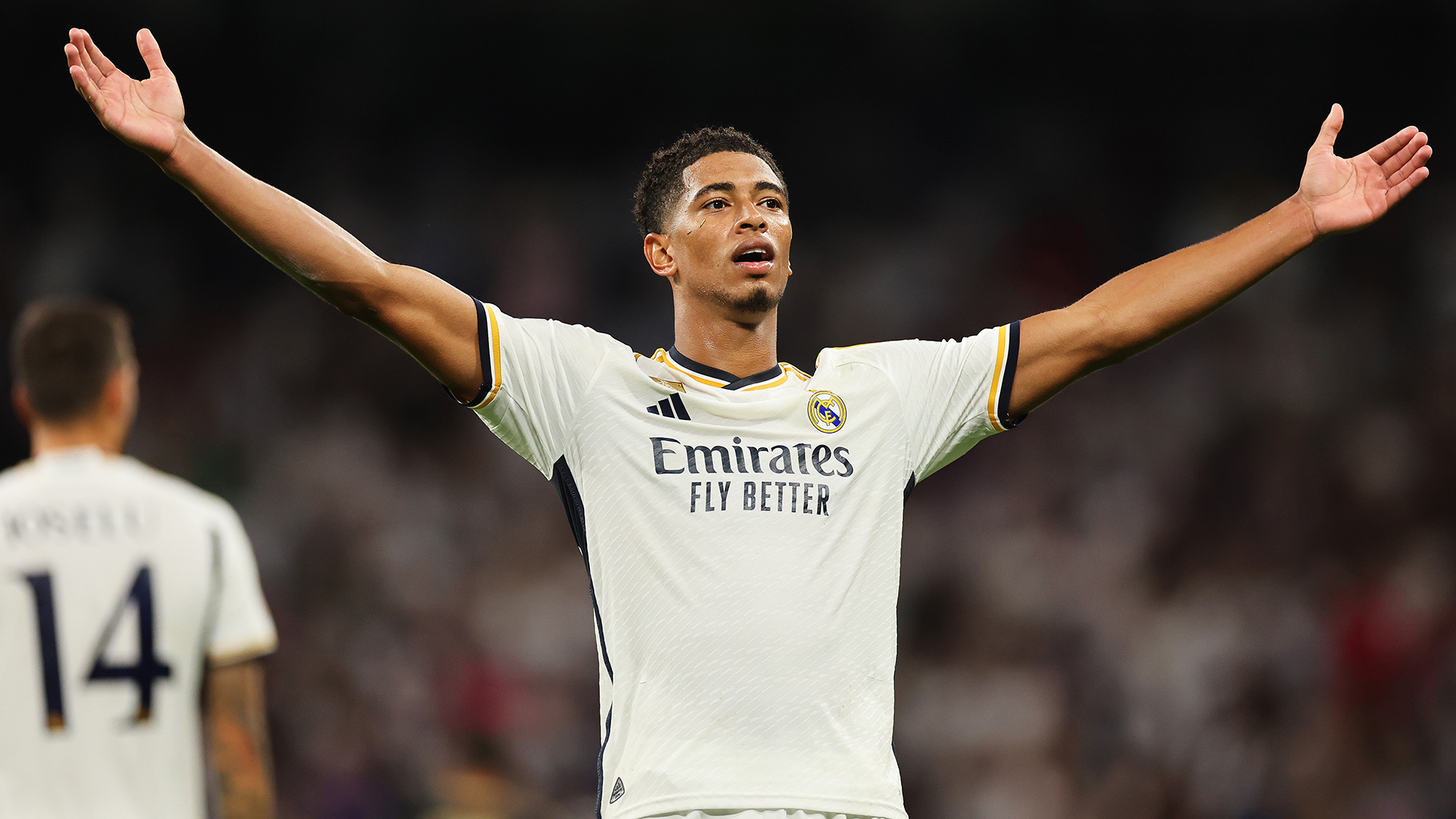 It just had to be Jude Bellingham. Of course it did.
Real Madrid opened its 2023-2024 Champions League campaign hosting German debutantes Union Berlin in the Spanish capital, and for 94 minutes, the 14-time winners of Europe's premier competition could not buy a goal. This wasn't down to anything Union Berlin was doing, mind you. The underdogs didn't really play a good underdog game at the Santiago Bernabeu, with a limp counter-attack in the face of Madrid's 76-percent possession and 32 shots (seven on target). Instead, the visitors were lucky, and sometimes being lucky is just as good as being good. If not for Bellingham, then perhaps Berlin's first Champions League match, against the titan and final boss of the competition, ends in a 0-0 draw and a much-desired point.
Instead, though, Bellingham did what he has already settled into doing in his first season at Madrid: He saved his side's bacon. Though he only signed with his new side in June, from Borussia Dortmund and for a fee of €103 million (rising up to €134 million with performance add-ons, which he looks likely to hit), Bellingham is already growing into a Madrid folk hero. In five La Liga appearances, the 20-year-old British midfielder has five goals to go along with one assist. That goal tally isn't just the highest on Madrid's entire side; it's the highest by a decent margin. The second-highest goalscorer is 33-year-old winger Joselu, who has two of his own, while no one else has more than one.
When Madrid purchased Bellingham, it probably expected a lot, but you can safely guess it didn't expect this. Madrid's biggest question heading into this season was simple: Who was going to score Karim Benzema's goals, after the Frenchman took the exit route to Saudi Arabia and piles of cash? The answer so far seems to be Bellingham, but he's also the answer to another question, and maybe one more important for a club that is more likely to win the Champions League than La Liga.
While a consistent supply of goals from midfield is obviously appreciated, Bellingham has taken over Benzema's role of scoring crucial winners. Of his five league goals, only one was not the eventual winner for Madrid. The other four: A 94th-minute winner against Getafe, an 81st-minute winner against Celta Vigo, and a brace against Almeria that brought Madrid back from a third-minute 1-0 deficit. And now, Bellingham has a goal in Madrid's home competition, at the expense of Berlin.
It's not the prettiest or most skillful of goals, but if anyone was going to end up in the box with a chance to rescue the full three points for Madrid, it was always going to be Bellingham. That's doubly clear on second viewing: After Federico Valverde let rip one of his signature outside-the-box bombs, the ball was deflected before it bounced off of Alex Král and into the wide-open area of the goal. While Brahim Díaz was also there, it was Bellingham who had started a perfect run into the opening space, and he was in perfect position to latch onto it and punt it in, sending the Bernabeu crowd into delirium and an obligatory rendition of "Hey Jude."
For those of us who are already groaning at the connection between Bellingham's first name and that saccharine Beatles song, I have some bad news: It's going to happen a lot. Bellingham has slotted into Madrid's midfield so well and so quickly, and he's so young, that he figures to be a central fixture not just in the starting XI, but in the headlines. If he continues to score game winners like he did on Wednesday and like he already has multiple times this season, it won't be long until the discussion won't be whether he was worth his massive transfer fee. It'll be whether he's the best midfielder in the world. That shift won't take long, and it won't be overstatement.
Stay in touch
Sign up for our free newsletter