NFL
Joshua "Playmaker" Dobbs Is Helping The Vikings Save Their Season
1:56 PM EST on November 13, 2023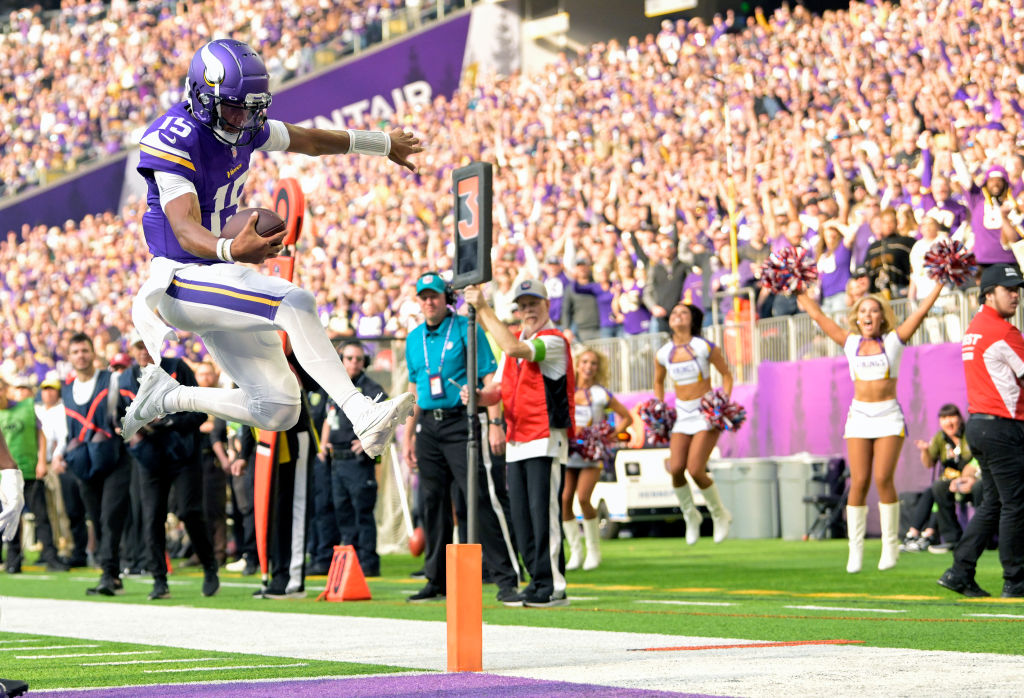 Joshua Dobbs is literally a replacement-level quarterback. A career second-stringer who got pushed into service with the Titans late last year and then the Cardinals at the start of this season, he was offloaded from that franchise to Minnesota at the end of October at the most nominal possible cost. Even though his new team was in a desperate spot after the loss of Kirk Cousins, they managed to get Dobbs, who'd started all eight games for the Cards in place of the injured Kyler Murray, in exchange for a sixth-round pick, which every GM should be able to find crumpled up in their back pocket somewhere. Cardinals GM Monti Ossenfort threw in a seventh-rounder with Dobbs, seemingly just to underline how insignificant this deal was.
This means that more or less anyone could have had Dobbs if they asked nicely enough. Given the dearth of strong quarterback play across most of the league, which continued with lackluster starts from warm bodies like Tommy DeVito, Zach Wilson, Mac Jones, and Jordan Love this past Sunday, a bunch of teams could still use him. In retrospect, there should have been a bidding war for Dobbs's services. But with two wins in the two weeks since Dobbs arrived and subbed in for the quickly injured Jaren Hall, the Vikings have already gotten their sixth-round pick's worth. They've won not in spite of their replacement QB but in large part thanks to his creativity and maturity. On Sunday against the Saints, a dominant and at times breathtaking first half from Dobbs held up against a New Orleans comeback, as the new guy earned a 27-19 victory that put the Vikes at 6-4 and kept them very much in the playoff chase.
One thing Dobbs was clearly good at even when he was losing weekly as Arizona's tank commander was catching defenses off-guard with his running. The arm left something to be desired, if not much more or less than the average backup's, but the ability to improv with his feet kept Dobbs from being completely devoured. This past game brought more of the same, but better, like when Dobbs didn't like what he saw downfield, escaped a collapsing pocket by running to his right, and then lofted the ball to tight end T.J. Hockenson for a big gain that set up the Vikings' first touchdown. Even more spectacular was this third-down TD scramble to extend the lead to 14. Dobbs had the Saints running in circles before escaping into the open field and galloping into the end zone.
But with a bit more stable protection than he had in Arizona, Dobbs also showed an improved ability to throw downfield with accuracy. It should be unfair to him that Justin Jefferson, a quarterback's dream target, is still recovering from injury. But even without Minnesota's top wideout, Dobbs has nevertheless found another favorite in Hockenson, who's caught 18 balls for 203 yards in the past two games. For the Vikings' third and final touchdown, late in the first half, Dobbs placed a strike to Hockenson 30 yards downfield, piece of cake.
The Vikings slowed down to a crawl in the second half, and the Saints' own backup QB, Jameis Winston, nearly led a comeback that ended on a Hail Mary. Dobbs had lost a bit of his initial magic by then, and he made space for that last bit of drama when he tripped on a potential game-sealing run. But even if they didn't end with all the momentum, the mood around the Vikings has done a 180 from the feeling of doom that saturated the aftermath of the Cousins news. Not only has Dobbs been the guy behind center for two wins, but he's quickly become a real focal point of this franchise, demonstrating an intelligence and work ethic that helps glue together the whole unit.
"We've got play calls that are a paragraph long," receiver Brandon Powell, who caught four passes on Sunday, said in the postgame. "If he can get the playbook down in two weeks, we should go out and make plays for him."
I like the selflessness of that last phrase, and it gets at something about this Minnesota version of Dobbs that really clicks with me—the way he's figured out how to be an effective quarterback without instantly transforming into a legend. There's a lot of Dobbs that's about expected for a middling NFL quarterback—those yardage tallies, for instance. But even without the kind of expert passer that feels more and more necessary to win in the NFL, the Vikings have found success because Dobbs, as an unfamiliar fill-in, has still been able to transcend his limitations and elevate his game for a few critical plays, while letting his teammates fill in the gaps at other moments.
For teams like the Jets or the Patriots, just a single completion for a first down seems like a small miracle. Given that those teams stood pat with their disappointing passers, Minnesota has to feel great about the highlights Dobbs has conjured since they brought him on board. The Vikings weren't going to land a future Hall of Fame type who would pick the team up and carry it all the way to glory in exchange for a sixth-round pick, halfway through a season. But in Dobbs, they've found someone who can help them happily move a few steps away from the cliff.
Stay in touch
Sign up for our free newsletter