NFL
Joshua Dobbs Has Renewed My Faith In Mediocre Quarterbacks
8:59 AM EST on November 6, 2023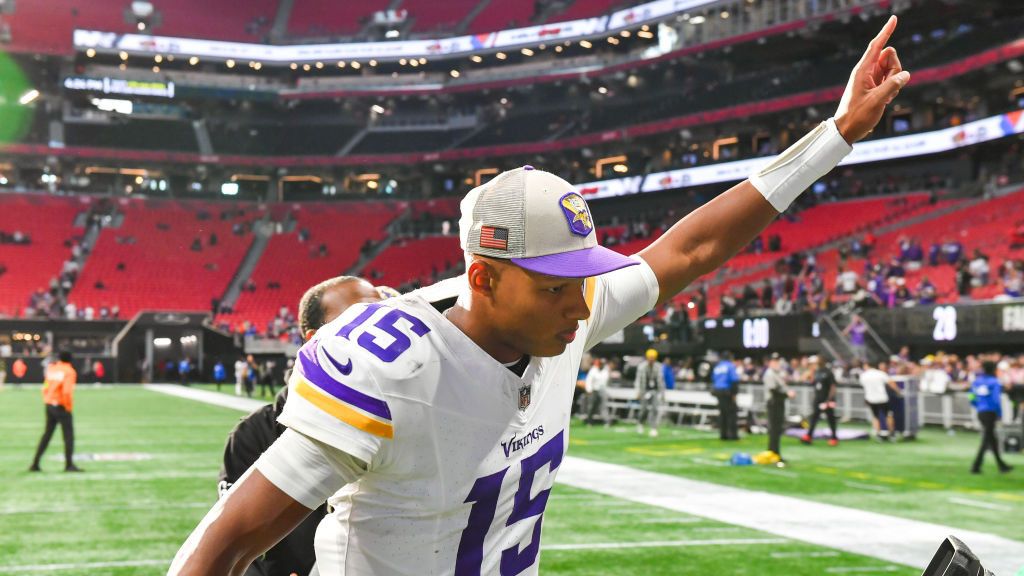 Week 8 of the NFL was defined by lackluster performances from forgettable quarterbacks, as future Immaculate Grid answers like Tommy DeVito, Mitch Trubisky, and Tyson Bagent struggled to fulfill the basic expectations of the position they're ostensibly paid to play. Week 9 didn't exactly mark a new beginning—we had Clayton Tune, Brett Rypien, and more DeVito—but it did feature an incredible bad-quarterback redemption story. Joshua Dobbs, who seemed consigned to irrelevance down in Arizona, made his way to the Vikings a few days ago and, before he could even eat his first hotdish, actually led Minnesota to a heart-stopping win that will feed local optimism that Kirk Cousins's injury may not doom their season.
Dobbs's career to this point has been one of too many responsibilities and too few results since finding success as a Volunteer at Tennessee. Drafted in the fourth round in 2017, he bounced through several rosters until finally getting the chance to make his first start in 2022 as a Titan, with the team's playoff hopes on the line. He lost to the Cowboys and then, in the final game of the year, fumbled away a lead against the Jaguars to lose the team's spot in the postseason. He then ended up on the Cardinals this past offseason, where due to a Kyler Murray injury he had to be the replacement that absorbed seven defeats and one inexplicable triumph over Dallas to begin the year.
The panicking Vikings brought him over as a backup, but Minnesota's starter, Jaren Hall, suffered a first-quarter concussion and couldn't follow up on a promising first glimpse. Facing the Falcons on the road, Dobbs was called upon to run an offense that hadn't ever snapped the ball to him or caught one of his passes, even in practice. As Dobbs later described it, the experience was like "taking AP Spanish all year and now somebody tells you you're going to take the AP French exam."
Anyone who'd seen Dobbs play with preparation couldn't have had high hopes. He provides a bit of a threat with his legs, but he showed maddeningly limited range as a thrower with the Cardinals, ranking near the very bottom of the league with just 5.9 yards per attempt. To toss him into the mix on Sunday, without even the luxury of a healthy Justin Jefferson catching passes, was the stuff of nightmares. The Vikings would be lucky if Dobbs just knew what plays he was running, and if he could pull off his cadences without crossing all his teammates' wires.
Dobbs's first go was as disastrous as it should have been—he ran headfirst into a safety and a 5-3 Atlanta lead. The next possession, he was sacked and lost the ball, allowing the Falcons to kick a field goal and lead by eight. But a long stop-and-start drive allowed Minnesota to go into the half on a high note, down just one, and even though another silly turnover sullied the start of the third, Dobbs eventually grew comfortable enough to produce some winning plays.
Near the end of the third, with the Falcons up 21-13, the Vikings got some of their own fumble luck and recovered the ball in Atlanta territory. After a few positive plays to move into the red zone, Dobbs rolled out, made a linebacker miss, and then split two more defenders on a breezy run to paydirt, punctuated by a nifty pass for two more points.
An instant Taylor Heinicke interception turned into a Vikes field goal, but an eventual Falcons touchdown made the score 28-24, home team, with two minutes remaining. Dobbs, who I feel compelled to emphasize again doesn't like to throw deep and should have been missing indispensable information like his teammates' moon signs and what they like to run in a two-minute drill, had the game in his hands. But rather than waste it, he scrounged together a couple of big plays with his hands and his feet, including a chaotic scramble on fourth-and-7, and then made the most consequential completion of his career when he found Brandon Powell at the cusp of the end zone for a TD with 22 seconds left.
Dobbs doesn't have much recent experience speaking to the media after wins, but he gave inspiring, humble quotes like a seasoned vet in the glow of the postgame.
"In this league, there is never an excuse for your circumstance. I learned that from (Mike Tomlin). Usually people don't care about your circumstances. They just want to see you succeed given the circumstances you've given," he said.
Even if you grant that Dobbs is mature and a lightning-quick learner and can throw off defenses with his running, his success still doesn't make any sense, given how he usually plays and how most Plan B and C quarterbacks fare when thrust into games. But the handful of scoring drives he helmed were enough on this afternoon, where his climactic heroism delivered a glimmer of hope for the 5-4 Vikings, as well as every other team slogging through an uncertain or frustrating QB situation. Dobbs is righteous vindication for each fan that spends Sunday watching TV with their palms up, asking the world, "Why don't they just find someone better?" He is sweet harmony for anyone who's ever wondered how an NFL player can get a job playing quarterback without seeming to actually know how to play quarterback. And in contrast to all the messiness of last week, he conjures up a beautiful solution to anyone else as desperate as the Vikings: You can just grab some guy, and maybe he'll work.
Stay in touch
Sign up for our free newsletter