NFL
Who Are These People?
2:58 PM EDT on October 30, 2023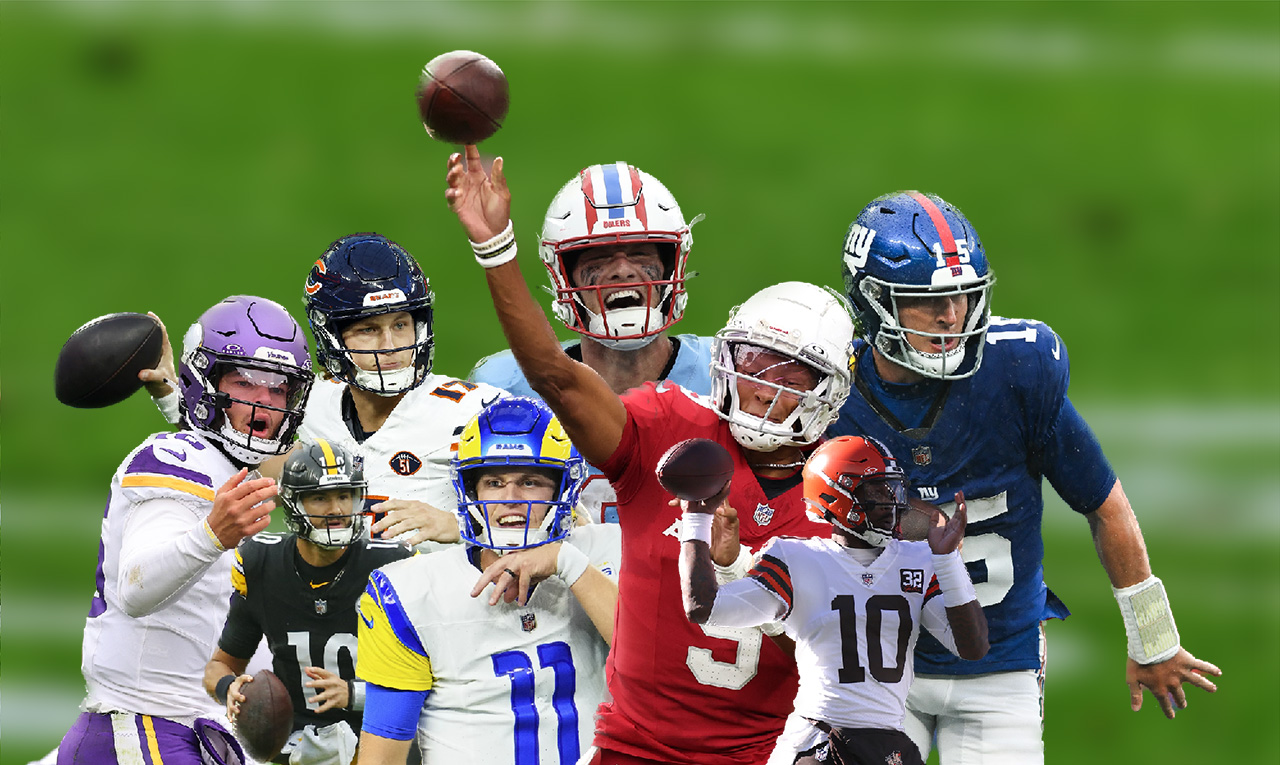 The NFL is a soulless machine that can replace one player with another in the blink of an eye. The inevitability of injuries, the pervasiveness of the "next man up" mentality, and the financial incentive to roster cheap young players over experienced hands all mean that, over the course of a season, teams feel increasingly anonymous every week. They mix and match units with names that blur together and tow in some riff-raff from the practice squad, and because the helmets all look the same, and because it's basically impossible to keep a close eye on dozens of players throughout one game, let alone several, it can be tricky to distinguish a healthy team from an unhealthy one.
Except when they're missing their quarterback.
Left tackle or middle linebacker or nearly any other position can get away with using understudies, at least on TV, but a change at QB fundamentally shifts a team's operations in ways even the most casual observer can immediately notice. In an absolute best-case scenario, the QB2 is a symbol of optimism—the notion that you never know what hidden talents may hold a clipboard until you give them a try. Far too often, however, the disappearance of the starter creates an unavoidable talent vacuum.
We're in Week 8, and this is roughly the time when the QB landscape tends to get pretty grim, as guys go down and teams prove wholly unprepared to deal with their absence. As the job of playing quarterback in the modern NFL contains ever more responsibilities, the drop-off in talent from the best to the rest continues to get more and more stark. This Sunday felt especially bleak in its saturation of liabilities behind center. You know it's bad when Gardner Minshew vs. Derek Carr is one of the more legitimate pairings. Most other games were not so lucky. But until the playoffs, still months away, this is the reality: a bunch of fake-sounding QBs failing to complete screens as they butt heads with a 20-3 deficit. Here is a very speedy ranking of the least-known and least-loved names from Sunday, in descending order of how worth your time it is to learn literally anything about them now.
Will Levis, the second-round pick out of Kentucky who spent a whole night in the green room at the last draft, made his debut for the Titans and actually looked like the first-rounder he was projected to be. With four touchdowns in a win over the Falcons, a lowball rookie deal, and Ryan Tannehill on the way out after earning $36 million this year, the starting job is his to lose.

P.J. Walker played his third straight mediocre game for the Browns, but after squeaking out two wins by a total of three points, he faltered with a trio of critical turnovers in Seattle. He's started a game in four straight seasons since dominating the short-lived 2020 XFL, so I guess he'll find a way to stick around somewhere. Whatever.

Jaren Hall is the man the Vikings have been forced to bet on after Kirk Cousins tore his Achilles in the fourth quarter of his team's third straight win. He's a Mormon drafted in the fifth round this year. That's what I've got. "You can tell he's comfortable in the system," said Sean Mannion, who's going to back him up if they don't sign anyone new. "I know he's just a rookie, but he's wise beyond his years in a football sense." I guess he'll get a chance to prove it!

Joshua Dobbs is a guy who criss-crossed the league for several years, and who couldn't drag the Titans into the playoffs when he was forced to start late last season. He's had his longest opportunity yet in Arizona filling in for Kyler Murray, and he is 1-7. Dismissed.

Tyson Bagent has a fulfilling career ahead of him as a Christian influencer on TikTok, and he certainly charmed a lot of people (maybe me) by winning his debut start for the Bears. But he's an undrafted QB out of a college called Shepherd, and he played like a lamb on Sunday night against the Chargers.

Brett Rypien is a Boise State product who had a couple wins in Denver and now, in his fifth season, subbed for Matt Stafford in a Rams blowout loss to the Cowboys. In his career, he's thrown four touchdowns against eight interceptions, and on Sunday he went 5-for-10 with 42 yards. But have you considered that he's a famous quarterback's nephew?

Mitch Trubisky is a former Pro Bowler. I swear I'm not making that up. I'm also not fabricating his solid record, 31-24, in his career as a starter. He threw two picks in a Steelers loss on Sunday, though. And he's Mitch Trubisky.

Garrett Gilbert. No, I'm kidding. He hasn't played since 2021. But would you have been that shocked?

Tommy DeVito did a lot of handoffs as the Giants hung out in the rain until the Jets kicked a field goal to send them home. He's the one where I'm really struggling. This dude played in the Big Ten a year ago, where he was perfectly fine, and he's getting paid to be a professional football quarterback. Even in the rain, how does he only get minus-one yards on seven attempts? Let him throw!
Keep in mind that this was only one day's worth of action, and I generously didn't include pass-throwers like Taylor Heinicke, who is too competent, or Cooper Rush, who merely had mop-up duty, or Taysom Hill, who is not a quarterback, or Zach Wilson, whose existence I have accepted against my will. If you're not convinced the position is in crisis, here are some more quarterbacks who could step out onto the field in the coming weeks: C.J. Beathard, Bailey Zappe, Easton Stick, Sam Ehlinger, Clayton Tune. Don't say I didn't warn you.
Stay in touch
Sign up for our free newsletter