NFL
You Can't Unsee Jets-Giants
10:06 AM EDT on October 30, 2023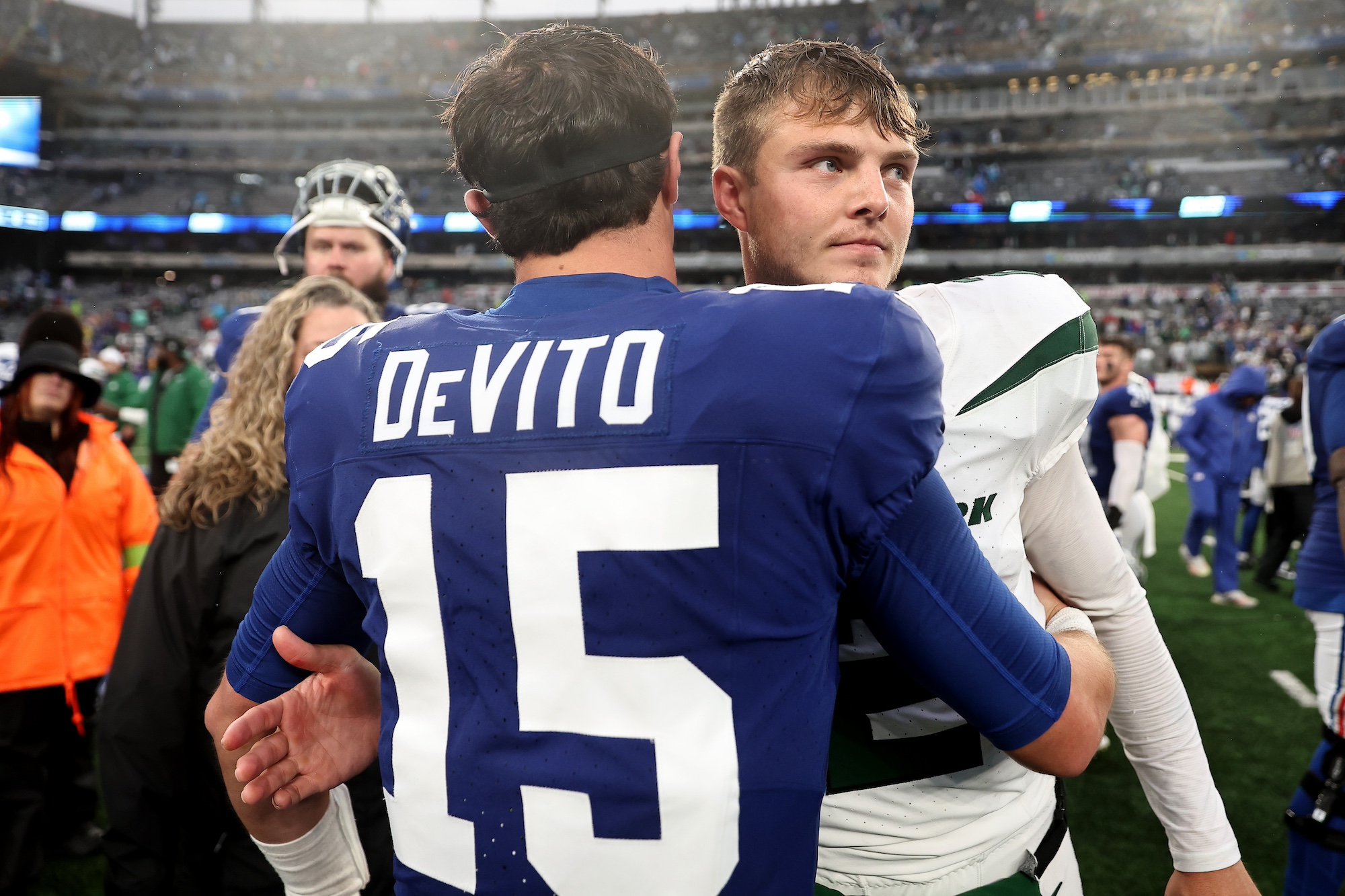 I've seen things you people wouldn't believe. Colts-Broncos on a Thursday night. Browns 6, Bills 3, in the wind. I watched penalty flags glitter near the Swinging Gate. All those moments will be lost in time, like a Tommy DeVito dump-off in the rain.
The thing to know about Jets 13, Giants 10, is that the rain wasn't that bad. It was steady and annoying but not the sort of game-breaking squall that turns American football into rugby. This game cannot be blamed on the elements. It can be blamed on two already-miserable offenses being shorthanded at key positions, and playing ugly, dumb football, and making mistakes at every turn, and the Giants calling a freakishly conservative playbook for a QB3 they appeared frightened to let attempt a pass.
The other thing to know about this game is that the team that finished with negative nine net passing yards should have won it.
This will be remembered, perhaps unfairly, as The Tommy DeVito Game, after the quarterback who stepped in after Tyrod Taylor, already filling in for an injured Daniel Jones, suffered a second-quarter rib cage injury so gnarly he spent the night at the hospital. (Taylor may actually be cursed, but at least he didn't have to watch the rest of this one.) I wish I could tell you something about the arm or instincts of DeVito, the pride of Don Bosco Prep, the undrafted rookie out of Syracuse and Illinois, and the single most New Jersey football player there is, but I still haven't seen either. Because once DeVito entered the game, the Giants started calling handoffs and never stopped.
In regulation, DeVito threw a grand total of four times, completing none of them, while the Giants called 52 run plays. In overtime, DeVito finally completed his first pass, a little dump-off to Saquon Barkley, for zero yards. Then he completed his second and final pass, for negative yardage. Right now, right at this moment, you reading this blog have more career NFL passing yards than DeVito. It was the worst single aerial performance the league has seen since the 2000 Cleveland Browns, "led" by the immortal Spergon Wynn. (With Jones now medically cleared, DeVito may never get a chance to improve those numbers.)
It wasn't his fault. It was the play-calling. When asked why the Giants went run-run-run, when even the wet, sad fans in the stands were chanting, "LET HIM THROW," head coach Brian Daboll didn't so much give his reasoning as restate what we all saw.
"I told the guys at halftime, we're going through 26 (Barkley)," Daboll said. "We're gonna hand it off a bunch, we're gonna hand it off a bunch, we're gonna play good defense, we're gonna try to control the field position with our kicking game. Just kind of play it a certain way to try to win the game. It just didn't work out."
It feels absurd to say, but it almost worked out. Because the Jets and Zach Wilson were just as juiceless. The Jets, the worst third-down team in the league, failed to convert one until there were two minutes left in regulation. They fumbled twice—once on a bad transfer from fourth-string center Xavier Newman, fresh off the practice squad and not actually a center—leading to both Giants scores. The Giants' philosophy appeared to be "punt it and hope their offenses botches the snap," which you might not think sustainable but had them leading for the bulk of the game.
Do you like three-and-outs? This was the game for you. The teams combined to go 4-for-34 on third-down conversions. There were 24 punts, the most in a game since 1988. It was torture to watch: a damp day in the wetlands of North Jersey, handoff upon handoff, punts sailing back and forth in a battle for field position that was squandered on both offenses. This wasn't football. This was something else, something darker.
So of course it couldn't be allowed to end.
The Giants, clinging to a 10-7 lead, sacked Wilson on a fourth down deep in Jets territory with 1:33 remaining. How that wasn't the end of things, I'll never know. Three Giants handoffs later, rather than try to pick up one yard for a first down and run out the clock, the suddenly timid Daboll elected to try a field goal. Graham Gano missed the 35-yarder, his second miss of the game.
"It sucks that I let everybody down,'' Gano said. "You can put it straight on me; there is nobody else, honestly. This one is on me for sure.'' Don't beat yourself up; there's plenty of blame to go around. The abruptly porous Giants defense let Zach Wilson look like Patrick Mahomes, ceding 58 yards in two plays and 23 seconds, and the Jets booted a field goal to prolong this soggy nightmare.
Overtime went pretty much how you'd expect. The Giants won possession and Tommy DeVito was greenlit to "air it out," which in his case meant two short passes to a running back behind the line of scrimmage, and then an incompletion on a screen pass on third-and-21. The Jets' possession was no prettier, hinging on a silly Wilson underthrow that the cornerback never turned around for, running right through the targeted receiver for a 30-yard DPI flag.
A short field goal from Greg Zuerlein—and rest assured, he almost shanked it—and that was that. "I'm still trying to figure out how we won," Jets wideout Allen Lazard said.
Statistically, this was the first football game someone ever watched. Keep that person in your thoughts.
Stay in touch
Sign up for our free newsletter