NBA
Jimmy Butler Is A Good College Player In Reverse
4:59 PM EDT on May 21, 2023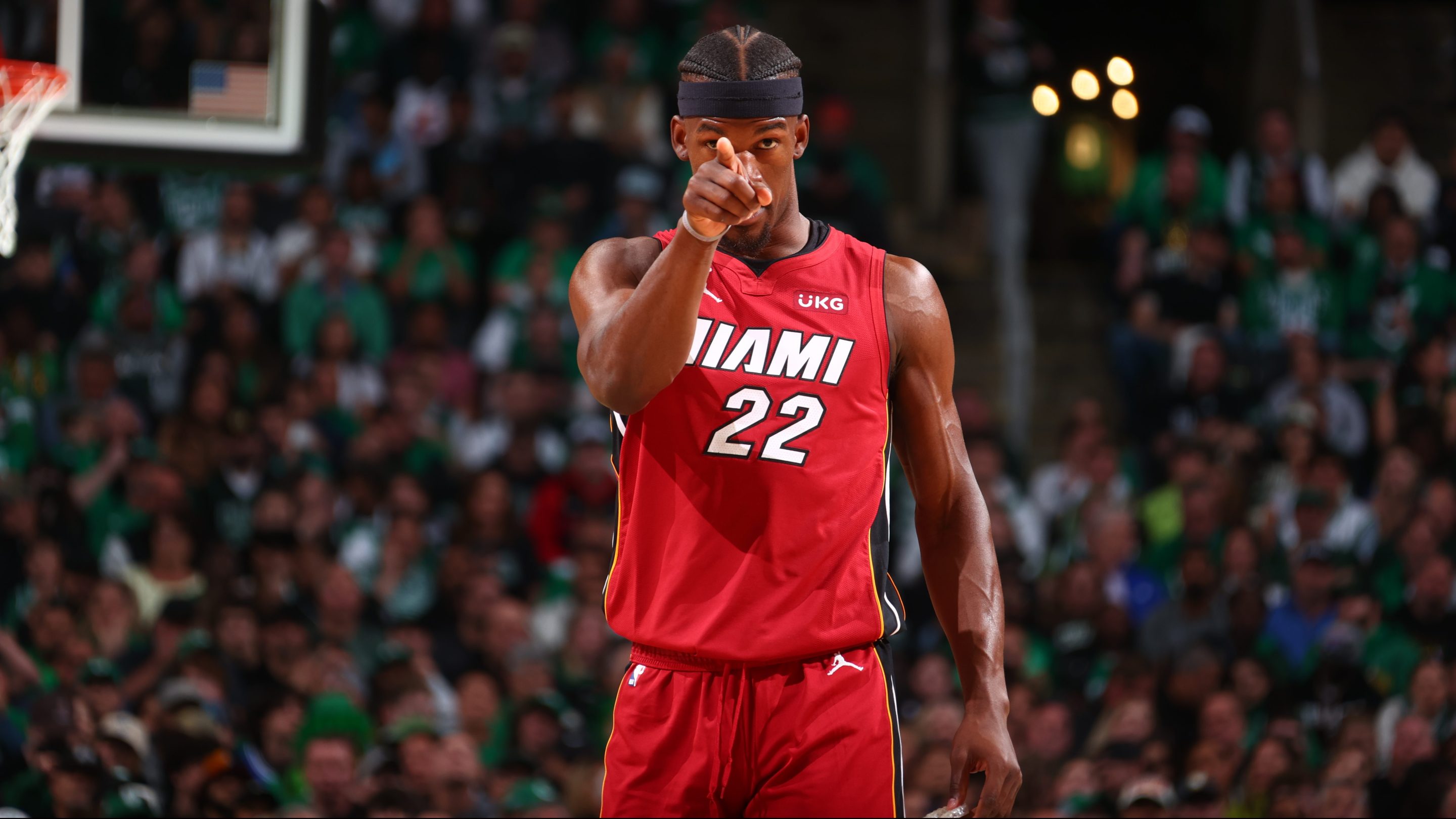 In retrospect, it was an unusual way to pick a college. I was watching a Notre Dame basketball game on television. It was Feb. 7, 1970, and I was a junior in high school. These were the days when every telecast looked as though it were being sent directly from the caves at Lascaux. There shouldn't have been scoreboards. There should have been cave paintings. Anyway, I had tuned in primarily to watch Austin Carr, the magnificent Notre Dame guard. But my attention was soon taken by the opposition, a strange bunch in black and yellow, bumblebee-striped uniforms, with a coach who seemed forever on the edge of apoplexy and a herky-jerky point guard with a pencil-thin mustache and a quizzical little smile.
Before the game, the visitors made a point of shaking hands with Irish coach Johnny Dee. Dee handed one of them a packet of mustard, signifying his distaste for this "hot dog" move. The player paused for a moment and then threw the packet in Dee's face. That got my attention. And that was my introduction to Marquette basketball, and Al McGuire, and Dean "The Dream" Meminger, and also Gary (Goose) Brell, a twitchy long-haired forward who (it was said) once celebrated a big win by cutting down the nets—with a switchblade. He also was the one who tossed the mustard packet.
It was a terrific game that Notre Dame won in double overtime, 96-95. Carr and Meminger put on one of the best head-to-head duels I ever saw in a college game. But it was the sheer strangeness of what McGuire was fashioning that made me think, hmmmm, this might be a good place to hang around for four years. So I followed them all season, right through the moment in which McGuire turned down an NCAA bid because he thought the NCAA selection committee had it in for him. (Narrator: They did.) He said, essentially, fuckabuncha these buffet-grazers, I'll go to the NIT and win that.
(For the benefit of younger readers who might have joined us late, the NIT once was the biggest deal in college basketball. Even in 1970, it was as prestigious as the NCAA tournament. And it was in New York, which McGuire found preferable to Lubbock, Texas, where the NCAA wanted to send him. "What can I get there," he said. "Two cheerleaders and three cows?")
Which they did, easily, beating UMass and Julius Erving in the first round, and stifling Pistol Pete Maravich in the semifinal, after which a Marquette player named Jack Burke remarked, "I'd play pro ball for a hamburger and cab fare if I could guard him every night." Needless to say, I was ensorcelled by the whole mad thing, and Marquette had ... a journalism school! Granted, it had lost its accreditation a few years earlier, but what did that matter? My decision was made final by a piece Curry Kirkpatrick wrote for Sports Illustrated the following season, which contained the following passage:
Similar thoughts are echoed regularly downtown at The Gym, a campus beer haven owned by a former Marquette enforcer, Brian Brunkhorst, and tended over by Fat Jack Rusnov, roommate of The Evil Doctor Blackheart.
How could you not go to a school that had its priorities so firmly in order? In a little more than a year, I was sitting in The Gym, waiting for a bus to go down to the Milwaukee arena for a game. The only true historical oddity with the Marquette teams of that era is that, for all their success—and they won more games in the 1970s than any team except UCLA—they didn't turn out that many exceptional pros. Jim Chones jumped to the ABA and had a decent NBA career. Earl Tatum's NBA days are marked primarily by his usefulness as trade bait. Maurice Lucas had a good run as Bill Walton's wingman in Portland. Butch Lee couldn't stay altogether healthy, but both he and Chones picked up rings as teammates on Magic Johnson's first championship team in Los Angeles. The real NBA stars came later—Doc Rivers and, of course, Dwyane Wade, with players like Jae Crowder and Wes Matthews tracking solid careers. Do you remember that Juan Toscano-Anderson played four years by the shining banks of the Menomonee River? Don't worry. Nobody else does, either.
All of which is an extended prelude to a question that has been bugging me for the past four or five years. Which is, what in the unholy, unshirted fuck has happened with Jimmy Butler? 
---
How in the name of god did Marquette not win a couple of NCAA championships with this cat? I knew his basic biography: The mother who threw him out of the house when he was 13, leaving him to couch-surf all over Tomball, Texas until a local family took him in; how he first went to Tyler Junior College and thence to Milwaukee, when a fellow Texan named Buzz Williams took over from Tom Crean. 
Marquette made the tournament all three years Butler was there, and never did any better than getting stomped in the Sweet 16 by North Carolina in 2011. I mean, because I am an obnoxious alumnus now, I watched him for three years at Marquette, and he seemed to be a fairly talented college player on some pretty good teams. By his senior year, he was averaging 15.7 points a game, which is certainly decent enough. When the Bulls took him 30th in that year's draft, after Butler had a couple of good turns in the pre-draft camps, I admit I was stunned. 
But now, here he is. The man who ate the Eastern Conference, making Giannis Antetokounmpo and the Bucks look like children in the first round, then quietly lighting up the Knicks in the next, all before walking into the Garden for Game 1 of the Eastern Conference Finals with the rest of the Miami Heat and feeding the Celtics into his personal blender. He got his 35, but he did so in as complete and rounded a fashion as you can. He was nine of 10 from the line. He put up seven assists, six steals, and five rebounds—The Vaunted Triple-Single!—but it seemed like every one of those came at a critical time, either when the Heat needed a stop, or when they needed a play made to cut off a Boston rally. 
The Heat built a solid lead in that game with their ridiculous 46-point third quarter—did the next Boston film session look like it was directed by Ed Wood?—yet Boston kept cutting the lead to four or five points throughout the fourth quarter, only to have the Heat make a play to push the margin back up to seven or nine. With two minutes and 10 second left, Butler found Caleb Martin for an open three-point jumper, and then, a minute later, hit one of his own from nearly 30 feet. Butler made all the plays that the Celtics failed to make.
---
It used to be that the worst thing you could say about a prospective rookie was that he was a "good college player." The label could be applied to a consensus All-American as well as to an unknown from a directional land-grant university. It was a way of casting subtle doubt upon a player's ability to succeed in the Association. Recent classic Good College Players within this paradigm include Adam Morrison from Gonzaga, Ben Simmons from LSU, and Frank Kaminsky from Wisconsin.
Butler is a Good College Player in reverse. (The same can be said, to a lesser extent, of Toscano-Anderson.) He exploded once he hit the league. And, once again on Friday, he was the central pivot to Miami's effort to take full advantage of yet another late-game Boston evaporation. This time, the turning point came in the fourth quarter, when Celtic Grant Williams hit a triple over Butler and then yapped at him on the way back down the court. Butler turned Williams inside out for an and-one, and the two literally went head-to-head for a moment after the play. Once that happened, Butler used Williams to tear the Celtics a new aperture. Experts are divided as to the meaning of one extravagant gesture used by Butler to demonstrate his superiority. He didn't learn that at my old school, but it was Old School Marquette buckets. Goose Brell surely approved.
Charles P. Pierce is a writer at Esquire and the author of four books, most recently 'Idiot America,' and has been a working journalist since 1976. He lives near Boston with his wife but no longer his three children.
Stay in touch
Sign up for our free newsletter