NBA
The Celtics Are Gifting The Heat This Series
12:18 PM EDT on May 21, 2023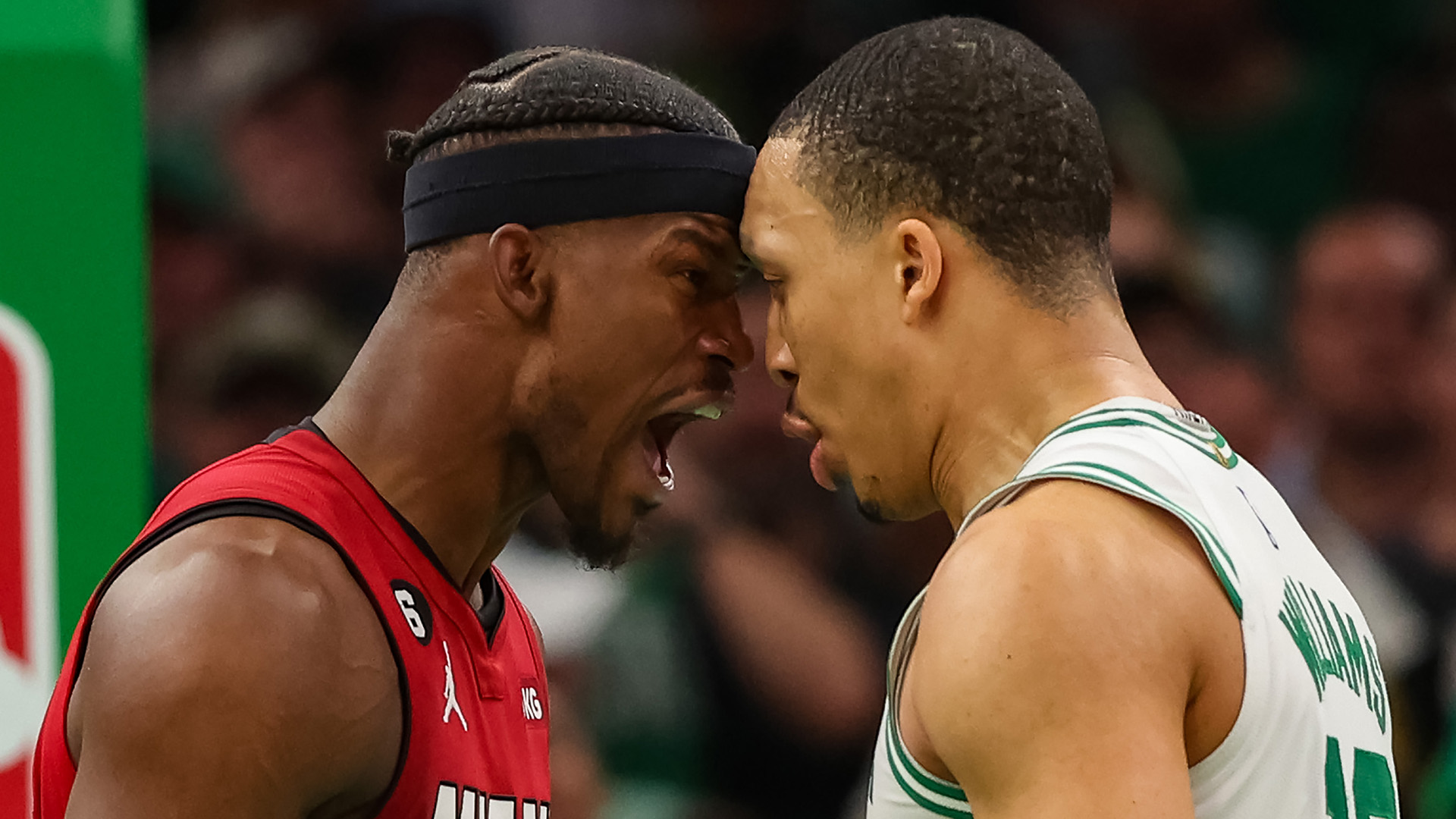 All Boston had to do, in theory, to win these Eastern Conference Finals was not screw up. Heading into the series, the Celtics appeared to have a sizable talent advantage over the Miami Heat across the entire playoff rotation, as well as homecourt advantage. With injuries to Tyler Herro and Victor Oladipo, the little eight seed that could looked depleted beyond even last year's ECF matchup, while the Celtics had added the Sixth Man of the Year in Malcolm Brogdon. Except, through two games in Massachusetts, the Celtics have failed to avoid shooting themselves in the proverbial foot—in a variety of ways, some more comical than others—while the Heat not only remain in this series, but now hold a commanding 2-0 lead as the games shift south to Miami.
If there is a perfect distillation of the mistakes Boston has made so far, it is Grant Williams hitting a wide-open three-pointer and then shit-talking Jimmy Butler with 6:37 left and a nine-point lead in the fourth quarter of Game 2, a boneheaded move against the one player in Miami, and maybe the entire NBA, that you want to piss off the least.
I'm going to get one thing out of the way here: The Celtics did not lose Friday because Williams decided to go head-to-head, quite literally, with Butler, who has a shot at being the best player in the 2023 playoffs to date. There were other issues that popped up for Boston in that ill-fated fourth quarter, just as there were in Game 1's horrible third quarter, which let Miami climb back and, eventually, win the opener. But it's hard to get past the fact that the Heat went on an 18-4 run immediately after Williams jawed at Butler, taking control of Game 2 and this series in the process.
Following Friday's win, the Heat are a ludicrous 6-2 after having trailed by 10 or more points this postseason, and these roaring comebacks happen for two distinct reasons. The first is fundamental to winning basketball: This postseason, Miami is hitting its shots. The Heat were not a good shooting team in the regular season, but this surprising playoff run has been fueled by everyone, and I do mean pretty much everyone, hitting big shot after big shot. If it's not Max Strus going off, then it's Duncan Robinson, or Gabe Vincent, or Kevin Love, or, as Boston found out recently, it can be Caleb Martin, who exploded Friday for 25 points on 11-of-16 shooting.
The other reason Miami seems to keep doing this is their opponents hand them chance after chance to stay in games. Whether it was the Knicks giving up their rebounding advantage in Game 4, or Jayson Tatum forgetting how to dribble the ball or how to not travel in both ECF games, the Heat's pressure and has-that-dawg-in-them-ness has forced their foes to either adapt to a boiling cauldron's worth of pain or, as has been the case in these playoffs so far, melt down.
This happened again on Friday, and it was an all-around effort in bed-shitting from the Celtics. Tatum once again hit no field goals in the fourth quarter, though part of that was because the Heat threw double- and triple-teams at him, forcing the other Celtics to try and win the game. Jaylen Brown would have been the most likely candidate to do that, but he was horrendous on Friday, shooting 7-of-23 and similarly forgetting how to put the ball on the floor without turning it over (he has eight turnovers in two games).
The other titulary to drop the ball in Game 2 was Celtics coach Joe Mazzulla, who has been out-coached by Erik Spoelstra to catastrophic levels. Spoelstra didn't have to do much on Friday, though, beyond letting Jimmy Butler be Jimmy Butler. After the Heat's star and Williams clashed heads, Butler chased down his new nemesis down on pretty much every possession:
By the time Mazzulla finally pulled Williams from this unwinnable feud, it was too late. Miami was rolling, and the Celtics were having their weird brand of anti-clutchness that has plagued them these playoffs, barring some moments of exemplary basketball against Philadelphia. Though Boston did hang on in Game 2, thanks in part to some questionable calls, the Heat kept absorbing the punches and hitting back with a key shot or a foul-drawing lane dive-bomb whenever they needed it. By the time Gabe Vincent, who was horrible on offense on Friday, hit a stepback long two over Tatum to make it 107-103 with 35.1 seconds to go, it was over for the game and, perhaps, the series too.
Only one eventual NBA champion has gone down 0-2 at home in the playoffs at any point and still won the title, and these Celtics are probably not the 1994 Houston Rockets reincarnated. The Heat are undefeated in South Florida so far during these playoffs, clamping down on the Bucks and Knicks when those series went down south tied at 1-1. This time around, Miami has even more of a cushion, thanks to Grant Williams' questionable decision-making, but also thanks to Tatum, and Brown, and Mazzulla, and Butler, and Spoelstra, and Vincent, and really everyone who has played a role so far, for good or for worse. The Heat have been taking what Boston is giving freely, and if the Celtics don't become stingier with their mistakes, these Eastern Conference Finals might not return to the northeast at all.
Stay in touch
Sign up for our free newsletter