NBA
Happy Recrimination Season To All Who Celebrate
12:59 PM EDT on May 16, 2023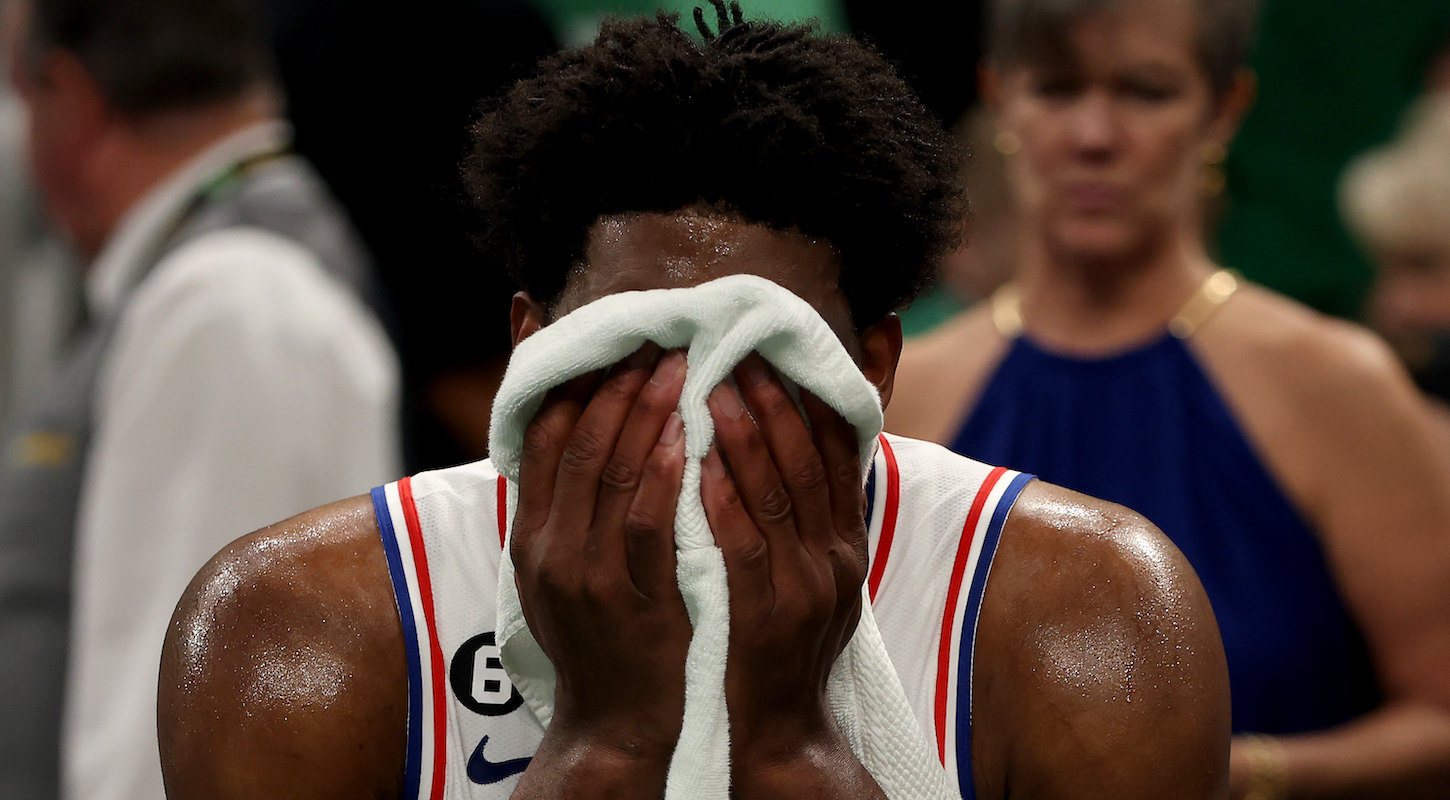 The Philadelphia 76ers crashed out of the playoffs on Sunday in shameful fashion: The Boston Celtics flattened them by 24 points in a Game 7 that felt far less competitive than even that bleak margin. The Sixers had led the series 3-2 a few days before that, needing only to win Game 6 at home to advance to their first conference final since 2001. They lost that game by nine. It's a bad scene all around.
It's funny: Had the Sixers advanced, and then fallen in the conference final in absolutely anything less than the most humiliating and disgraceful possible way, the overall picture for them and their fans, right now, would be one of optimism, born out of a sense of progress: OK, maybe it took a greater number of painful second-round eliminations than anybody would have liked, but they went farther this year. Imagine how far they'll go next year, having established this new high-water mark! Instead, because this is now the fifth time in the past six seasons that the Sixers have made it this far and no farther, and at least the third year in a row that they've gone out in some form of shameful collapse or other, it's a relative disaster. There is no solace in an optimistic outlook, like fans of the Sacramento Kings might be enjoying right now. Instead, there is the sour consolation of what our pal Tom Scocca named Recrimination Season.
Fans of perennial losers know Recrimination Season well. For fans of D.C. sports teams, in fact, Recrimination Season occurs in many months in most years and is the only enjoyable part of the sports calendar. This is the period just after a team's season ends in either crushing humiliation or total irrelevance, when it is time to heap scorn and derision on their loser asses, ideally but not always aided by juicy reported postmortems filled with score-settling anecdotes from anonymous team sources. For the Washington Commanders, in the bleakest mid-aughts depths of the Dan Snyder era, this annually climaxed with a deeply reported and extremely lengthy story in the Washington Post, inevitably at some point recounting how this or that position coach was a shockingly unqualified idiot who didn't even know the sport's terminology and only got the job because Steve Spurrier or Joe Gibbs confused him for a different guy with a similar last name. God, it ruled.
In Recrimination Season all commitments to sobriety and perspective are put on pause, and your inner sports-radio caller can run free, slinging (figurative) feces around like a dang zoo animal. You can decide later on whether to clean up the mess! In the meantime: Joel Embiid, who won a scoring title and an MVP award this season, whose numerical accomplishments boggle the mind, who has flowered into the most complete two-way center in pro basketball since Hakeem Olajuwon, who carried the 76ers to 54 wins and their second-best winning percentage in the past 20 years—but who struggled against the Celtics as the cumulative load appeared to wear him down in yet another postseason? Total fraud! Can't get it done when it counts! James Harden, the former MVP and three-time scoring champ who put up two 40-point games in the Boston series, but shot nightmarishly in the other five? Born loser! Doc Rivers, the coach under whose stewardship Embiid reached new heights, who kept the team steadily winning through the bizarre meltdown of the Ben Simmons era, but who has now lost the last 10 elimination games his teams have played? Worthless clown!
(While I was writing this, the Sixers fired Rivers. Ha!)
That's the good shit. For the loser team's fans, this is the best available catharsis: A one- or two-week jubilee respite from unrewarded loyalty, when you can rain slander guilt-free on the bozos who squandered your investment of hope. Give 'em hell! And/or tell them to burn there! For everybody else, for all the fans of all the other teams, it's a chance to touchdown dance all over the failure artists you knew all along were destined to end up face-down in their own shit—and to recount with glee the fuck-ups that put them there. Remember when the Sixers got rid of Jimmy Butler in deference to Ben Simmons? Remember when they swapped draft positions to take Markelle Fultz over Jayson Tatum, the very guy who booted their asses out of these playoffs? Those fools! The biggest idiots who ever lived!
The NBA's Recrimination Season is perhaps the very best. The sport does a better job than most others of putting the personalities and faces of its coaches and players front and center, so that by the time they're shitting and farting their way into early vacations, every fan has had a chance to develop an idea of who they are—and an equally well-defined sense of what to hate them for.
Here is an example. By any sane reckoning Kevin Durant is one of the very finest and most accomplished basketball players of this century, a two-time champion and Finals MVP, a four-time scoring champ, a certain first-ballot Hall of Famer. On the other hand, he is also an exhausting thin-skinned cheesebutt who won his rings as an interloper on the greatest team ever, then assembled the most radioactive clown car in living memory with the Brooklyn Nets, then maneuvered his way to the rancid, unlovable Phoenix Suns, his fourth team, roughly 10 minutes ago, in exchange for a suite of young players and draft picks most succinctly described as the organization's future, just in time to transform into a large anvil roped around the team's neck in their horrifying and hilarious final loss of the season, a 25-point elimination at home at the hands of the Denver Nuggets.
This makes Durant something like a man without a country, this Recrimination Season; to the extent he even has home fans at this point, they're Suns fans, to whom he has given nothing, and for whom he is the avatar of the embarrassing early-arriving end of their team's brief championship hopes. Nets fans remember how that franchise gutted an extremely likable young squad to build Durant's insanely misbegotten Big Three for him, which then accomplished nothing. Golden State Warriors fans remember how Durant seemed to poison their team's internal harmony in his toxic final season there, and throttle Steph Curry's greatness along the way; how he symbolized the team's metamorphosis from lovable Oakland upstarts to the San Francisco juggernaut everybody loved to hate. Thunder fans remember how he abandoned the town that loved him so that he could go hitch a ride to championships in the Bay Area. When the Suns went out like Stan Chera a little less than a week ago, Durant pretty much instantly became the locus of an omnidirectional days-long dunk contest that only abated when the Sixers supplied a fresher target. Later on I will go back to regarding Durant's abilities with awe. In the meantime: That guy sucks! I wouldn't even want him on my team!
Only one team's fans get to end the season with the fully untainted joy of celebrating a championship. A small number of others—the Kings this year, the Grizzlies (ha!) last year—go out on a loss but with hope burning brightly in their hearts. They can go to hell! The rest of us do not have "joy" or "hope"; we have bile, buckets and buckets of bile, and Recrimination Season, a tax holiday for dumping it. Look out below.
Stay in touch
Sign up for our free newsletter