NBA
Two Fans Of Usually Bad Teams Deal With The Specter Of Expectations
11:12 AM EDT on May 16, 2023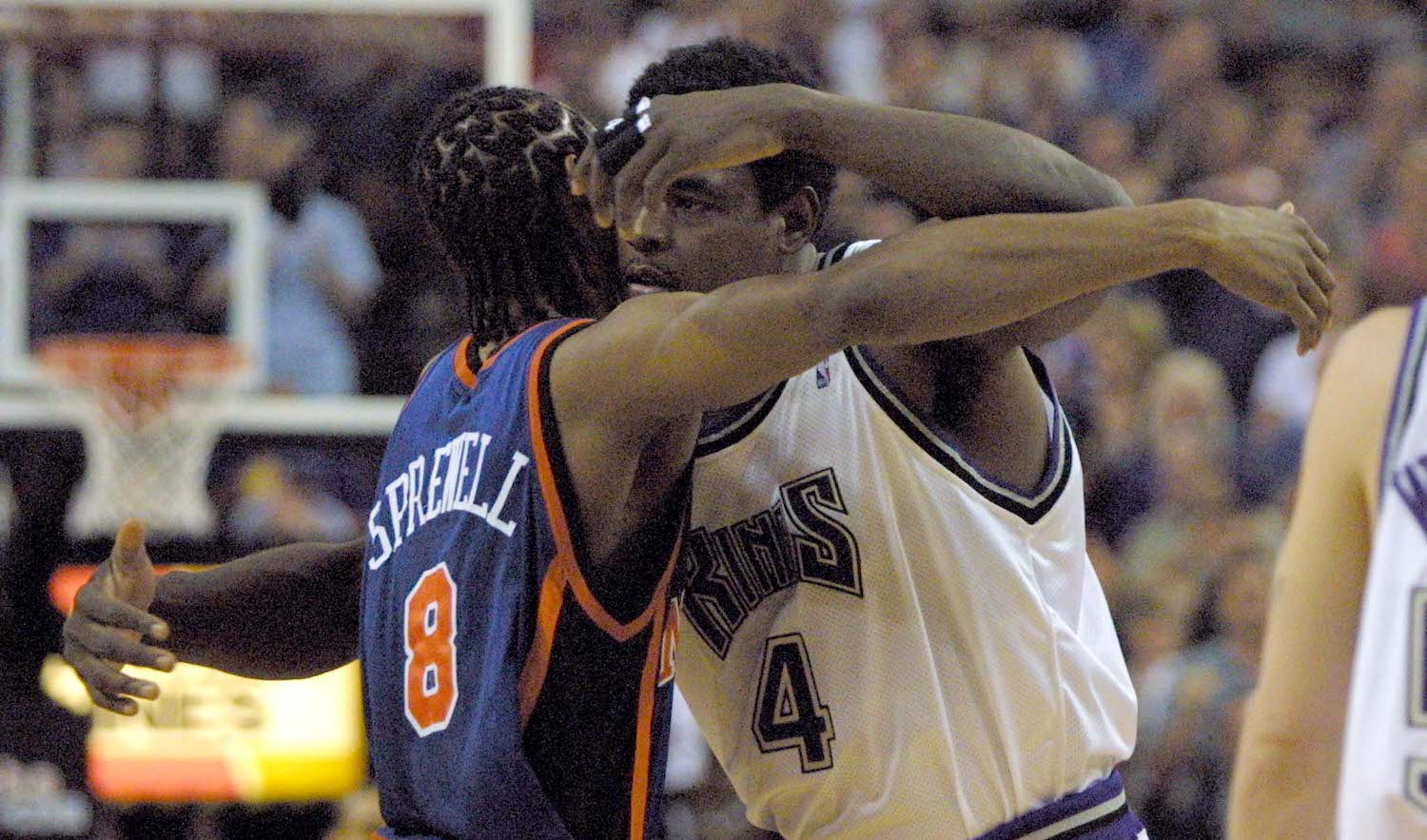 Two of Defector's basketball sickos root for traditionally doomed teams: the Sacramento Kings and New York Knicks. But this season they found themselves in the unusual position of rooting for the third seed in the West and fifth seed in the East, with mild postseason expectations. Now that both of those playoff runs are over, the two staffers conducted a therapeutic exit interview with each other, exploring the novel feelings that come with competence.
Patrick Redford: The dust has settled, our teams are out of the playoffs, and the time has come to take stock. These Knicks weren't expected to be this good this season, but they were, with basically the same roster as last season plus Jalen Brunson. How much of the improvement do you think was because of him? From the outside, it seems like his demeanor and steadiness is a huge balm for a weird team whose 2021-22 season I mostly remember for Julius Randle sulking and getting ejected a lot.
Giri Nathan: To adequately appreciate Jalen Brunson, you have to have lived through this era of Knicks floor generals. You have to have seen Jarrett Jack and Raymond Felton loll around, or Jose Calderon and Pablo Prigioni dribble. You have to have witnessed Emmanuel Mudiay falling down, Elfrid Payton turning invisible for 30 minutes, Kemba Walker striding around on pure crabmeat. Before the season I read a list of Knicks starting point guards on opening night over the last decade, and none were in the league anymore except for Derrick Rose, who is employed by the Knicks. They have not started a competent point guard in my adult life, so I cannot describe how surreal it was to see Brunson fill that void so confidently. I didn't think we were allowed a league-average one, let alone him.
Brunson kept the offense organized throughout the regular season, got tough iso buckets in late-game situations where previous rosters have been resolutely bucketless, and crucially allowed Randle to chill out and become the second initiator. He took the edge off watching this team. He gifted us a rare and undeserved calm. In the playoffs, Brunson went a step further: I'm now convinced he's a championship-level point guard in need of a team that can keep up.
On that note, how do you feel about your own star point guard? De'Aaron Fox had an incredible year. How did his postseason affect your read on him, one way or another?
PR: Three seasons ago, when Fox first started changing speeds, cut all the midrange nonsense from his shot diet, and showed he could get to the rim against anyone, I thought he had finally made The Leap. It was impressive, then, to learn how wrong I was and how much Fox still had to improve. In his first full season with teammate Domantas Sabonis and head coach Mike Brown, Fox transformed himself into a knockdown midrange guy. Perhaps because I did not watch enough videos about real hoopers before the season, I was surprised that my team's best player could make the actual Leap this time by taking many more of the least analytically favorable shots in the game. But man, if you can get anywhere on the floor against any defender, leveraging that space creation with a deadly midrange jumper has changed everything. His clutch heroics all season made every game feel winnable this season, where in years past, any lead felt fragile.

Admittedly I wasn't sure how well it would work in the playoffs, but Fox was incredible. That it ultimately was not enough doesn't matter to me—he broke the tip of the most important finger on his shooting hand, lost a heartbreaking Game 5 at home the next day, then collected himself and put forth a 26-and-11 masterclass in San Francisco. He was great all series, particularly on defense where he showed a tenacity he's only ever flashed for quarters at a time, and Game 6 was confirmation that all-action Fox could do his shit in the playoffs.  
But three wins are not four; unlike the Knicks, the Kings did not see the second round. What I would like to know, from the perspective of someone who predicted in the staff Slack in February that the Knicks would play "a pretty good first-round series and lose": How satisfied you are with a series win, despite eventually falling to the eight seed after the bracket broke the way it did? Does the Randle injury make you feel regret?
GN: It's funny how quickly expectations can creep up on you. I figured the Knicks were overmatched against the Cavs, but they won comfortably, with dudes like RJ Barrett and Mitchell Robinson vastly overperforming. Once the Bucks lost their series, though, I went from grateful to greedy. The Miami Heat were a one-Jimmy show after Tyler Herro broke his hand; it was definitely possible to beat this team, Erik Spoelstra be damned. But Randle was awful, which I'll asterisk in my mind because he played through a re-tweaked ankle. A subpar Immanuel Quickley gets an ankle asterisk, too. Robinson looked rather average again, now that he wasn't facing a weird Cavs defensive scheme that constantly threw one of its big men to help on Brunson and allowed Mitch to beast on the weak side. Barrett, however, was steadily excellent from Game 3 of the Cavs series up until Game 6 of the Heat series, and that will be my main bit of enduring optimism from these playoffs. I'd written him off. But if the game finally began to slow down for him, under this pressure, then all of this was worth it.
I didn't feel that disappointed at the end of the Heat series, because this team demonstrated that they didn't have the juice to go much deeper. I want to take a step back, though: At what point in the regular season did you realize this Kings team might actually be good? 
PR: It all feels like such prophylactic cope now that I'm amazed we thought this way, but for most of the regular season, Kings fans were waiting en masse for the magic to run out and for the team to lose eight of nine games and take their rightful place alongside the Thunder. When the Pelicans and Mavericks started faltering, I thought, "This is a nice story but I will be happy with the seventh seed, which feels unlikely." When the Suns and Mavericks made theoretical improvements at the deadline, I thought for sure the Kings would fall behind both.
The moment for me was Kings 176, Clippers 175, in February. The Clips were another team I felt sure would pass the Kings, but winning that game, in that way, in that building spurred a burst of eight wins in nine games after the All-Star break. This was when the expectation of a backslide vanished and I believed they had something going. It's funny to think back on that Fox and Malik Monk explosion, which felt so unlikely at the time but would turn out to be the blueprint for how they would win against Golden State. Now the same question, but for you.
GN: It was a weird-ass season! Cam Reddish featured heavily in the first stretch. Tom Thibodeau looked like he was about to lose his job in November. One turning point was Quentin Grimes breaking into the starting lineup and earning my loyalty forever. He's a perfect wing for any roster in the league: shoots threes well and defends the hell out of anyone. And then Josh Hart arrived at the trade deadline and fulfilled all of Thibs's darkest fantasies. With Grimes, Hart, and Quickley's surprising upgrade to defensive savant, the Knicks suddenly had a nice perimeter defense. Randle and Brunson held it down on the other end, somehow carrying them to the third-ranked offense in the regular season with their iso-heavy, low-turnover style. The rotation straightened itself out, they assembled a nine-game win streak—this is where I started to develop some actual expectations—and finished fifth in the East. Then I saw the Cavs and lost faith. But then I saw the Heat and regained faith. And here we are.
Did you feel genuine disappointment when the Kings lost Game 7, or were you content with the progress they made? Can you take solace in this proof of concept? Do you think this Malik Monk is the Malik Monk of the future? Is there a better Sabonis ahead?
PR: Josh Hart, man, what a player. I was at Knicks-Kings in Sacramento this past March, and the Kings nearly blew a nice lead because Hart grabbed like seven offensive rebounds in the third quarter.
As it turns out, that was a harbinger of sorts! I really surprised myself after Game 7, as I was broken up about it for only a few hours. Losing in seven to the defending champions, in a game where Steph Curry scores 50 for the first time ever in a Game 7, is a fine way to go. By that night I was mostly filled with pride at what a great season they had, how good the Sacramento crowds were, and the fight they put up. It also feels good that there are clear areas of improvement, and for the team to get as far as they did with one of their All-NBA guys getting dominated by a man who can't jump was pretty impressive. I think Sabonis will be fine, as long as he spends this summer shooting 10,000 midrange jumpers, and I don't think the Warriors' gameplan against him is replicable in the regular season, because he can physically overpower almost every other big in the league besides Looney. I felt a little worse seeing the Warriors get exposed badly in the next round, and also at watching every other team in the playoffs play objectively much uglier basketball than the Kings, but it fades fast, because one thing a Kings fan must have is perspective. I am itching for October. I can't wait to see the new Keegan Murray. 
How does it feel to head into an offseason after a very successful season that nonetheless ended in pain, this time with expectations on the horizon? Are you ready for the break or are you also already jonesing for next season?
GN: I'm jonesing! I think everything turned on Barrett's play. He'll be around for a while, and while the oracular visions of Jimmy Butler have long dissipated, there's a skeleton of a really solid wing there. Brunson is a gift. There's a faint stink on this Randle postseason (once again), but if I take a step back and think about the player he was coming from the Pelicans, and how much he's refined his offensive skill set since then, I can squint and almost imagine more improvements coming. (This is surely cope, too, because he's a tricky piece to make work in trades—too good to dump for a lackluster package, and too flawed to fit cleanly into most existing rosters.) Grimes will be on his rookie deal for two more years. Quickley's up for an extension soon, and while his underperformance in the playoffs was bad for his wallet, it probably makes things a little easier for the team's roster construction. They'll have draft picks, cap space, and good young dudes. I don't know if Thibs survives until next season, but if he doesn't, he built a sturdy structure here. I have no ill will for that man.
What about you?
PR: There's this balance I have to strike between getting excited about the promise of a team where everyone is under 30 and knowing that the hard part is still coming up. You only get this charmed of a season once. Now everyone expects the Kings to be back next season. A good model here for how often this doesn't work out is the Knicks themselves. Last year was probably such a crushing disappointment because it came on the heels of reaching the playoffs. Like the Knicks, the Kings have all the building blocks, but I have to remind myself that progress will not be linear. The issue for me is that this is all new territory. I know how to handle losing, but only when it doesn't really matter. 
I was thinking about this while watching the Sixers lose on Sunday. The way they fall in the second round every season is almost Sisyphean, and their fans all seem so tortured by their inability to get over the hump. But they still win a playoff series every year, which is a bar my team still has not cleared, and I would have been thrilled to be in their place this season. There's a real agony there because the Sixers expect to win the title, whereas I hope that I will be able to remain normal if the Kings ever become a team that takes a second-round exit every year. Windows open and shut so fast that I am trying to rid myself of the weight of expectations. 
That said, I don't have that problem with the Knicks, so I expect them to build on this. I also think both teams are primed for a big-time trade, and as team constructions are reasonably similar, are both probably looking at the same type of player. Now it's your turn to contend with the E-word: What do you expect? Also, am I being a baby?
GN: It pains me to put this in writing, but I expect the Knicks to make the conference finals while Brunson is on the team. He is that good. Figure out the rest—easier said than done, given that "the rest" involves two or three more years of Randle—and the team should get somewhere. This period right after the postseason exit is so emotionally muddled. Spring turns joy into pain and summer turns it into excitement. It's May and I am fantasizing about shipping out Randle to get some shooting in return. Come October, I will merely be fantasizing about Randle using his formidable strength and speed to play team defense. I'm sure a lot of his coaches have had that same fantasy.
I'm cool with it though. I like that our staff Slack has developed this slogan to counter doomerism: "Root For Your Guys." Whenever our teams looked busted, we all beseeched one another to RFYG. Fandom is about R-ing FYG while being clear-eyed about their flaws. In that respect, this goofy parasocial relationship isn't so different from a lot of normal life relationships.
It's easier to say from a distance, but I'd be thrilled to be a Kings fan right now! In Fox you've got an explosive point guard who's found his shooting touch and flourishes in the type of late-game stress that would fry Randle. Maybe next postseason, Sabonis won't get stomped and bruised nine different ways. Keegan Murray will be getting up nine threes a game. You've living the good life, trade or no trade.
I'm going to make you put it in writing too: What do you expect from the Kings this time next year?
PR: They end up in the 4-vs-5 series and win it. The Kings got lucky all year with injuries this time around, but the West is creaky and old. Absent Zion Williamson coming back at all full force and playing more than 60 games, nobody who finished below them really terrifies me. It looks like they'll bring over Sasha Vezenkov and hopefully re-sign Trey Lyles. Regardless of what they do with the spot filled by Harrison Barnes, they're still a deep team with a distinct style who knows how to play together. 
Look at us, fans of real basketball teams that win games. It's a thrilling feeling, R-ing FOG like this. Here's one more expectation: for one of the Kings-Knicks games to be on national TV again next season.


Staff Writer patrick@defector.com
Stay in touch
Sign up for our free newsletter