Soccer
Barcelona Femeni Opened The Floodgates
11:49 AM EDT on March 30, 2023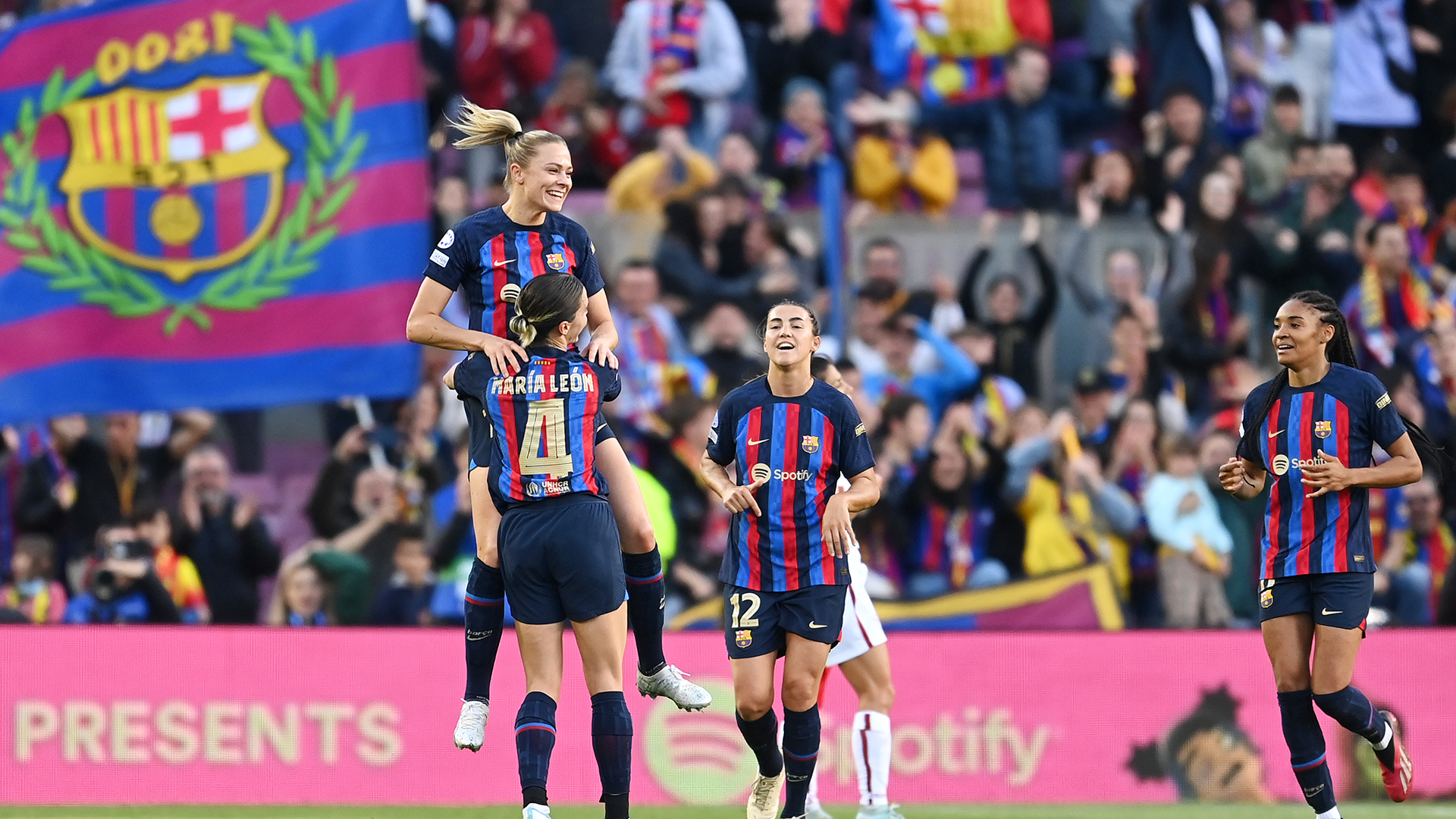 During the first leg of Barcelona's Champions League quarterfinal against Roma, the defending Spanish champions and current Spanish league runaway leaders dominated the Italian side, just as they dominate pretty much everyone that steps out onto the field with the hopes of toppling the best in European women's soccer. Take any stat you want, and Barcelona had a commanding lead over Roma in that March 21 match-up: possession, shots, shots on target, chances, etc. The only thing that Barcelona didn't lap Roma in was goals, claiming only a 1-0 away win thanks to some poor finishing and some goalkeeping heroics from Camelia Ceasar.
Eight days later, the two sides faced each other in Spain for the second leg, with Roma clinging to the hope that it could pull a massive upset thanks to the generous aggregate scoreline. Unfortunately for the Italians, just because they're a great side doesn't mean they're in the same atmosphere as their opponents. The Catalans blitzed Roma off the field at the Camp Nou, scoring early and often en route to a 5-1 victory—and a 6-1 aggregate win—that feels more in equilibrium with how the tie actually went than the first match's one-goal difference.
Barcelona has transcended boring superiority and moved into a realm of world-conquering dominance that makes even a 5-1 breeze against an overmatched team seem like the coolest thing in the world. The compilation of talent at Barcelona is among the best that soccer has ever seen, even taking into account that the best player in the world, Alexia Putellas, hasn't suited up since last July due to an ACL injury. When there are so many good players, and so many good players capable of scoring incredible goals, every second of a beatdown has the viewer holding their breath, knowing a spectacular moment will soon come.
Those viewers didn't have to wait long on Wednesday. In just the 11th minute, eventual player of the match Fridolina Rolfö saw the ball headed down to her weaker right foot inside the box. No problem there, as the Swede blasted a laser curving away from Ceasar into the side netting for the 1-0 lead.
Even after that goal, Roma held steady. While scoring two just to tie was probably a lost cause, the Italian league leaders deserve credit for not capitulating, at least not immediately. The Romans were going to force more magic out of Barcelona, and magic came thanks to one of if not the best ball-striking center backs in the world. In the 33rd minute, Mapi León controlled a short pass with her left foot, flicking it just ahead of her path, before seemingly out of nowhere uncorking a cannon blast. The ball came off her foot with little fanfare before sailing directly over Ceasar and into the net, a 30-yard scorcher that put an exclamation point at the end of this tie.
But Barcelona still had another sentence to write. The match turned from "rugged underdog hangs on against juggernaut" into "business as usual for 2022-23 Barcelona" with a quickness. Rolfö got her second goal with a tap-in just before halftime, 15 minutes after León's wondergoal, leaving the Romans to head back into the locker room with visions of meteor showers in their eyes.
Whatever was said at halftime didn't slow the wave, as just one minute into the other side of the 15-minute break, Asisat Oshoala latched onto a cutback from Aitana Bonmatí to make it 4-0. Finally, in the 53rd minute, Patricia Guijarro rose up for a cross-goal header that finished a 20-minute four-goal blitz from Barcelona that pushed the side swiftly and decisively into the semi-finals of the Champions League.
Though Roma got a very cool and good goal of its own in the 58th minute, thanks to Annamaria Serturini's low bouncer, this was about as comprehensive a win as Barcelona has unloaded this season. Wednesday's second leg was the perfect response to the first leg: Though Barcelona dominated both games on paper, the shots that didn't go in last week did this time, even if it required two pretty incredible strikes to unlock the door.
It's a soccer axiom that shooting more shots is generally a good sign of a team's quality, and that the goals eventually come. Over two ties, the Catalans blasted 56 shots, put 19 of those on target, and converted on six of them. What Barcelona did to Roma is just an extension of what it has done to Europe for the last three seasons, give or take a Champions League slip up here and there, like the 3-1 defeat at the hands of Lyon in last season's final. Whatever mental block the side had in the first leg that helped Roma keep them to just a 1-0 win was chucked aside, and in its place was the Barcelona team that is ready to avenge last year's Champions League shortcomings and get back to holding the premier trophy in European soccer.
Stay in touch
Sign up for our free newsletter