Soccer
Barcelona Femeni Is Ready To Make The Climb
12:25 PM EDT on March 24, 2023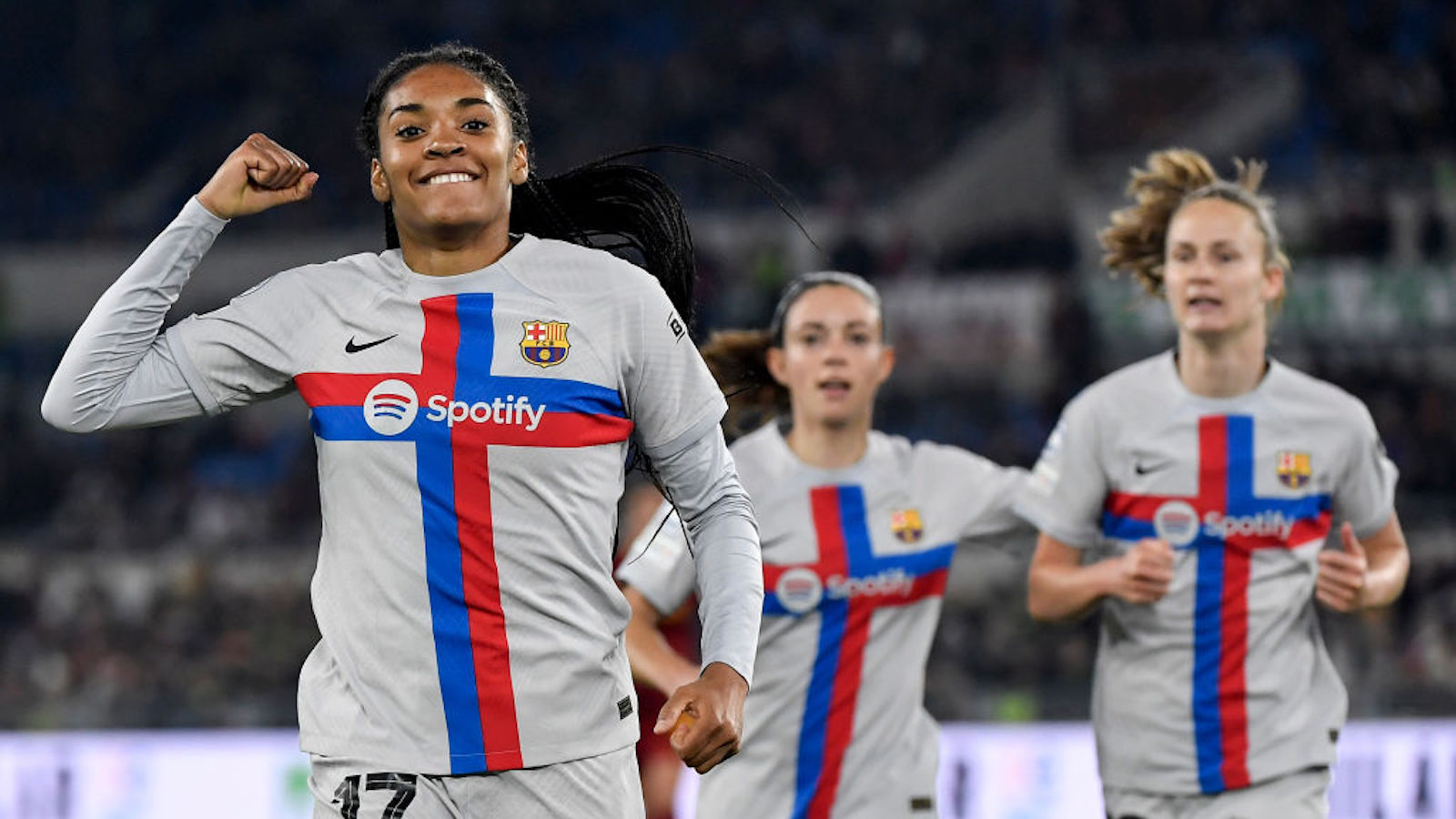 On Tuesday night, before a crowd of nearly 39,454—a new Italian record for a women's match—in Rome's Stadio Olimpico, Barcelona Femeni was called upon to flip a switch. The best women's team in Spain, by a wide margin, kicked off its journey through the Champions League knockout rounds with a 1-0 win over Roma, an ascendant team in the midst of a fantastic season.
Everything outside the scoreline suggests that this was a characteristically dominant showing by Barça: 63 percent possession, 10 shots on target out of a crazy 34 in total, and 101 attacks. The hostesses, meanwhile, mustered just four shots on target, and 10 total. But the final scoreline is how we sort this stuff out, and a hard-fought 1-0 victory, even away from home, falls short of expectations—Barça was last held to a single goal in victory in January 2022. 
For the first half hour, it was business as usual, minus the goals, as Mapi León, Aitana, Salma Paralluelo, Caroline Graham Hansen (who's oh-so back), Asisat Oshoala, and Lucy Bronze failed to convert any of the seven good-to-great chances they received. Barça broke through just after the 33-minute mark, when Paralluelo, a 19-year-old who is, for my money, the future best striker in Europe, connected on a beautiful strike from the edge of the box.
It was the same story for much of the second half, as Oshoala had five chances of varying quality in 20 minutes—one of which inspired an excellent reflex save from Roma keeper Camelia Ceasar, another of which was cleared off the line by a defender, and two which should have definitely been goals. Though León saved Barça with an awesome close-quarters block of a point blank would-be equalizer from Roma's top scorer, Valentina Giacinti, it seemed a safe bet that, even on an off-night, a second (and maybe even a third) goal would hit the net and set both the score and state of the tie in line with expectations. 
But, behind a relentless counterattack that forced León, Irene Paredes, Bronze, and Keira Walsh into repeated sprints back on defense and desperate tackles, Roma changed everything—except the score. In a span of two minutes starting just before the 70-minute mark, Sandra Paños was forced into a pair of saves. Then, in the 83rd, Manuela Giugliano uncorked a rocket from about 23 yards out that had to be pushed over the bar. Finally, in the final minute of stoppage time, a clever set-piece routine freed up Giacinti for another crack at goal, this one from eight yards out, which Paños also saved.
Under any circumstances, Barça would understandably have been expected to cruise through this tie fairly comfortably. But with Hansen not only back in action and wasting no time in reminding the world exactly who she is …
… one would have been forgiven for expecting an emphatic result in Rome. That the Blaugrana came away with less than what they wanted while still clearly dominating is a good representation of the team's current place in the women's game.
In a recent article for The Athletic, Michael Cox mined the rich vein that is Paris Saint-Germain's men's team's Champions League failures. The article's first paragraph succinctly lays out the bargain that players make in choosing to play for PSG:
When signing for Paris Saint-Germain, you have to accept that the success or failure of your season is decided in a couple of matches in the spring. Wrapping up the Ligue 1 title is considered a formality. It's really all about the Champions League.

The Athletic
That's it. That's the deal. On the plus side, there's the virtual guarantee of regularly winning domestic silverware, and the general enjoyment that comes with winning the vast majority of matches in which you take part. And, of course, cash. Lots and lots of cash. On the negative side, there's the compounding pressure that comes from going into every season knowing that the Champions League is all that matters.
This is the same position that Barça Femeni and a handful of other European women's teams have found themselves in over the last decade or so. Clubs that were quicker to commit to their women's teams have enjoyed a first-mover advantage and dominated domestically. The most extreme example here is Lyon, the undisputed Goliath of women's club soccer, who've won 15 league titles in 16 years. Barça, meanwhile, has won seven league titles since 2015 and currently has a 10-point lead over Real Madrid in the race for this year's title.
Unlike the PSG men's team, Barça Femeni actually has a Champions League title; it raised its first UCL trophy in 2020-21 after beating Chelsea 4-0 in the final. But there have also been high-profile European failures in recent years, for which the team is now seeking revenge. The Blaugrana were eliminated by Lyon in the 2018-19 final, fell to Wolfsburg in the semifinals in the 2019-20 season, and then were beaten once again by Lyon, 3-1, in the 2021-22 final. 
Those losses were tough to swallow for a team that has a claim on being the best in the world. Last year's defeat stung the worst, as it capped off a season in which Barça won 45 of its 47 games in all competitions, scored 221 goals, and conceded just 23. Then, weeks later, their talisman, the reigning two-time Ballon d'Or winner and, at that time, the full-stop best player on Earth, Alexia Putellas, was lost to a torn ACL. That Aitana Bonmatí, herself a top-five finisher in the 2022 Ballon d'Or voting, lost the start of her season to calf and thigh injuries didn't help. By the time Hansen (who, preposterously, can't so much as make a Ballon d'Or shortlist) went down for what wound up being more than four months, the notion that Barça would, if not return to the pack, then at least show something approaching vulnerability seemed reasonable.
Barça Femení has played 31 league, Champions League, and Supercopa de España matches this season—they were booted from the Copa de la Reina for fielding an ineligible player. They've won 30 of those matches, by an aggregate score of 134-12. They've run their record winning streak in league play to a ridiculous 57 matches. They're unbeaten in domestic competition (Copa expulsion notwithstanding) since June 2021, and in non-friendly matches in Barcelona since May 2019.
Their lone non-administrative slip-up this season, a 3-1 loss to Bayern Munich in Germany, came with their Champions League group well in hand. Their next worst showing, I suppose, was a home date with Real Sociedad in early December, in which they trailed in the second half before rallying for a 2-1 win. Last Friday night's harrowing 15-minute, 1-0 deficit against Valencia also probably belongs in this conversation. That match ended in a 5-1 win.
On the one hand, given the stockpile of talent on this roster, it's not totally surprising that the sailing has remained relatively smooth. At the same time, that this team hasn't so much as wobbled from its dominant perch in Spain is impressive. The gap between Barça and Liga F's second-place finishers the last two years has been 24 and 25 points. This year's 10-point lead is much smaller, but Barça leads second-place Real Madrid in goal differential by an absurd 47 goals. 
To some, however, whether any of this matters in the long run will come down to what happens in, at most, four matches over the next two months. This is just the cost of doing business when a cartoonish level of dominance has been reached—games played in the Champions League knockout stages become the only "real" games. 
That Barca's first "real" game of the season wasn't the blowout that fans and observers might have expected speaks to how difficult it is, even for a team as stacked as Barça, to climb the mountain year after year. Yes, Barça dominated every statistical category in the 1-0 first leg win, and yes, it is entirely possible that the Spaniards will come out in the second leg at home and put multiple goals past the keeper, but Roma kept it close, and had chances of its own. Resistance isn't something that Barça has been used to encountering at this stage of competition, and certainly not in the form of an Italian side that is in just its fifth year of existence and on its way to a first league title. It's good to be a super club, but the road to glory isn't getting any smoother.

Emile is a freelance writer, originally from the U.S., now living in Barcelona. He writes about Spanish soccer, namely FC Barcelona and Barça Femeni, on Substack, at La Barça Soc Supporter and appears regularly on The Barcelona Podcast. His work has previously featured at outlets including The Blizzard, Urban Pitch, The Squall, Barça Blaugranes, and Sports Collectors Daily.
Emile also writes about the NBA, at his new outpost League Pass in L'Eixample. His previous work can be found at Forum Blue and Gold and his own site, a living relic of the basketblog era, Hardwood Hype.
Stay in touch
Sign up for our free newsletter